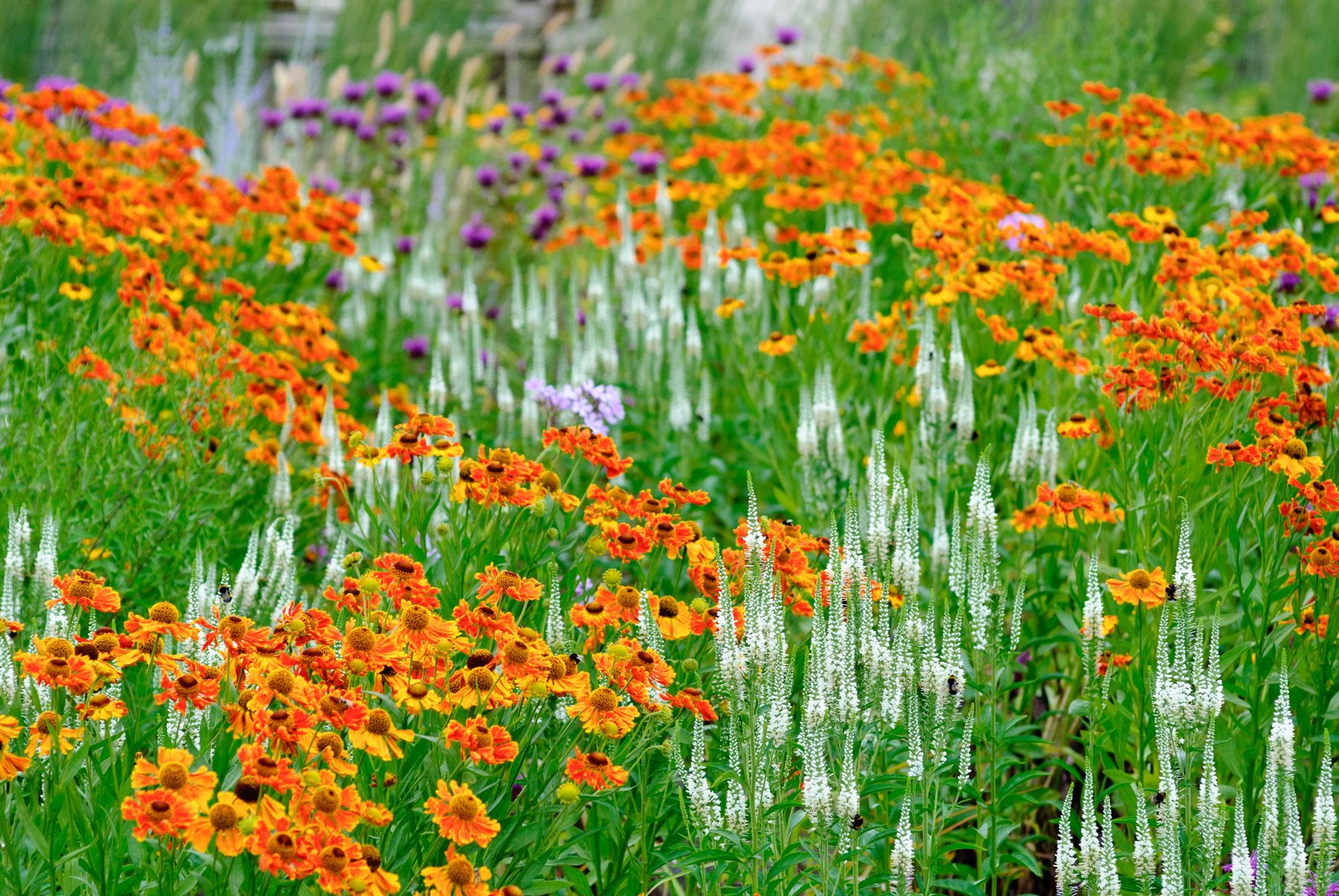 Perennial Meadow Gardening
Bring the principles of the open countryside to your home
Perennial Planting Design Course
Suitable for All Abilities

New Perennial Planting design brings the drama and excitement of current trends in naturalistic planting within the scope of the private garden. Capturing associations with the open countryside, fields, meadows and prairies, perennial meadows can be adapted to any scale from a single garden border, to the replacement of lawns and even to wide parkland landscapes. The system developed by Michael aims to create coherent blocks of attractive vegetation to fit a range of different settings, but avoids the limitations of a dogmatic formula by creating bold mixtures of theme plants in combination with interesting complementary plants.

You will come to understand the ideas underpinning naturalistic plant associations. Discover the characteristics of effective plants and the role played by complimentary plants to be able to start creating perennial meadow planting schemes of your own.

This detailed, practical course covers all aspects of this new style of planting; making personal choices, selecting plants, site design and preparation will all be discussed. We will go on to calculate how many plants are needed, and to learn how to approach setting them out, planting and maintaining new schemes.


You can either be an amateur enthusiast or a qualified professional garden designer to take this course. Remember, if you're a self-employed professional you can set these courses off against tax as 'Continued Professional Development'.

Learning Outcomes The course, together with its reference material, will equip you to start selecting the best plants to combine into your own perennial meadow planting schemes. You will learn how to carve up the garden landscape to introduce mystery and seasonal interest. By learning to place discrete units of perennial meadow within a garden's total design, you will be able to create atmospheric, three dimensional, sculptural landscapes in tune with contemporary aims and your personal aspirations.


Lesson Plan
Each lesson starts with a 30 minute video from your expert tutor, which you can watch whenever you like.
After each lesson, practice what you've learned with an assignment and receive personalised feedback from your tutor. Each of which should take no longer than 2 hours.
1. What Are Perennial Meadows

In this lesson we will define the perennial meadow and it's place it within the history of the use of perennials in gardens over the last hundred years. Naturalistic planting will be explained and contrasted with the alternatives available to contemporary gardeners and designers. The New Perennial Movement and the manner in which perennial meadows can bring the same aims within the confines of a domestic garden will be illuminated.

2. Theme Plants

We will focus entirely on theme plants, the fundamental building blocks of the perennial meadow. You will learn what characteristics are important when selecting plants to use in your schemes and understand the very best perennials for seasonal interest.

3. Complementary Plants

We will look at complementary plants and illustrate how important they are in adding variety, local interest and extending the effective season of planting schemes. We look at how to calculate the number of plants needed to realize a scheme and conclude by reviewing a scheme in detail to fully understand how the system works as a whole.

4. Designing Garden Spaces Using Perennial Meadows

In this lesson we will look at how to design garden spaces using perennial meadows. We learn how to place discrete units of planting to help organize the outdoor space, and how to introduce structure to the planting schemes themselves. Lastly, we cover all of the practical aspects of creating such a garden feature: site preparation; propagation of plants; planting up methodology; mulching; watering; maintenance and the long term development of schemes.
Available as part of a collection
How our courses work
You're going to love learning with us!
After you buy, you can start whenever you're ready
You'll have 4 weeks to complete 4 lessons, study at your own pace
You'll likely need 2 1/2 hours per lesson, but you can study whenever it suits you
You'll get expert critique from your tutor Michael King(you'll be able to ask them questions too)
We'll pair you up with a group of like-minded classmates from around the world
You'll have access to the classroom, content and your classmates for life
You'll also gain certification
More questions? Take a look at our frequently asked questions.