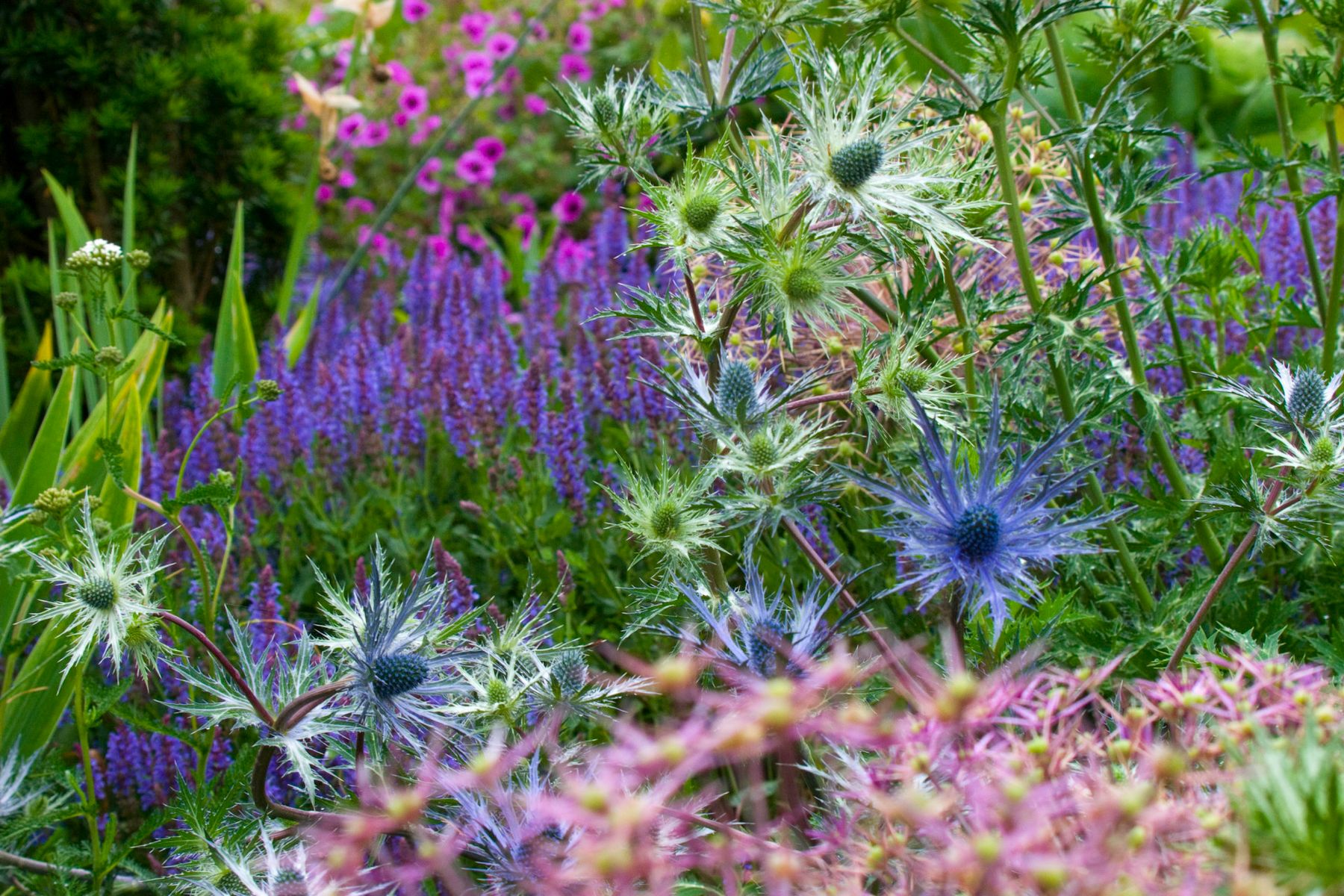 Planting Design with Perennials
Naturalist, modernist, and Oudolf-look planting schemes
Overview
Suitable for all abilities
Dr Noel Kingsbury is an internationally acclaimed writer, and a long-time collaborator with the renowned designer Piet Oudolf. On this course, he shares that wealth of experience. By the end of the course you will have learnt how to make the right plant selections and gain a solid understanding of the Oudolf approach.
Perennials have become the most popular garden plants, not just because of their beauty and the ease with which they can be grown, but because they are at the heart of a planting style which is more naturalistic, more sustainable, and often lower maintenance than many traditional garden styles. This course aims at helping you understand the connections between perennials as wild plants in their natural environment, and as garden plants, helping you select the right plants for your situation. We look at their long-term performance, and how they can be used alongside other garden plants.

Noel takes a broad look at a variety of contemporary approaches to using perennials, with a particular focus on naturalistic approaches. You will explore how to create planting schemes that suit the particular conditions of your garden, covering a wide range of temperate zone climates; for example if your soil is poor and fast draining, Noel will guide you through the basic principles of choosing plants which not only survive but flourish in these conditions. Noel will show you how it's done from first principles and outline how to make successful planting designs which combine structure, a long season of interest and support for bio-diversity and sustainability by reducing or eliminating irrigation and minimizing maintenance.
The course provides a particularly strong theoretical basis, but with plenty of plant variety tables provided for helping you choose plants.
You'll be suited to this course whether you are an enthusiastic amateur, or a landscaper or designer looking to hone your skills in the particular planting area of perennials. A one off opportunity to get personal tuition from a world expert in perennial planting. Remember, if you're a self-employed professional you can set these courses off against tax as 'Continued Professional Development'.
Lesson Plan
Each lesson starts with a video from your expert tutor, which you can watch whenever you like. When you're ready, you can practice what you've learned with an assignment which unlocks the next lesson.
1 Understanding Perennials ~30 mins 2 hours

In the first lesson you will learn to take the 'rabbit's eye view', getting down to observe plants at ground level, and even below ground. Noel takes you through the fundamentals of life: perennial lifecycles, longevity and reproduction. You will also take part in a thought experiment, which enables you to get a deep understanding of how perennials survive and colonise. Throughout the first week Noel peppers the lecture with examples including many from the work he's done with acclaimed planting designer and horticultural writer Piet Oudolf.

2 Perennials in Planting Design ~30 mins 2 hours

In this lesson Noel looks at various types of perennial planting, and some of the basic issues in selecting and combining plants – the basics of how to make an amazing garden! Topics include the traditional perennial border, ratios of structural planting, cottage garden perennials and foliage plants. Again many examples are given in lecture two – and students are encouraged to ask any questions in the classroom for plant recommendations to suit their own environment.

3 Perennials in Their Habitat ~30 mins 2 hours

During this lecture you will look at three situations where careful matching of plant and place is needed: dry environments, wet ones, and shade. Some gardens are dominated by these problems, and many have a small area where careful plant selection is needed. A more positive approach is to suggest that these special environments create opportunities for plants with particular needs or tolerances.

4 Perennials Through The Year ~30 mins 2 hours

Lastly you will learn about some examples of perennials which make an especially strong impact during particular seasons as a way of exploring some basic principles of what looks good when and why. We also look at some of the less obvious ways in which perennials can contribute to seasonal beauty. The final lecture and assignment empowers the student to see the world differently, and you should come away being able to put into practice most of the theory you have learnt throughout the course.
Total course length — 4 weeks