OVERVIEW
Learning with Experts offers a unique online preparatory course series for the RHS exams in Principles of Horticulture. Each of the two certificates contains 4 courses and is taught by two world leading experts, Dr Noel Kingsbury and Hillary Thomas.


METHOD

Inside the virtual classroom you can discuss questions and thoughts with your classmates, making your learning a more collaborative and engaging experience. A tutor is available during the course to support you and lead you through the assignments. Everything is built around your time schedule; start whenever you want, continue wherever you are, and take the exams whenever you are ready.


OBJECTIVE

Develop the essential skills needed to work in horticulture or to further develop your interest.


REQUIREMENT
There are no prerequisites for entry to this qualification. To start the second certificate however, the first one needs to be completed.


ASSESSMENT
Each course is enclosed by an assignment to ensure you are on track.


FEES
Preparatory video courses (4) with personal expert tuition fee £260


RHS exam fee for 4 modules £56


EXAMS
All final exams have to be taken at a centre approved by the RHS. After having successfully completed the exams, you will get certified by the RHS directly. Find an approved centre near you: www.rhs.org.uk/education-learning/qualifications-and-training/rhs-qualifications/find-a-centre


CERTIFICATION
The RHS are an internationally accredited awarding body. There are RHS Level 2 Theory Based Qualifications (14 credits each):

RHS Level 2 Certificate "Principles of Plant Growth, Propagation and Development"
RHS Level 2 Certificate "Principles of Garden Planning, Establishment and Maintenance"

Together these certificates build the RHS Level 2 Certificate in Principles of Horticulture (28 credits).


TUTORS
The preparation courses are lead by two of Learning with Experts top tutors, Dr Noel Kingsbury and Hilary Thomas. Both highly acclaimed and experienced horticulturalists who have worked regularly with the RHS for many years.
CAREER OUTLOOK

Watch the full video of Kyle, now (after a big career change) Head Gardener based in Oxford, United Kingdom. Responsible for everything growing in one of Oxford's most prestigious Colleges, Kyle works hard, planning years in advance, transforming his own personal vision combining historical elements with modern thoughts. Although he's a self starter he treasures societies like the RHS building the foundation for every gardener worldwide.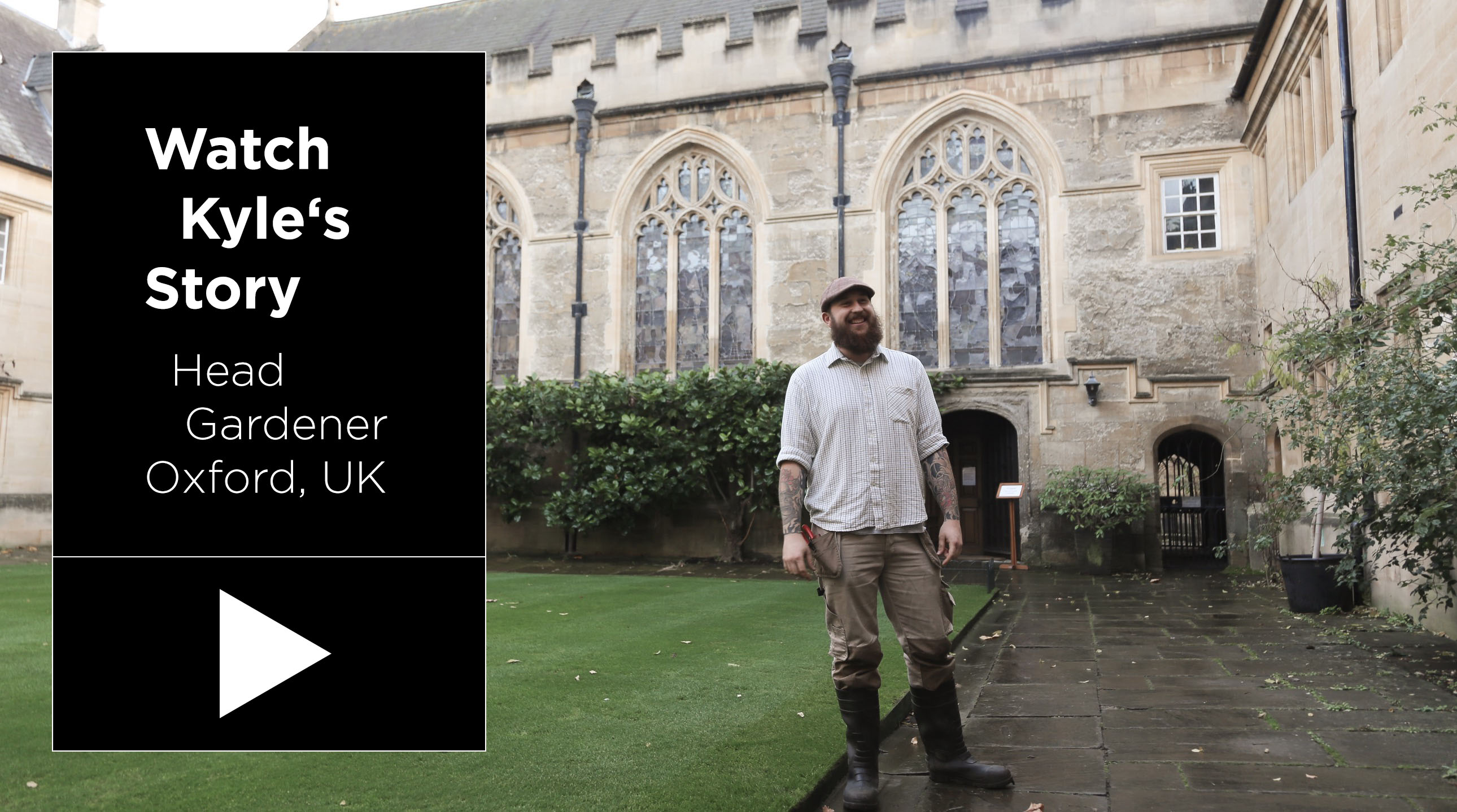 FURTHER READING

Some students who take this course may do so simply in order to learn the outlines of plant science for horticulture, as defined by the RHS. Others may do it in order to attempt the RHS exam. In either case we strongly recommend reading the following books:

Principles of Horticulture Level 2, Adams, C. et. al., published by Routledge.
Principles of Horticulture: Level 3, Adams, C, et al., Routledge
Botany for Gardeners, Capon, B., Timber Press
RHS Botany for Gardeners: The Art and Science of Gardening Explained & Explored,
Hodge, G., Mitchell Beazley
We also strongly recommend that the RHS exams be downloaded and studied. For those who wish to study further, this is a very good reader:

Science and the Garden, The Scientific Basis of Horticultural Practice, ed. Ingram et al., Wiley-Blackwell.
COURSE CONTENT


RHS Level 2 Certificate: Principles of Plant Growth, Propagation & Development
www.rhs.org.uk/education-learning/qualifications-and-training/rhs-qualifications/level-2/certificate-in-plant-growth-and-propagation


Module 1
6 lessons with Noel Kingsbury

Plant Classification, Structure & Function


Plant groups of significance to horticulture

Botanical and horticultural plant names
Stages in plant growth
Structure of plant cells and functions of plant cell components & tissues
Structure and functions of leaves

Photosynthesis, respiration, movement of water and minerals through the plant


Module 2
6 lessons with Hilary Thomas

Plant Nutrition & the Root Environment


Physical and chemical properties of soils
Water and soil irrigation

Methods of soil improvement and management

Organic matter and its importance in the soil

Fertilisers and plant nutrition

Composts and growing media


Module 3
7 lessons with Hilary Thomas

Maintaining Plant Health


Maintaining plant health
Biological control
Herbicides
Problems caused by weeds
Pests that cause problems in the garden and glasshouse
Fungal diseases
Bacterial and viral diseases


Module 4
3 lessons with Noel Kingsbury

Understanding Plant Propagation


Understanding propagation
Sowing seeds in containers
Vegetative propagation


RHS Level 2 Certificate: Principles of Garden Planning, Establishment & Maintenance
www.rhs.org.uk/education-learning/qualifications-and-training/rhs-qualifications/level-2/certificate-in-planning-and-maintenance


Module 5
X Lessons with Hilary Thomas
Garden Features, Plant Selection & Planning


Module 6
X Lessons with Hilary Thomas
Establishment & Maintenance of Garden Plants & Lawns


Module 7
3 Lessons with Noel Kingsbury

Production of Outdoor Vegetables and Fruits


Production of outdoor vegetables and fruits
Pest and disease control

Production of top and soft fruit for gardens and allotments

Module 8
1 Lesson with Noel Kingsbury
Protected Environments and their Use in Plant Cultivation


Protected environments



COURSES