Angela Sara West talks to Joanna Hardy about turning her love of jewellery into a business and her new online classes
Acclaimed global jewellery expert, TV star and author, Joanna Hardy, is one of the world's finest independent fine jewellery specialists. Following a glittering career in diamonds at De Beers, and as an auctioneer at Sotheby's, she went solo to pursue her own prestigious projects and has now teamed up with award-winning internet company, Learningwithexperts.com, to launch the world's first online jewellery school.

You may well recognise Joanna from BBC One's Antiques Roadshow, where she makes regular appearances assessing and valuing pieces.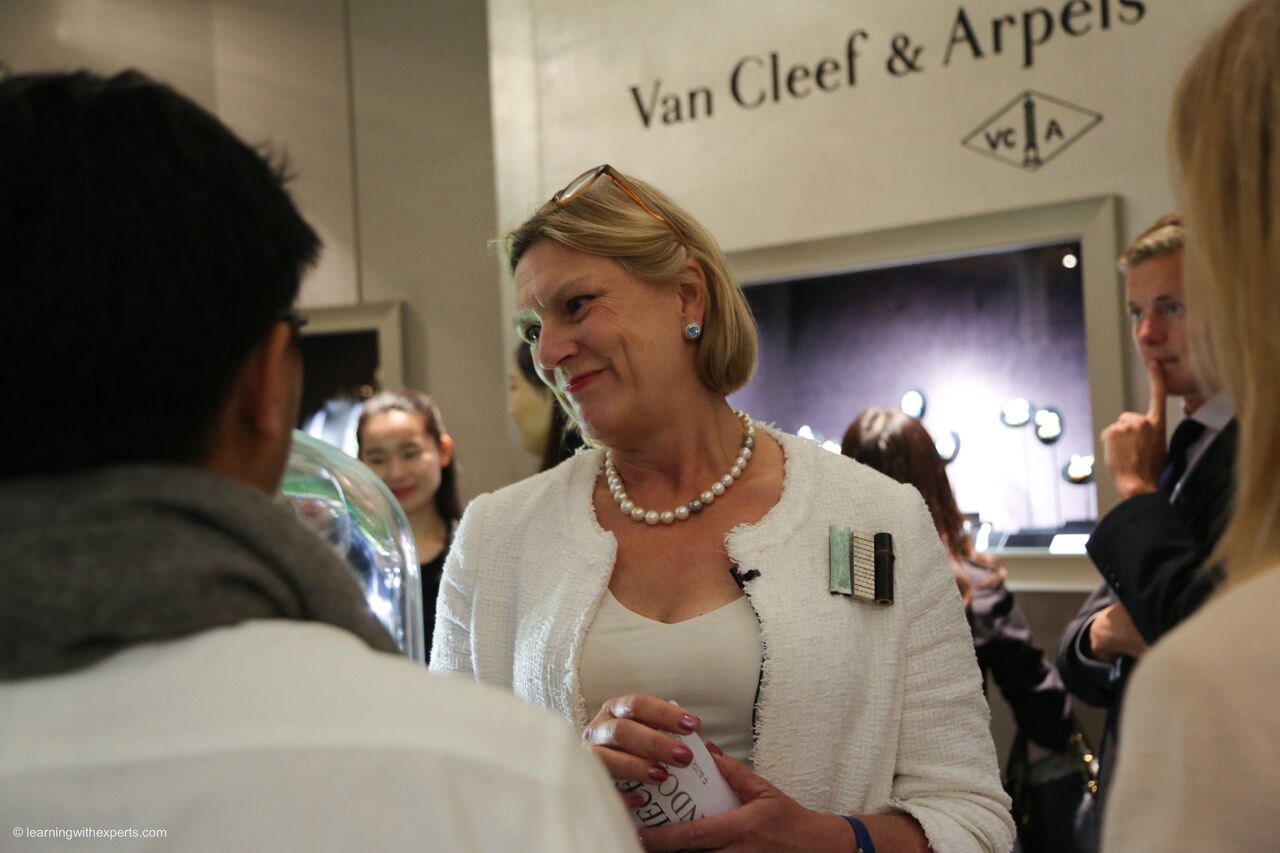 ROUGH DIAMONDS
Joanna first become interested in jewellery as a teenager. "When I was 14, I was given the opportunity to make jewellery at school. This showed me how fascinating and rich the subject can be. I then studied jewellery manufacturing at school," she explains.
She applied for a job at premium luxury brand, De Beers. "I became a rough diamond grader. It was a very busy time for diamonds and the industry has changed beyond my recognition now."
She then moved to Antwerp in Belgium, where she became one of the very few female polished diamond dealers trading there. "I then moved to the other side of the jewellery world to become a specialist at Philips the Auctioneers in London."
Following her stint at Philips, she made the move to Sotheby's in London's Bond Street. "I spent 14 years as their senior jewellery specialist and auctioneer, responsible for jewellery auctions in New York, Geneva and London, before going independent to focus on my own projects."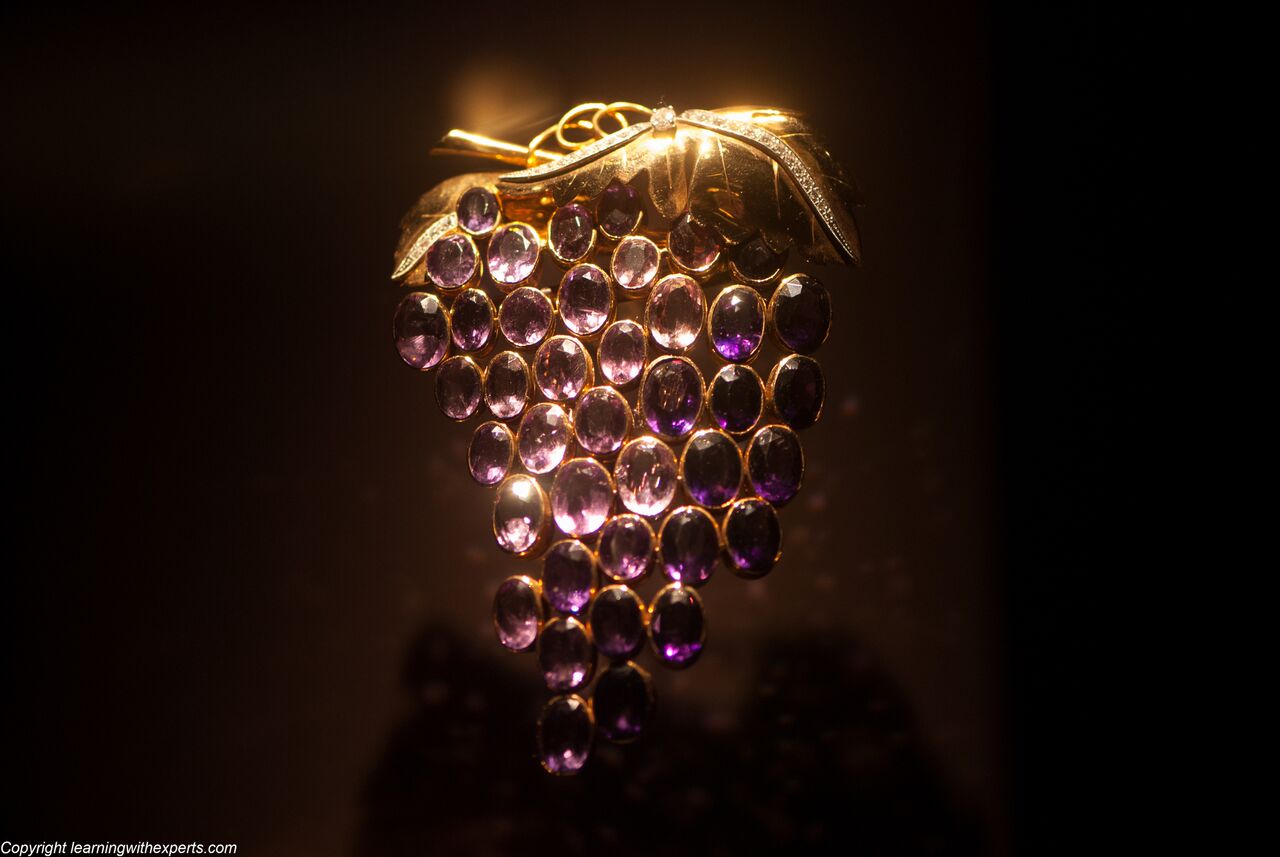 René Boivin amethyst and diamond 'Grappe de Raisin' Brooch, at Symbolic & Chase, Masterpiece 2017.


MASTERCLASSES & MASTERPIECE
Having hung up her hammer, Joanna's solo career has gone from strength-to-strength, with her services now including consultancy, valuing and auctioneering, along with curating contemporary jewellery-selling exhibitions. Several years ago, she set up The Jewellery School of Excellence for people looking to learn more about the business. Her intimate and inspirational "Jewellery Masterclasses", some of which are run at the Capital Hotel in Knightsbridge, with others offering a novel and glamorous way to entertain friends in the comfort of your own home, aim to boost confidence when assessing and buying jewellery.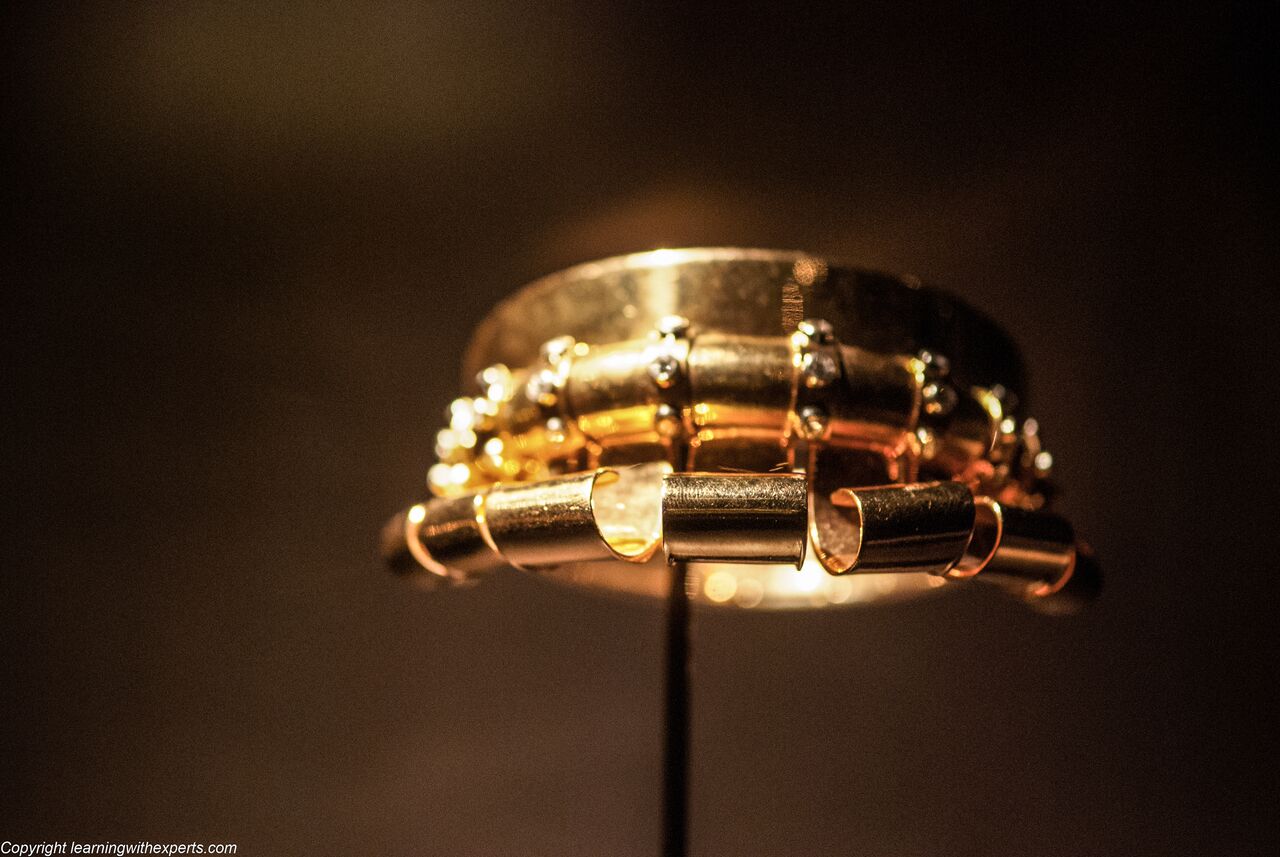 Boucheron yellow gold, sapphire and diamond 'Medicis' Bangle, at Symbolic & Chase, Masterpiece 2017.

Earlier this month, at July's ultra-glamourous art and antiques fair, Masterpiece, in London's Chelsea, she launched a world first - her very own online jewellery school. The school will help broaden people's awareness and appreciation of jewellery for its artistic merit and craftsmanship. The school offers expert analysis from Joanna and allows students to study at their own pace.
The sophisticated, interactive online classroom, powered by Learningwithexperts.com, welcomes students to the world of precious pieces, with Joanna guiding them through aspects including the complexities and challenges an expert is faced with when handling and understanding jewellery, along with the stone's origins.
THE MAGIC OF JEWELLERY
Joanna's first course within the school is "The Magic of Jewellery", which sees students learning the ropes and achieving an appreciation of jewellery through video documentary-style lectures. Along with her personal advice, Joanna's lectures include unique footage filmed at Masterpiece, as well as at top London jewellers and on location, helping students to learn what to look for in a good quality piece of jewellery. "There are a wide variety of goldsmiths and craftspeople involved in the courses, each chosen for their unique skills, whether it's stone setting, enameling or designing."
Classes comprise up to 20 people and Joanna is on- hand in the virtual classroom throughout the course to answer questions and set assignments, which she and her office then assess and critique.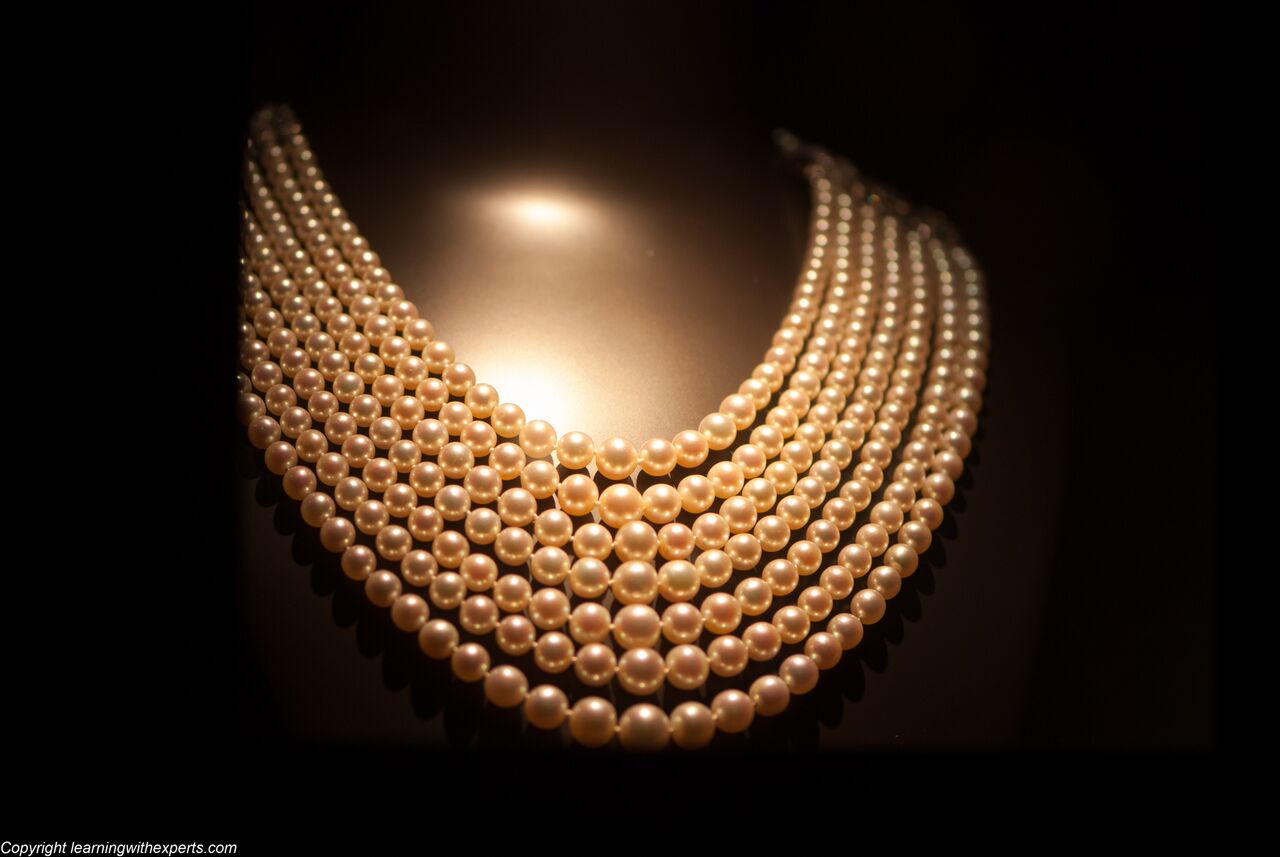 A natural coloured pearl and diamond necklace, at Symbolic & Chase, Masterpiece 2017.

"Ask me as many questions as you like in the classroom," she encourages. "My intention is to create a world-class online school, where enthusiastic amateurs or professionals can be introduced to the world of jewellery. Through my course, I can teach you wherever you are, and I'm anticipating students from Europe, the US and Asia."
What inspired Joanna to set up these unique courses? "I have been running masterclasses about stones and jewellery for a number of years and have constantly been asked where people can learn more about the history of jewellery, because there is nothing really available."
Students will also gain certification on completion of the course.
Masterpiece made the perfect launchpad for her new school. "The wonderful thing about Masterpiece is that it consistently showcases such a variety of pieces, both in their designs and histories, and the diversity amongst the jewellery exhibitors was especially evident this year.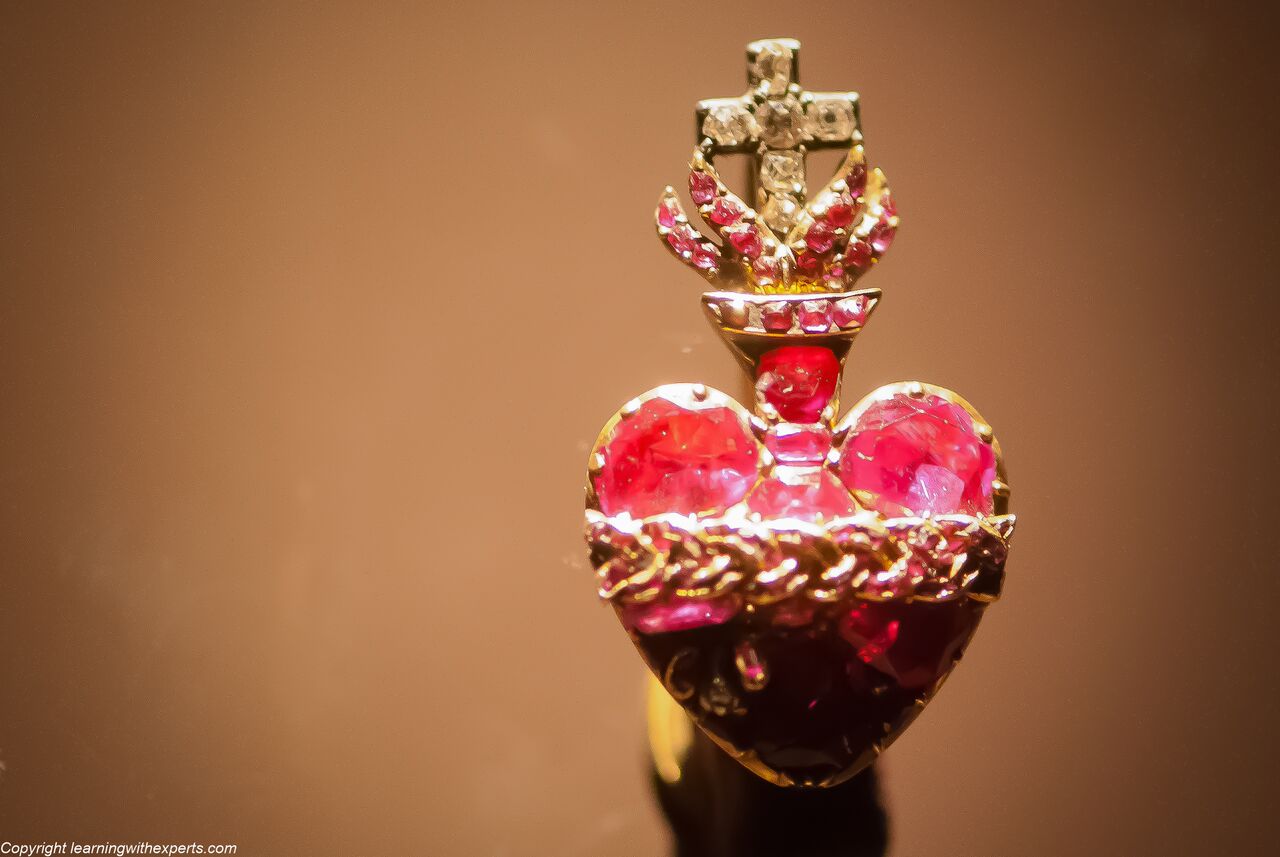 An eighteenth century ruby and diamond Sacred Heart Brooch, at Symbolic & Chase, Masterpiece 2017.

Every exhibitor had something that caught my eye, but the timeless pear-shaped diamond drop earrings at Hancocks, which are such a great contrast to the innovative and mesmerising new creations by Wallace Chan, particularly stood out. Amongst the stones shown this year, I was drawn to the incredible blue spinel, set in a diamond ring, exhibited by Boghossian; it's so rare to see a stone of such deep and lively colour."
ON-TREND PIECES
So, what else is hot this summer in the jewellery world and what should we be looking at investing in to ensure we're on-trend this autumn? "I tend to put more emphasis on quality than fashion in jewellery; pieces that are made well and will stand the test of time. Additionally, jewellery shouldn't be deemed an investment; there are too many variables that can affect value over the years, including stone availability and the discovery of new deposits, the use of treatments on stones and synthetics, currency exchange rates, in action, social and political events, trade restrictions and embargoes. Jewellery should be enjoyed, rather than being thought of as an investment."
TIPS FROM THE TOP
Joanna has lots of tips for jewellery makers and people looking to enter the industry, but stresses that, above all, you need patience and perseverance. "Be prepared to spend many years learning the industry and your trade. Proper jewellery is made from years of experience and knowledge. To fully appreciate jewellery, you have to understand its heritage, craftsmanship, origin, good design and have a discerning eye for detail."
To download the full feature, click here.

Stay inspired
Get FREE Jewellery tips and ideas from our experts in your inbox.