We need your help!  We've taken up the challenge of identifying  world's 100 greatest photography websites.
We've done the first fifty, and are continuing over the next few weeks to add the next fifty to make the definitive 100 greatest photography websites in the world which will then be sent to the press.
We've come up with a scoring system based on unique visitors to the website, design, content provision, rankings by Google and various other metrics.  However, a bit like choosing your favourite photos, there's always a sprinkling of subjectivity in there.
So these sites don't necessarily have to be immediately well known – we all start somewhere.  And we'd love your help to uncover those secret gems waiting to be found in the furthest corners of the internet.
How to Recommend a Great Photography Website
To recommend yours, or a great gardening website you know- please use the comments box below, in the next two weeks, and simply provide us with a brief description of why the website should be included, with a link.
The definitive list will be published finally in mid August and released to the press wires globally.  We know we've already uncovered some real treasures, and have probably also missed some  – so please get recommending!
This is cool.  Meet the World's Largest 360° Panoramic Photography Community.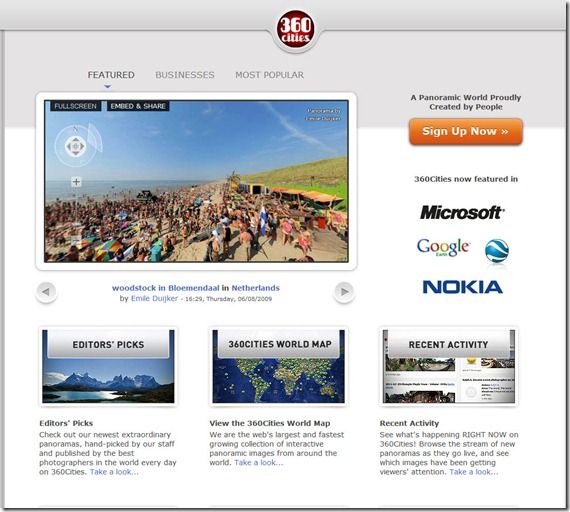 APUG is the world's best source for information on analogue/film photography, alternate process, printing, etc.  Yes there's still plenty of you out there fighting the tidal wave of the digital plague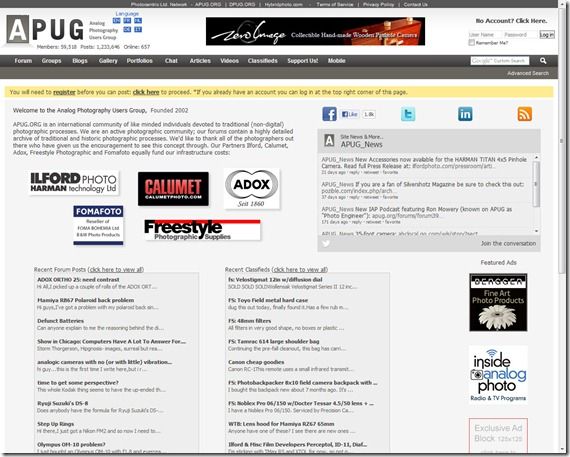 Does what it says on the tin.  Being the BBC,  it's very well done.  Conservative perhaps.  But great quality new photos.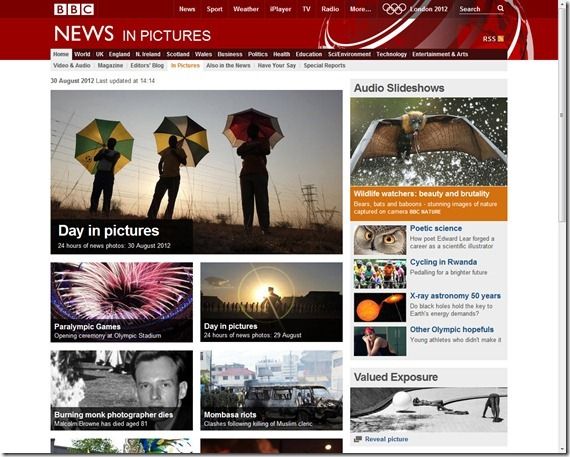 An amazing community of people all of whom share one photo a day.  An interesting concept; with an interesting insight into lives through photographs.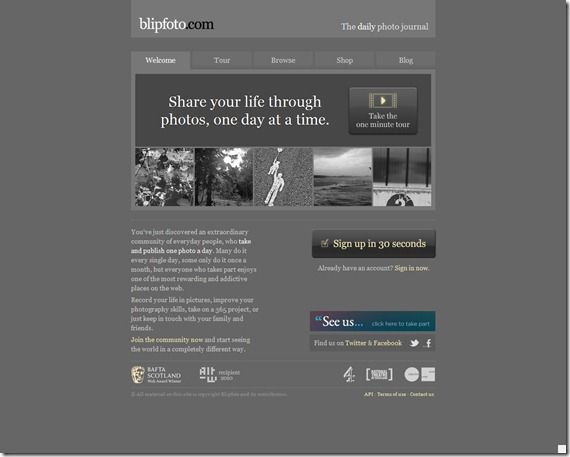 Promoting the art of photography by supporting the growth of creative artists through exhibitions and educational programs.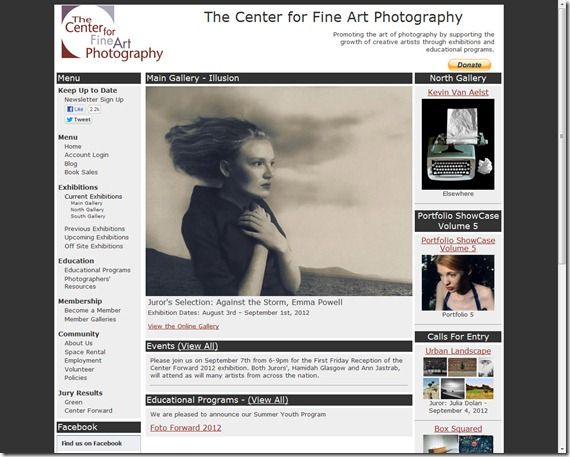 An online community dedicated to the art and technique of film.  The concept is simple – ChooseFilm.com aims to unite the traditional film industry. The scheme is supported by Fujifilm Professional and is a one-stop portal for all users of film, irrespective of brand. Subscription to ChooseFilm.com is free, and once photographers have signed-up they can enjoy a host of benefits.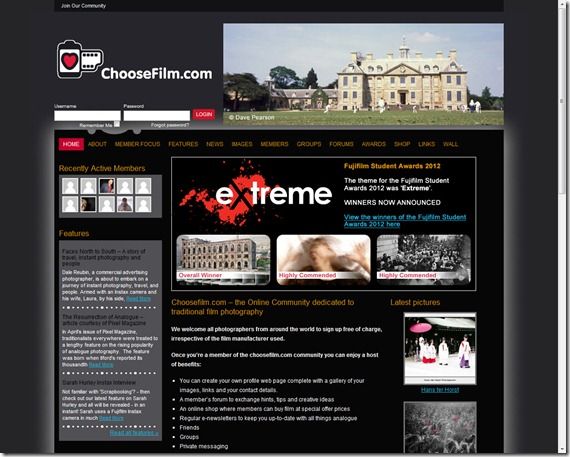 Quite like this site.  Usually things that describe themselves as cool -aren't.  But this one is.  Lots of quirky stories on here - like the wedding couple who've hired iPhone photographers, and the new species of lacewing identified through a Flickr photo.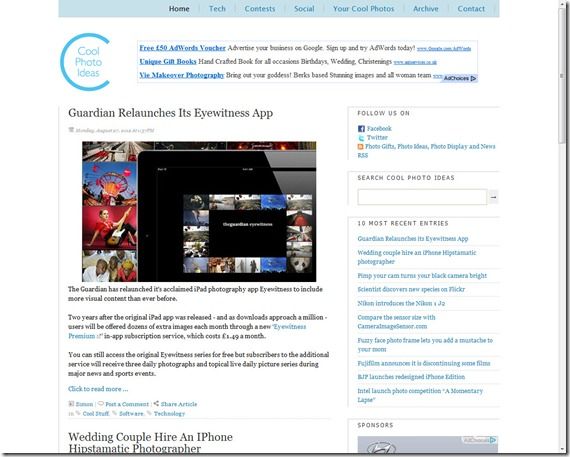 This is a photography junkyard.  What a great idea.  Beauty is in the eye of the beholder.  DeletedImages.com is the Junkyard of Art. This is the place where unfocused, blurry and un-sharp images come back to life. Have another look at your camera and look at those images you would normally delete. Those images can be very beautiful.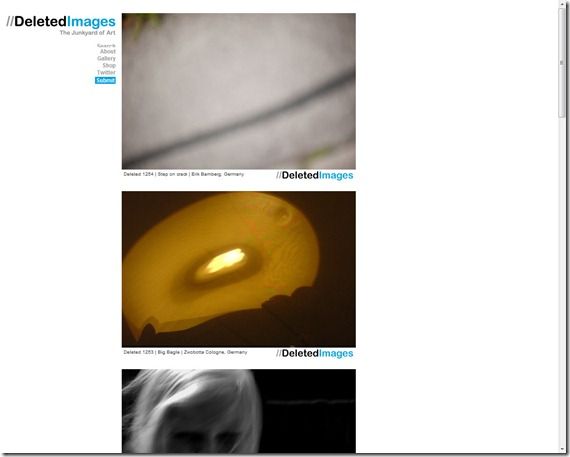 DA is a huge multi-discipline arts community, with a massive photography element to it, too. Many people have graduated from DA to Flickr these days.  But if you're into cartoons and anime - lots on here.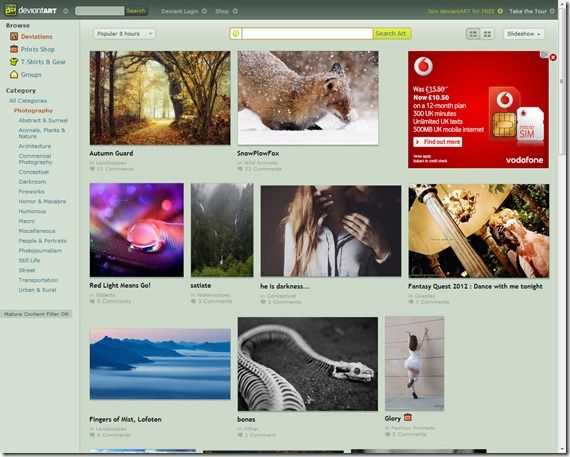 Advanced digital Photography techniques.  Includes topics such as Exposing For RAW, Light Lessons, Fast Lenses On Sub-Full-Frame, Sensors, D-SLRs For The Professional, Megapixels: How Much Is Enough?  Good for detail junkies amongst you.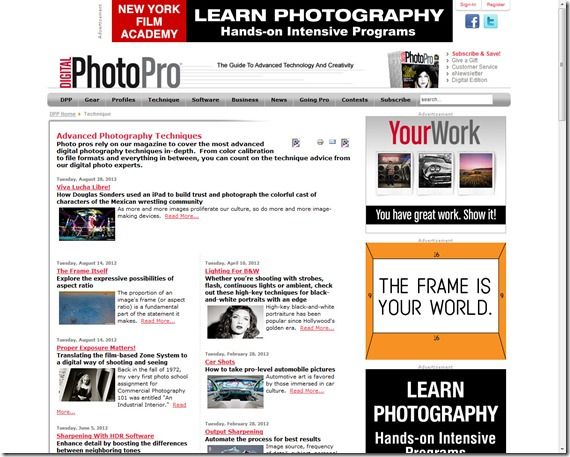 Side-by-side comparisons, sample images, and reviews of different camera brands and models.  Great to have a high quality kit review site to hand.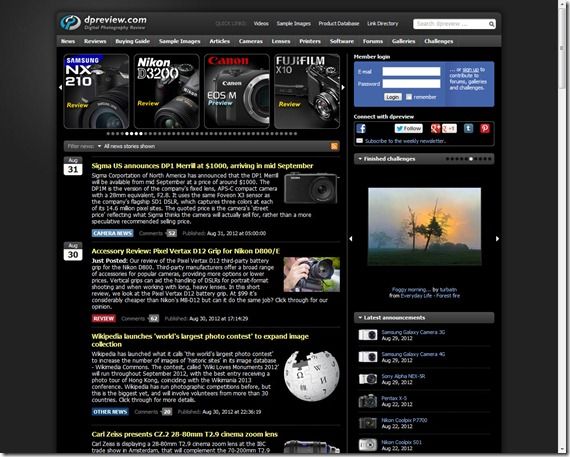 This is probably the most well known photography blog (and certainly one of the most highly trafficked) on the web.   It deserves its solid gold reputation, and is constantly being improved and updated by Darren Rowse, blogger extraordinaire and founder.  A great resource and definitely worth a visit.  And worth contributing to as well.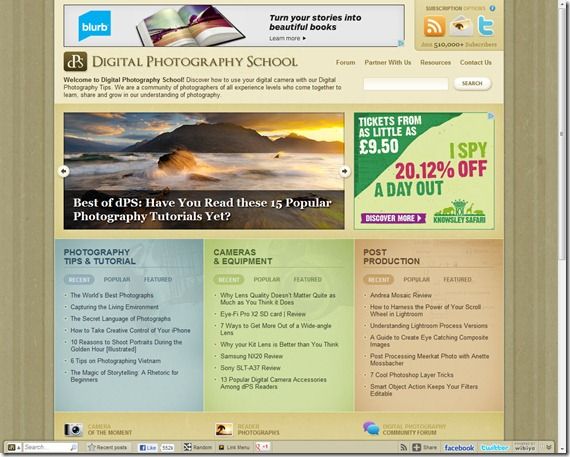 I first came across ePHOTOzine whilst I was developing the photography category at eBay (that was some time ago!).  It is a fabulous community of experts though.   And definitely deserves its place as one of the top photographic resources and community sites on the web.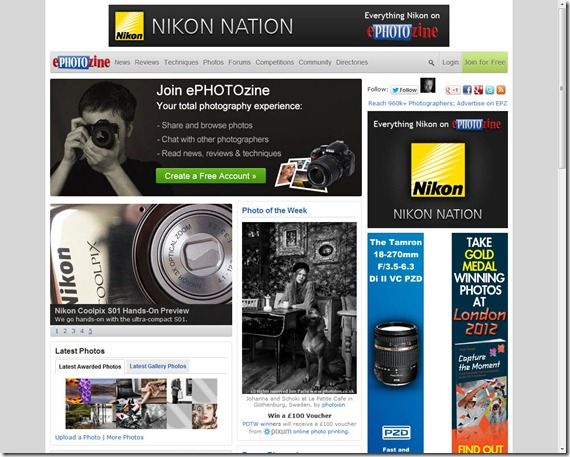 A collection of unexpected photography.  We like this because it's challenging.  It takes you out of your comfort zone.   File Magazine publishes images that treat subjects in unexpected ways. Alternate takes, unconventional observations, odd angles -- the photographs in the collection reinterpret traditional genres. The pictures say this better than we can.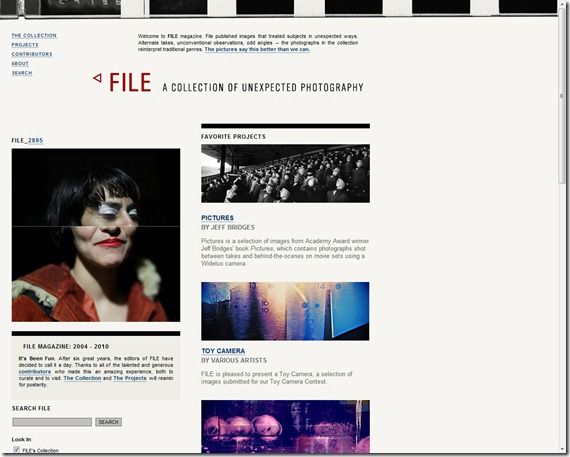 Celebrating contemporary photography.  FlakPhoto.com is an online art space + digital photo publication that celebrates the culture of 21st century image-making. The site is produced by Andy Adams and site highlights new series work, photobook projects and gallery exhibitions from a global community of contributors.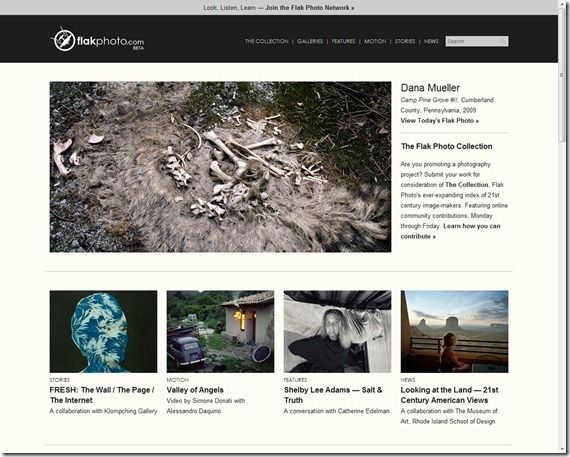 Flick has to be in this list really.  Even though Pinterest and Instagram (and others) are hot on its heels in terms of world dominating photography community sites.  It's the original leading in posting and sharing photography.  And still has some fabulous photo sharing groups and sub-communities going.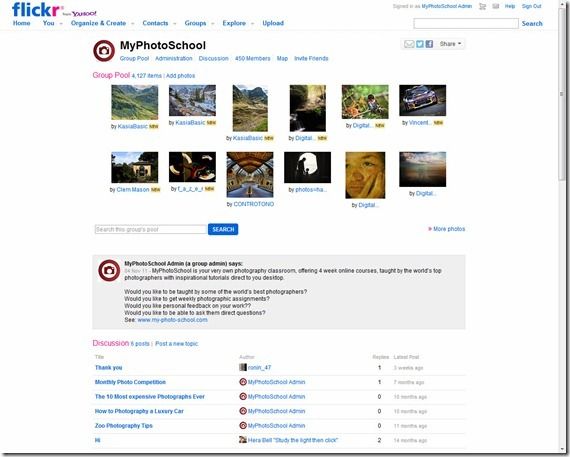 There are a lot of sites telling you how to take a picture, but none of them can give you the Fuel Your Photography experience.  FYP is a site for photographers and photography lovers. This online magazine is written for photographers by photographers, sharing their experiences and adventures while spanning every aspect of the photography world to help you better understand the craft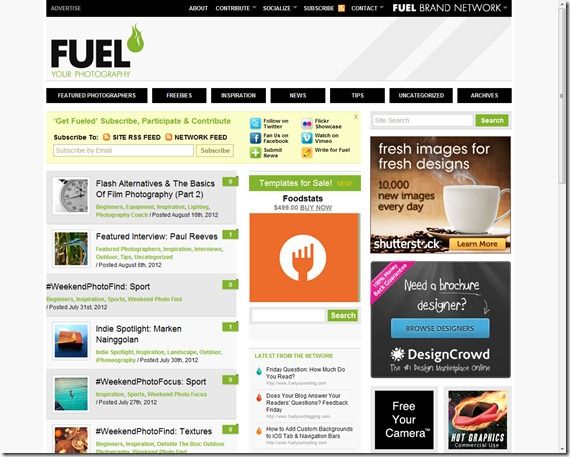 Work from professional photojournalists.  There are quite a lot of photojournalist sites out there.  But this is probably one of the best we think.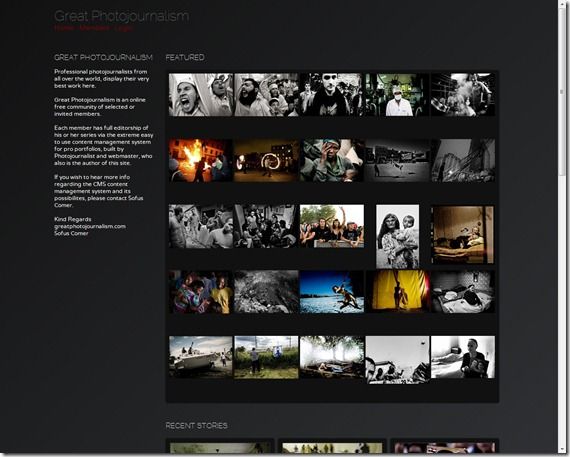 The Guardian Eyewitness app, which launched in April 2010 to coincide with the release of the iPad, is one of the top photojournalism apps, with nearly a million downloads worldwide. The app brings you the world's most striking and beautiful photographs, as selected each day by the Guardian's picture editors.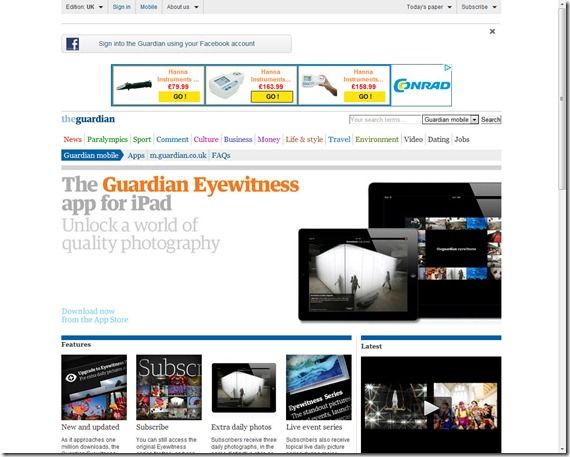 ILPB will review your photography blog for you.  It's a great portal into the world of photography blogs.  This site was designed to give photographers and photography enthusiasts a place to showcase their wonderful photography and to view outstanding works of others.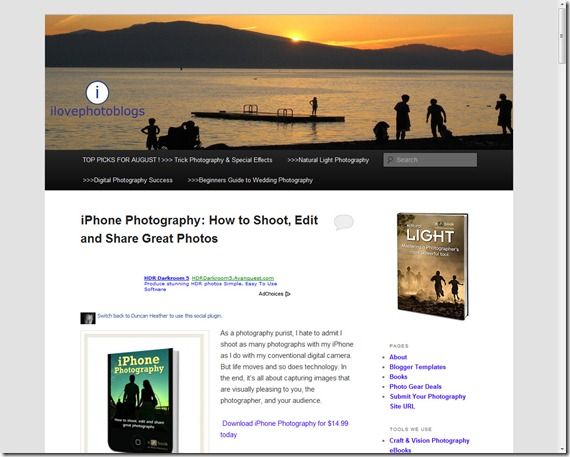 Instagram is a free photo-sharing program and social network that was launched in October 2010 (now bought by Facebook). The service allows users to take a photo, apply a digital filter to it, and then share it with other Instagram users they are connected to on the social network.   Instagram currently has 80 million registered users. Pretty impressive.   A distinctive feature is that it confines photos to a square shape, similar to Kodak Instamatic and Polaroid images, in contrast to the 4:3 aspect ratio typically used by mobile device cameras.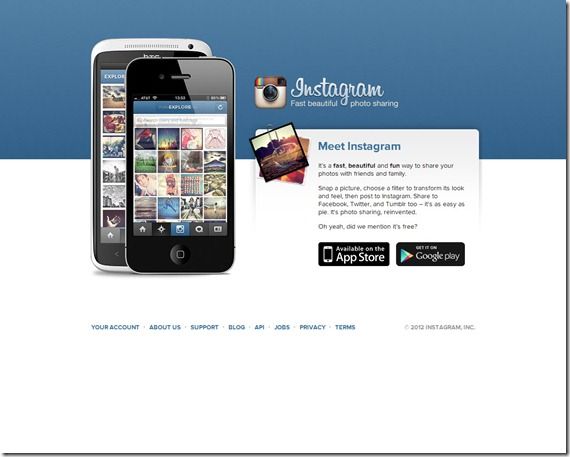 A place to share and enjoy iPhone photos.  Also features iPhone events, workshops and lectures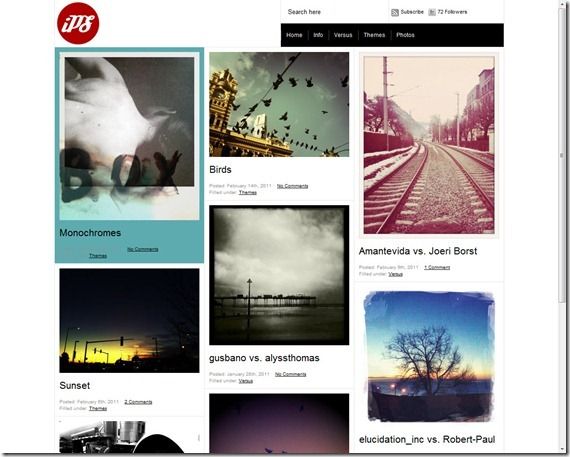 Morguefile is a lovely idea.  It's free photos for creatives; by creatives.   And the quality is very good.  They're also up to something new and exciting.  "Something big is coming, a new morguefile site coming right at you this Oct 1st, 2012. Stay tuned!"  PS in case you didn't know:  A morgue file originally was the paper-folders containing old files and notes that were kept by criminal investigators, and old article clippings kept by newspaper reporters in case they became of later use as a quick-reference.
Backup your photos!  Yes you do need to.  Mosaic allows you to backup your photos to the cloud and access them anywhere.  This is online Storage For Serious Photographers.  Mosaic provides affordable, offsite, online, and redundant storage custom-tailored for photographers. Back up your RAW photos easily.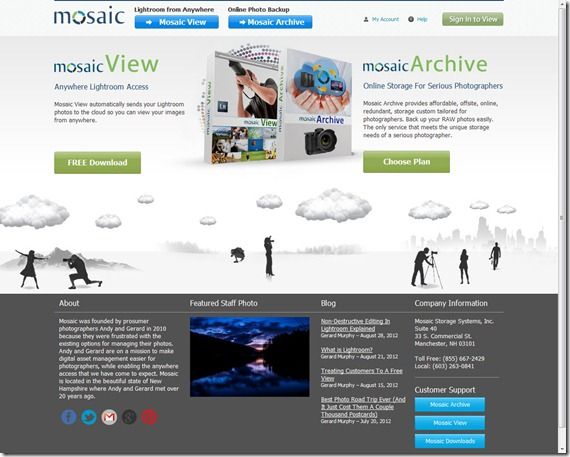 That's Us!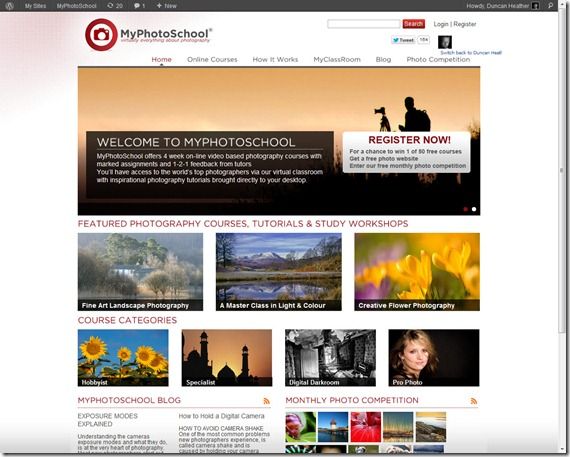 Tips and galleries from the magazine known for its stunning photographs.  Known for surfacing some of the best wildlife photography in the world.  Annoying poppy uppy advert - for such an amazing site.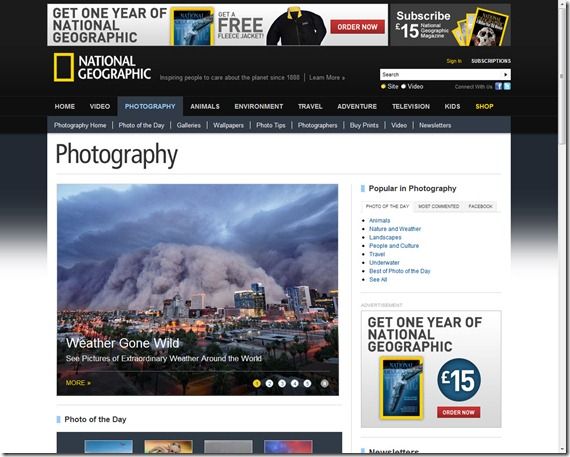 This site has a little bit of everything.   It's educational, has a thriving community and also does a good job on product reviews.  Articles range from aerial to street to wedding photography to landscapes. There are free and paid subscriptions that allow users to create accounts and upload portfolios and request critiques from fellow members.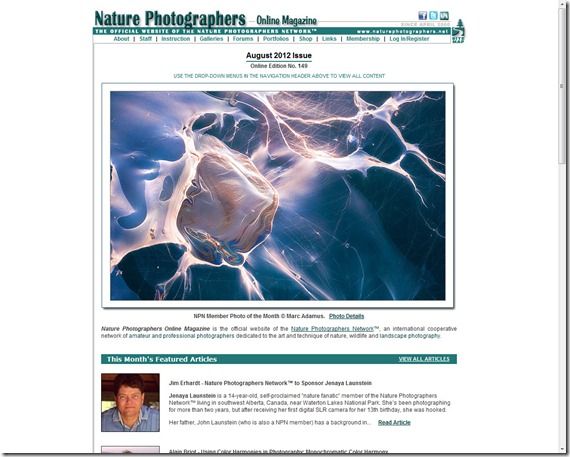 Once Magazine
This is a cool site.  It's an iPad app with incredible photojournalism.  Once Magazine is a new kind of magazine that strives to create compelling narratives that are not possible with print or web. Each month they publish three long photo stories paired with audio, video, text essays, and infographics. Typically journalistic, their stories range in topic from retirement communities in Arizona to the Libyan revolution. Each one is created specifically for the iPad.  Nice work and definitely worth a visit.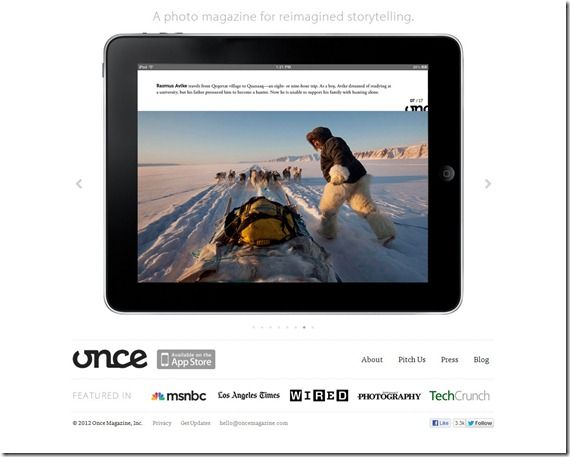 A useful site including information on gear, how-to guides, and weekly technology tips. In addition, there are columns by photographers and information articles about favourite outdoor locations along with workshops to hone your skills.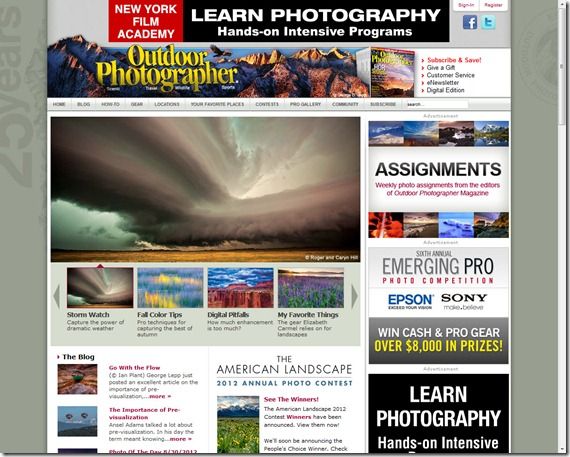 Photo-sharing community. Discover the world through photos. Connected to Google World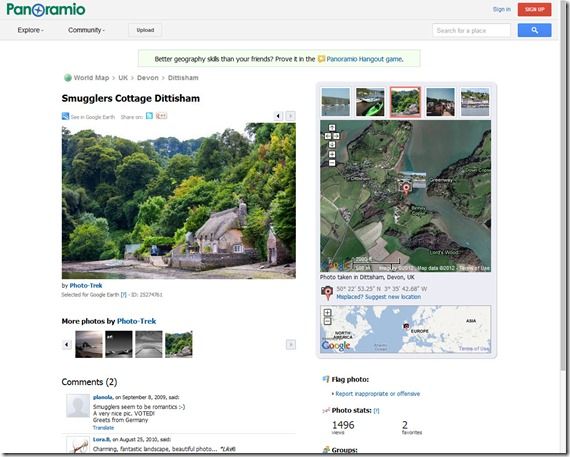 Award winning UK pet photographer, Paul Walker, practices creative pet photography throughout the UK and internationally of dogs, cats, horses or other animals best described as a pet. Author of internationally selling "Pet Photography Now" and MyPhotoSchool tutor.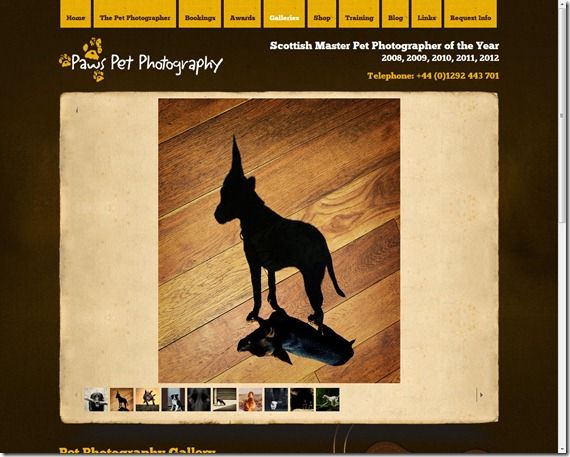 This site has a little bit of everything.   It's educational, has a thriving community and also does a good job on product reviews.  Articles range from aerial to street to wedding photography to landscapes. There are free and paid subscriptions that allow users to create accounts and upload portfolios and request critiques from fellow members.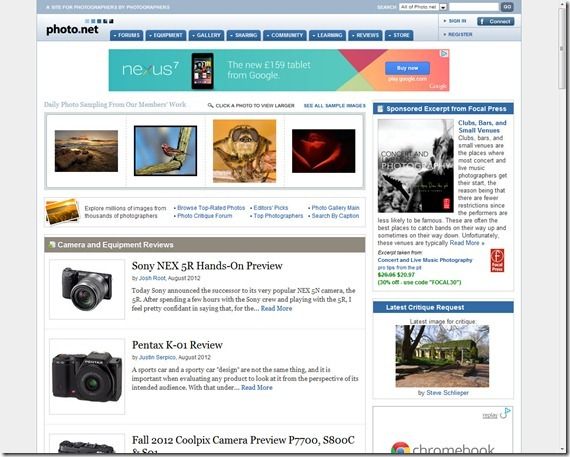 If you're into photography comps, you could do a lot worse than checking out this site – to pick which competitions to enter.  Not glamorous - but a good resource site.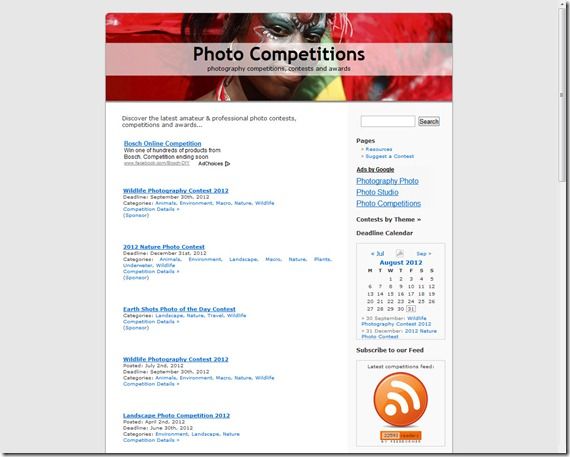 The Photographic Society of America (PSA) is a worldwide organization for anyone interested in photography. The society includes casual shutterbugs, serious amateurs, and professional photographers.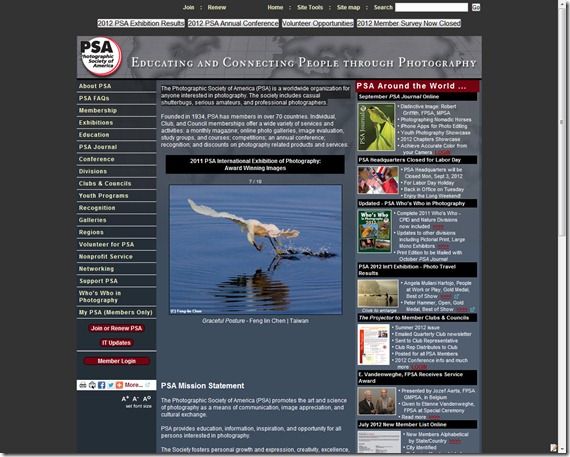 A great community site.  With a buzzing community, and some very thoughtful tips and tricks.  We actually think this is one of the best community photography sites, and MyPhotoSchool contributes content from time to time based on this premise.   Run by Alex Schult.  Good guy.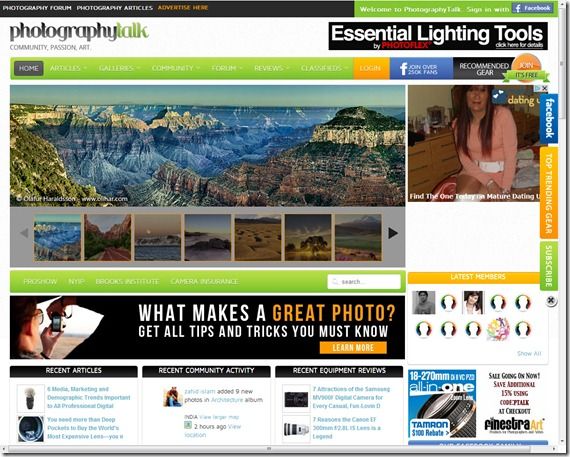 This is almost certainly one of the key gateways on the web for anyone interested in starting out in photojournalism.   It's been around since 1996, and is run by Mark Hancock, an acclaimed photojournalist from Dallas.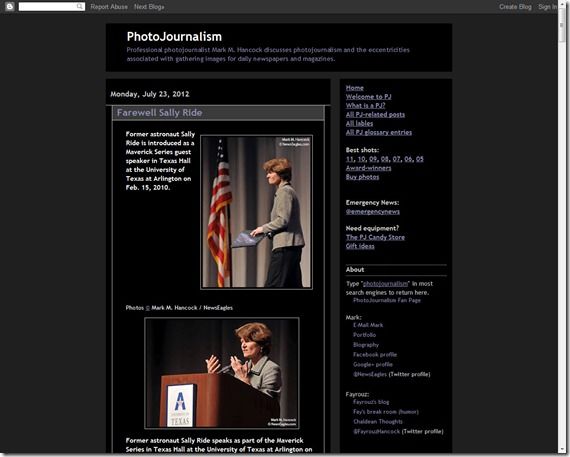 Photopreneur exists to identify the new opportunities that technological advances are churning up for professionals, hobbyists and for camera-owners who want to earn from their photography.  A text driven site - with some great tippets of advice.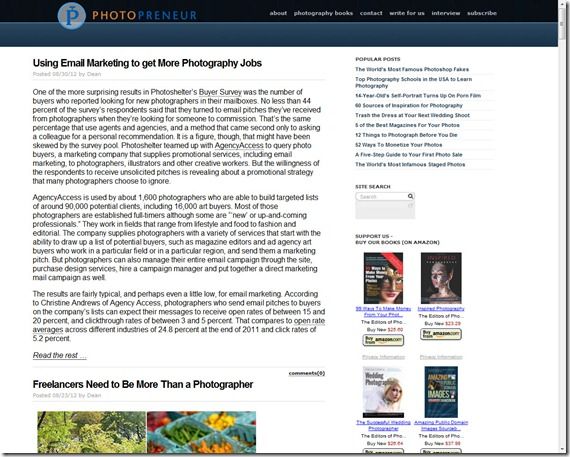 Er some of you will hate this.  I quite like it.  An undeniably unique and interesting website.  You can customise your own camera shell using special airbrush techniques.   Over to you…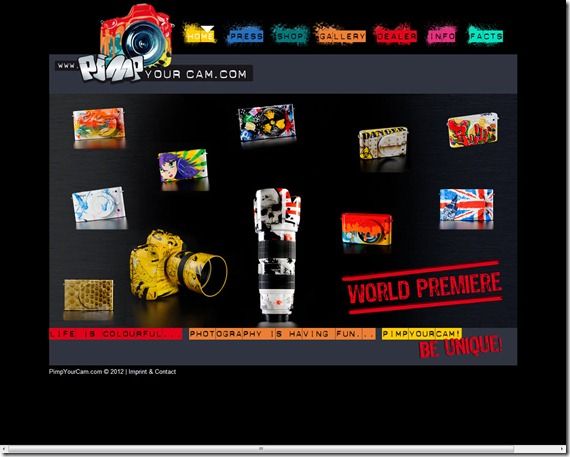 The fastest growing photographic social network in the world.  If you don't know about it yet - you probably should do!  We love it.  But be aware of your legal position when you share stuff.    There are definitely some grey areas still.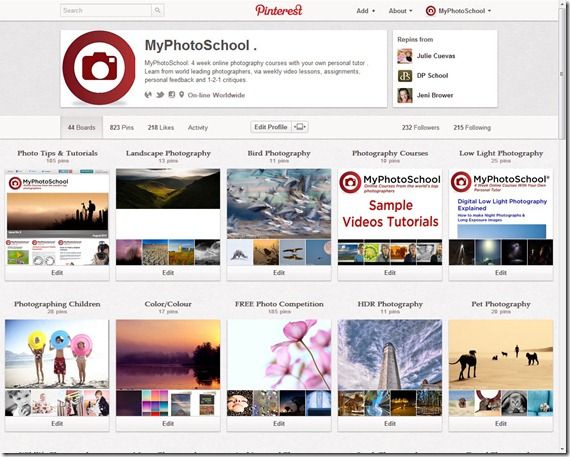 Pixiq is a beautifully designed site as well as being content rich.  Many of MyPhotoSchool's tutors are also Pixiq contributors.   It's high-end, and more aimed at semi-pros and enthusiastic amateurs, rather than beginners.   A really well thought out site with first class quality content.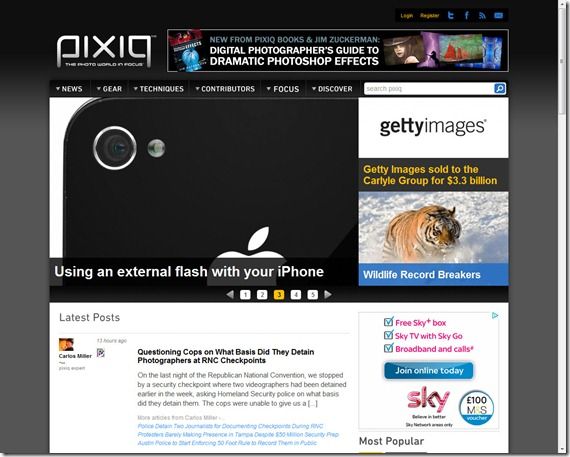 Photo sharing community.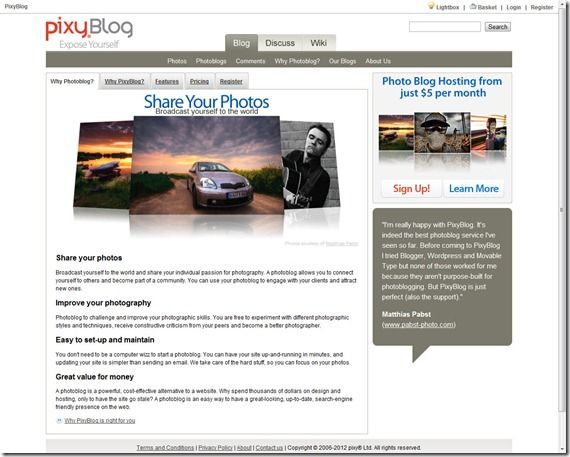 We can't not mention the RPS (being British as we are).  The Royal Photographic Society is an Educational Charity promoting both the art and science of photography. Membership is open to all, whatever level of experience or knowledge. No qualifications are required to join, just a passion and love for one or more of photography's myriad of genres, technologies and applications.  Most of our members join to further their own photography and to embrace the challenge of working towards our world recognized Distinctions (LRPS, ARPS and FRPS) and Imaging Science Qualifications (QIS, GIS, AIS and ASIS).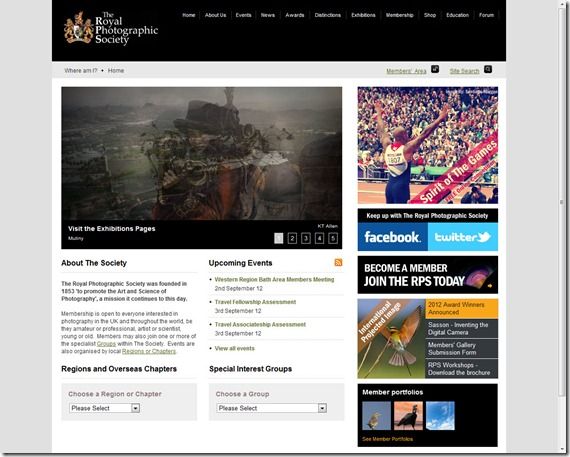 Another good idea.  ShutterCal is a calendar-based daily photography project.  You can use it to document your life and improve your photography with one daily photo.  Leaves you with a life calendar.  We like!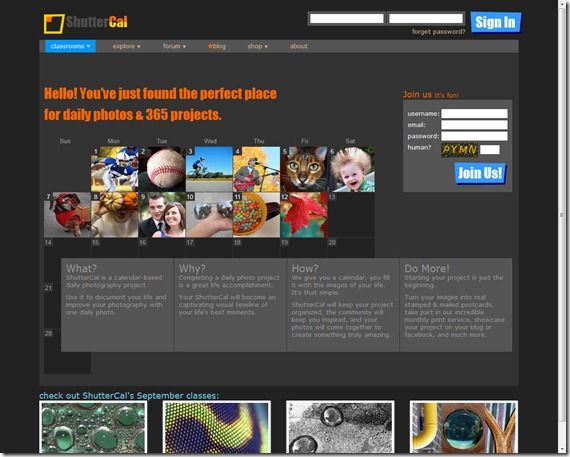 SmugMug? It's a subscription-based, online photo-sharing website that provides unlimited photo uploads, safe back up, easy sharing, customization, image protection and privacy features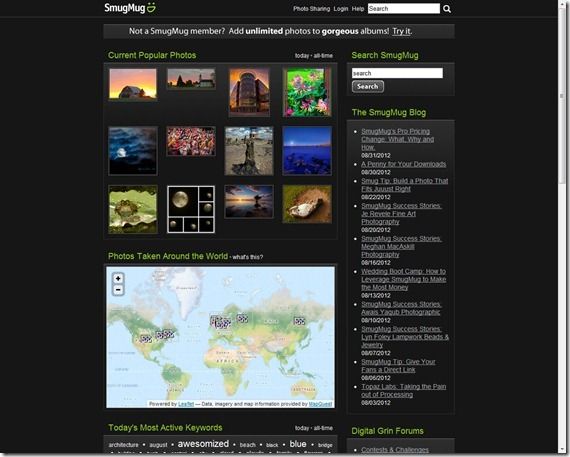 A site detailing how to use off-camera flashes to illuminate subjects… In ridiculous detail.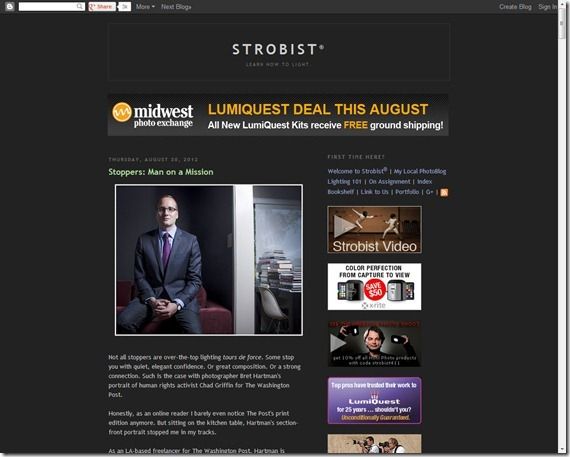 Photoshop templates for photographers.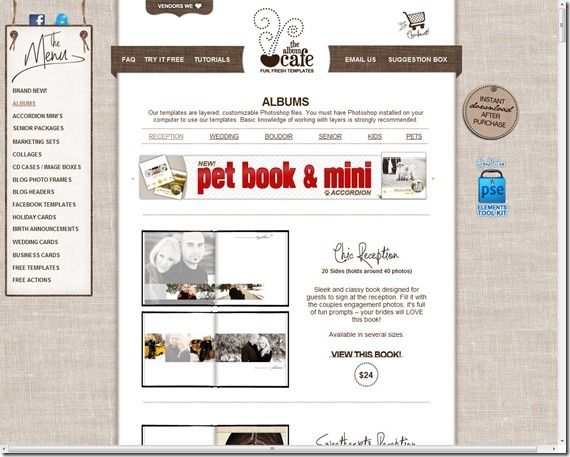 The Online Photographer (TOP) is a daily news website for photo enthusiasts, in blog format.  Contributors number more than 50 writers, including professional photographers, several photography magazine veterans, and writers from other fields who have a special interest in photography.

We like their mission: to help connect today's photo enthusiasts to photography's culture: its tradition, history, industries, best practices, accomplishments, literature, theory, legal issues, and current events.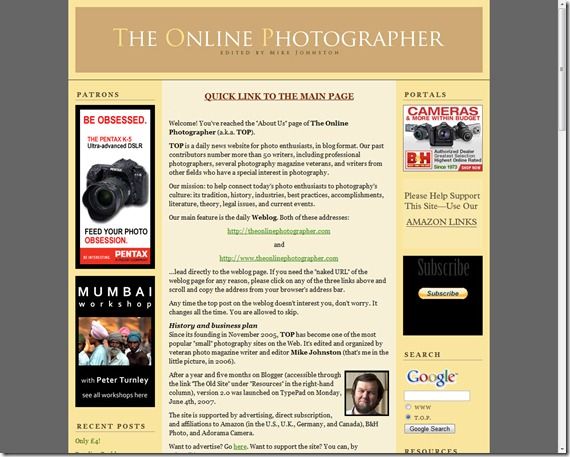 Reverse image search engine. See who is using your photos.  Seems like a pretty intelligent site to us.  TinEye finds out where an image came from, how it is being used, if modified versions of the image exist, or if there is a higher resolution version.  Nice!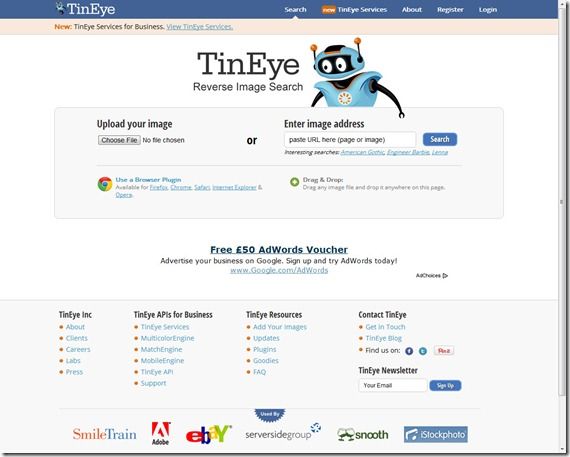 We like this site.  Not just because of the interesting niche subject matter, but because Harold Edens has a lovely self effacing way of running things.  He photographs lightening, clouds, atmospheric optical phenomena, astronomy, and everything else related to weather and science.  The site has information on weather and nature photography such as shooting lightning, clouds, and the moon.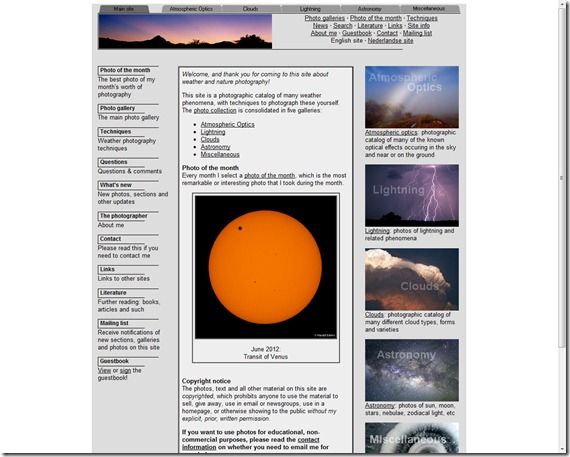 Now it your turn!….Tell Us which sites we have missed
Stay inspired
Get FREE Photography tips and ideas from our experts in your inbox.