Best Photography Quotes & Photography Gifts
By Geoff Harris •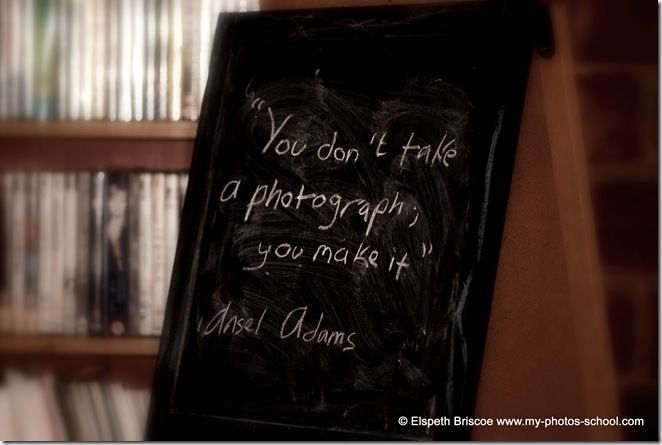 In this photography article, we have looked at some of the most profound quotes from the masters of photography .  We have also looked at some of the best photography gifts on the market at the moment for the photography enthusiast who has everything.  Why not combine a thoughtful quote with a photography gift?  Nothing pleases a photographer more than an interest in their passion.   Please let us know if you find other photography quotes and gifts you think it would be good to mention here.  Enjoy!

 






Recommended Photography Gifts


 
Best Photography Quotes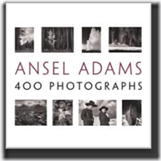 Ansel Adams: 400 Photographs: Ansel Adams, Andrea G. Stillman: 9780316117722: Amazon.com: Books
When words become unclear, I shall focus with photographs. When images become inadequate, I shall be content with silence.  
Ansel Adams
This is the perfect present for a photography enthusiast.  Beautifully produced and classically presented, the four hundred images in this work represent the finest pieces of possibly the world's most famous landscape photographer. The photographs are arranged chronologically into five major periods in order to convey Adams's evolution as an artist - from his first photographs in 1916 to his last master photograph in 1968.
ANSEL ADAMS' 400 PHOTOGRAPHS is intended as a can't-live-without gift and reference book for anyone who appreciates photography and the magic of the natural world. Few artists or photographers of any era can claim to have produced four hundred images of such lasting beauty and significance. It's a testament to Ansel's vision and his prodigious output that a book of this scale can be justified.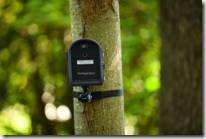 Wingscapes WSCT01-00114 TimelapseCam 8.0 Weatherproof 8MP Digital Camera
What I like about photographs is that they capture a moment that's gone forever, impossible to reproduce.
Karl Lagerfeld
A lot of people who are into photography would like a crack at timelapse photography  but don't want to leave their expensive DSLR in one spot for a month or more.  A handy way to introduce someone who's a keen photographer into this exciting new branch of digital photography is to get them a timelapse kit.  This one is a fairly basic one.  But will give you a taster for making short movies of timelapses like flowers, construction sites, parties or busy streets. It's all weatherproof -" so can be erected outside and left. This one does 8.0 Megapixel images so is ideal for making high-definition videos or individual photo prints. Setting up and using the TimelapseCam 8.0 is simple and straightforward. Use the tripod mount, included mounting strap, or the versatile mounting bracket to position the camera almost anywhere. The adjustable lens gives you sharp focus on subjects as close as 8 inches, good for school projects and macro photography. You control what times of day the camera is active and how often it takes a photo.  I'm currently doing one on a London skyline in the heart of the city - will share it on The MyPhotoSchool blog when it's done! We can compare notes.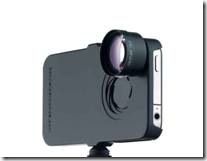 We are making photographs to understand what our lives mean to us.
Ralph Hattersley
The chances are your image conscious photography enthusiast has an iphone.  What they may not know though, is increasingly even professional photographers are relishing the chance to capture those instant moments where there's no time to set up the DSLR.  And to do this they're whipping out pro lenses and attaching them to their iphones!  Genius.  This set is particularly impressive.
Century Optics is behind the iPro Lens system.. and this is where it's getting interesting. Unlike the regular run-of-the-mill iphone add-on lenses, Century optics make add-on lenses for broadcast cameras. These are the folks who provide fisheye views to movie-makers... in other words, somebody with a lot of lens-making experience is making your iPhone into a serious camrea. And why not.. the iPhone 4 and 4s are both great personal video cameras, the 4s have a stabilized camera image even.
There are two lenses in this kit.
A fisheye lens for really wide shots with barrel distortion.
A wideangle - which fairly closely emulates a 35mm
Both lenses are the best optical lenses I have tried on an iphone. Nuff said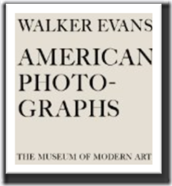 American Photographs: Walker Evans: 9781849761284: Books


"Walker Evans helped Americans discover themselves...a book populated by Depression-haunted souls."
(The New York Times 2012)
For those who have been waiting for years to own this classic photobook -- one of the very best and most influential photobooks ever published, in fact -- this is your chance. To mark the 75th anniversary of the original 1938 publication, the Museum of Modern Art has reissued American Photographs for the first time since 1988 (the 50th anniversary). While there were previous reissues, in 1962 and 1971, the book has often been out of print and hard to find, which has caused secondhand copies to soar. Not only is it a pleasure to see it back in print at an affordable price, but, according to the jacket copy, the editors and printers have used digital technology to "aid in emulating the precise cropping and finely tuned balance of the 1938 reproductions, capturing as never before the look and feel of the first edition." Certainly this book, with its iconic play grey dust jacket, elegant typography and blind-stamped black cloth binding, looks and feels timeless. (John Dorfman Art & Antiques)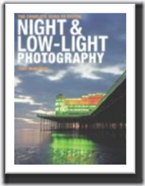 The Complete Guide to Digital Night & Low-Light Photography: Tony Worobiec: 9780715338551: Books
Amateurs worry about equipment, Professionals worry about time, Masters worry about light (Anon)
Another good present for the photography enthusiast who has everything this book is definitely a quality buy.If you've never come across Tony Worobiec with regard to understanding light you're missing a trick.  Even better, Tony Worobiec runs an online course with MyPhotoSchool on Understanding Low Light Photography so you could buy your photography enthusiast an online photography course and a book as a thoughtful double package the online photography course will give your recipient access to the great man himself to ask questions and get their own work critiqued.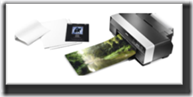 Epson Stylus Photo R3000 A3+ Photo Printer - 9 Ink System For Photography
For me the printing process is part of the magic of photography. It's that magic that can be exciting, disappointing, rewarding and frustrating all in the same few moments.
John Sexton
A decent photographic printer is a must for many photographers.  Even if they still go to print shops for large tasks, it's always handy to be able to do fast print-outs to check color and quality.   Ask first what your photography enthusiast requires as there are many choices on the market.  The Epson Stylus Photo R3000 is a 13 wide printer which delivers professional features including high-capacity cartridges, networking and wireless connectivity, plus Advanced Media Handling. Epson UltraChrome K3 with Vivid Magenta pigment ink, combined with Epson's innovative MicroPiezo AMC print head, enables the R3000 to produce gallery-quality black-and-white output, plus vivid color prints with good blues and violets.
Offering wired and wireless networking, the R3000 makes it easy to print from anywhere in your home or studio. Now, you can produce wide-format images and professionally showcase your work.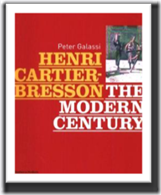 <!
Henri Cartier-Bresson: The Modern Century: Peter Galassi: 9780500543917: Books
To photograph is to hold one's breath, when all faculties converge to capture fleeting reality. It's at that precise moment that mastering an image becomes a great physical and intellectual joy."
Henri Cartier-Bresson
Henri Cartier-Bresson (1908-2004) is one of the most influential and loved figures in the history of photography. Released to accompany an exhibition at The Museum of Modern Art, "Henri Cartier-Bresson: The Modern Century" is the first major publication to make full use of the extensive holdings of the Fondation Henri Cartier-Bresson in Paris including thousands of prints and a vast resource of documents relating to the photographers life and work. The heart of the book surveys Cartier-Bressons career through 300 photographs divided into twelve chapters. While many of his most famous pictures are included, a great number of images will be unfamiliar even to specialists. A wide-ranging essay by Peter Galassi, Chief Curator of Photography at the Museum, offers an entirely new understanding of Cartier-Bressons extraordinary career and its overlapping contexts of journalism and art. The extensive supporting material featuring detailed chronologies of the photographers professional travels and his picture stories as they appeared in magazines will revolutionize the study of Cartier-Bressons work.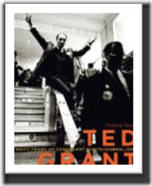 Ted Grant: Sixty Years of Legendary Photojournalism (9781927527344): Thelma Fayle, Maureen McTeer, Joe Clark: Books
When you photograph people in color, you photograph their clothes. But when you photograph people in Black and white, you photograph their souls!
Ted Grant
Regarded as Canada's premier living photographer, Ted Grant's career covers 60 years as a photojournalist, He's captured news, sporting events and important people throughout the world
for Canada's newspapers and magazines. He is the award winning photographer behind the images of Pierre Trudeau sliding down the banister, and Ben Johnson becoming the fastest man on earth. Ted Grant is known in the trade as the "father of Canadian photojournalism"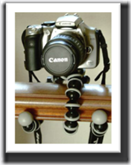 Joby Gorillapod for Canon 450D, 1000D,500D, Nikon D3000, D5000,D90, Sony Alpha DLSR Range, and Panasonic G1 Series - SLR Zoom
When we define the Photograph as a motionless image, this does not mean only that the figures it represents do not move; it means that they do not (i)emerge(i), do not (i)leave(i): they are anesthetized and fastened down, like butterflies. 

Roland Barthes

A good present for a spontaneous photographer who likes to be on the move (you can get them to fit iphones too) is a GorillaPod. I basically use mine for quick shots, or for tight spaces where you can't get a tripod up easily.Use the Joby GorillaPod tripod to grip any protrusion, be it a branch, doorknob, or rock and get that steady shot. It has three multi-segmented flexible legs with joints that rotate 360 degrees and is designed to bend at your will to ensure you get the right angle. A 360-degree swivel pan head on this SLR-zoom tripod gives you the flexibility to position your camera in various angles. This Joby tripod has a quick release clip that lets you mount your camera securely, with less risk of vibration or slipping. Additionally, the Joby GorillaPod tripod has bubble level for camera alignment. You can use this SLR-zoom tripod on difficult terrain, thanks to its rubber foot grips. Clearly they're not a replacement for a Tripod but definitely a cool present for someone who has it all already.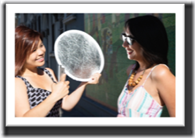 <!
Light makes photography. Embrace light. Admire it. Love it. But above all, know light. Know it for all you are worth, and you will know the key to photography.
George Eastman
Another cool gift for the enthusiastic photographer on the go.  You can double your available light, knock harsh shadows outta your phoneographs and boost highlights without lugging around complicated spendy equipment with the Pocket Reflector.  The Pocket Reflecter is a small-as-your-phone pocket-sized version of those big ol' reflectors the pros use at their fancy pants photo shoots.
Phones don't have the most sophisticated exposure controls, so you're gonna need this guy to add sparkle to your instagrams by boosting the highlights. Take top-rate product photos for your ebay listings by knocking out detail-robbing shadows.
Hold it opposite your main light source to bounce light back onto your subject. The white side reflects soft natural light. The silver side bounces back bright concentrated light. No batteries, harsh flashes or fancy pants required.
The Pocket Reflector folds right up into a little pouch. It makes a perfect addition to your phoneography arsenal. Bring it outdoors to fight backlight from an uncooperative sun, or inside to balance out lopsided light from a window or lamp.
Stay inspired
Get FREE Photography tips and ideas from our experts in your inbox.