Advanced Flower Photography Techniques with Philip Smith
Gardens are full of visual joy. It is the single moments of colour that get me going. Yes of course I love the grand sweep of a herbaceous border, but individual plants create small moments of happiness that are right up there with the Bach cello and babies' fingers.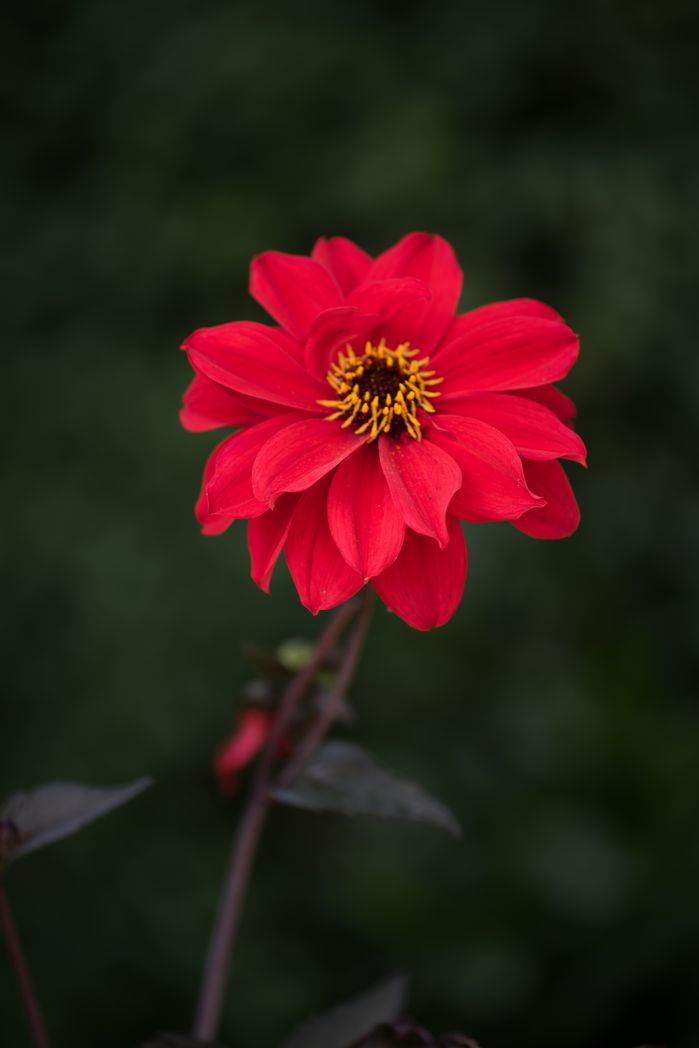 Dahlia 'Bishop of Landaff'
As a photographer I strive all the time to capture that emotional leap of recognition and elation I get when I see a favourite plant in its prime, in its right place in the garden. But experiencing the plant and creating a photograph of it that conveys that mood are two quite different things.
For one thing, I am seeing the scene in three dimensions. My camera lens only sees in two of them. Neither does my brain arrange the scene within the frame of a rectangle. My view takes in the surroundings. Maybe there's a lorry parked up on the path behind, and I'm aware of that, even if I'm not looking directly at it. But my brain is able to give priority to the plant, while relegating the lorry to a simple awareness of its presence.
But my camera isn't that clever. If I'm not careful it will capture the lorry in the same shot as the plant and give it the same visual priority. And for 'lorry', you can substitute bits of other plants, foliage, plant labels and so on.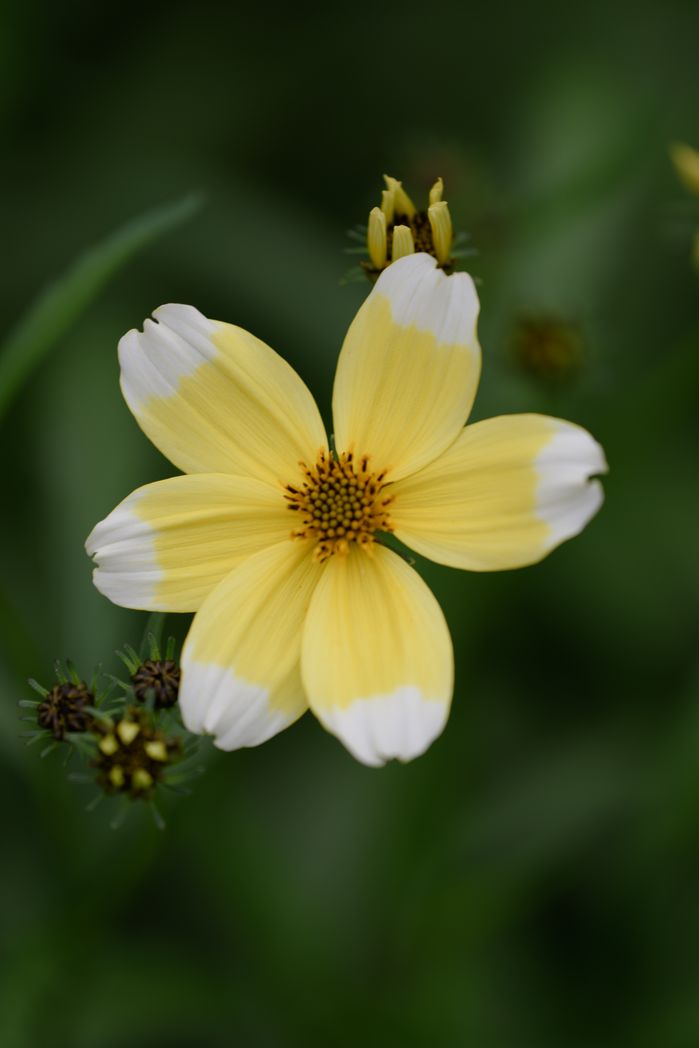 This Bidens heterophylla 'Hannay's Lemon Drop' is lovely, but it has a cheeky young bud seeking attention behind its parent's top petal. Would you let that go?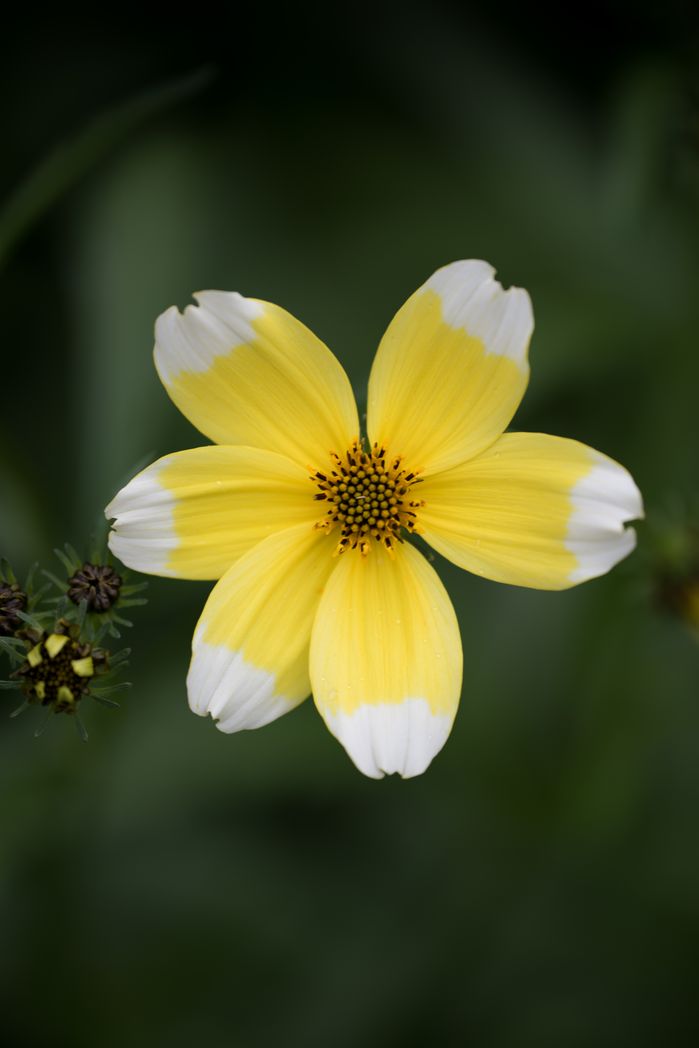 Getting rid of the bud in software would be tricky, so bending the whippersnapper out of the way and giving it a good talking-to enables us to enjoy the wonderful shape unhindered. No buds were harmed in the making of this photograph.
So as a photographer I am always looking for ways to detach the plant from its background. Some photographers carry around a piece of black card to place behind a plant. I'm not a fan of that as I like a suggestion of the plant's natural context. Some people take plants into the studio and work with them there, away from visual distractions. I do this sometimes, but it doesn't fire me up in the way that plants in a garden or in the wild do.
So I always have this issue of what is significant in a plant image and what is not. My guiding principle is to spend as much time as it takes to get the right viewpoint to subdue the unwanted elements, while at the same time giving an impression of the natural context that the plant lives in.
My chiropractor will tell you that I carry around a big rucksack full of hi-tech gizmos to help me make the images I want – loads of lenses, wireless connection, grad filters. But there is always a space in my bag for clothes pegs, and I use these to help me subdue those elements that seem insignificant at first, but which become significant once the scene is transformed in a photograph.
Using clothes pegs carefully to bend and hold unwanted material out of the way will often get you the shot you want without harming the plant – especially if you use wooden pegs.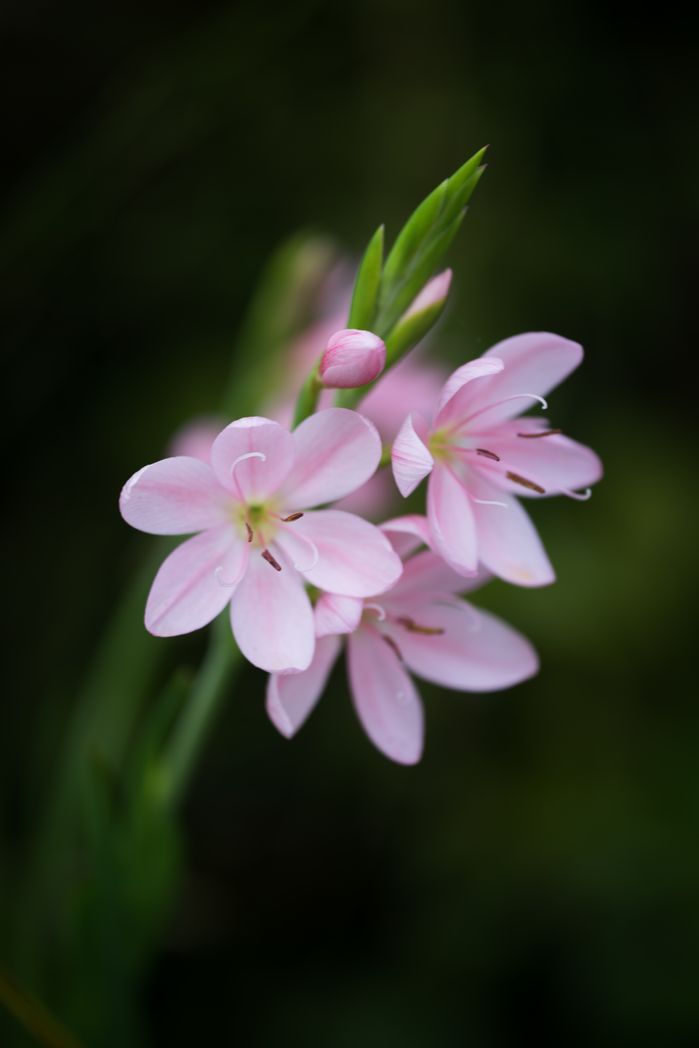 This schizostylis coccinea is a great favourite of mine. I often like to have some blurred colour in front of the subject, but here the tone of the plant in front is too moody. I also don't like the bright stem to the left of the flower; it doesn't go anywhere and, being bright, takes attention away from the subject.
Moving those unwanted elements out of the way with pegs gives a cleaner image. I like to minimise the work I need to do to the raw file in software and the pegs did the trick here.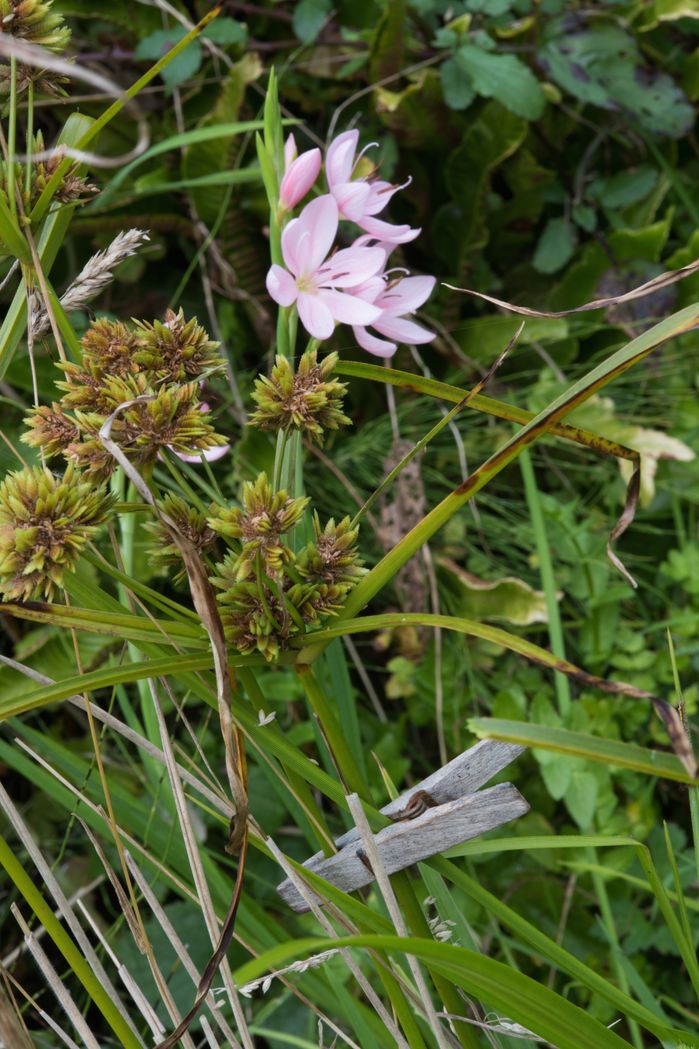 Here's the peg in place; remember not to leave it behind!
Philip Smith is running a 2 day workshop in the Dordogne region of France next year. We will visit and photograph some of the most stunning gardens in France. This is an opportunity not to be missed.
To find out more go to http://www.worldphotoadventure.com/photo-workshops-and-tours/french-gardens/
Stay updated
Receive free updates by email including special offers and new courses.