Understanding the relationship between Aperture, Shutter Speed and ISO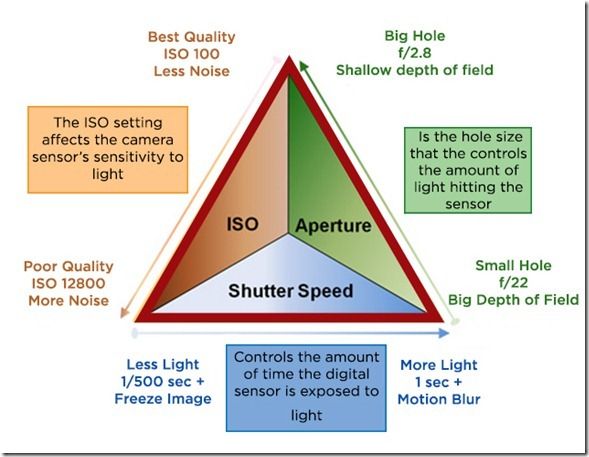 When you're starting out in photography it's always tempting to keep the camera on its fully automatic program, so that you don't need to worry about exposure, focus, or anything else except composing the picture.

Exposure in particular can seem quite daunting at first.  But once you've understood the basics, it's actually very straightforward, and this frees you up to use one of the semi-automatic exposure modes, giving you much more control over the resulting image.  These semi-automatic modes are known as aperture priority (AV) and shutter priority (TV).

A photograph is properly exposed when the correct amount of light enters the camera.  The amount of light entering is controlled by two things – the shutter speed, ( the amount of time the digital sensor is exposed to light) and the aperture ( the hole size that the controls the amount of light hitting the sensor).

A faster shutter speed will let in less light than a slower one.  A smaller aperture (hole) will let in less light than a wider one (large hole).  And the shutter speed and aperture settings have to be in balance to create a correct exposure.

Each incremental change in shutter speed or aperture is known as a stop.  So if you have a shutter speed of half a second, a one-stop change in either direction would give you a quarter of a second, or a full second.  Apertures are described by f-numbers, and there is one stop difference between each f number.





If you are mostly concerned about choosing your aperture, then you can select aperture priority mode on your camera.  Then you pick the f-stop, and the camera sets the shutter speed needed to obtain a correct exposure.  Each time you change your aperture by one stop, the camera will change the shutter speed by one stop.

Conversely, if shutter speed is your concern, then set your camera to shutter priority mode, and you can choose your shutter speed and the camera will set the relevant aperture.  Each time you change your shutter speed by one stop, the camera will change the aperture by one stop.

Most of the time, this is all you need to think about.  But there is one more factor in the exposure equation, and this is the ISO.

The ISO setting affects the camera sensor's sensitivity to light.  Each doubling in the ISO setting (e.g. from 100, to 200, to 400 ISO) will also change the exposure by one stop.

EXAMPLE

Imagine that you're photographing a landscape with flowers in the foreground, trees in the middle distance, and mountains further away.  You've decided to shoot in aperture priority mode, and you want to use a very small aperture, let's say f22, to get a large depth of field.  You check what shutter speed your camera is suggesting, and see that it's ¼ second.

This is quite slow, and even though your camera is on a tripod, as it's a windy day there's a chance that the flowers and trees will move and blur in the photograph.  You don't want to change your aperture – so what can you do?  The answer is to change your ISO to a higher setting.  Each one stop change of the ISO will bring about a one stop change in your shutter speed – so as you increase the ISO setting, the shutter speed will get shorter, while your aperture of f22 remains the same.

However, bear in mind that the image quality will always be better at a lower ISO setting (see my blog about this on May 21st)

This relationship between aperture, shutter speed, and ISO is often known as the Exposure Triangle.

If you would like top learn more about Exposure why not sign up for Nigel Hicks's excellent 4 week online course on Light & Exposure.
Stay inspired
Get FREE Photography tips and ideas from our experts in your inbox.