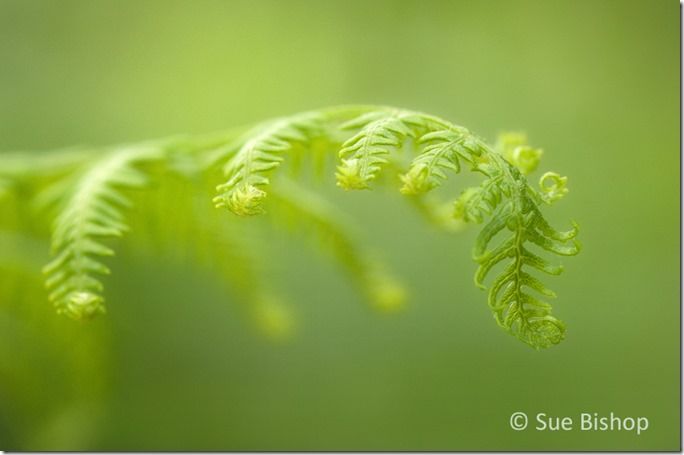 Unless we are lucky enough to live in a fabulous, unspoilt area of countryside, most of us will often make some sort of journey to get to a photographic location, whether it is just half an hour away, or on the other side of the globe.

As a flower and plant photographer living in the UK, I often drive along the M25 motorway to the Royal Horticultural Society's garden at Wisley, which is a favourite location for me. With good luck and a clear road, I can be there in half an hour or so, which isn't bad.

However, there is a wood five minutes' walk from my house, where I try to go for a walk most days, just to have a break from the computer! I don't usually take my camera with me. But this year, it occurred to me that I should have a go at photographing the ferns which I walk past every day without really looking at them.

So, one morning in June, I set off with my camera and macro lens. As with most subjects, it took a bit of hunting to find exactly the right fern, in the right light, with the right background. I decided to use a wide aperture in order to be able to focus on just part of the fern, and have plenty of areas of soft, out of focus green.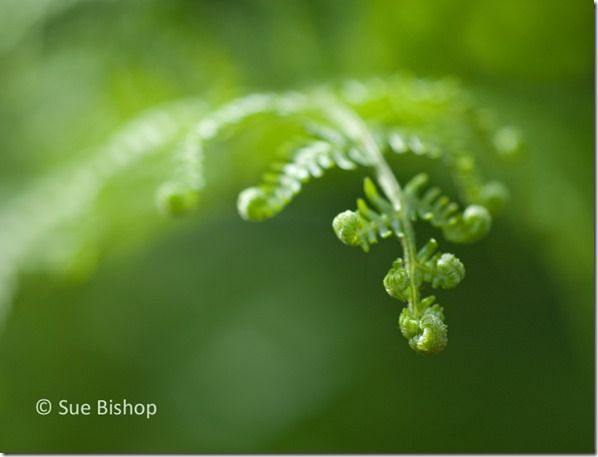 After a happy couple of hours of this, I decided to pick a bunch of ferns and bring them home to try a different type of photo.

Back in my conservatory, I put one fern in a small vase and the rest in a larger vase some way behind it. This bunch of ferns then provided an out of focus green backdrop for the one I was going to make my subject.

For this shot, I took a series of photos of the fern with my camera on a tripod, and an aperture of f8. I began by focusing on the part of the fern nearest to me, and then changed the focus very slightly between each shot, focusing further into the fern for each one.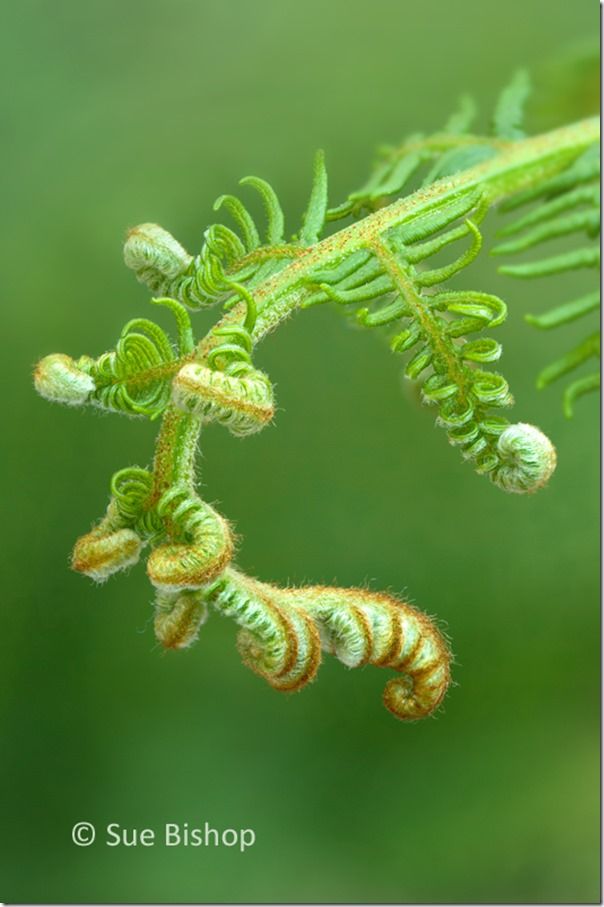 Once I'd downloaded the photos to my computer, I selected this series of photos in my Helicon focus stacking software, and asked it to combine them. Then I went and made a cup of tea, and by the time I came back, the software had produced an image with a great depth of field, and all the fronds of the fern sharp from front to back.

So, a happy morning, and a set of fern photos with quite different effects – and all only five minutes from home!
Stay inspired
Get FREE Photography tips and ideas from our experts in your inbox.