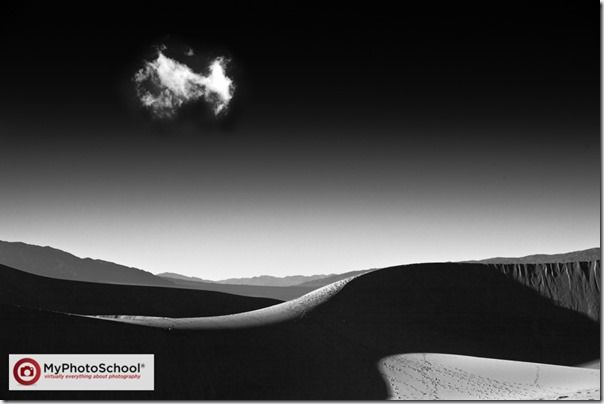 On a recent visit to Death Valley CA I stayed at a small motel just outside Stovepipe Wells.  After a good nights rest I arose at 4-30am and drove the short distance to the Dunes.  The previous day I had done a short 'reckie' of the site and found so many tourists, the area looked more like a public car park, but at this time in the morning only a few of us 'crazy togs' (photographers) were out, with only about a half a dozen cars parked in front of me.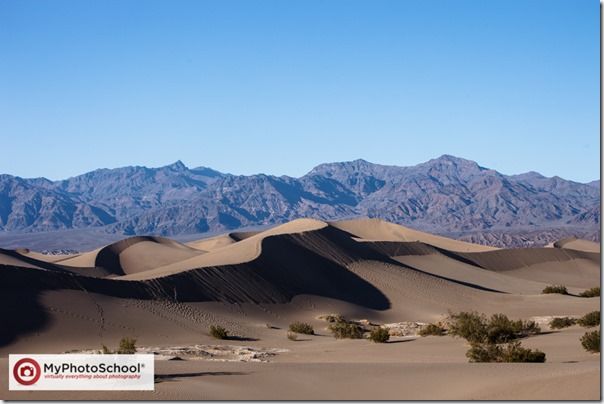 Having left the car, I walked the half mile or so into the dunes with my 5D, a tripod, my 70-200mm and  24-105mm a polarizer and a couple of Nat-grad filters. I wanted to travel as light as possible.  At age 45, I'm a little over weight and not as fit as I should be and found the 'Photo-trek' through the sand much harder than it looked.

There is a lot of 'Up & Down' when dune walking and for every 2 steps forward you slip one step back and on top of all this, you're desperately trying not to get sand on your equipment.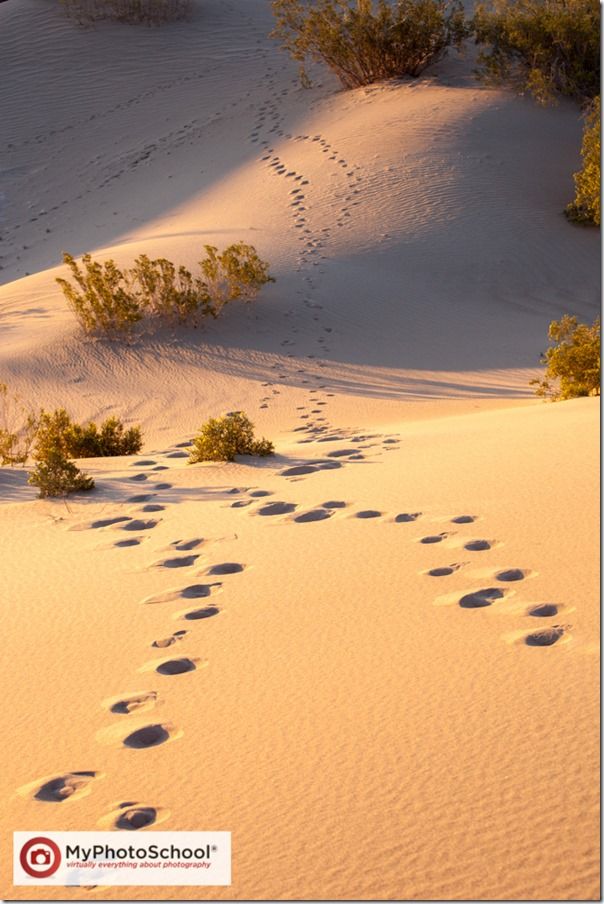 The sun's imminent arrival was clearly evident, by a brightening of the sky behind the mountains to my right.  This spurred me on, puffing and panting, slipping and sliding, till I reached my pitch on the top a  mid-sized dune that I'd marked on my Garmin the previous day.

Setting up my tripod I couldn't help noticing one or two other photographers doing the same.  I had deliberately picked a mid size dune so as not to interfere with the skyline. Choosing the crest of the highest dune would only mean appearing in everyone else's shot so requiring a lot of photoshoping afterwards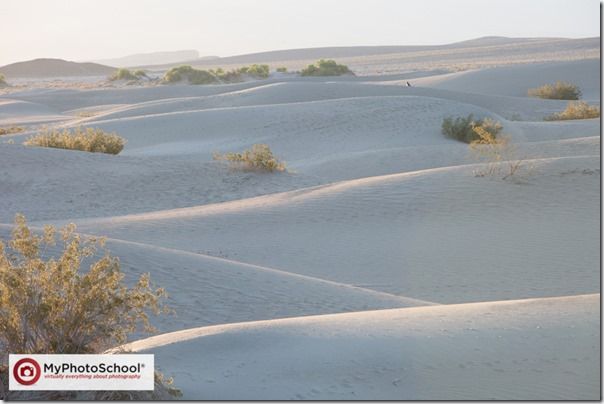 Having set up the camera on the tripod, I started looking round for possible pictures.  Its amazing how different the desert looks when cloaked in its pre dawn shadow. Possible pictures, that I had 'clocked' the day before when visiting the site for the first time, where no longer evident.

Monotone neutral grey/browns, presided over much of what I could see, with only the mountains showing hints of purple and blues.  It would be the mountain tops that would catch the first of the sun's rays and it was on these, that I would first train my camera.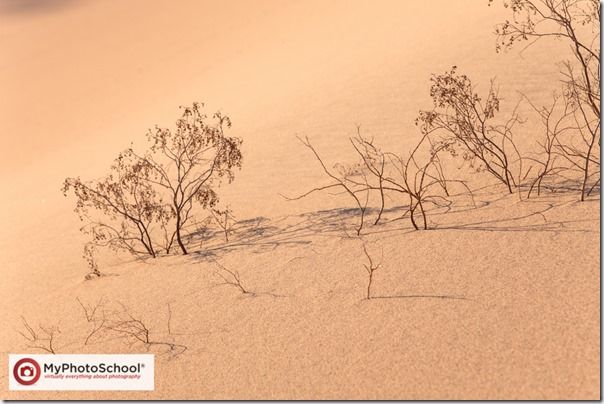 In hindsight this was perhaps a mistake.  I was totally unprepared for the speed at which the light would change once the sun broke over the peeks.

In temperate climates the landscape photographer could have as much as 2 hours shooting, from pre-dawn to early morning, depending on weather conditions.  In the desert I found out to my cost, that you would be lucky to have a quarter of this.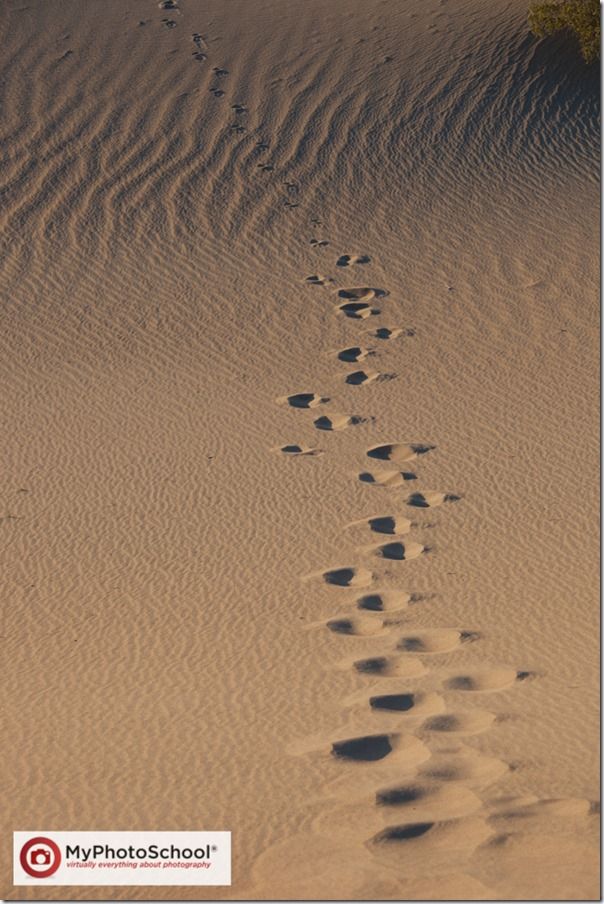 As the sun spilled across the sand, the dunes leapt into life.  Pictures were appearing and disappearing so fast that by the time I had the tripod positioned the light had changed and the picture was gone.



The words exciting and landscape photography are rarely seen in context together,





but this was some of the most exhilarating photography I had ever experience. Easily equal to photography charging Wildebeest herds in Africa or the Super bike championships at Silverstone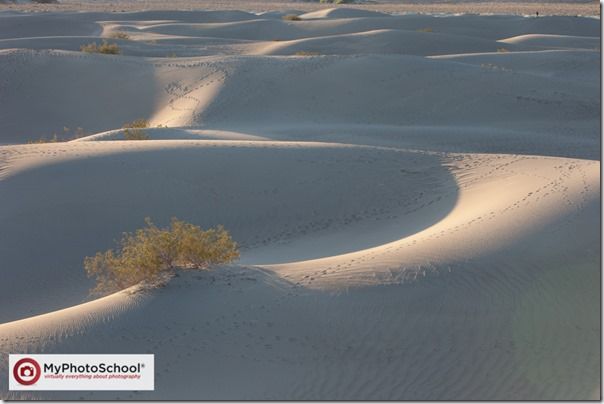 To the horror of some of you stalwart landscape pros, I abandoned the tripod and started 'machine gun shooting'. That is firing off as many shots as I possible could.  However when you only have 48 hrs. at a location and have travelled 6000 miles to get there, good practice, experience and professionalism seem to abandon you very quickly.

I may not have got a masterpiece, but I had the best days shooting for a long time and will be definitely be returning to Death Valley for a longer visit.
Stay inspired
Get FREE Photography tips and ideas from our experts in your inbox.