Multiple Exposure Photography.

The vast majority of the photos we take consist of a single exposure.  If you're feeling in the mood for trying something a little different, though, it can be fun to have a go at a multiple exposure photograph.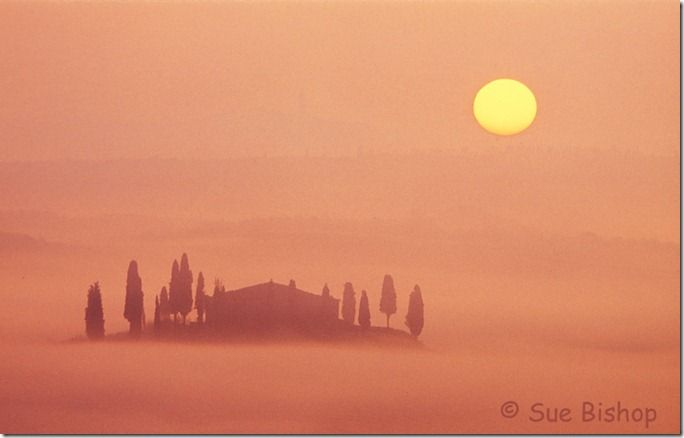 A multiple exposure is a combination of two or more individual exposures to create a single image.  There are various ways in which you can do this, and also various reasons for doing it!  Sometimes you might want to take a series of pictures of the same subject, just varying the point of focus, in order to combine them later with focus stacking software.  Alternatively, you might take the same image at several different exposure settings for combining in an HDR photo.  But in this blog I'd like to look at taking two non-identical images for the purposes of making a new, third image.

This photo of a Tuscan sunrise is an example of a multiple exposure.  I had gone out before dawn to a viewpoint I knew, hoping for a nice misty dawn to lend some atmosphere to the scene.  I got rather more mist than I had bargained for – in fact it was more of a thick fog!  At first nothing was visible, but after a while the fog cleared a little in one direction, and the silhouette of a house and cypress trees emerged.  I photographed it, and eventually it disappeared again into the fog.  I hung around a bit more.  Ten minutes later, and in a different direction from the house, the rising sun suddenly appeared through the fog, so I photographed that too.

When I got home, I combined the two separate photographs to create the one you see here.  This image would in fact have been impossible to take as a single image, as the sun didn't rise near enough to the house to capture both in the same frame.

I took these photos many years ago when I was still using film, so to create the multiple exposure I had to load both transparencies into a slide copier and re-photograph them.  In the digital age, these things are much easier!  Some camera manufacturers offer the option to make in-camera multiple exposures.  In this case, you dial in the number of shots you want to combine together, and the camera will sort out the exposure settings.

If you don't have this option on your camera, simply take two separate photos – as I did for the Tuscan shot – and then combine them on your computer.  Expose the pictures as you would normally, and then you can reduce opacity on the computer as necessary.  In some ways, this gives you more flexibility than the in-camera multiple exposures, as you can put each photo on a layer and then move them about, change their relative opacities, and so on.

Once you start to think creatively with this, there is no limit to what you can do – you can combine any number of photos of as many different subjects as you wish.  Maybe an idea for our monthly photo competition?
Stay inspired
Get FREE Photography tips and ideas from our experts in your inbox.