Sony World Photography Of The Year 2015
The winning images have just been announced in this year's Sony Word Photography Awards, and provide plenty of inspiration. The overall winner was US press photographer John Moore, who won the Iris D'Or award for his work documenting the Ebola crisis in Liberia. Let's look more closely at Moore's work, before that some other award-winning entries from the UK.
John Moore.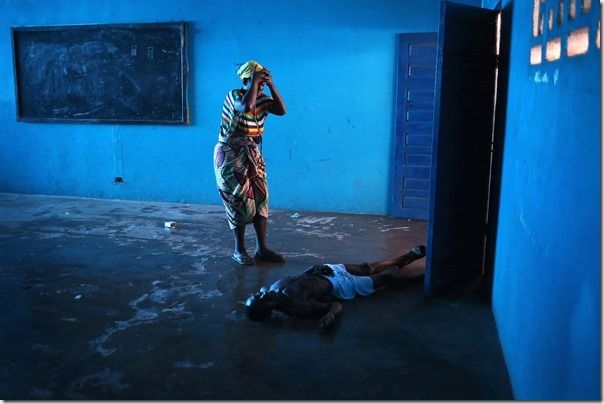 "I had covered many areas of war and conflict, humanitarian disasters and danger zones worldwide, but this was the first time I had tried to photograph the effects of such a deadly viral epidemic on this scale," John Moore explains.
"I had heard back in the spring of last year about the new Ebola outbreak in Guinea, but in August when I read that Doctors Without Borders (MSF), was calling it potentially catastrophic in the Liberian capital city of Monrovia, and that got my really attention. I quickly began researching how to keep safe while working in the hot zone.
I also spoke with some journalists based locally in Liberia and put together a coverage plan for my editors at Getty. Four years after the death of my Getty colleague Chris Hondros in Libya, we are very cautious about photographer safety in hazardous environments, so much time and effort goes into precautionary measures."
John also gives some good insights into his way of working. "I try to treat people with respect and photograph them with dignity. This helps me to, at times, gain exclusive access into difficult situations and then depict those I photograph as dignified human beings. First I try to identify a story or angle on a story that I see has not yet been covered much.
Then I work hard to find access – safe access – to the tough stories. Even those who normally would be predisposed to refuse you access will open their doors if you adequately explain to them that what they do is important and that there is value in showing that visually. Showing kindness and respect to those we photograph is the best way to get inside a story.
People living in desperate and undignified moments of their lives appreciate photojournalists who treat them with dignity and reflect that in their photographs."
Click here to see more images
Simon Norfolk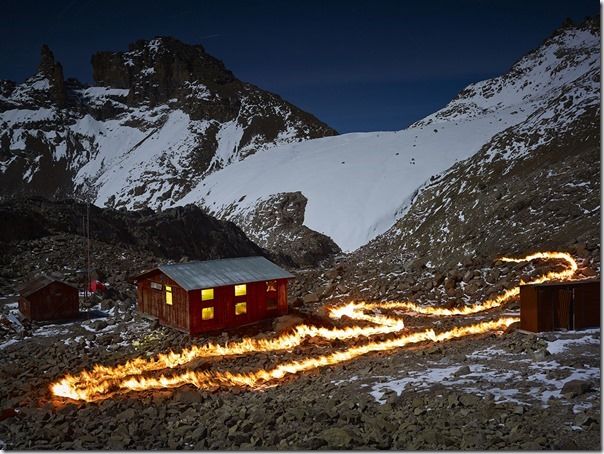 The winner of the Sony World Photography Awards' Landscape Photographer of the Year is Simon Norfolk, a landscape/fine-art photographer based in Brighton. He was selected from over 87,000 entries to the Professional competition for a series called "When I Am Laid In Earth".
In this series he maps the melting away of the Lewis Glacier on Mt. Kenya with a pyrograph (literally, 'writing with fire'). "These fire lines I have drawn indicate where the front of the rapidly disappearing Lewis Glacier was at various times in the recent past," he explains.
"In the distance, a harvest moon lights the poor, doomed glacier remnant; the gap between the fire and the ice represents the relentless melting. Relying on old maps and modern GPS surveys I have rendered a stratified history of the glacier's retreat.
My pictures contain no evidence that this glacier's retreat is due to man-made warming (glaciers can retreat when they don't get sufficient snow, or if the cloud cover thins, for example) but it is nonetheless my belief that humans burning hydrocarbons are substantially to blame. But there are romantic reasons to be here too. To be next to the ice is to feel privileged."
Click here to see more images
Jonathan Syer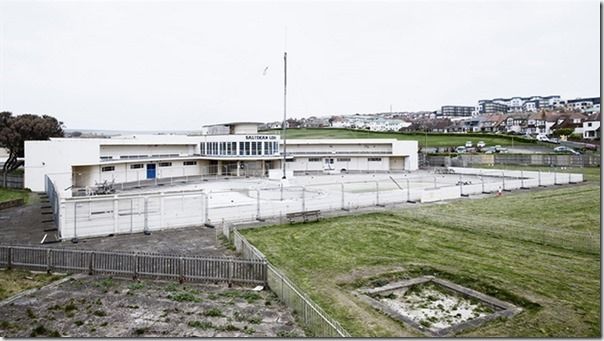 Jonathan came second in the Professional Campaign category, with 'Lidos Of England: Lost & Found.' a project about the outdoor swimming pool. Once an English institution, the demise of the lido began in the 1960s with emergence of affordable of overseas holidays. Many of the buildings, from the 1930s or earlier, fell into decline. Some have never recovered, some have received investment but most have been left to decay or lost under modern development. The photographs highlight the campaigns to save these relics of a lost golden age from disappearing completely.
Click here to see more images
Dougie Wallace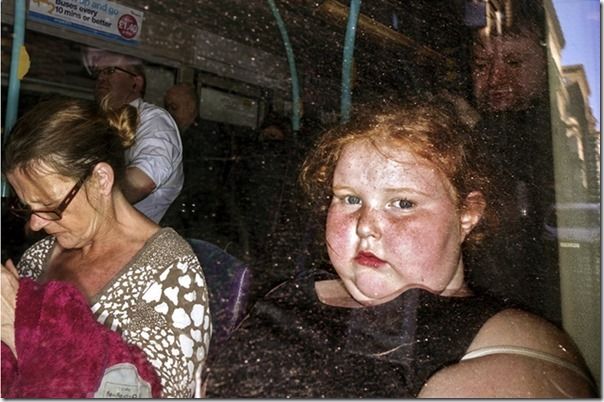 Meanwhile, Dougie Wallace came second in the Professional Portraiture category with a project called 'Glasgow; Second City of The Empire,' This a study of the very different lives of people in the Calton area of Glasgow (where the average life expectancy for men is 54) compared to London's Kensington & Chelsea (where the average is 84.4).
Now in its eighth year, the Sony World Photography Awards annually presents the world's best contemporary photography across a range of genres and is the world's largest photography competition. It is free to enter and open to photographers of all abilities. The 2015 awards attracted recording breaking entries, with 173,444 images submitted from 171 countries. For more information on the winners,
Click here to see more images
Stay inspired
Get FREE Photography tips and ideas from our experts in your inbox.