Telephoto lenses are generally thought of as being used to take photos of distant subjects – and of course this is true.  Wildlife photographers use long telephotos to make frame filling pictures of tiny birds, or animals that are too shy to get near to.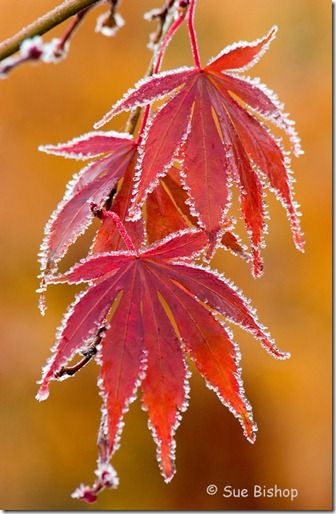 I used a long telephoto to photograph this Acer leaf (left) which was right at the top of a tree – it would have been impossible to make a frame filling photo with a standard focal length.
But photographing distant subjects is far from being the only use of a long lens.
So first, what is the definition of a telephoto lens?  In full frame camera terms, a standard focal length is 50mm, and a medium telephoto may be thought to start at around 70mm.
A medium telephoto lens can be a great lens for portrait photography.  A "full" telephoto focal length is probably 135mm and longer.
The longer the lens, the more powerful it is in terms of bringing distant objects closer and enabling a frame-filling image.
Imagine that you're looking at a wide landscape, with flowers in the foreground, a house in the mid-ground over to the right, a copse of trees on the left, and some mountains in the distance.
If you use a wide-angle lens, you will probably include all of these elements in your photograph.
If you use a long telephoto lens, however, you can be much more selective, and pick out just one or two of the elements.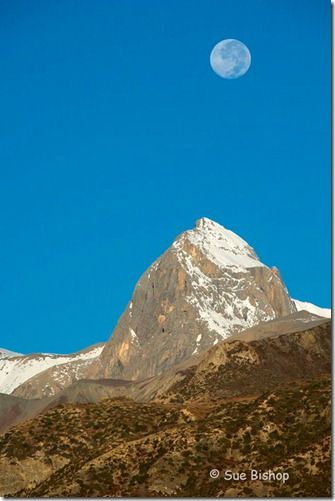 One of the most interesting characteristics of telephoto lenses is that they compress and flatten the perspective in a scene.
This means that they diminish the appearance of depth, and compress the apparent distance between nearer and further objects.
I used the longest end of my telephoto lens (300mm) to fill the frame with the morning moon (right) hanging over a distant mountain peak.
You can see how this has flattened the perspective and makes the mountain look almost two-dimensional.
Also, in a photograph of the same subject from the same place, a telephoto lens will give you a much shallower depth of field than a wide-angle or standard lens.
This gives you lots of scope for creating lovely out of focus backgrounds behind your subject.
The longer focal lengths also mean that you can frame carefully, and exclude unwanted objects, and perhaps create a more personal interpretation of a scene than you might with a wider focal length.
Telephotos are great – whether you're using an enormous 600mm prime lens, or the long end of your compact zoom – enjoy!
Stay updated
Receive free updates by email including special offers and new courses.