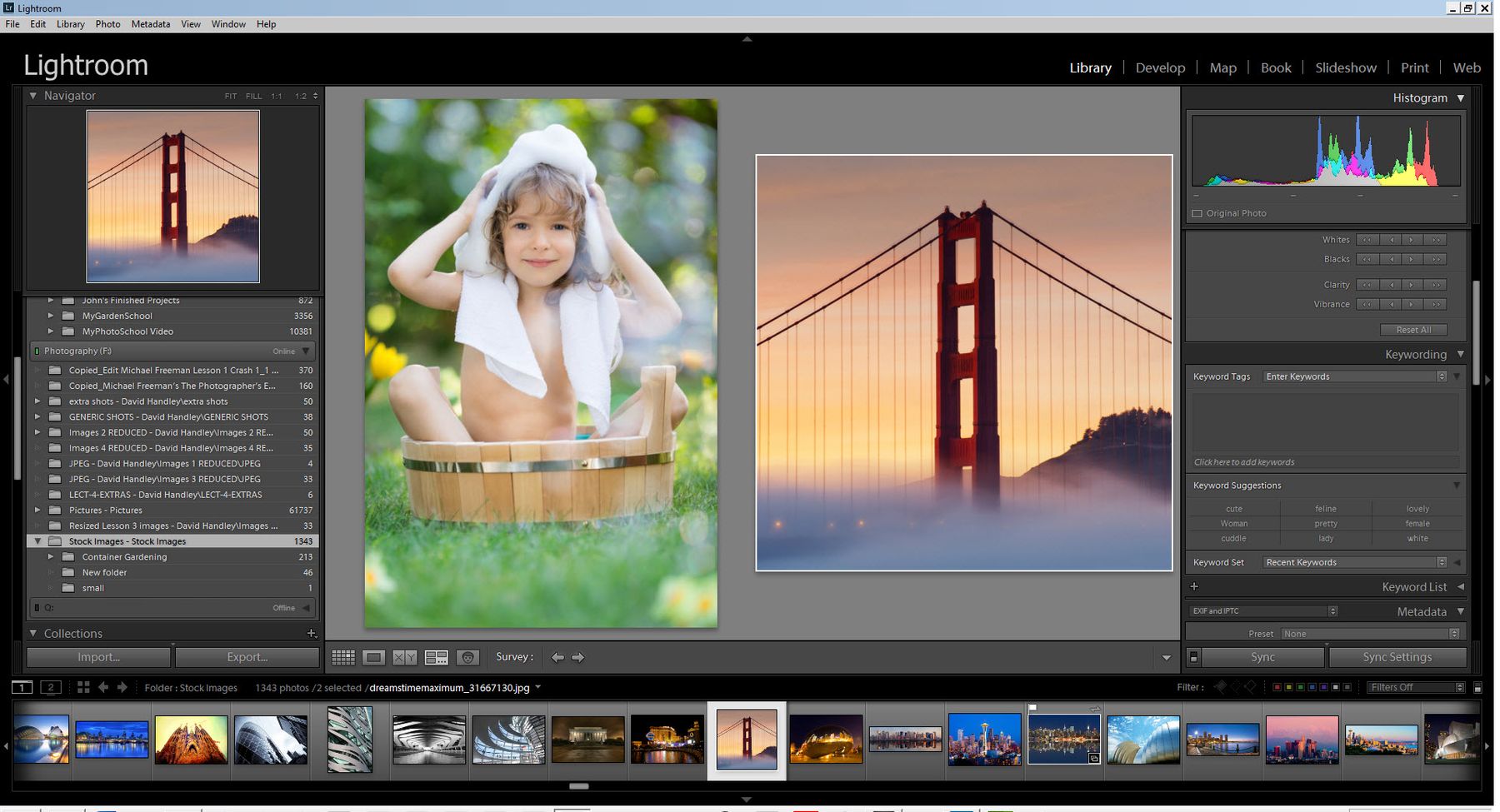 Adobe Lightroom Course For Photographers
Lightroom Course With 1-2-1 Tuition & Personal Feedback
Adobe Lightroom Online Course - MyPhotoSchool
How our courses work▲ TOP
You're going to love learning with us!
After you buy, you can start the course whenever you're ready
You'll have 4 weeks to complete 4 lessons, study at your own pace
You'll likely need 2 1/2 hours per lesson, but you can study whenever it suits you
You'll get expert critique from your tutor George Cairns (you'll be able to ask them questions too)
We'll pair you up with a group of like-minded classmates from around the world
You'll have access to the classroom, content and your classmates for life
You'll also gain certification
More questions? Take a look at our frequently asked questions.
About the course▲ TOP
In this comprehensive four part Lightroom course with 1-2-1 tuition, you will have your questions answered, and assignments assessed, by me George Cairns. I will demonstrate how Lightroom's various modules enable you to organise, edit and share your photographs.

You'll learn how to gather shots together from a variety of sources (such as memory cards or folders on external drives) and bring them safely into a single, easy to view Lightroom catalogue. You'll also discover how to make favourite files easier to find using tools such as Collections and Keywords.

Once you've taken control of your valuable assets we'll dive into Lightroom's digital darkroom - the Develop Module - and discover how to process your raw pictures to perfection by overcoming common problems with colour and tone. You'll learn how to make selective exposure adjustments and claw back missing detail in shadows and highlights, so your shots look as good in print as they did to the naked eye. We'll also look at how to improve composition and remove unwanted artefacts such as sensor spots, as well as counteract lens-related problems such as geometric distortion and chromatic aberration.

As well as photo fixing we'll dig deeper into the Develop Module's panels and look at ways to creatively process your pictures' colours and tones. You'll discover how to create better black and white conversions and mimic classic film developing techniques such as cross processing and split toning.

We'll finish off by demonstrating the various ways that Lightroom helps you to share your processed pictures, from creating perfect prints to designing and exporting all the component files you'll need to produce an interactive web gallery.

Week 1: Import and Organize


It's likely that most photographers will have thousands of shots scattered over multiple drives, making it hard to find specific images. In this lesson I'll demonstrate how to use Lightroom's Library module to gather files from various sources (such as hard drives and memory cards) into an easy to manage Lightroom catalogue. I'll explain how to add useful info such as copyright details to batches of shots as they're imported, to help protect your work. We'll then look at ways to separate the wheat from the chaff by adding ratings, keywords and creating collections. You can then use filters to find favourite files faster and even tag shots according to where they were captured.

Learning Adobe Lightroom: Outcomes Week One

By the end of the lesson, students will know how to get everything under one roof (even if their photos are scattered on multiple drives). They'll also be able to filter the shots to find them via ratings or keywords and add them to collections. Thanks to the Library module's tools they'll feel in control of their photos. We'll discover how to use geo-tagging in the Maps module.



Week 2: Introducing the Digital Darkroom

After learning how to manage our shots in lesson one, you'll need to tackle problems with colour and tone. In this lesson I'll take you into the Develop module - your digital darkroom - where you can process your Raw files to perfection. I'll use the Basic panel's sliders and the editable Histogram window to tackle problems with exposure and restore missing detail in shadows and highlights. You'll also discover ways to improve colour by removing colour casts and selectively boosting weaker colours without over-saturating strong ones. You'll learn how to make selective adjustments using the Graduated and Radial tools, to claw back detail in over-exposed skies for example. I'll also demonstrate how to clone out artefacts such as sensor spots and improve composition with the Crop Overlay tool.

Learning Adobe Lightroom: Outcomes Week Two

Students will be able to use the Develop module's Basic panel and tool bar to perform common photo fixes, such as correcting colour casts and selectively restoring detail to problem areas (such as a blown out sky or clipped shadow). They will know how to crop to improve composition and remove sensor spots. They'll also be able to make selective brush-based adjustments to colour and tone using the powerful Adjustment brush.



Week 3: Digging deeper into the Develop module

I'll demonstrate how to use the Lens Corrections panel to counteract lens related problems such as converging verticals, vignetted edges and chromatic aberration. We'll also demonstrate how the Detail tab helps us sharpen our shots and remove nasty noise. We'll use the B&W panel to lighten or darken particular parts of a monochrome conversion and use the Effects panel to add character building artefacts such as vignettes and grain. I'll also show how to split-tone a mono conversion to change atmosphere. We will then use the HSL panel to creatively target and tweak colours to produce a more filmic retro look. These creative processing techniques will be recorded as presets so that they can be re-applied to other shots (or shared with other users).

Learning Adobe Lightroom: Outcomes Week Three

Students will be able to reduce the presence of lens related artefacts such as noise, chromatic aberration and distortion. They'll learn how to produce better black and white images. They'll be able to creatively grade their shots and add artefacts for an old-fashioned filmic look. They'll discover how to apply Lightroom's one click image adjusting presets and create their own.



Week 4: Printing, Publishing and Sharing Your Images

After fixing your shots (or creatively processing them), you'll want to share them. In this lesson I'll demonstrate how to send edited shots from Lightroom to social networking sites such as Facebook, or email them to clients. You'll discover how to use the Print module's presets to create a contact sheet to share with clients. We'll look at how soft proofing helps you produce a shot with printable colours. I'll demonstrate how to share your shots as a slideshow and create the layout for a web gallery (and all the components) using the Web Module. I'll also demonstrate how the Book module enables you to design and order attractive photo books.

Learning Adobe Lightroom: Outcomes Week Four

Students will be able to produce contact sheets, prints, slideshows, web galleries and photo books. They'll also be able to export files in various formats.

Requirements

In order to get the most out of this course, you will need to set aside time each week to edit some photographs, based on what you have learnt during the lesson. While you can submit existing images from your library, we recommend you try and shoot new pictures each week to maximise your learning experience.

You can download a trial copy of Adobe Lightroom here

You will need an installed copy of Adobe Lightroom 5 or above. If you have an earlier version we recommend you download the trial version for the duration of the course.

You will not need any special photographic equipment for this course. A DSLR is preferable, but a compact camera or even a camera phone could be used to complete the assignments. A tripod would be useful, but not essential, as well as a selection of prime or zoom lenses ranging from wide angle out to telephoto zoom.
Lesson Plan▲ TOP
Each lesson starts with a 30 minute video from your expert tutor, which you can watch whenever you like.
After each lesson, practice what you've learned with an assignment and receive personalised feedback from your tutor. Each of which should take no longer than 2 hours.
1. Week 1: Import and Organize

2. Week 2: Introducing the Digital Darkroom

3. Week 3: Digging deeper into the Develop module

4. Week 4: Printing, Publishing and Sharing Your Images