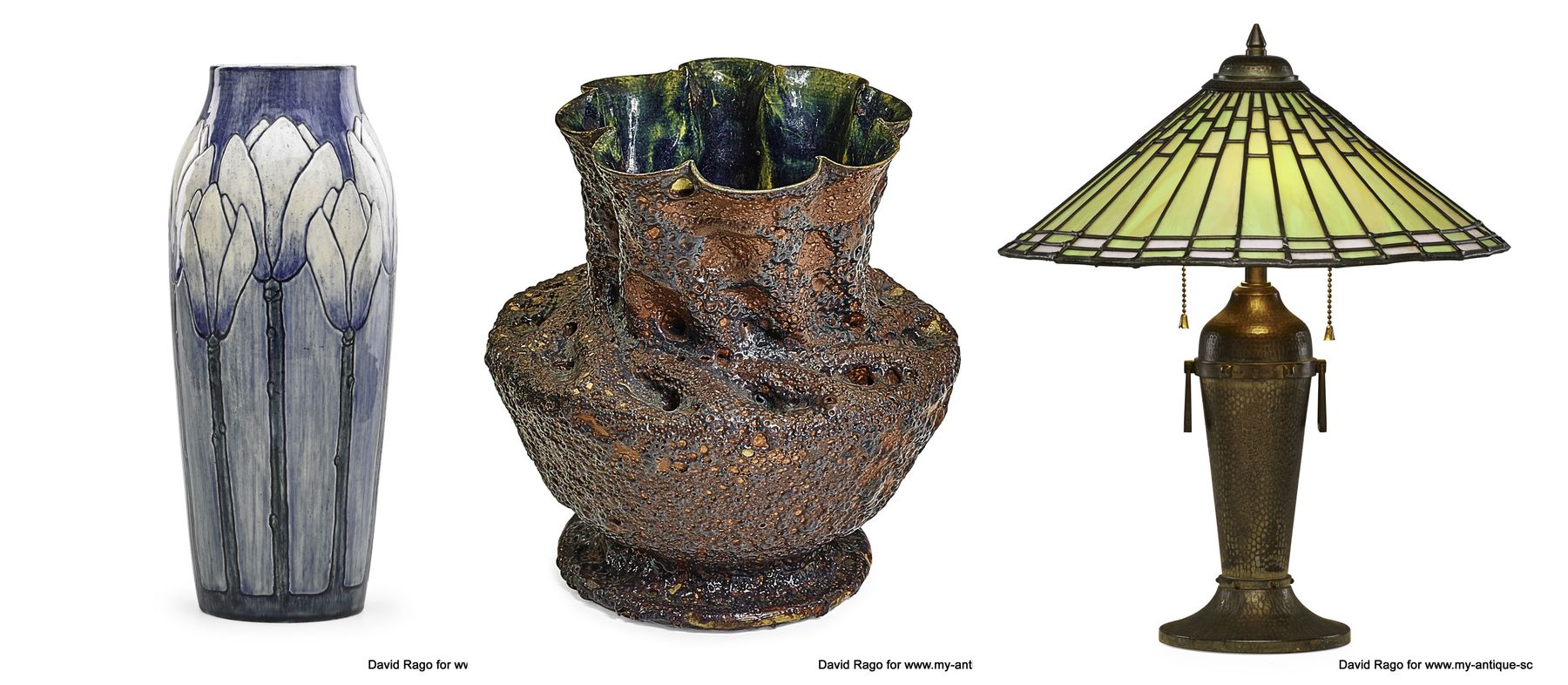 The Arts and Crafts Movement in the US
Understanding Decorative Ceramics, Wrought Metal & Furniture
Arts & Craft Movement US Online Course
David Rago has appeared as an appraiser on the US Antiques Roadshow for 20 years and he is the author of six books on 20th century design. He has dealt in Arts and Crafts for 44 years and together with his wife owns David Rago Auctions.
On this online course David paints a fascinating picture of The Arts and Crafts Movement and how this revolution has impacted collectible arts and crafts in the US. David pulls on numerous real world examples and brings the social and political context to bear on actual pieces, so you come to recognise the signature style of the movement and specific influential individuals.
David draws on his experience and his very personal perspective of the Movement, of living with objects in your own home that carried the spirit of creativity. He takes each of the three main ingredients of Arts and Crafts material step-by-step, namely mud, copper, and oak. With his infectious enthusiasm about the creative process David will share with you how the Arts and Crafts Movement changed these base materials, into golden objects and in some cases as you'll see into their very weight in gold.
Whether you're an enthusiastic collector or a dealer David will teach you how to spot good arts and crafts items for collection or for resale.
Please feel free to ask him any questions as you go through the course – this is a unique opportunity to interact with a real world expert. Please remember though – valuations and assessments will not be done online as this is an online education service with world experts; not a valuation service.
Lesson Plan
Each lesson starts with a 30 minute video from your expert tutor, which you can watch whenever you like.
After each lesson, practice what you've learned with an assignment and receive personalised feedback from your tutor. Each of which should take no longer than 2 hours.
1. Arts & Crafts Moves to America

In this first lesson David gives a fascinating perspective on the changes in society just after the Industrial Revolution and how this societal change had a very direct impact on craftsmanship. A whistle-stop tour through it's British origins (see Tony Geering's course for more in-depth study on the British roots of the Movement) before crossing the pond and seeing how seeds of the Arts and Crafts Movement branched out in America, and indeed how it evolved from state to state.

2. Decorative Ceramics

David will take you on a regional tour, stopping to focus on leading potters and the progression from east to west as the movement matured. With over 200 artists producing art pottery during this period, David pulls on a wealth of examples, showing numerous pieces and you will become confident with the individual traits of some of the leading potters of their time. From the works of William Grueby that looks as much grown as it does potted; the animal designs of the Saturday Evening Girls; to the folk art influence of William Walley; or George Ohr, arguably the most important potter to come out of America at the turn of the century; and many, many more pioneering artists during this time.

3. Wrought Metal

From ceramics to wrought metal. In many ways the path that wrought metal took in America mirrors the path that decorative ceramics took moving from east to west. In this lesson David will deep dive into 3 particularly influential schools the New York School, Chicago School and the Bay Area California School with a focus on certain companies within; Gustav Stickley, Roycroft, Kalo, Dirk Van Erk amongst others

4. Furniture

The fourth and final installment focuses on furniture. David explores four furniture producers, their style and impact on the movement: the visionary Gustav Stickley; his brother and competitor L and JG Stickley; the Roycrofters and the Limbert Furniture Company. David brings these influential figures and their work to life, a unique opportunity to learn from the perspective of a true professional who has probably handled as much work from this period as anyone has. Finally David brings this all of these elements, mud, copper and oak, to look at the totality of the Arts and Crafts Movement – how these elements were meant to be integrated so that these objects have a unified impact on the home.
How our courses work
You're going to love learning with us!
After you buy, you can start whenever you're ready
You'll have 4 weeks to complete 4 lessons, study at your own pace
You'll likely need 2 1/2 hours per lesson, but you can study whenever it suits you
You'll get expert critique from your tutor David Rago(you'll be able to ask them questions too)
We'll pair you up with a group of like-minded classmates from around the world
You'll have access to the classroom, content and your classmates for life
You'll also gain certification
More questions? Take a look at our frequently asked questions.