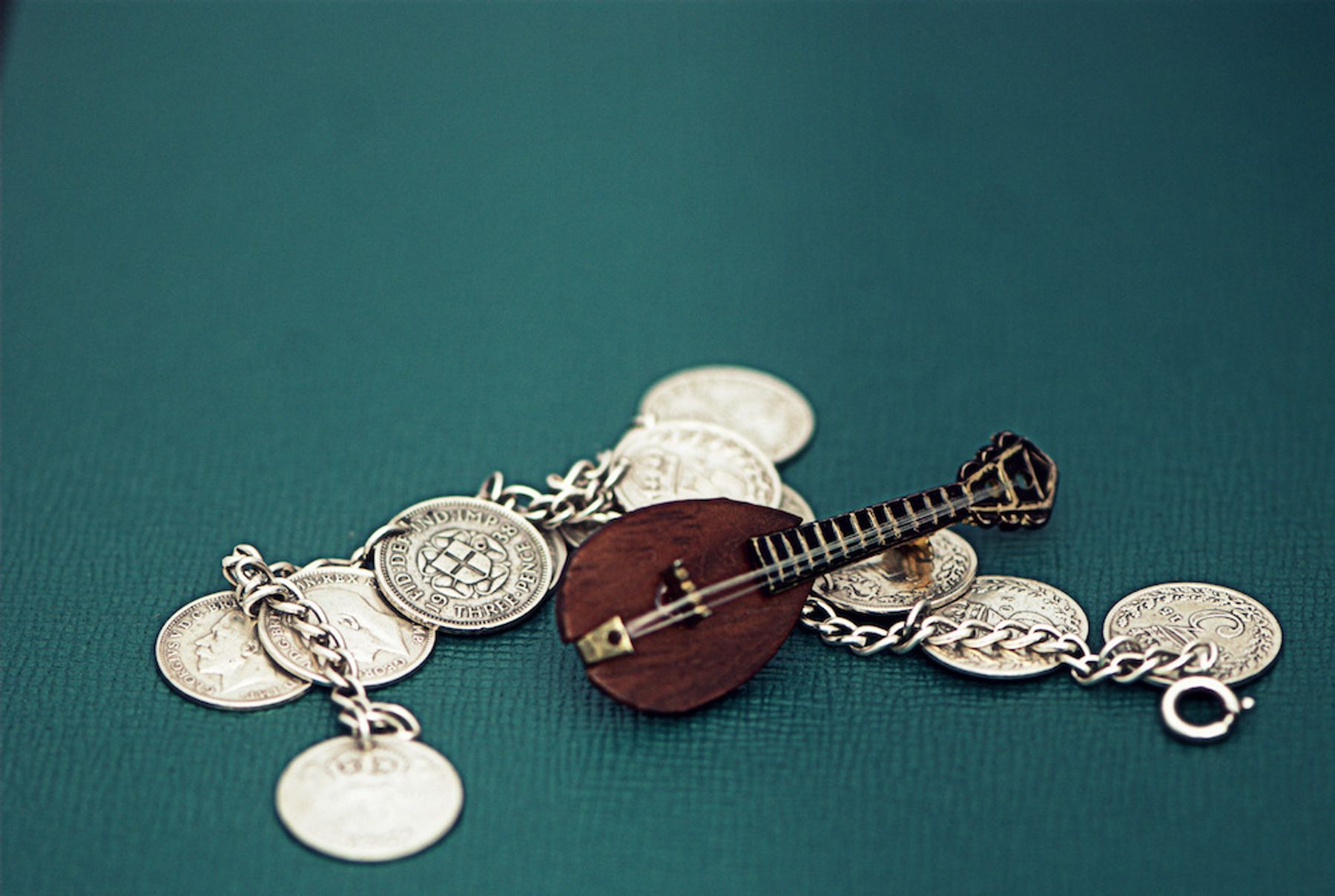 Upcycling Jewellery
How to upcycle jewellery from author and acclaimed upcycler & upholsterer, Juliette Goggin
Upcycling Jewellery Making Online Course
How our courses work▲ TOP
You're going to love learning with us!
After you buy, you can start the course whenever you're ready
You'll have 1 weeks to complete 1 lessons, study at your own pace
You'll likely need 2 1/2 hours per lesson, but you can study whenever it suits you
You'll get expert critique from your tutor Juliette Goggin (you'll be able to ask them questions too)
We'll pair you up with a group of like-minded classmates from around the world
You'll have access to the classroom, content and your classmates for life
You'll also gain certification
More questions? Take a look at our frequently asked questions.
Watch a short preview▲ TOP
About the course▲ TOP
Making your own jewellery is great fun, and adding some upcycled elements to the process can take the idea to a whole new level. This course will help to inspire you to make some really creative jewellery for yourself and to give as gifts for friends and family.
Each detailed project is accompanied by a step by step video so that you can follow each stage at your own pace. This will help you to get the techniques right each time and explain simply how to use the tools and materials needed for each piece.
You will be inspired to hunt through the broken jewellery that you already have to make new, upcycled, individual pieces. You will also learn how to use other unusual items as the basis for a project and to look again at what you might previously have thought of as just junk. From these unlikely objects you will learn how to make bespoke bracelets, necklaces, pendants, lockets and brooches with unique individuality and flair, unlike anything you would buy on the High Street. By the end of this one week course you will have made several bespoke, creative jewellery pieces to wear, or give as gifts and the knowledge to make many more in the future.

You will learn some simple, hands on techniques to enable you to make quick and easy projects, as well as some more detailed tasks to make your creations more professional and long lasting. From basic techniques such as attaching jump rings and making wire loops for pendants, to specialised gluing and mastering soldering and drilling.
Lesson Plan▲ TOP
Each lesson starts with a 30 minute video from your expert tutor, which you can watch whenever you like.
After each lesson, practice what you've learned with an assignment and receive personalised feedback from your tutor. Each of which should take no longer than 2 hours.
1. Upcycling Jewellery

The first project is to make a simple button bracelet - it so quick and easy that it can be completed in 10 minutes if you have all the materials to hand. You could even try out this item with children who will love the instant results. You will then progress to make a brooch using a kilt pin and salt spoons, or charms, including learning how to use epoxy resin glue and how to solder using a Dremel Versatip soldering tool. We then continue by learning how to create a wire loop, followed by drilling a ceramic thimble to make a pendant, creating a brooch, or locket from a tiny tin, making a charm bracelet using board game counters, and finally a pendant on a chain featuring old postage stamps and vintage jewellery findings. Depending on the items you wish to make, or the materials you have available, you can choose 2 projects which you can complete in your own way for personal feedback and guidance from Juliette. By the end of the course you will have mastered several simple techniques which you can then repeat, perfect and expand upon for your own creative upcycled jewellery projects.
Requirements▲ TOP
Each project lists the required ingredients and tools at the start, however I will encourage you to make substitutions if some elements are hard to find, or if you wish to use your own imagination. Creativity is always encouraged. There are quite a few projects detailed in this course – so it's very flexible – you don't need all of these materials – but if you have some all the better!
- Salt spoon/ spoons
- Silver polish and cleaning cloths
- Jump ring/rings or split rings
- Kilt pin with 2 or 3 loops for attaching jump rings for the kilt pin option
- Silver chain to your preferred length for the pendant option
- Epoxy glue( 2 part glue) such as Araldite
- If you want to solder your finished piece
- Optional Soldering Kit such as Dremel Versatip
- Heatproof mat
- Small clamp, or pliers
- Small paintbrush
- Flux
- Magnifying glass on stand if working with very small pieces.
- Safety goggles
- Ceramic thimble
- Durable work surface, I prefer to use a spare piece of wood placed on the work surface to protect whatever is beneath
- Adhesive putty, (Blu-Tack)
- Electric drill with a very fine, thin drill bit
- Scissors
- Wire (24-gauge beading wire works well)
- Eye Pin
- Wire cutters or wire snips
- Toothpick
- Pliers
- Chain
- Tiny tin with a hinged or press on lid
- Small hole punch, bradawl, or electric drill with a very small drill bit
- 2 eye pins
- Epoxy glue, follow manufacturer's instructions
- Old plate
- Toothpick or spatula
- Pliers
- Jump ring
- Old chain, ribbon or leather for hanging