10 Ideas for Outdoor fireplaces
By Alex N •
MyGardenSchool garden design tutor, John Brookes solidified the concept of the Room Outside with his bestselling garden design book first published in the 60s (also see John's Online Garden Design Course for more inspiration).  It was a pivotal book for the landscape design industry – and since then, people have begun to take more seriously the merging of their outdoor and indoor spaces and functions.   Especially with a global recession in full swing, we are all tending to stay put and optimise what we have.  We're recycling, regenerating and spicing up our existing gardens – rather trading up.  We're in the age of the 'staycation' and trends for outdoor kitchens and offices are at an all-time high.


As the end of summer kicks in, the outdoor fireplace comes into its own.  Here are ten cool outdoor fireplaces to warm up with..

As featured in www.gardendesign.com

 
1.  Outdoor fireplace embedded in statement wall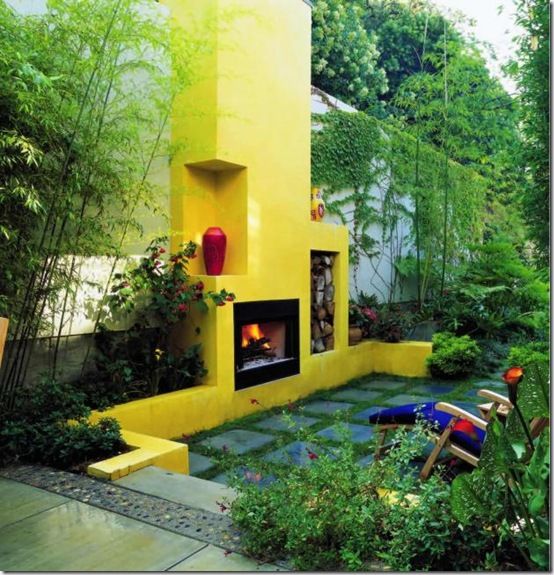 A massive bold yellow wall isn't to everyone's taste – but landscape architect Rob Pressman the somehow has made this 14-foot retaining wall running the length of Fegie and Moshe Barkan's hillside home in Studio City, California, into the focal point for a series of open-air rooms. In the sitting area, the wall becomes a yellow fireplace complete with log storage, art niches, seating walls and planters.  Could be good in other colours too.


Rob Pressman of TGP Inc., 818-907-8460;www.tgpinc.net.  photo: Steve Gunther

2. Outdoor fireplace in Spa Setting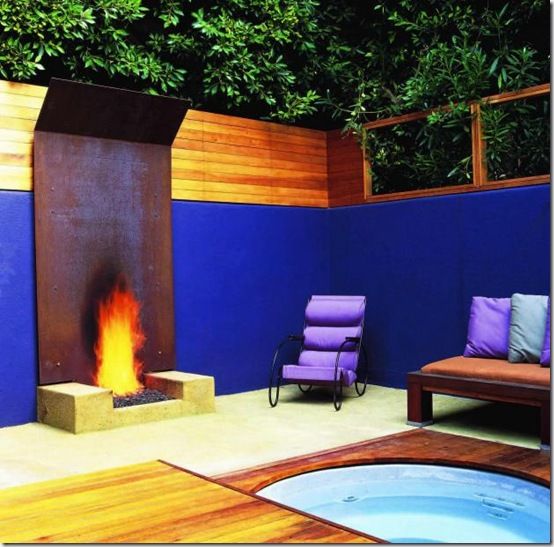 Landscape architect Rob Steiner pared down the fireplace to the simplest of forms for Charles Eglee and Ninkey Dalton's spa in Pacific Palisades, . Set alongside the spa and rolling mahogany spa cover, the fireplace is made of aggregate concrete and a sheet of oxidized steel bent to protect foliage, bounce heat back into the space and align with the wood trim.
Rob Steiner, 323-931-4425;www.robsteinergardens.com.




3. Entertaining by an outdoor fireplace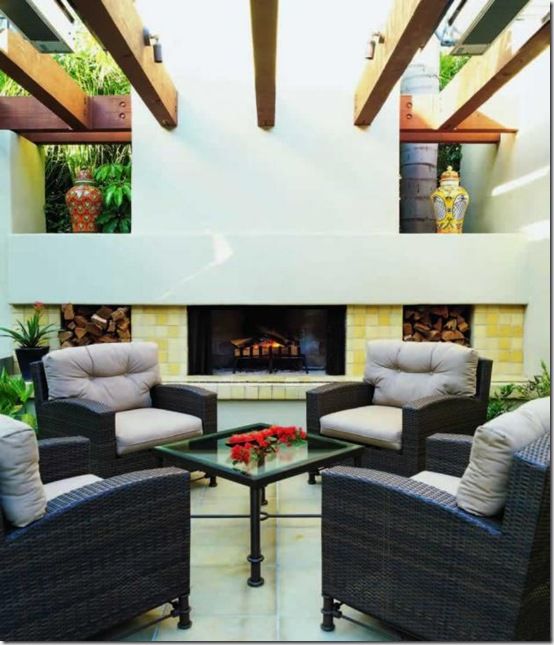 photo: Steve Gunther


Cliff and Marcie Goldstein went for an extension "with a resort feel" where they could relAX AND entertain. Santa Monica nights tend to be chilly, so a fireplace was the natural focal point for this 20-by-30-foot outdoor living space created between the back garage wall and the kitchen by landscape architect Mark Beall. To tie into the scale of the house, Beall used trellis beams to create a ceiling and installed French doors to make an easy connection between interior and exterior. He also matched plaster finishes and paint colors with the house, while interior designer Kristin Pon selected fireplace tile and outdoor furniture to echo the rich earth tones of the kitchen.
Mark Beall + Associates, 323-662-8252;www.mbeall.com. Kristin Pon, 310-312-1207.



4. Outdoor Fireplaces in LA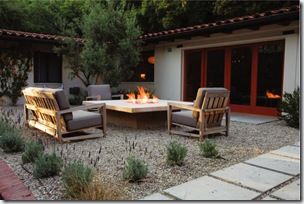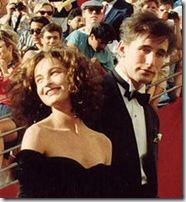 Jennifer Grey (aka Baby in Dirty Dancing) and Clark Gregg, both actors, wanted a casual place outside their Los Angeles pad to sit around a fire and eat. But their yard was small, so landscape architect Rob Steiner designed a combination fireplace and dining table as an exterior extension of their living room, reached from the house via a set of glass doors that opens to a generous 12 feet. Set on a carpet of Del Rio pebbles and surrounded by a hedge of 'Goodwin Creek Grey' lavender and an olive tree, the concrete fire table takes the chill out of the air during morning coffee and evening dessert. It also serves as a convenient footrest, encouraging everyone seated around it to kick back and join in the conversation. The core of the fireplace is constructed of smooth-stuccoed concrete block; reinforcing steel supports the poured concrete tabletop.






Rob Steiner, 323-931-4425;www.robsteinergardens.com.



5. Rustic Outdoor Fireplace as Part of The Art Studio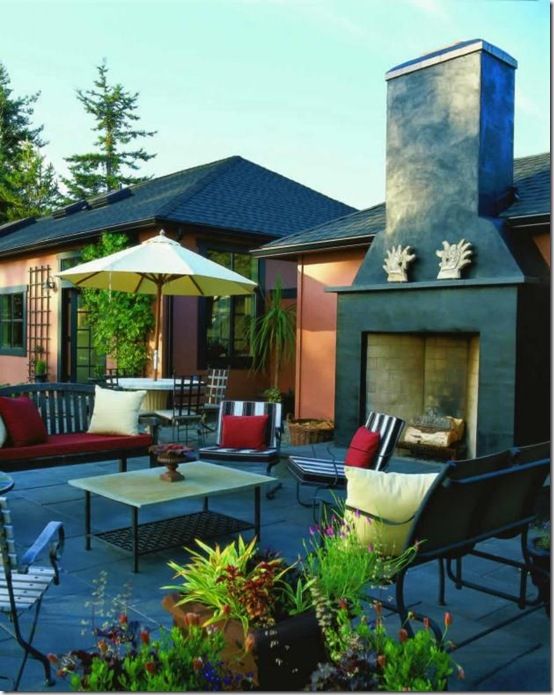 A Rumford-style fireplace is the centerpiece of an area near the art studio and pool house in the garden of Lynda and Dean Anderson's holiday home on Lopez Island, Washington. The fireplace keeps them warm after evening dips in the pool, and with grilling attachments, it is even more useful for cooking dinner.

Architect Chapin Krafft, 206-284-1926. Landscaping by Dean and Lynda Anderson, 206-725-9514.
6.  Outdoor Fireplaces in Hollywood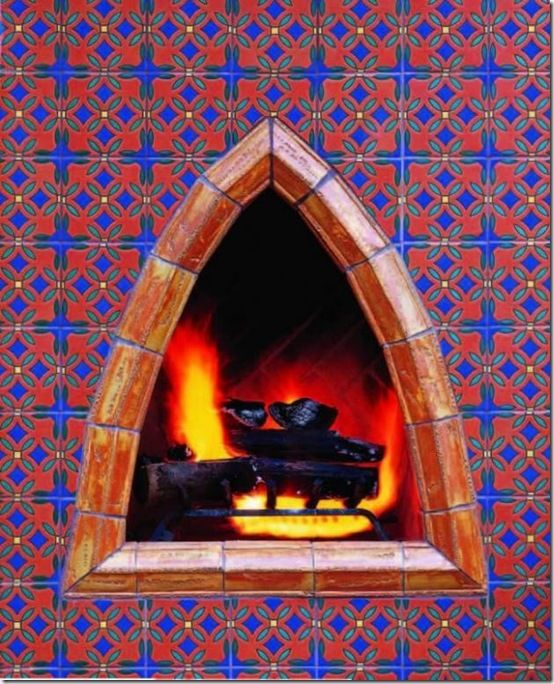 For a fanciful Hollywood Moorish-style home, this tiled keyhole-in-the-wall fireplace doubles as a traditional pizza and flatbread oven. Raised up to a handy 4 feet above the ground, the entire structure is made from concrete block, with firebrick inside, and stucco and handmade tiles from the Mortarless Building Supply and Tile Company on the outside.
Landscape architect Garett Carlson,www.wgarettcarlson.com. Contractor Native Designs, 818-509-9573.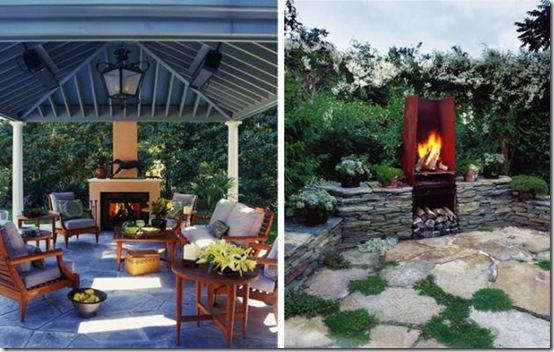 7.  Outdoor Smoking Lounge with Outdoor Fireplace
Left: An outdoor smoking lounge with its own fireplace and all the furnishings of a luxurious indoor living room is accommodated under a garden pavilion, forming a focal point at the end of the swimming pool. Landscape by Frank Perrino with interior designer Jarrett Hedborg who used comfortable Sutherland furniture and soft greens and terra cotta to link this space with the house interior.
Frank Perrino, 818-992-4908. Jarrett Hedborg, 310-271-1437.
8. Outdoor Fireplaces in The Hamptons
Right: This octagonal paved outdoor room with dry-laid mica schist stone seating all around and a fireplace in rusted Cor-Ten steel is the ultimate summer hangout for a crowd of lucky kids in the Hamptons. They can cook hamburgers and still be near the swimming pool and tennis court. Plantings enclose the "room" and soften the stone.

Garden by Lisa Stamm, architecture by Dale Booher, e-mail: stammbooher@optonline.net. Stone by William Lanchantin, New York, 518-677-5247.

9.  Stucco Outdoor Fireplace
photo: Michael Arden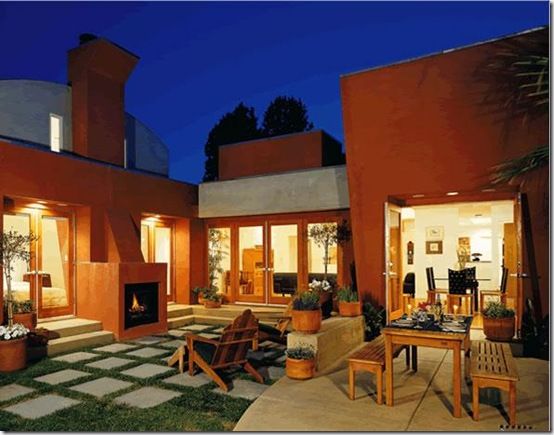 A fireplace was the pivotal element of a remodel at the Pressman home in Los Angeles. This stucco outdoor fireplace, which shares a chimney with the master bedroom fireplace, became the focal point of a new outdoor living room and adjacent dining patio. Concrete steps provide seating for group gatherings, and speakers are concealed in the soffits above the French doors. Architect Jeffrey Tohl.
Landscape by Rob Pressman of TGP Inc., 818-907-8460; www.tgpinc.net.

 
10.  Interior Design Outside with Outdoor Fireplace.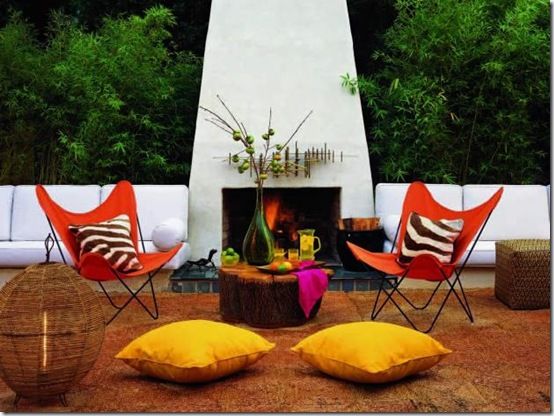 Interior designer Vance Burke moved from New York to Los Angeles because he wanted more living space. The West Coast climate allowed him scope for extending interiors into the garden John Brookes stylie – giving him the perfect setting for an outdoor fireplace.  Burke defined the space with low Moroccan-style built-in seating with cushions in white Sunbrella fabric; the green slate flooring is a continuation of the interior; jute matting makes it soft to walk on. He furnished the space with rugs, chairs and objects, altering the display as mood and occasion demand. A surround of bamboo, lit at night, adds to the sense of outdoors while providing privacy.  Check out MyGardenSchool's online garden design course on decorating your outside space for more on this.
Vance Burke, 323-654-5602.
Stay updated
Receive free updates by email including special offers and new courses.