Landscape Design Ideas For Small Gardens.
So a courtyard is the only outdoor space you have? Lucky you! With a little planning it can be a real oasis and a wonderful extension of your indoor living environment. The most important thing is to use the space wisely and make the most of every inch.
It's just like decorating a room really: you need to consider the walls, the floor, the furniture and all the fittings and how they work together. If you transform it into a pleasing environment you will use it. If not, it will become an outdoor storage space.
Here are five of the most important things I think you should think about: design ideas for your courtyard garden:
1. Green the walls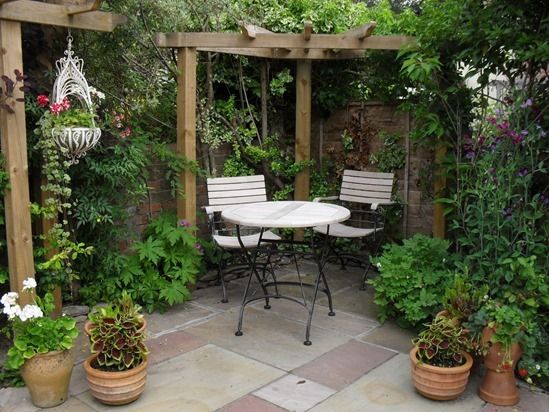 Blank walls and fences, whether smart, shabby, painted or natural are rarely a pleasant surrounding if the space is small. I see pictures of contemporary courtyard gardens featuring fences painted in designer grey: they look like prison cells, packing cases, places of confinement rather than escape.
Drape the walls with climbers. Make them deeper with trellis clothed in foliage or use a narrow pergola around the edge dripping with living plants. You will transform that box into a secret garden which can be made even more magical at night when the vines are intertwined with fairy lights or illuminated with uplighters.
Scented climbers such as the lovely evergreen Trachelospermum 'Star of Toscana' are perfect.
2. Use a big, outdoor mirror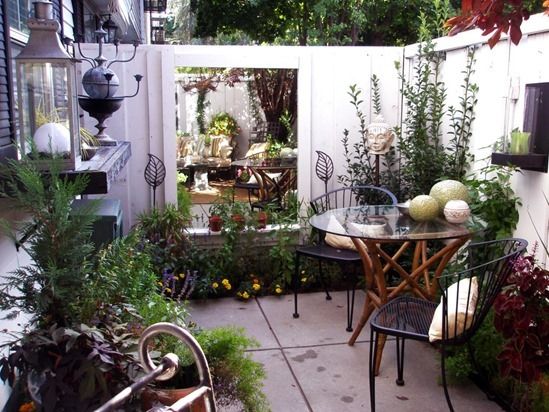 Many worry about the danger of birds flying into mirrors outdoors. In a courtyard or confined space this is less likely, particularly if the mirror is framed with plant material upon which a bird can land and perch; a Japanese maple for example.
Alternatively frame the mirror with climbing plants on trellis or growing over an archway. Mirrors divided into smaller panes to create the effect of a window can look stunning. Consider what the mirror will reflect and how it will work to give the greatest illusion of space.
3. Use light colours and limit your colour palette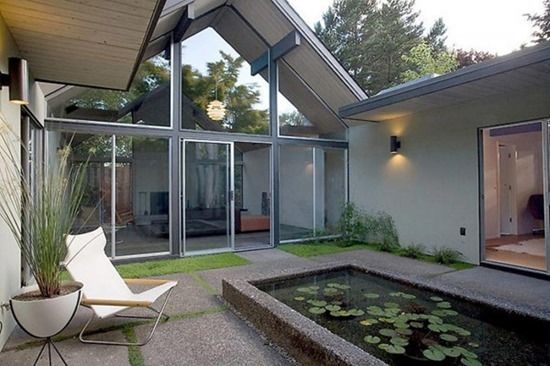 in the planting. Bright green and white variegated foliage and white and light coloured flowers make the space come alive, particularly if it is shady.
Many evergreen shrubs, such as the ever popular Fatsia japonica, have shiny leaves that reflect light. These also help to illuminate those dark corners. In contemporary settings light coloured walls and a few bold, well-placed plants help to create an illusion of light and space.
4. Be bold in your planting of pots and containers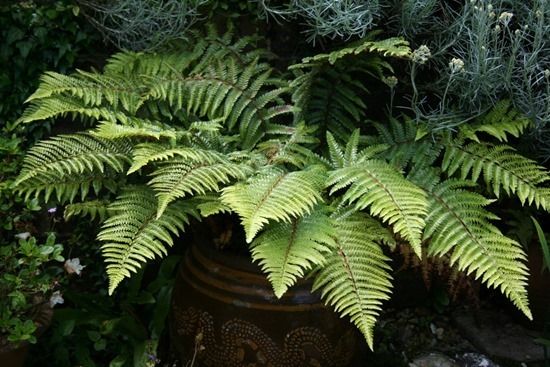 The right plant in the right pot is so much more effective than a few seasonal bedding plants crammed into any old container that happened to be at hand. If you want your pots to last choose simple classic designs and buy quality.
Situations are never rarely too shady and inhospitable for something to grow. A good evergreen fern, for example can be a stunning feature under an outdoor stairway or a dark corner. A shaded wall could be brought to life with a large-leaved ivy.
5. Choose your furniture for its visual appearance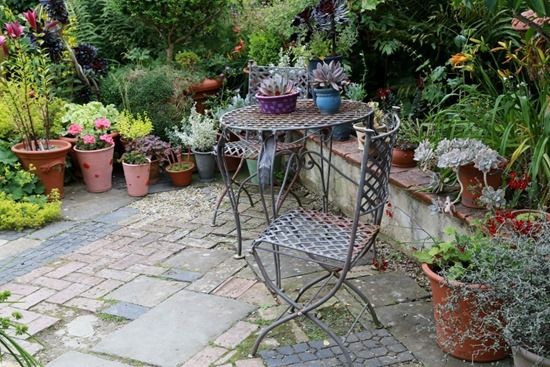 A pretty folding metal table and a couple of chairs may be the best bet, keeping another two chairs folded away in reserve. This makes the space look bigger, rather than filling it with a four seater patio set the whole time.
In many cases you will spend more time looking at the furniture, rather than sitting on it. Make it beautiful with a planted bowl of succulents or perhaps a seasonal box of primroses or violas.
6. Water features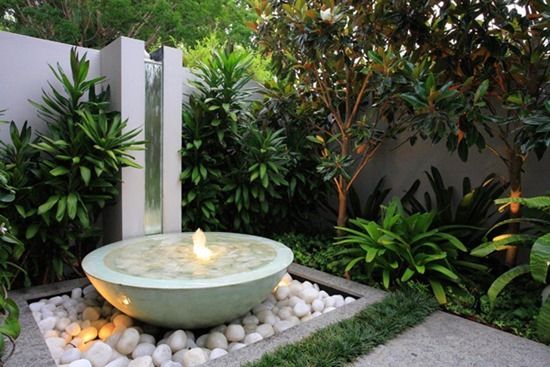 There have been so many rather unattractive self-contained models available in recent years that most of us have become rather tired of them. However in a courtyard setting gently moving water is calming, soothing and drowns out sounds from the outside world.
Choose something subtle that doesn't gurgle and spurt and surround it with planting or use it as a focal point. Don't feel you have to buy one complete, it's easy to make one as long as you have an adequate reservoir of water, a quality small pump and a few stones.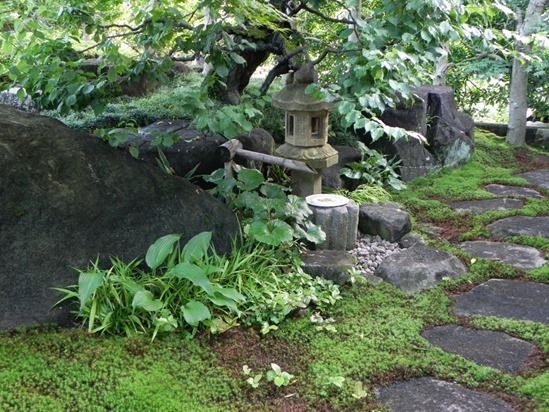 Take a little garden inspiration from the Japanese; they are masters at creating an illusion of space. Limited colour palette, simple design, everything perfectly beautiful. The recipe for a tranquil setting that you can live with.
Further Study

John Brookes: How To Design A Garden
A 4 week online garden design course with John Brookes; one of the worlds most famous garden designers.
Stay updated
Receive free updates by email including special offers and new courses.