I think many of us grew up with bright red salvias, often in association with lobelia and alyssum; a common sight in the summer gardens of suburbia. Certainly I never realised what a diverse and useful group of plants salvias are and that probably explains the interest in them. I know many gardeners that have become salvia enthusiasts and collectors. They visit gardens in search of salvias. I have noticed growing interest in recent years and lots more media attention focussed on the genus. A new book has just been published: The Plant Lover's Guide to Salvias by John Whittlesey, publisher: Timber Press. Gardens Illustrated magazine this month (August 2014) carries an article by My Garden School Tutor Noel Kingsbury on European Salvias. So I thought I would write about a few I've noticed or come into contact with.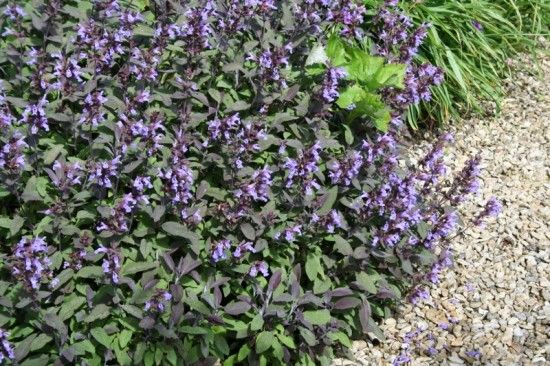 The common sage, Salvia officinalis, is well known as a culinary herb: I grew up with sage and onion stuffing that came out of a packet. Despite the fact that it was a long way removed from its fresh ingredient origins it still had that wonderful sage smell. I think the purple-leaved sage, Salvia officinalis 'Purpurascens' is one of the most useful simple shrubs. The soft grey-mauve leaves mix so well with most other colours, especially those pastel pinks, blues, silvers and lilacs we find it easy to live with. Purple-blue flowers early in the season are attractive to bees and pollinators. The fast growth habit makes it a great gap filler at the front of the border. Plant it to soften the edge of paving or add life to gravel.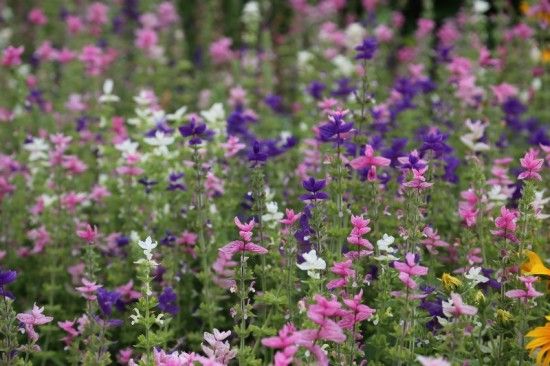 I've always liked Clary sage, Salvia hormium. It is normally grown as an annual and is sown in the flowering position. It produces spikes of conspicuous white, deep blue or pink bracts which surround small flowers. It makes an excellent flower for cutting and is useful to add informal summer colour between shrubs, roses and perennials. The plants are aromatic and if the situation is kept well watered during the early part of the season they grow well in a warm sunny spot with lavenders and silver foliage subjects.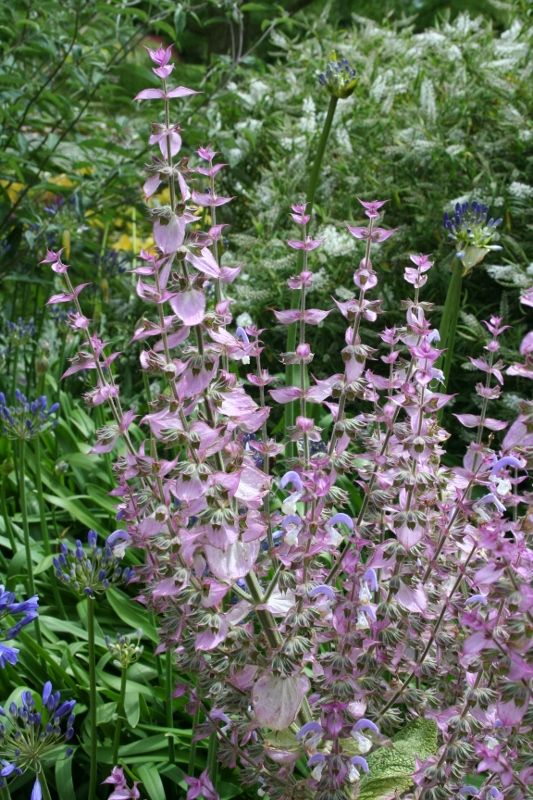 On a bigger scale Salvia turkestanica has tall branched spikes of lilac bracts and mauve-white flowers above felted leaves. It is at its best in dry sunny situations and I have noticed it thriving in drier areas rather than those that are blessed with fertile soil and plentiful rainfall. Personally I think it is an impressive curiosity rather than a subject of great beauty.
P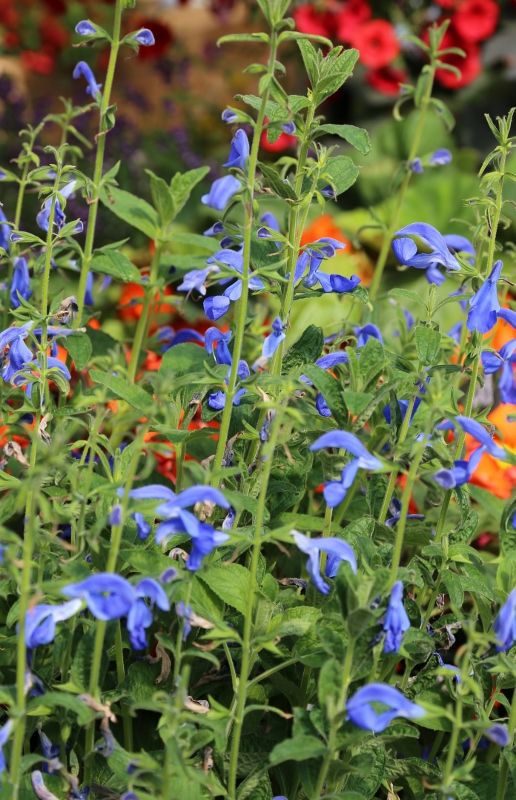 Salvia patens on the other hand is all about the colour. The foliage is fresh green and less hairy than many salvias. The spikes carry well-spaced fairly large lipped flowers of gem-stone blue. They remind me of lapis-lazuli and add an exotic extravagance to any planting scheme. It is becoming increasingly popular in summer bedding plant ranges whereas once it was a much sought after tender perennial.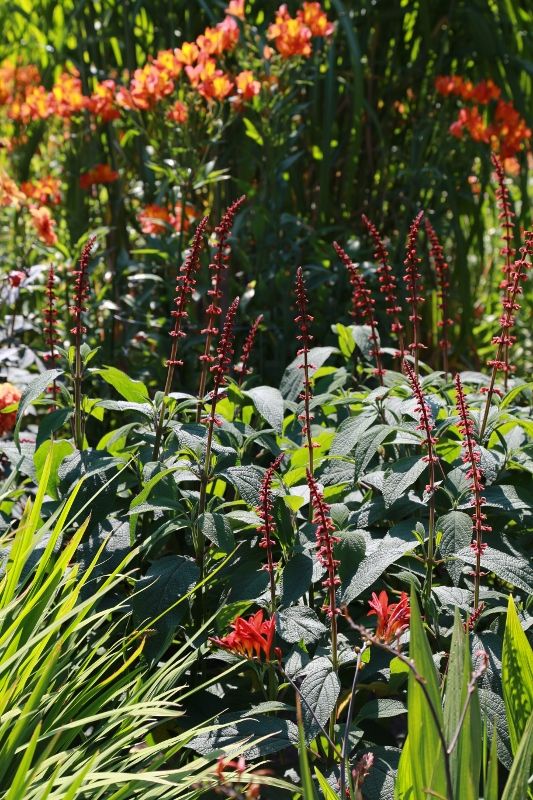 Salvia confertiflora, known as the red velvet sage, is a native or Brazil. It is a tender perennial which needs winter protection in all but the mildest regions.  It is at its best in late summer when the paprika-coloured felted spikes of flower stand well above the superb foliage. The spikes are crowded with flowers, hence the name confertiflora.   It can grow1.5 metres, 5ft but is usually more like 1 metres, 3 ft. It has been grown in the US since the 1960s and is an excellent addition to any hot border or tropical planting scheme.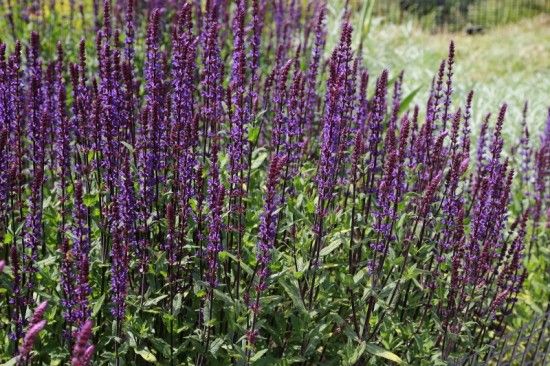 There are a number of herbaceous salvias with spikes of blue, purple, pink or white flowers that are grown in quantity for the retail market. They lend themselves to being sold as pots full of colour as well as young plants sold early to flower the same season. In an open sunny position they combine well with other perennials, shrubs and roses and their upright spikes are a welcome contrast to the loose rounded form of other perennials like geraniums. Personally I think the deep blue varieties are by far the best and for colour I would always choose Salvia 'Caradonna'. Deep violet blue with slender dark stems and red-purple bracts which extend the season of colour.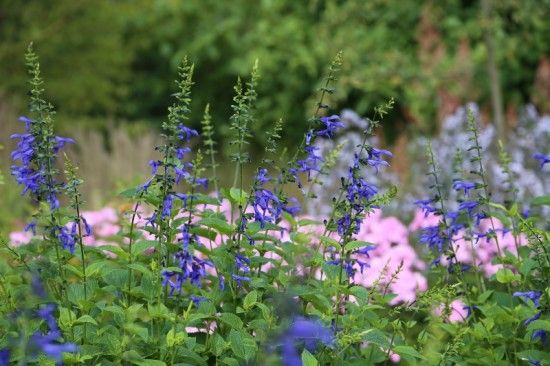 For those with larger beds and borders, especially with shrub roses Salvia guarantica 'Blue Enigma' is a great addition. It is tall, over a metre, 3 ft in height with emerald green foliage and electric blue flowers.  I have found it remarkably hardy and quite a survivor. At first sight it does look more leaf than flower but that vivid blue colour makes up for it.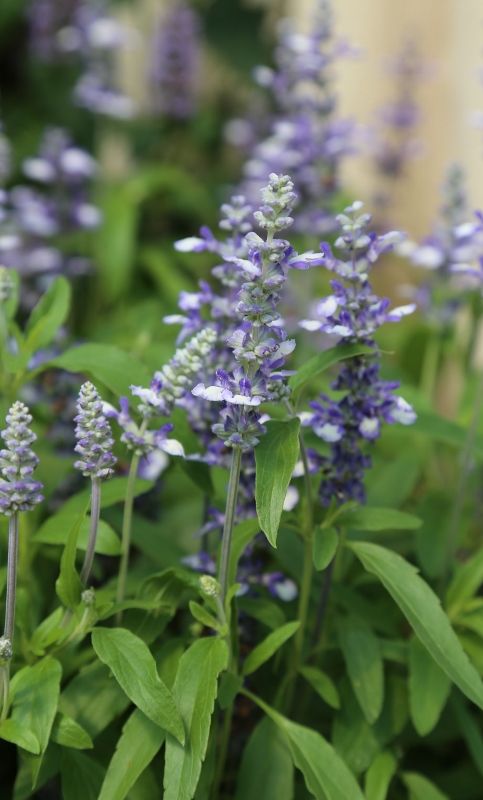 Varieties of Salvia farinacea have featured in seasonal bedding plant ranges for a few years. These are compact plants with square stalks that rise above the foliage carrying compact heads of usually blue flowers. Farinacea means flour like: hence the whitish bloom on bracts and the flower stalk and sometimes the leaf stalks. A new variety Salvia farinacea 'Fairy Queen' caught my eye at the bedding trials recently. It may not be the most vivid or showy but it is certainly pretty. It has a rather vintage look: very today.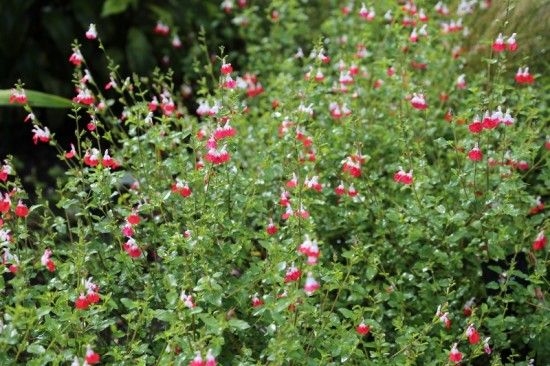 In addition to all the herbaceous varieties there are many woody salvias. These are drought resistant woody herbs with aromatic foliage and small flowers in spikes at the tips of the shoots. They flower for a long time but the stems are generally brittle: take this into account when handling and planting. Salvia 'Hot Lips' has become amazingly popular. Its red and white flowers are sprinkled above matt green foliage. I have to admit I think the name accounts for 70% of its popularity. It certainly performs if it likes the spot but the colouring leaves me rather cold. What do you think?
Stay updated
Receive free updates by email including special offers and new courses.