A self contained water feature brings your garden to life
By Andy McIndoe •
Nothing brings a garden to life like the movement of water. There is something quite magical about the sound, and the fascination of watching running reflective, cooling water, whatever size of garden you have. One could argue that every garden should have a water feature of some kind, but then there is always the problem of constructing it. How do you go about it? Is it safe? How do you make it work?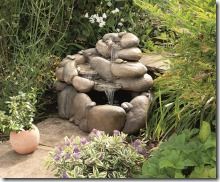 I have to admit I've had a fascination with water in the garden all of my life. As a child a pond was high on my list of priorities. My first pond was a tin baby bath sunk into the ground. I thought it was totally wonderful, but there as something missing: movement. I longed for a waterfall or a fountain, maybe not as spectacular as the one in the lake in the park, but anything that generated continuous movement.
I have had a number of ponds since then and have enjoyed growing a wide variety of wonderful water plants; waterlilies especially. I have also constructed many water features at the Royal Horticultural Society's Chelsea Flower Show; I know nothing attracts attention more than a water feature as part of a Chelsea Show Garden.
One thing is certain ponds and moving water have become easier and more attainable over the years and never more so than now with the advent of Gardman water features. These are ready to go: take it out of the box, add water and plug in and you have a cascading, bubbling, mesmerising, soothing water feature without any digging, wiring, lining or planning.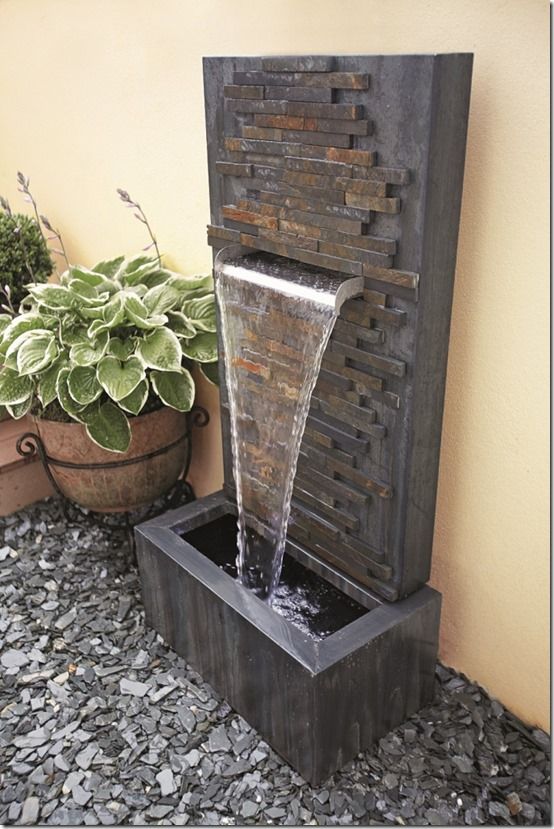 A Gardman self contained water feature makes a fabulous focal point in a small garden, courtyard or on a balcony, or for that matter in the corner of a larger garden. The secret of success, as with any garden feature is to make the surrounding planting work with it. Too often we isolate and maroon a feature and it looks out of place rather than being a part of the design of the garden. Don't worry if you haven't got any soil around it. Position a few pots of hostas, grasses or bold evergreen shrubs around it and make the whole scheme a feature.
A self contained water feature is also a good way to cut out the outside world. I'm always amazed how effective running water is at drowning out road noise, next door's lawnmower or conversation. In a small town garden it can transform the space into a real urban oasis, far from the commotion of the surroundings.
You could use one indoors too, in a conservatory or garden room. Gently moving water is a great way to bring the outside world indoors. It will also increase the humidity which can be particularly advantageous in a conservatory. Warm, dry air promotes the spread and proliferation of certain pests, particularly spider mites. These are curbed in a humid atmosphere.
As with any garden ornament or container it is important to choose a water feature that suits the style of your garden and property. The cascading jugs feature would suit a country garden or any informal setting. The contemporary features suit modern garden and balcony style. The more rustic features look best in association with plant material. Some of the more contemporary pieces work best standing alone.
As pristine as your new water feature looks to start with the water will tend to go green in sunlight and slime, algal growth will develop. This is less of a problem in a shady situation. To prevent green water and slime developing you can add Gardman Crystal Clear to the water. This kills off algae as it develops and keeps your water feature sparkling.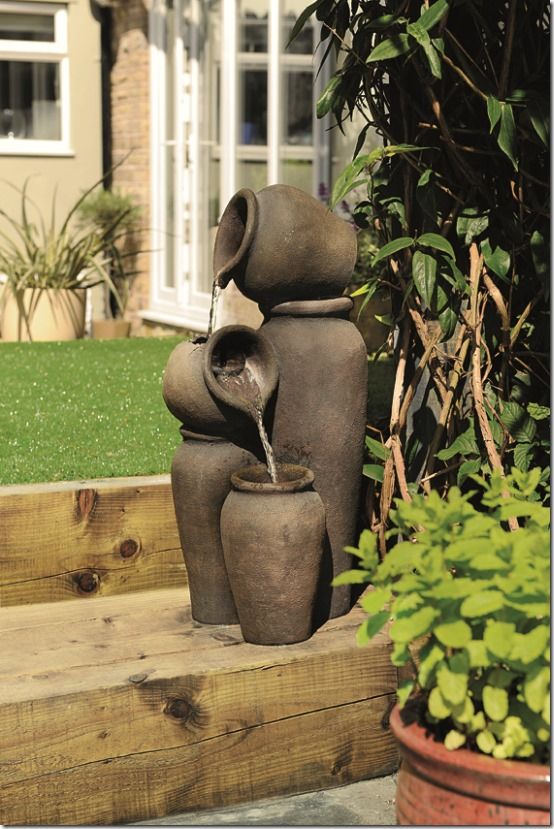 Of course one of the great advantages of a self-contained water feature is its safety. You can have the effect of live water without the open water of a pond which can be a hazard with young children around. If you are installing it outside you will need a proper outdoor power socket installed by a qualified electrician. As these self-contained features usually look best in areas close to the house this shouldn't be too much of a problem.
A garden is a place to stimulate the senses: the colour, fragrance and texture of flowers and foliage; the movement of stems and leaves. Moving water adds that other magical dimension that really brings a garden to life. A self contained water feature, where you can see it and enjoy it, near to where you sit on a fine day, where you can hear it with the window open is an easy and effective way to bring that magic to your garden.
Stay updated
Receive free updates by email including special offers and new courses.