Container Gardening with Harriet Rycroft, Whichford Pottery
By Andy McIndoe •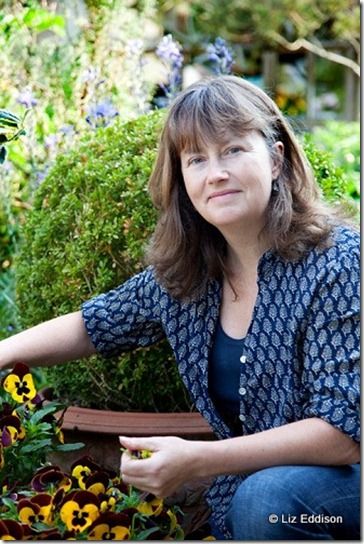 I have always admired Harriet Rycroft's incredible planted containers at Whichford Pottery, Warwickshire. She is a master at putting plants together to create mouthwatering combinations: bulbs, seasonal bedding subjects, exotics, succulents and cottage garden favourites. Her palette of plants is wide, varied and innovative.
I often catch up with Harriet on Twitter ( @HarrietRycroft ) where we share our cat experiences and opinions on television, films food and wine and other matters of Global importance…..
I invited Harriet to share her love of plants and gardening with us, and to tell us a little of how she creates such wonderful planted containers. I'm really delighted to welcome her as a guest to the My Garden School blog:
How did you get into gardening in the first place Harriet and how long have you been hooked?
I have been happiest in gardens for as long as I can remember. The smell of phlox takes me straight back to the garden of my childhood home, I still know that garden by heart. I suppose I got really hooked on gardening when my husband and I got our first garden flat in South London, I ended up spending every spare minute in it. But it was only after I had had two children and decided never to work in an office again that I retrained and took up gardening professionally.I know you focus on container gardening for a living, but are you into all aspects of gardening. Do you grow your own vegetables for example?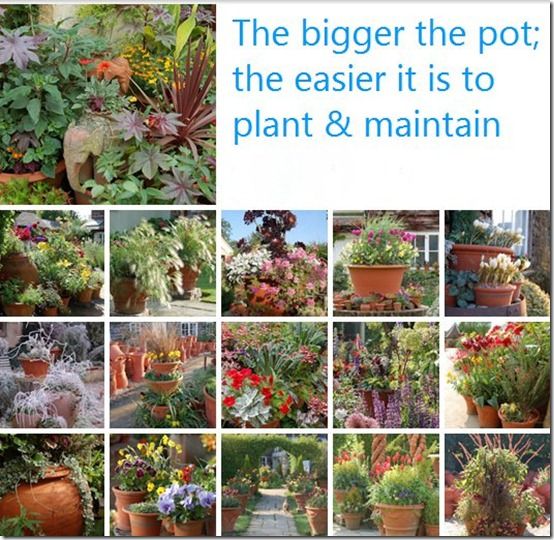 I do love a big fat herbaceous border. The kind you can be weeding in in midsummer and nobody knows where you are. I also enjoy pruning roses and fruit trees, but vegetables are a bit of a weak spot; I'm trying to make a vegetable plot at the end of our garden but the soil is so full of rubble that I still haven't finished clearing enough to level it and make raised beds. I had half an allotment when the boys were small, but failed to interest them in it, so they didn't want to come with me and I couldn't get away enough to maintain it properly. The last straw was badgers eating all my sweetcorn and leaving huge bear-claw scratches in my pumpkins!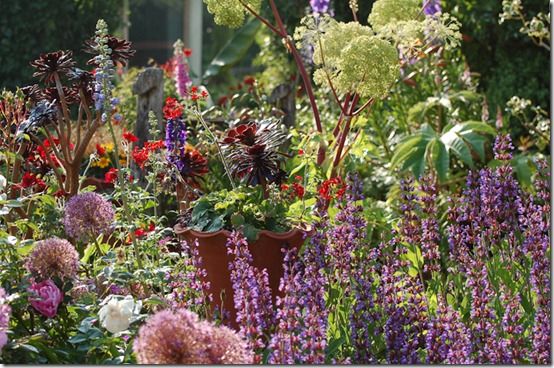 It must be wonderful having all those glorious terracotta pots to hand at Whichford Pottery. Do you have your favourite shapes and sizes to work with?
We make so many shapes and sizes I can really indulge the whim of the day. Sometimes I like to use a wide but relatively shallow pot to make a rocky landscape with little alpine plants or tender succulents; on other days I will plant whole collections of tiny pots to line up on windowsills and ledges, or combine bigger pots of different shapes and heights to make a display with plenty of impact. The big, tall pots are really good fun to plant, especially in the summer, because I can stuff them with huge plants and jam in plenty of trailers and spreaders. The bigger the pot, the easier it is to plant and to maintain. I don't really have a favourite because they all have their uses, but I do love some of the more classic designs, like our 'Pastry Pots'. I have a collection which I use again and again, so they develop a lovely patina over the years, and as they are all hand-made each has its own character.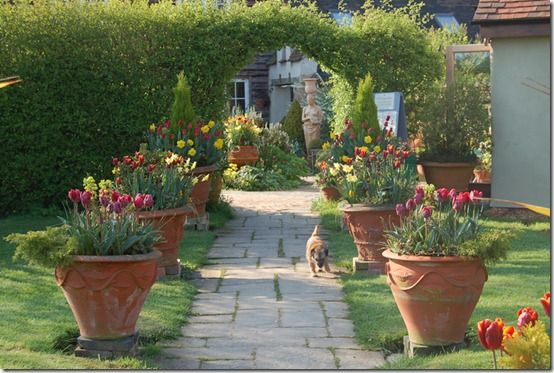 What would you say was the secret of planting a fabulous container?
Plant generously and don't be afraid to experiment with big, bold plants.
Are you a plant collector or do you just grow plants that you like?
I must confess to being a hopeless plantaholic. But I don't just go for rarities. I like lots of tried and tested bedding plants such as begonias and fuchsias, which some people are snooty about. I also love growing annuals, which are a really cheap way to fill pots.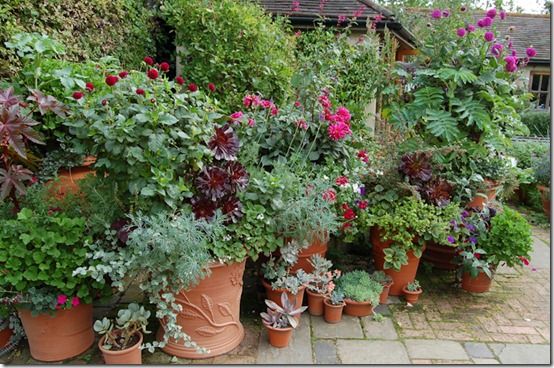 If I you had to choose your three "Desert Island Plants" what would they be?
That's an impossible question. I refuse to answer it because the answer changes all the time! But if you twisted my arm I'd say that I couldn't be without spring bulbs, especially crocus and tulips.
Any tips on which compost to use, and what about feeding?
I have a mix made for me from peat, loam and grit. It's quite finely milled and genuinely multi-purpose. I would like to avoid peat but I'm not convinced by coir. Loam-based composts (such as the John Innes types) tend to get rather compacted in pots so I would always mix them with a peat, bark or coir-based compost to keep the structure open. I usually add slow-release fertilizer when planting and don't often use liquid feed, partly because I think it's wasteful and polluting, partly because I want my plants to be strong and not over-lush and floppy.
How challenging is the climate in your part of Warwickshire? Are plants more susceptible if we do get severe winter weather?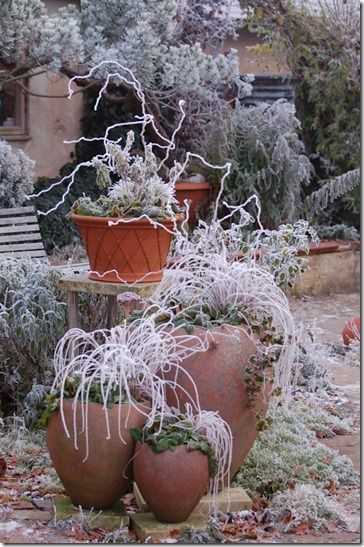 At Whichford we are about as far away from the sea as you can get in Britain, so we can get extremely cold weather that lasts for a while. This year has been pretty mild so far but last year we had -15C a couple of times and the year before we hit -18C and everything was frozen solid for weeks. Our pots are frostproof though, so I don't protect them at all, no fleece, no bubble wrap. The drainage holes are nice and big so properly hardy plants are fine because they don't get waterlogged even in this winter's weird weather. Of course in pots roots are more likely to get frozen, so I choose the hardiest plants for my winter plantings, most of which also involve spring bulbs.
I experiment with leaving borderline hardy plants in more or less sheltered places outside – sometimes it works and sometimes it doesn't. Tender plants spend the winter in the heated greenhouse and borderline plants in the unheated polytunnel. Of course the beauty of growing things in pots is that you can move them to shelter relatively easily.
What are your other guilty pleasures apart from gardening?
Lying in bed and reading. This Christmas my husband and my eldest son each gave me copies of Sue Townsend's book "The Woman Who Went to Bed for a Year". I think they were telling me something. I felt it was only right to spend most of the holiday in bed reading it; after all, it was pouring with rain outside so gardening wasn't going to be any fun…
I also like live music of many different sorts – I have an excuse to go to lots of blues gigs because my eldest son drums for Laurence Jones. And some people would say my guilty pleasure is boasting about my children!
Another pleasure, but not a guilty one, is going for long walks. We live in the Cotswolds, so gorgeous walks are two a penny and I always take my camera…
All images are © Harriet Rycroft.  Thanks to Harriet for supplying us with these images for this article.
Check out Harriet's Blog - Potting Up - http://www.whichfordpottery.com/potting-up/
Lots of great tips, advice and of course Harriet's views on plants, pots, people – even cats!
Stay updated
Receive free updates by email including special offers and new courses.