Andy McIndoe's top ten successes in the garden this year
By Andy McIndoe •
Every season has its successes and failures, some more so than others. However I always think it is worth noting things that have gone particularly well: newly introduced plants that have been successful, shrubs that have had a good season, a new way of growing something that has produced results and maybe a new item of gardening gear that has made gardening more of a pleasure. As we reach midsummer in the garden I thought I would share my top ten successes of the season so far, tell me if you agree, and do share yours in the comments below. Don't assume that because you have had a success with me something everyone else has. I know many have had a wonderful peony season; mine have been particularly disappointing, considering I fed and mulched them as you are supposed to. Maybe the surprise at such treatment confused them.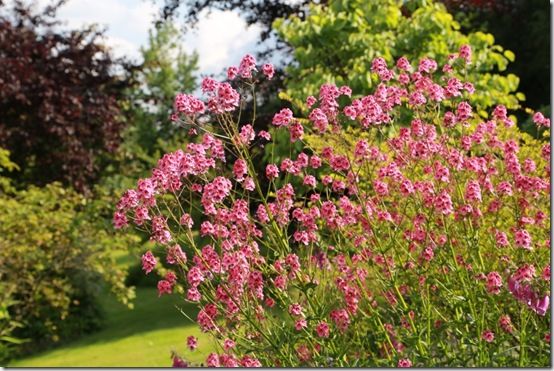 1. Top of my list has to be the tall, slender Diascia personata. This was good last year, but now it's established as a substantial clump it is quite magnificent. Flowering from early summer through to late autumn it is one of those hard working perennials that make all the difference in the summer garden. Deep, almost salmon pink it works brilliantly with blue nepeta, salvias or lavender and I love the way it adds light height to the planting.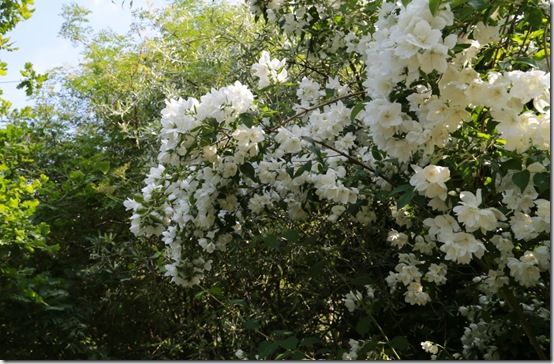 2. Many flowering shrubs have been good this year, but philadelphus have been outstanding.  For me there is nothing more wonderful than the fragrance of the mock orange in the summer garden and the scent seems the perfect fragrance to accompany the crystal-white flowers. All philadelphus have done well with us this year, however the star performer has to be this one; behind the hedge and virtually on the bonfire. That's so typical of gardening isn't it?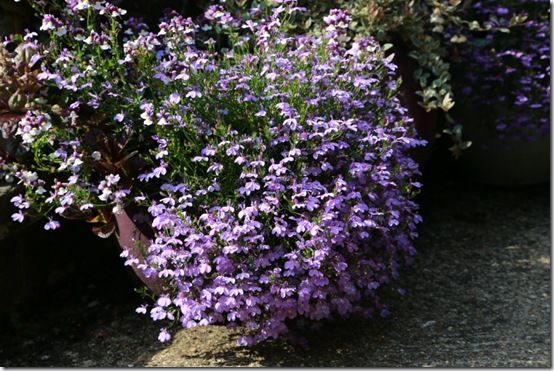 3. The tulips were brilliant this year; they flowered on time and lasted well. After they have finished we replant some of the pots with seasonal summer bedding to maintain some flower colour nearer to the house. I grew a couple of plants of the cutting raised Lobelia Laguna last year and they were brilliant. This year I've tried Lobelia Laguna lilac and it is performing really well. This is a single plant in this pot, loaded with flowers and very many more to come.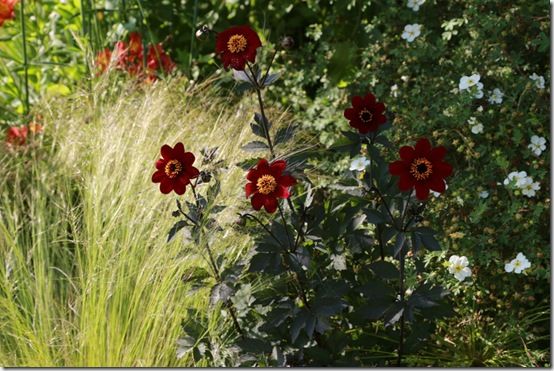 4. Last year I grew Dahlia 'Bishop of Auckland' planted as pot-grown plants purchased in late summer. They added valuable colour in autumn and I left most in the ground. The one I had in a pot on the patio spent the winter outside. I had tipped the pot out and left the dahlia rootball under a tree. This spring I found the tuber in good condition so I potted it up and kept it in the conservatory until late spring before planting out as a well-grown plant. It is already blooming well – way ahead of those left in the ground. I will definitely do this again: you get at least another two or three months of flowers.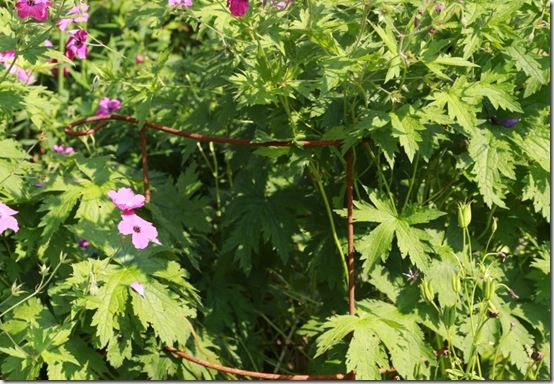 5. Over the last two years we have invested in some decent plant supports; some grow-through grids and some rather attractive half round hoops. All are solid and made of rusted steel from http://www.plantsupports.co.uk/. They look good in the border and really work, unlike those flimsy plastic coated wire contraptions that fall over. Although more expensive they are worth every penny and they have made such a difference to nepeta, geraniums, helianthus, peonies and several others. We will add to our collection next season.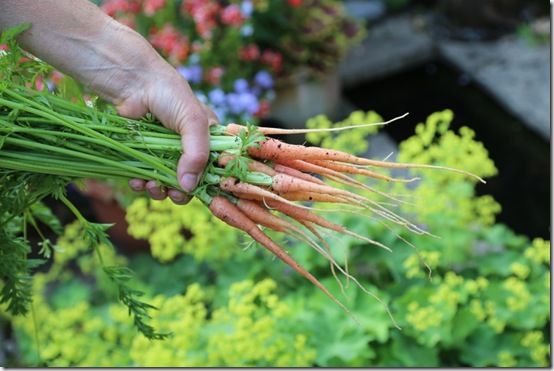 6. Successes on the vegetable plot usually involve gluts of courgettes and beans. This year we have done brilliantly with salad leaves and now carrots in a raised bed. What a difference - lovely straight roots, no holes, clean and totally delicious. Considering we have light sandy soil which should be good for this crop I wish I had gone down the raised be route a lot sooner.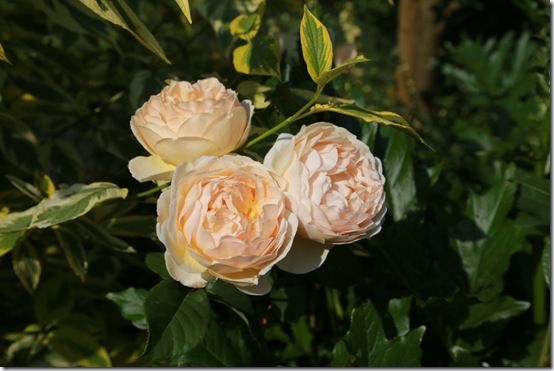 7. It has been a good year for the roses, but a bad year for black spot and other rose diseases. Ours have flowered well but I wouldn't look too closely at the foliage; we don't spray they just have to take their chances. Several varieties have done well but my biggest success is the sometimes sulky 'Jude the Obscure'. This has glorious cupped, full blooms with the most fantastic, complex fragrance. Despite competition from a large acanthus next to it this year Jude has excelled himself.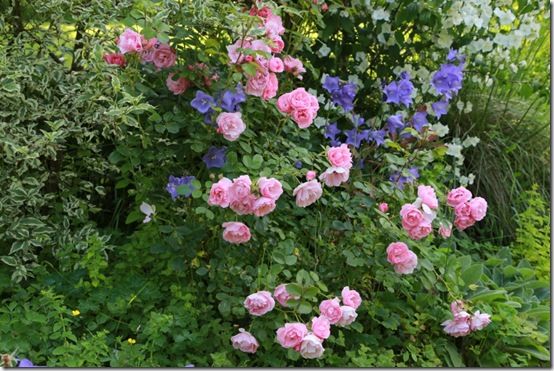 8. My other success with roses is introducing a couple of Rosa 'Bonica' into the garden. This modern shrub rose has been around for a few years but it has stood the test of time because of its disease resistance and flower power. It is not the most fragrant but has a graceful habit and clean flattened blooms. If flowers from early summer until late autumn. I love it with these blue Campanula persicifolia: yes, I know this isn't cutting edge, but you have to admit it is pretty?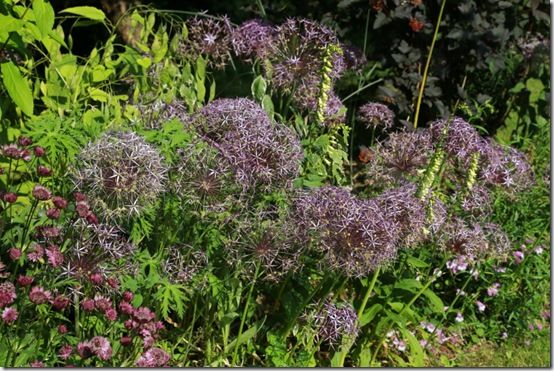 9. We have just about every popular garden allium in the garden, but this one is a success every year. It seeds and spreads and the flowers outlast all of the others. Allium cristophii is a must in every garden; if you haven't already got it make a note to buy and plant the bulbs this autumn. This one stays looking good as the seedheads develop and eventually dry on their stems in the border.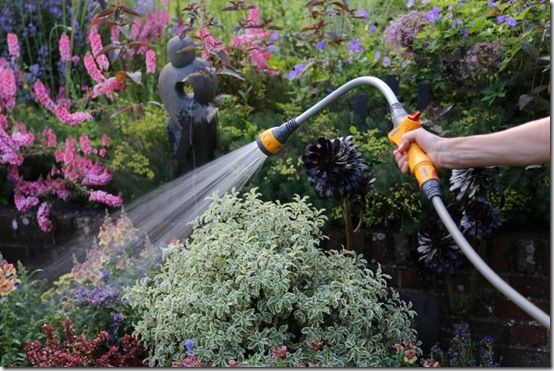 10. Finally I will mention my Flexi-spray. I find most hose guns pretty useless; nice to play with but no more effective than a finger over the end of the hosepipe. This one with the flexible, bendable pipe between the handle and the head is brilliant. It's like having a non-stop watering can and you can reach in under the foliage and to the back of a border or group of pots. This one is by Hozelock; a great investment whatever size your plot.


Don't forget to tell us about your successes below – go on make us all jealous.
Stay updated
Receive free updates by email including special offers and new courses.