Andy's Adventures in Gardening: Golden Moments in the Garden
By Andy McIndoe •
Isn't it lovely when something works in the garden? Those golden moments just seem to make it all worthwhile. When a planting combination works, whether it was accidental or not. When a plant performs exceptionally well. When you decide not to do something and are really pleased with the result. When simplicity really does prove to be the best solution. After a particularly frustrating start to the year in terms of weather, here in England midsummer has billowed and bloomed; my garden has certainly had some golden moments which I thought I would share with you.


My first good decision this year was not to apply a weed and feed to the lawn. The result is that the white clover has spread vigorously with the wet spring and now just about carpets the whole area. This means that the lawn stays deep emerald green, even after heavy footfall with our visitors. It's also sprinkled with confetti of creamy clover flowers that the bees, especially our big population of bumblebees really love. Purists may throw up their hands in horror, but in our garden the lawn now blends more seamlessly with the meadow and I love it!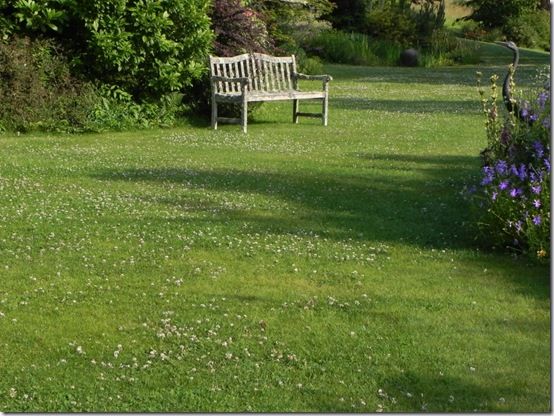 (By the way if you are a bit of a lawn purist - to learn more about lawns, take a look at our MyGardenSchool online gardening course for Lawn Improvement. and maintenance.  (it covers topics like how to make stripes and how to get rid of weeds in lawns!).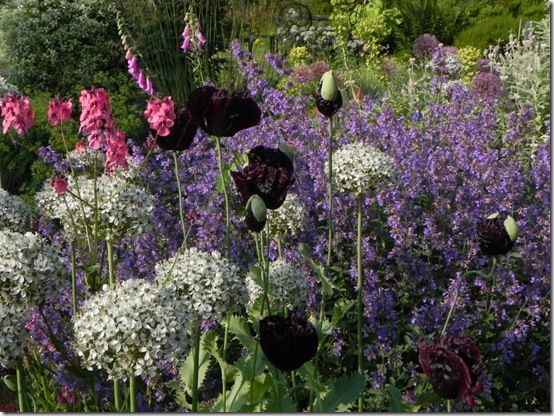 My second big success has been the introduction of a large number of Allium nigrum. I noticed lots of this being used in the perennial borders at Harlow Carr. It has bold heads of white, green-eyed flowers on stout stems. It's brilliant in the foreground in the border we look through from the terrace to the garden beyond, particularly as I planted it with the lovely opium poppy, Papaver somniferum 'Black Peony'. With diascias and blue nepeta it makes a really dreamy combination.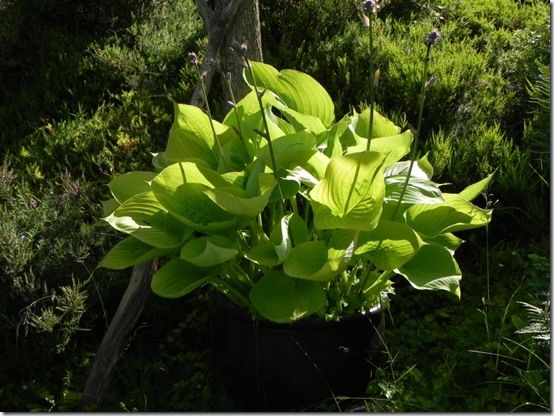 We always have a number of hostas in pots and all have done well this year. The lime green Hosta 'Sum and Substance' has been exceptional. With its large almost translucent leaves I have it planted in a dark glazed pot under the golden catalpa. It got totally waterlogged at the beginning of the year and clearly it's enjoyed the experience.
By contrast on the steps up to the garden I have planted an old galvanised metal container with the dainty daisy Erigeron karavinskianus 'Kew Profusion'. These overwintered and were slow to get going, but now the fine wiry stems are sprinkled with delicate little pink and white blooms. Who could resist?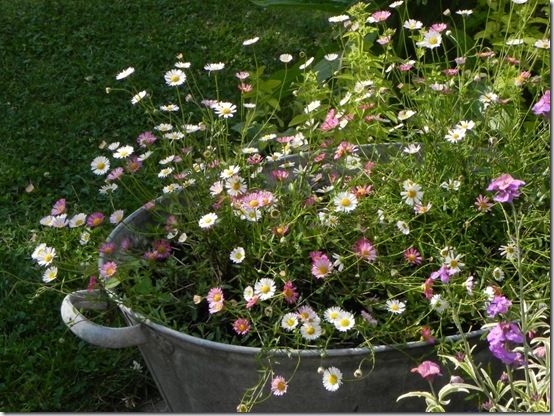 In a similar vein my heliotrope, purchased at Hidcote Manor garden, has formed a delightful association with a lime green Alchemilla mollis. The heliotrope is in a pot and was evicted from the conservatory for making soft, leggy growth and losing the richness of its flower colour. The alchemilla is a self set seedling in the gravel between paving stones on the terrace. The mixture of soft blue and lime green and the lacy texture of the two plants make a delightful combination I will certainly use again.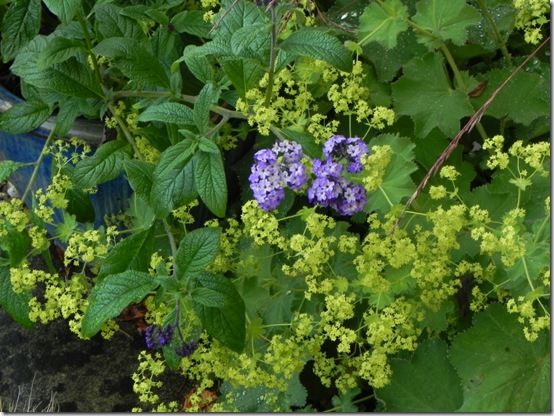 I have two sapphire blue glazed pots down by the summerhouse. I would never choose these today; although the colour is stunning it can look rather out of place in our country, informal garden. They had Fritillaria imperialis in them for spring and were standing empty. I had a couple of plants of a new strain of trailing cutting raised lobelia called Laguna that I had not used elsewhere, so I tucked one into each. They've thrived, filled and spilled over the edge and they look absolutely stunning. That's one plant in each for a cost of less than two pounds a pot; amazing value and less is definitely more in this instance.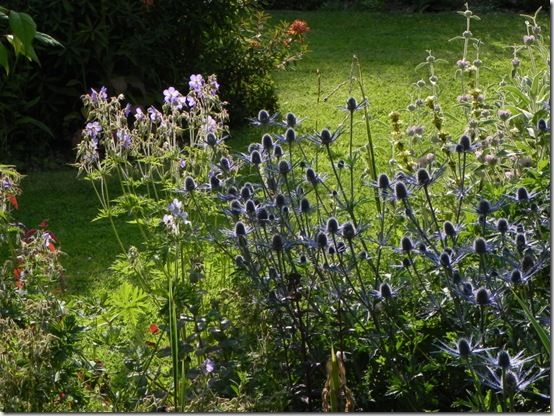 In the same part of the garden the eryngiums have really performed this year. I remember being given a young plant of Eryngium 'Jos Eijking' a few years ago on a visit to Blooms Nurseries in Norfolk, East England. It never really did anything in our last garden which was on a heavy soil. I suppose that rather put me off growing eryngiums, although I love them. A couple of years ago I planted a few of the same variety in our gravel garden and they have thrived. This year, again after the wet spring they are really superb. They like the good drainage of our sand but appreciate enough moisture lower down in the ground.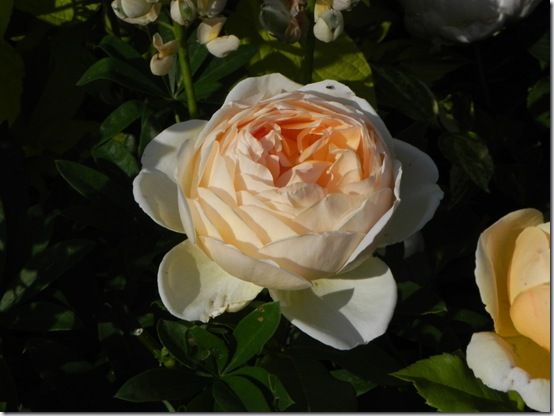 It's a great rose season and as you may have gathered at this time of the year I become a bit of a rose bore. The lovely orange, fruit scented 'Summer Song' looks sensational against the copper-bronze foliage of Physocarpus 'Diable d'Or'. This tends to be rather tall and sparse in my garden and flowers are few if glorious. The wonderfully fragrant 'Jubilee Celebration' alongside it is more reliable, especially later in the year. This rose is very double, old pink with a hint of gold on the reverse of the petals. The scent is old rose and powerful.
However, if its scent you are interested in I defy anyone to be unimpressed by Rosa 'Jude the Obscure'. Her perfume is strong and complex with myrrh, lemon, old rose and tea. Our garden is cold and certainly 'Jude' was not happy last summer. This year she's happier and has produced some opulent, glorious blooms that it's hard to tear your nose away from.
Two years ago I planted a couple of bushes of Rosa 'Young Lycidas', a wonderful purple pink English Rose' These are in a bed with alliums and magenta-pink geraniums and they look just wonderful. They are impossible to capture on camera, I just wish that you could smell them.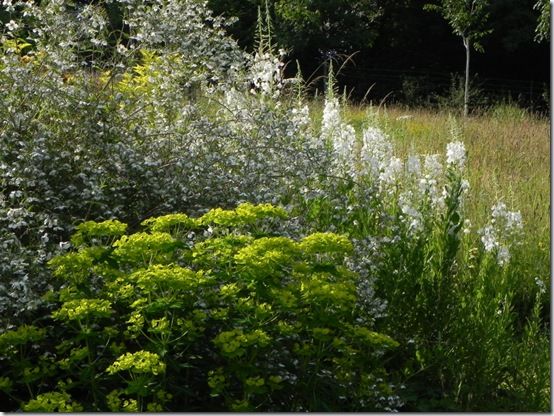 Philadelphus 'Sweet Clare' is always a star of my summer garden. Nothing can prepare you for the rich orange-blossom fragrance when it's in flower. This year the white willow herb, Chaemerion angustifolium 'Album' has really established alongside it and some self-seeded lime green euphorbias have moved in to create stunningly sparkling combination. This planting has been much admired by visitors and I haven't always admitted that it's accidental. After all it's a golden moment in the garden and I feel I've earned bragging gardener's rights.
Stay inspired
Get FREE Gardening tips and ideas from our experts in your inbox.