Chelsea Flower Show 2013; Favourite Show Gardens
I certainly enjoyed going to The Chelsea Flower Show this year, but as I said in my earlier post (The Chelsea Flower Show; Celebrities; Plants Or People?) my feeling is that the show has become somewhat of a caricature of gardening.  It's become as much about the people who attend, as it is the gardens or plants (perhaps it always has been?).  I've also heard a number of cynics saying that the planting palette has become increasingly limited making the gardens a bit 'samey'.  This is of course because The Chelsea Flower Show is always held at the same time of year – so there will inevitably be certain favourites that are always there because of seasonality:  Peonies, Irises, Anthriscus, (actually to be fair this year was strangely lacking in Alliums which are usually a staple).
So on that basis I'm looking forward to us progressing to a seasonal Chelsea Flower Show (how about late summer/spring on rotation?!) – imagine end of summer gardens – could be totally stunning!  Or like some of the European shows, keep it up for longer, so the gardens can evolve?  Anyway – enough provocation. The show must go on. And it continues to be a unique and fabulous society celebration of our love of gardening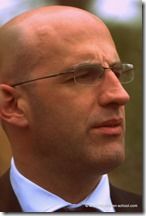 So  if you're visiting The Chelsea Flower Show this week we thought we'd recommend a few of our favourite show gardens to check out.  Here are some that caught our eyes along the main avenues.   As ever it's definitely worth going if you're looking for  ideas, and Chelsea can't fail to provoke thoughts for your own garden.
Incidentally, on another note,  as you probably know by now, we're passionate about online education in horticulture & gardening for the next generation.  And we have big plans for MyGardenSchool.  Just as we were leaving The Chelsea Flower Show we bumped into Dan Wolfe, Director of Marketing for The Royal Horticultural Society (left).  We've been chatting to Dan for about a year on the future of education for horticulture & gardening.  And we're now very excited that we'll be working much more closely with The Royal Horticultural Society over the forthcoming year.  Good stuff.  More on this soon..
RHS Chelsea Flower Show:  A Few of Our Favourite
Show Gardens
The Arthritis Research UK Garden (Chris Beardshaw)

RHS Chelsea Flower Show Gold Medal Winner
Some of you may know Chris Beardshaw from his long broadcasting career in the UK, which spans nearly 15 years and includes BBC2 hit television series such as Hidden Gardens and The Flying Gardener, amongst many others.  He is also heard by millions on the weekly Radio 4 Gardeners' Question Time panel where he intrepidly faces a live audience of gardening enthusiasts!
Beardshaw's garden reflects the stages and emotions that people experience when faced with a diagnosis of arthritis, from an initial lack of understanding and confusion, through to a point where they are informed about the disease and able to manage their pain.  This personal journey experienced by an arthritis sufferer is expressed through three garden areas. It  begins with the confusion of diagnosis in the Veiled Garden, a shaded, woodland garden featuring a contemporary retreat and sculpture.  A stepping stone pathway leads to the Lucid Garden which is open and formal, representing the wide-range of information Arthritis Research UK provides to people with arthritis.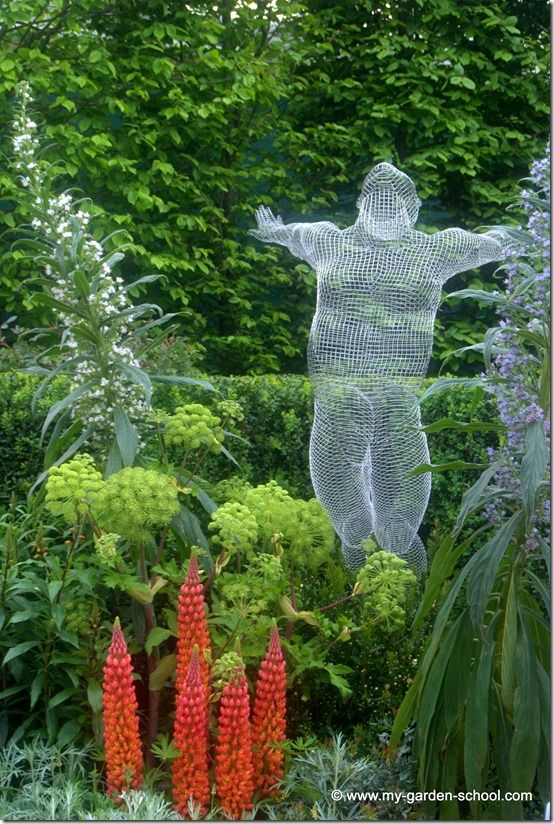 The final section, the Radiant Garden, moves the journey forward into a slightly sunken garden where exuberant, vibrant planting provides warmth, openness and confidence as the person with arthritis learns to manage their condition.  Throughout the garden Beardshaw uses quite startling lupins – but somehow he makes them work, and look classy.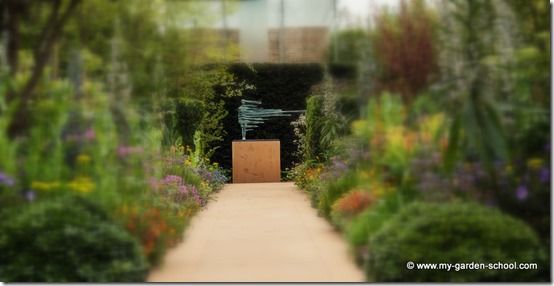 Beardshaw said: "I was diagnosed with a form of rheumatoid arthritis in my early teens and was told I would most likely be in a wheelchair at the age of 19 years old. So, not only do I have a very strong personal reason why I was so keen to work with Arthritis Research UK, but I wanted to create a garden that reflects the way people with arthritis feel about the disease and to translate those emotions into a sequence of vistas and a journey through the garden.  "Each stage in the garden provides a very specific purpose and the planting combinations, and even individual plants, all have relevance. I want this garden to showcase what Arthritis Research UK represents and for people who visit the garden to learn about the journey that people with arthritis go on."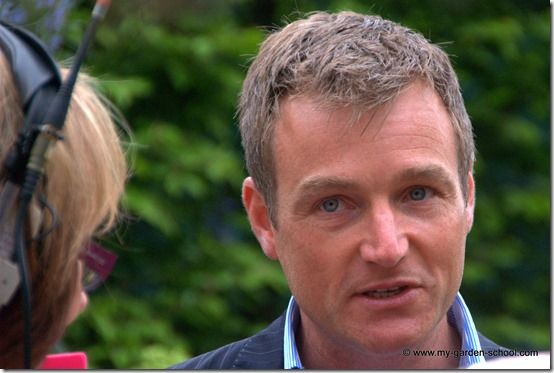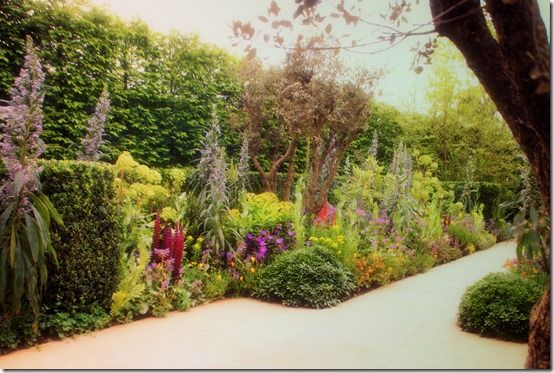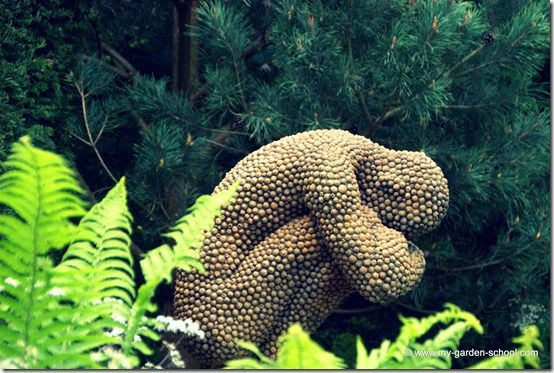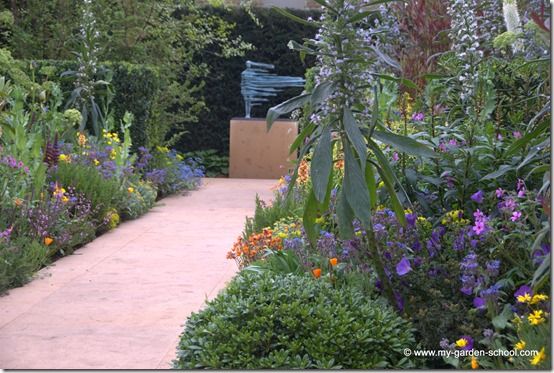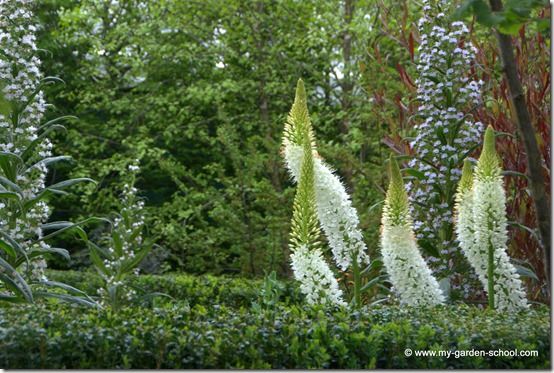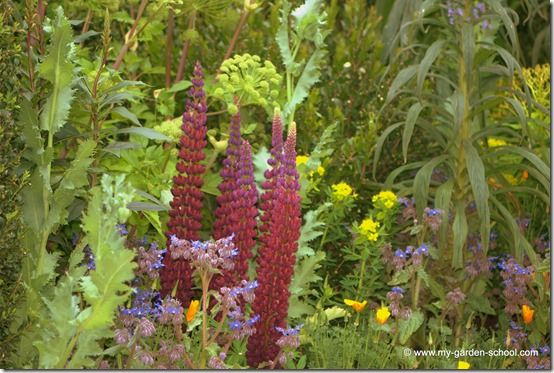 The Brewin Dolphin Garden by Robert Myers

RHS Chelsea Flower Show Gold Medal Winner
The Brewin Dolphin Garden by Robert Myers is minimalist, calming and uses native plants. In a central sunken area, a verdant textual combination of groundcover and clipped box provides a counterpoint to the pleached field maples and a scattering of multi-stemmed rowans, underplanted with a blend of grasses, shrubs and herbaceous with white, purple and blue flowers. Towards the front the colour theme is dominated by blue pink and white with splashes of yellow with patio and pebble seats.  The pebble seats do it for me.  I'd like those.  Very simple, yet effective and sculptural.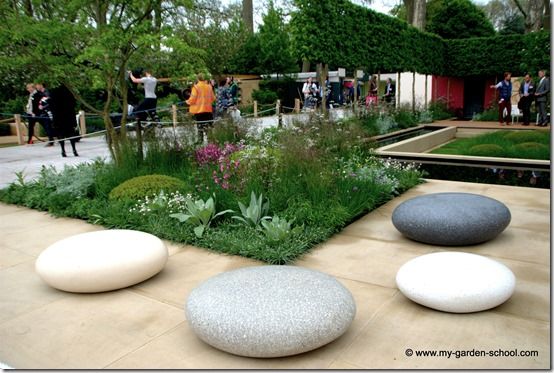 The Telegraph Garden by Christopher Bradley-Hole

RHS Chelsea Flower Show Gold Medal Winner
This year's Telegraph Garden, designed by Christopher Bradley-Hole, is an abstract interpretation of the English landscape, its woods, hedgerows, fields and streams have morphed into a grid of squares and rectangles. Taking inspiration from the Zen gardens of Japan, its features are distilled into a contemplative composition, layered with references to the ways the land has been shaped over the centuries.
I hadn't realised but Bradley-Hole has been absent from The Chelsea Flower Show for the last eight years, his previous gardens here having won a cluster of gold medals and Best in Shows.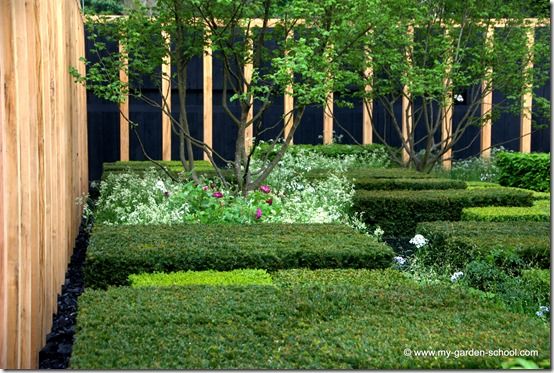 As Bradley-Hole explained to The Telegraph: "The only point of doing a garden at Chelsea is if you do something new, and this one is very much a response to where I am now as a designer," he says. "It is a fusion of two influences: firstly, the wooded estate I am restoring and developing for clients near Henley-on-Thames, where I have become immersed in native trees and the history of the landscape, and secondly my long-term interest in Japanese design, which was ratcheted up two years ago when I went to Japan for the first time." After visiting Ryoan-ji, the most famous of the Zen gardens in Kyoto, which presents groups of rocks in an expanse of raked gravel, he travelled to Naoshima and Awaji Island to see the art galleries, installations and hotel designed by the architect Tadao Ando.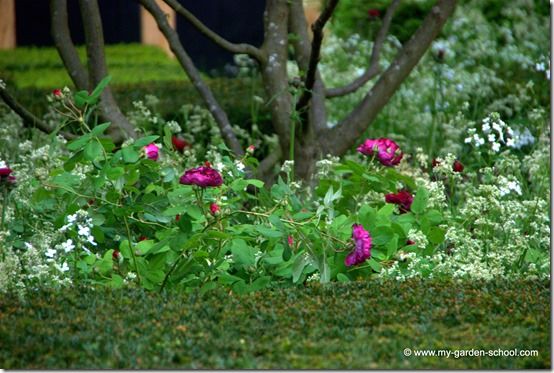 It was a life-changer for me. Looking out at the Inland Sea and its islands from Ando's modern buildings, I suddenly saw what Ryoan-ji was all about – a microcosm of the wider landscape within a contained garden. And in Ando's work I saw how design could be rooted in tradition and yet at the same time be uncompromisingly modern."
In the Telegraph Garden, Christopher takes a similarly abstract, minimalist approach to the English landscape. "I wanted to represent its story, the way it started as woodland out of which clearings were made for cultivation and settlement, and how the bones of these ancient woods now stand in an imposed geometry of fields and hedgerows. And I wanted to represent its plants, especially its trees – oak, yew, box, hazel and beech. The question was how to get all this into a garden that was pared down like Ryoan-ji."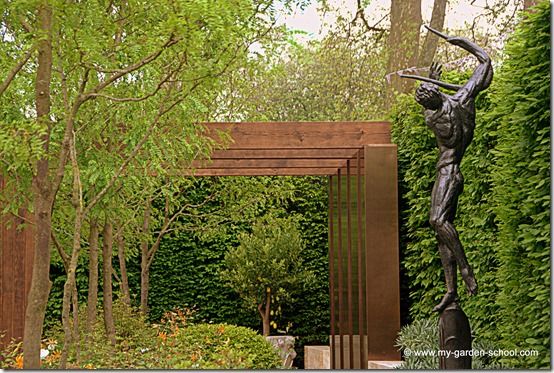 The M & G Centenary Garden (Roger Platts)

RHS Chelsea Flower Show Gold Medal Winner
This garden is all about the planting. (See plant list below). It's designed by Roger Platts, who's somewhat of a Chelsea Flower Show regular. The design draws on new and old garden features – from shrubs popular in the 1900s to modern plant cultivars – to show how the British approach to design has evolved over the decades, but with many recurring trends that have stood the test of time.  The classic British design of sandstone paths threading through beds of perennials and roses is complemented by nods to the past and the present.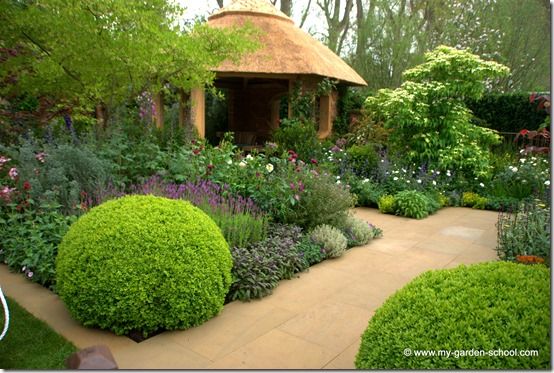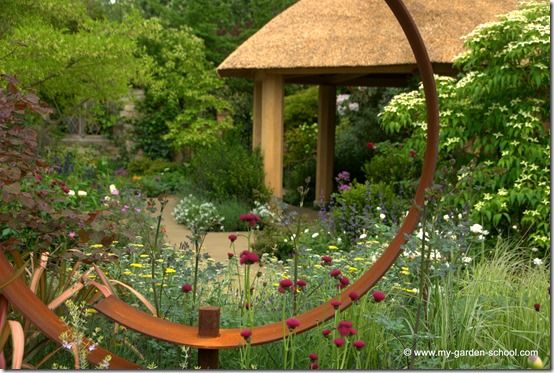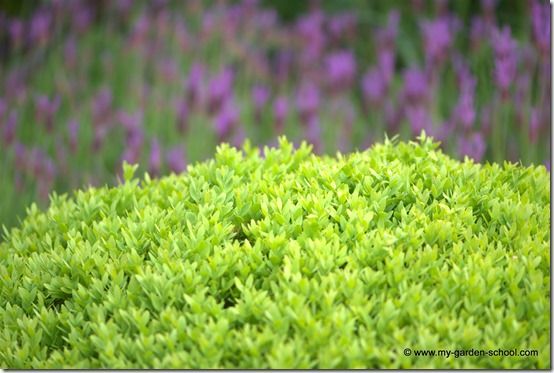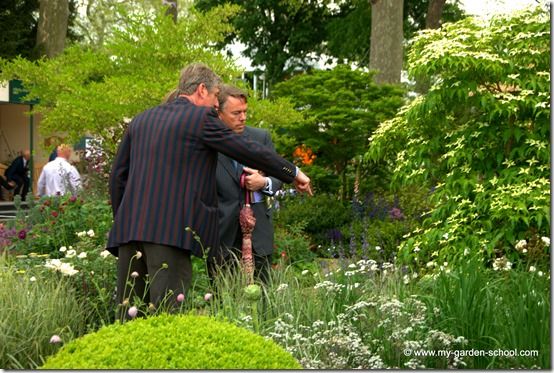 I've included the plant list for this particular Chelsea Flower Show Garden– as people so often want to know which plants they've been looking at – and you don't always get a chance to capture them at the show.  Also it really does give you an idea of the scale of planting in a show garden like this.   It illustrates actually how much there is to building a show garden.  Look at the sheer quantity of different varieties that are used!  Staggering.


 
The M&G Centenary Garden Plants Used

TreesAcer japonicum 'Vitifolium', Acer palmatum, Acer palmatum 'Bloodgood', Amelanchier 'Ballerina', Betula utilis, Carpinus betulus, Catalpa x erubescens 'Purpurea', Cercidiphyllum japonicum, Cercis canadensis 'Forest Pansy', Cornus kousa 'China Girl', Cornus kousa 'Norman Hadden', Cornus kousa 'Satomi', Crataegus prunifolia, Ilex 'Nellie R Stevens', Ilex aquifolium, Ilex crenata, Malus 'Evereste', Robinia x hillieri, Robinia x margaretta 'Pink Cascade', Sorbus aria 'Lutescens', Styrax japonica, Shrubs, Actinidia kolomikta, Artemisia abrotanum, Artemisia absinthium 'Lambrook Mist', Artemisia arborescens 'Powis Castle', Artemisia ludoviciana 'Valerie Finnis', Artemisia schmidtiana 'Nana', Buxus microphylla 'Faulkner', Buxus sempervirens, Ceanothus 'Burkwoodii', Ceanothus 'Concha', Choisya ternata, Cistus 'Snow Fire', Cistus creticus, Cistus x aguilarii 'Maculatus', Cistus x corbariensis, Cistus x dansereaui 'Decumbens', Cistus x purpureus, Cistus x skanbergii, Cornus alternifolia 'Argentea', Cornus controversa 'Variegata', Corylus maxima, 'Purpurea', Eleagnus x ebbingeii, Escallonia 'Iveyi', Euonymus alatus 'Compactus', Euonymus fortunei 'Emerald Gaiety', Euphorbia 'Black Pearl', Euphorbia amygdaloides var. robbiae, Euphorbia characias subsp. wulfenii, Euphorbia cornigera 'Goldener Turm', Euphorbia martini, Euphorbia palustris, Hebe salicifolia, Hebe vernicosa, Ilex crenata, Jasminum x stephanense, Laurus nobilis, Lavandula 'Hidcote', Lavandula 'Vera', Lavandula angustifolia Lavandula angustifolia 'Munstead', Myrtus communis, Myrtus communis ssp. tarentina, Myrtus lechleriana, Ozothamnus rosmarinifolius 'Silver Jubilee', Pachysandra terminalis 'Green Carpet', Parahebe catarractae, Parahebe perfoliata, Philadelphus 'Beauclerk', Philadelphus 'Virginal', Phlomis italica, Physocarpus 'Diabolo', Pittosporum tenuifolium 'Abbotsbury Gold', Pittosporum tenuifolium 'Tom Thumb', Potentilla 'Abbotswood', Prunus lusitanica Sambucus nigra 'Black Lace', Santolina 'Primrose Gem', Sarcococca confusa, Solanum crispum 'Glasnevin', Spiraea arguta, Taxus baccata, Thymus, Trachelospermum jasminoides, Viburnum opulus, Viburnum opulus 'Roseum', Weigela florida 'Variegata', Weigela praecox 'Variegata', Roses Alba Maxima, Anne Boleyn (English), Auguste Gervais, Ballerina, Belle de Crecy, Buff Beauty, Burgundy ice, Capel Manor House, Celeste, Chapeau de NapoleonCharles de Mills, Chianti, Comte de Chambord, Cornelia, Duchesse de Buccleugh, English Miss, Fantin Latour, Francois Juranville, Gypsy Boy, Henri Martin, Highgrove, Iceberg, Isphahan, Kent, Lavender lassie, Majorie Fair, Mutabilis, Nuits de Young, Penelope, Queens Jubilee Rose, Red Letter Day, Reine des Violettes, Rosa 'Rhapsody in Blue', Rosa banksiae, Rose de Rescht, Rubrifolia Carminetta, Rugosa Alba, Rugosa Rubra, Souvenir du Docteur Jamain, The Garland, Tuscany Superb, Veichenblau, Viridiflora, William Lobb PerennialsAchillea 'Summerwine', Actaea simplex 'Atropurpurea', Ajuga reptans 'Rosea', Alchemilla erythropoda, Alchemilla mollis, Allium aflatuense 'Purple Sensation', Allium 'Beau Regard', Allium 'Mount Everest', Allium 'Round and Purple', Anchusa azurea 'Loddon Royalist', Anthriscus s. 'Ravenswing', Aquilegia McKana Group, Aquilegia vulgaris var. stellata 'Nora Barlow', Aruncus aethusifolius, Asplenium scolopendrium, Astilbe x rosea 'Peach Blossom', Astrantia 'Sheilas Red', Athyrium felix-femina, Athyrium vidalii, Ballota pseudodictamnus, Brunnera 'Jack Frost', Brunnera macrophylla, Calamagrostis x acutiflora 'Karl Foerster', Calamagrostis x acutiflora 'Overdam', Calamintha nepeta, Centranthus ruber 'Albus', Centranthus ruber coccineus, Cirsium r. 'Atropurpureum', Cornus canadensis, Delphinium 'Astolat', Delphinium 'Black Knight', Delphinium 'King Arthur', Dicentra 'Adrian Bloom', Dicentra 'Bacchanal', Dicentra spectabilis 'Luxuriant', Digitalis purpurea, Digitalis purpurea 'Sutton's Apricot', Digitalis purpurea Excelsior Group, Digitalis purpurea f. albiflora, Digitalis x mertonensis, Dryopteris congesta cristata, Dryopteris erythrosora, Dryopteris filix-mas, Erodium manescavii, Erigeron karvinskianus, Erysimum 'Bowles Mauve', Euphorbia a. robbiae, Foeniculum vulgare purpureum, Francoa sonchifolia, Geranium 'Anne Thomson', Geranium 'Azure rush', Geranium 'Brookside', Geranium 'Eureka Blue', Geranium 'Melinda', Geranium 'Nimbus', Geranium 'Patricia', Geranium 'Sirak', Geranium clarkei 'Kashmir Purple', Geranium clarkei 'Kashmir White', Geranium h. 'Plenum', Geranium himalayense 'Gravetye', Geranium macrorrhizum 'Czakor', Geranium nodosum 'Svelte Lilac', Geranium p. 'Mrs Kendall Clark', Geranium phaeum 'Album', Geranium phaeum 'Lily Lovell', Geranium phaeum 'Samobor', Geranium sanguineum, Geranium sanguineum 'Album', Geranium sanguineum 'Max Frei', Geranium sanguineum var. striatum, Geranium x oxonianum 'Claridge Druce', Geranium x oxonianum 'Rosenlicht', Geranium x oxonianum f. thurstonianum, Geum 'Lady Stratheden' Geum 'Mrs J. Bradshaw', Geum rivale 'Album', Geum rivale 'Leonard's Variety', Gillenia trifoliata, Iris 'Deep Black', Iris 'Kent Pride', Iris 'Tropic Night', Iris 'White City', Iris sibirica in variety, Juncus effusus f. spiralis, Knautia macedonica, Lamium maculatum 'Pink Pewter', Lamium maculatum 'White Nancy', Leptinella squalida 'Platts Black', Leymus arenarius, Meconopsis betonicifolia var. alba, Nepeta govaniana, Nepeta racemosa 'Snowflake', Nepeta racemosa 'Walker's Low', Nepeta x faassenii, Origanum vulgare 'Aureum', Origanum vulgare 'Country Cream', Origanum vulgare 'Thumble's Variety', Osmunda regalis, Paeonia 'Bowl of Beauty', Paeonia 'Duchesse de Nemours', Panicum virgatum 'Heavy Metal', Panicum virgatum 'Praire Sky', Panicum virgatum 'Squaw', Parahebe catarractae,, Polemonium 'Bressingham Purple', Polygonatum multiflorum, Polystichum setiferum 'Herrenhausen', Potentilla t. 'Monarch's Velvet', Pratia pedunculata 'Country Park'Primula beesiana, Primula bulleyana, Primula japonica 'Apple Blossom', Primula japonica alba, Salvia nemorosa 'Caradonna', Salvia nemorosa 'Lubecca', Salvia nemorosa 'Ostfriesland', Salvia x sylvestris 'Blauhugel', Salvia x sylvestris 'Mainacht', Salvia x sylvestris 'Rose Queen', , Sisyrinchium striatum 'Aunt May', Soleirolia soleirolii, Stachys b. 'Silver Carpet'Symphytum 'Goldsmith', Tellima grandiflora 'Forest Frost', Teucrium hiorcanicum 'Purple Tails', Tiarella cordifolia, Tradescantia a. 'Bilberry Ice', Tradescantia a. 'Innocence', Tradescantia a. 'Purple Dome', Trollius 'Cheddar', Verbascum 'Helen Johnson', Verbascum 'Pink Domino', Verbena bonariensis
Stay inspired
Get FREE Gardening tips and ideas from our experts in your inbox.