Container planting at its best: The Secrets of Whichford Pottery
By Andy McIndoe •
Whichford Pottery, Warwickshire in the Heart of England has to be one of my favourite places. Here Jim Keeling and his team create the most beautiful hand-made terracotta pots; pots that last more than a lifetime and become more beautiful with age. I've known Jim for over 30 years and watched the pottery grow and become internationally renowned and the pots become the most sought after by discerning gardeners all over the world.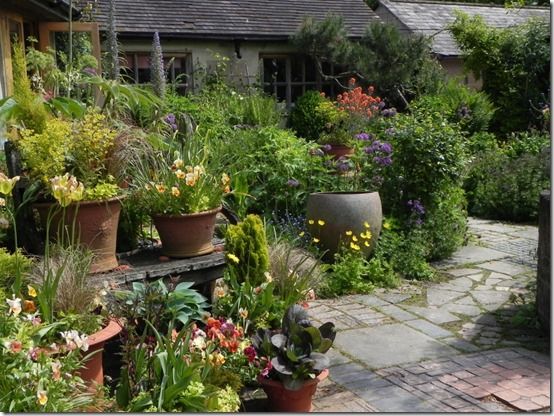 A visit to Whichford is an inspiration. Harriet Rycroft, head gardener at Whichford uses her skills to show just what is possible in the world of container gardening. Her displays are not recipes or planted patio pots, they are free flowing artistic planting schemes where containers work together to make a painting with plants. Admittedly she has fantastic pots to work with; and a great palette of plants, but the way the materials come together is what makes the difference.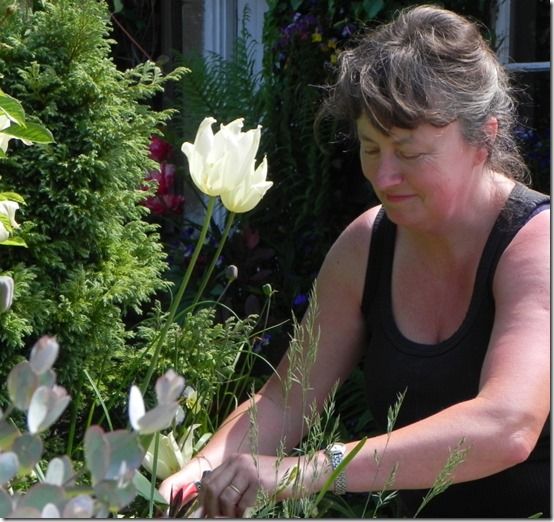 At the time of my recent visit it was very much the transition between the seasons. The bulbs were coming to the end and pansies and violas just over the peak of the planting season. However the effect was terrific because of the way that the foliage holds it all together. This was particularly important at the time of my visit as the garden was open that weekend through the National Gardens Scheme. Even when fading tulip flowers were cut off, leaving the foliage to fill the gap, combinations were still stunning.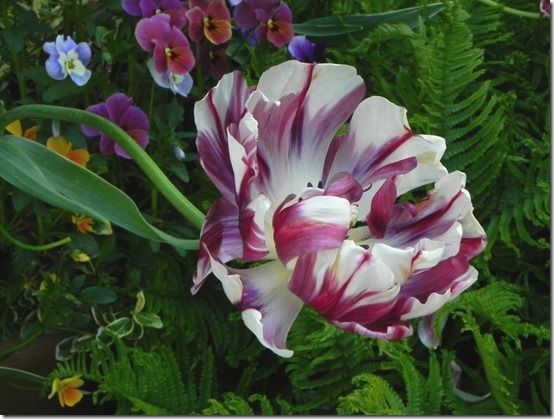 I was surprised to see some tulips hanging on in there. The flamboyant parrot tulip 'Estella Rijnveld' looked amazing, as did the double striped 'Carnaval de Nice'. "It dies so beautifully", Harriet remarked. I agree; in fact I prefer it like this without it early brashness.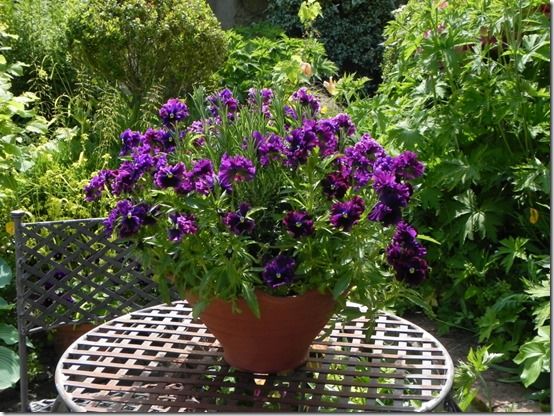 The velvety qualities of many purple and blue violas are natural partners for the rich tones of good terracotta. I loved the way the blooms work with the silky sheen of purple heuchera leaves. A bowl of frilled purple pansies made a delightful centrepiece on a small table, especially with the sun bouncing off the flowers. As Harriet says everyone asks about the varieties, but there are so many to choose from. "Don't be afraid to experiment; you might find something you like even better than your favourite".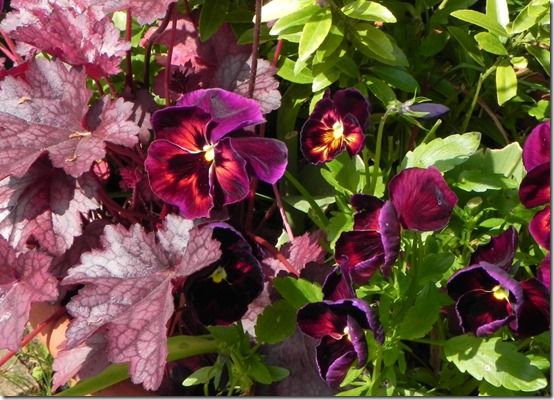 I particularly liked a lovely soft golden pansy mix called 'Golden Flamb'. It's that wonderful shade of old gold that's almost apricot. It made a strong focal point in a large pot with golden juniperus and chamaecyparis. Yes, they are both conifers! Don't be horrified. Cast away any prejudices and get creative. In this context their characters are reformed and they deliver what we all desire: all year round colour and texture.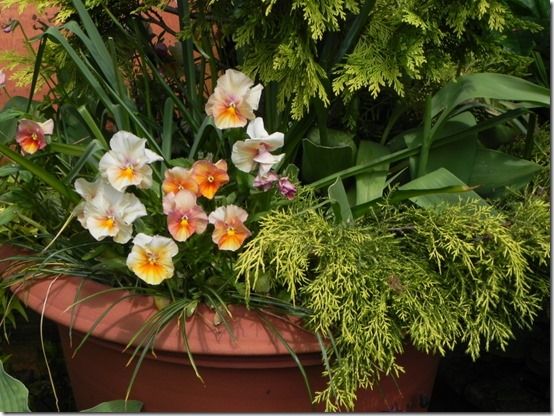 Along the same theme I admired the use of Euphorbia 'Ascot Rainbow'. This is such a great performer. Early in the season the narrow leaves are sage green striped with soft gold, orange at the tips of the shoots. When the lime green "flowers" emerge they develop into open spikes of brown-eyed discs that give the plant a light and frothy character. I have one in a pot from spring. This weekend I removed a faded primula and added the variegated Pelargonium 'Mrs. Pollock that I mentioned in my previous 'Pots of Summer Colour' post. These make a great combination.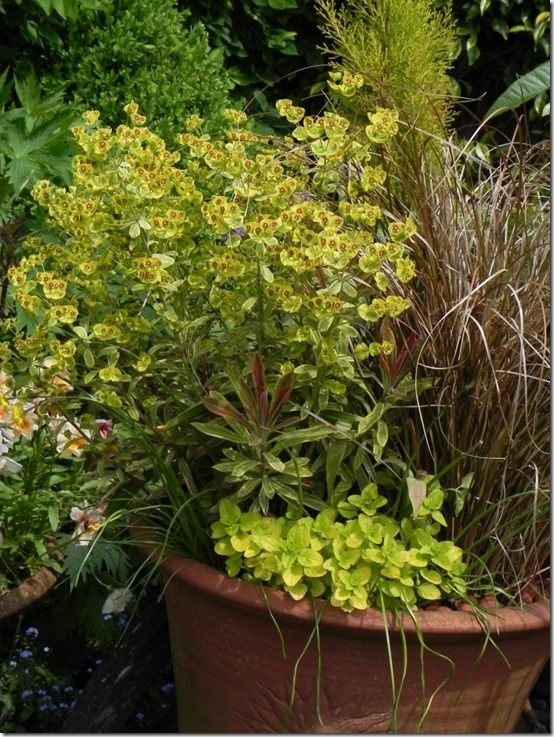 Succulents and sempervivums are always a feature of the container display at Whichford. These can be such low maintenance plants that can cope without regular watering. They have a fascinating jewel-like quality. I admire their detail and their symmetry and always come away promising myself that I will plant more.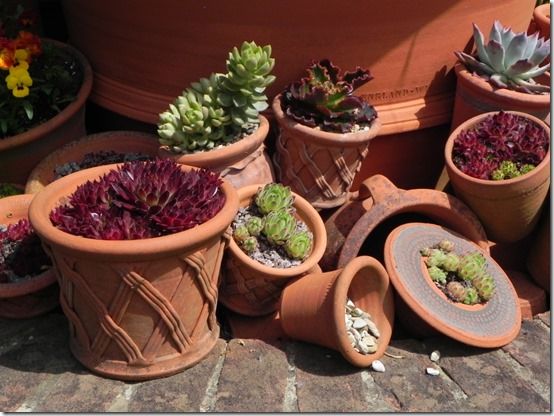 Vegetables also play a role; both on their own or in combination with flowers. Why not? It's a sort of potted cottage garden. I've sown nasturtiums this year directly into pots. I'll add a few pretty salad leaves once the nasturtiums get going. Red cabbage plants too make wonderful subjects for pots. Few other subjects give you that incredible leaf colour. I noticed some fabulous edible leaves creeping into Harriet's combinations.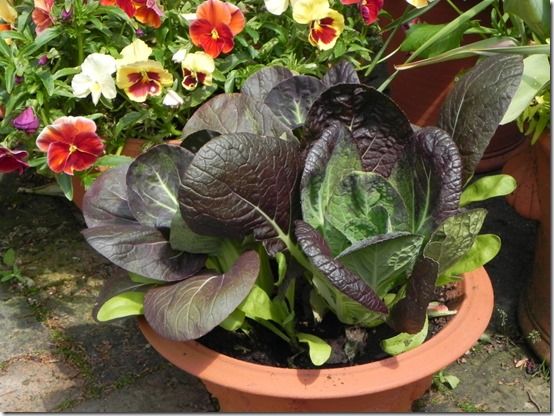 When you see an array of planted containers like this, pots that work together to tell a story, it's almost impossible to choose a favourite. However in this instance, I would have to choose a delicate green and white planting of Allium cowanii, Allium 'Ivory Queen' and Carex 'Frosted Curls'. This was in two large, bold terracotta pots; but the delicate planting sparkled and grabbed my attention. I thought that this was just delightful. The Allium 'Ivory Queen' is one of the very few alliums with ornamental foliage.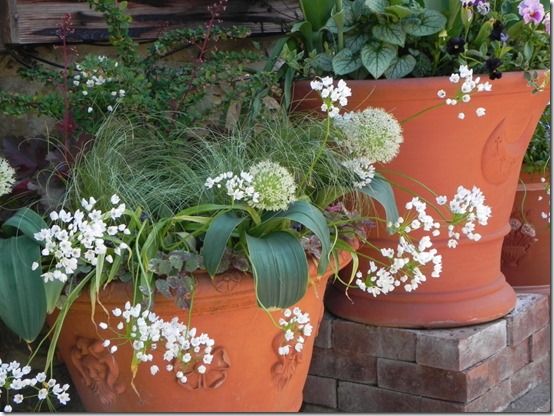 A visit to Whichford Pottery is a visit to another world. I often refer to it as 'The Shire'; a happy place where it's always summer. I suppose that's how it leaves me feeling. I come away feeling I have learnt from an art with its roots in the earth taught by folks that understand. The difference here is that those that make the pots understand their purpose: not only functional but beautiful. Jim often demonstrates his planting skills; but here in the garden Harriet is the Head Gardener and keeps Jim on track producing beautiful pots.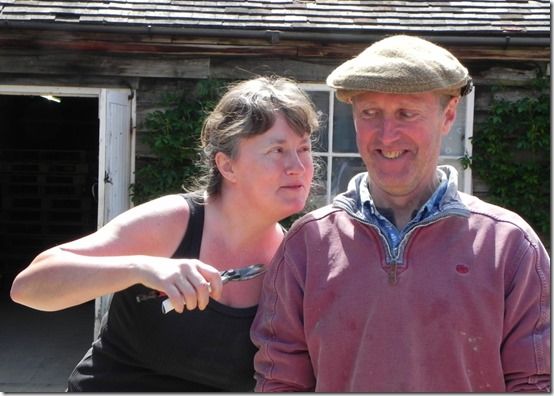 Stay updated
Receive free updates by email including special offers and new courses.