[caption id="attachment_9366" align="alignleft" width="550"]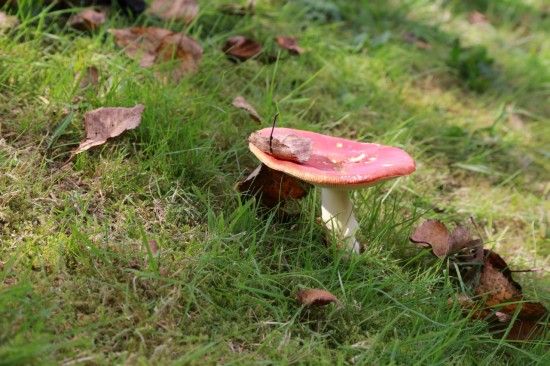 Fly Agaric[/caption]

There's plenty to do in the garden as summer comes to a close and the leaves start to colour.  I love this time of the year: mellow light, the sweet smell of leaves as they start to fall, also the vibrant colours of late flowers such as asters, nerines and kniphofias.  Cooler temperatures mean that working in the garden is more of a pleasure; at the end of the day you certainly feel as if you've had some exercise.

[caption id="attachment_9367" align="alignleft" width="550"]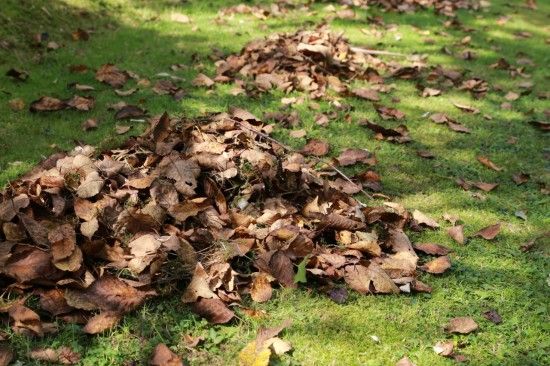 Fallen leaves[/caption]

I think it's really important to keep up with the grass cutting and collecting leaves as they fall. I know there are still plenty to come down, but if you keep on top of the job every week you keep the grass in good condition.  Even if the temperatures are mild and the weather fairly dry, if you leave the leaves on the lawn for a couple of weeks they will soon form a soggy blanket. This will weaken the grass making it more susceptible to moss infestation and lawn diseases.

[caption id="attachment_9368" align="alignleft" width="550"]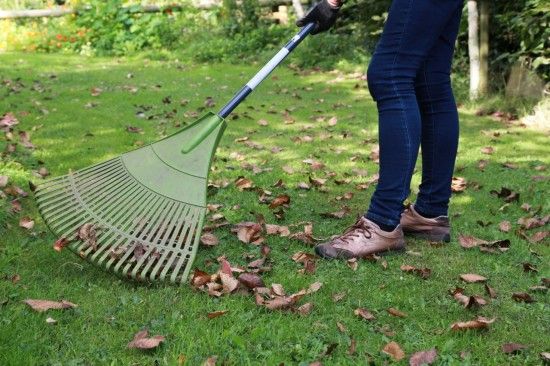 Raking leaves[/caption]

A plastic leaf rake is an essential piece of kit. Choose a nice robust one with a slight curve to the head and stiff enough tines. A wire rake is useless for leaves because they just get impaled on the tines. We rake out the leaves from awkward corners and from the steep banks in the garden.  If the piles are not too large and the leaves are loose I can still pick them up with the mower.

[caption id="attachment_9369" align="alignleft" width="550"]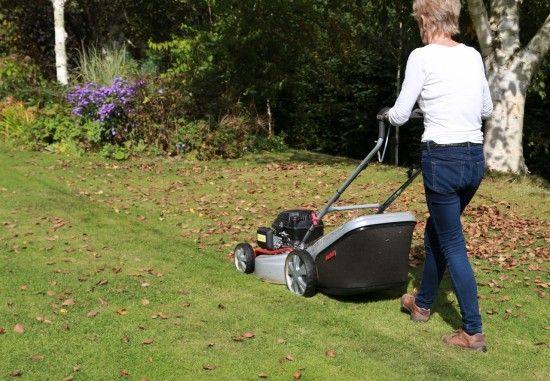 Mowing leaves[/caption]

Most of our leaf collection is done with the ride-on or rotary mower. At this stage I have the mower on a slightly higher setting than I would use in summer. I think it's important not to cut the grass too short at this stage and the leaves are not thick enough to clog up the mower.  Using a rotary mower to collect the leaves works brilliantly because it chops them up a bit and mixes them with grass cuttings. This means you've got a blend of green and brown garden waste already to compost.

[caption id="attachment_9370" align="alignleft" width="550"]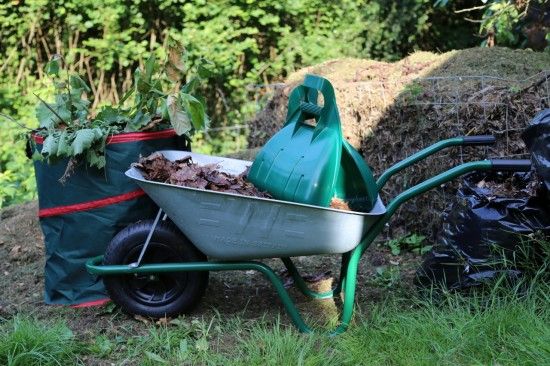 Wheelbarrow, bag and grabs[/caption]

Our garden is large and compost heaps are a casual, but organised affair. When there is a lot of garden waste in autumn I heap it up and top it with green waste. Ideally I turn it over with a fork after a few weeks and add more grass cuttings to keep it active.  I do find a pair of those plastic leaf grabs really useful for collecting leaves and for piling them on to the compost heaps. They are inexpensive to buy and very effective.

[caption id="attachment_9371" align="alignleft" width="550"]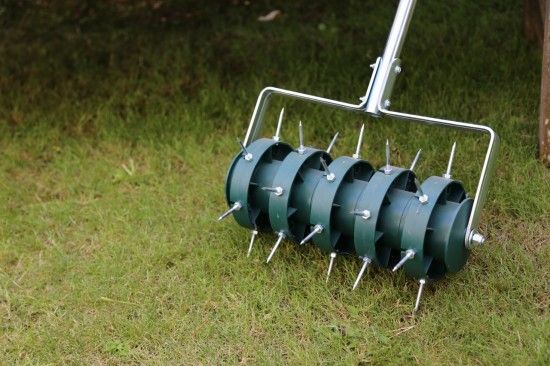 Rolling lawn spiker[/caption]

This is also the ideal time to aerate the lawn and to scarify it.  Scarifying involves raking hard through the surface to remove thatch and debris and to cut through some of the horizontal grass stems.  This encourages the grass plants to "clump up" which they do more effectively in the latter part of the year.  After you've scarified then aerate.  You can use a garden fork for this, but if your soil is relatively moist and the ground soft, then those roll along spikers are relatively effective.  The holes they make are not large but there are plenty of them. It is ideal if you can roll the lawn with a spiker a couple of times in opposite directions.

[caption id="attachment_9372" align="alignleft" width="550"]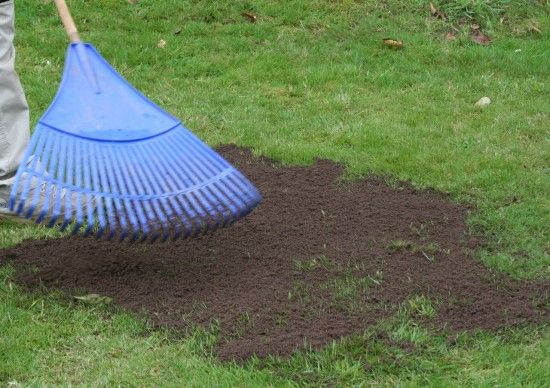 raking lawn dressing[/caption]

After aeration and scarification is the ideal time to apply a lawn dressing. This is a sifted mixture of loam and sand that will improve the soil and encourage new growth.  You need to spread it over the surface of the ground and work it in between the grass blades using a plastic rake.  This does not mean that you cannot use an autumn lawn fertiliser, and providing you do it by mid-autumn you can still over sow with grass seed if the grass is this in patches.

[caption id="attachment_9373" align="alignleft" width="550"]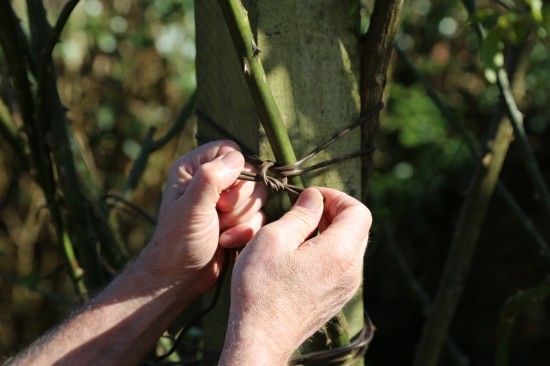 Tying in rambler roses[/caption]

I also tend to prune rambler roses at this time of the year, also I tidy up any climbers before the weather gets windy which makes the job far more difficult. This may not be the text book time to do it but if you have a lot of winter pruning to do the more you can spread it out the better.  I cut out some of the old flowered shoots and tie in the younger stems as much as possible. Flexi-tie, that flexible plastic tie is ideal for this. Although they don't appear in this picture, believe me you need to wear gloves!

[caption id="attachment_9374" align="alignleft" width="550"]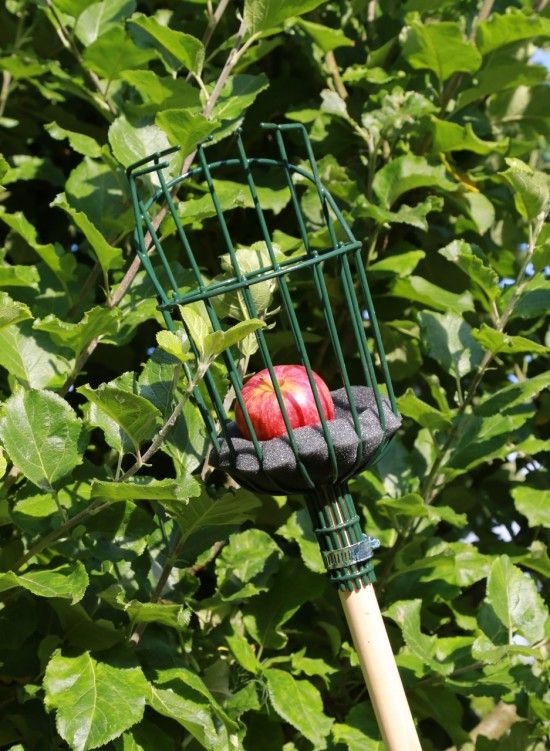 Apple picker[/caption]

Of course fall is also a time for harvest. Leave the later ripening fruits on the trees for as long as possible to develop their natural sugars and flavours.  Apples and pears that are keepers should also store better when full ripe.  These long-handled fruit pickers are ideal for reaching those out of the way fruits that are invariably the best specimens.  They save a lot of time moving the step ladder around to reach every last apple.  Even bush trees often get too tall to reach from the ground.

[caption id="attachment_9375" align="alignleft" width="550"]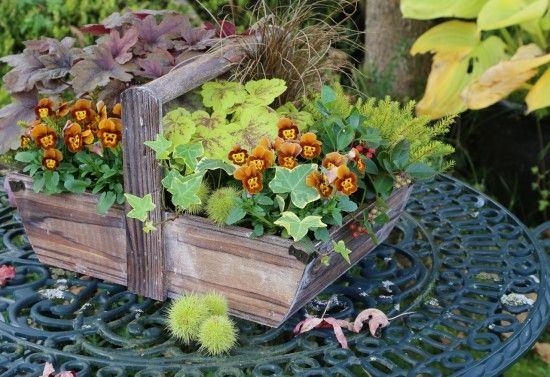 Autumn basket[/caption]

You can also sow autumn sowing broad beans right now. You may also find a few late vegetable plants still available in garden centres and nurseries. Sow winter salads in containers or raised beds. Cut back perennials that have run out of steam and are not going to provide winter interest or seeds for the birds. Also plant up something lovely for fall colour and interest to show you haven't given up on the garden. This is a wonderful time of the year, so make the most of it.

 

 

 
Stay updated
Receive free updates by email including special offers and new courses.