How to grow lilies - for summer colour, exotic blooms and powerful fragrance
By Andy McIndoe •
This is the time of year when I think about planting lilies for exotic summer colour and fragrance. Here in the Northern Hemisphere, late winter and early spring mean the bulbs are available and ready for immediate planting in pots or in the open ground. If you think of lilies as cool, waxy, aloof flowers then think again. This is a diverse and colourful group that will add a real feast of colour form and scent to any summer garden. Living colour bulbs offer a fine collection of lilies and other summer flowering bulbs to add living colour to your summer garden.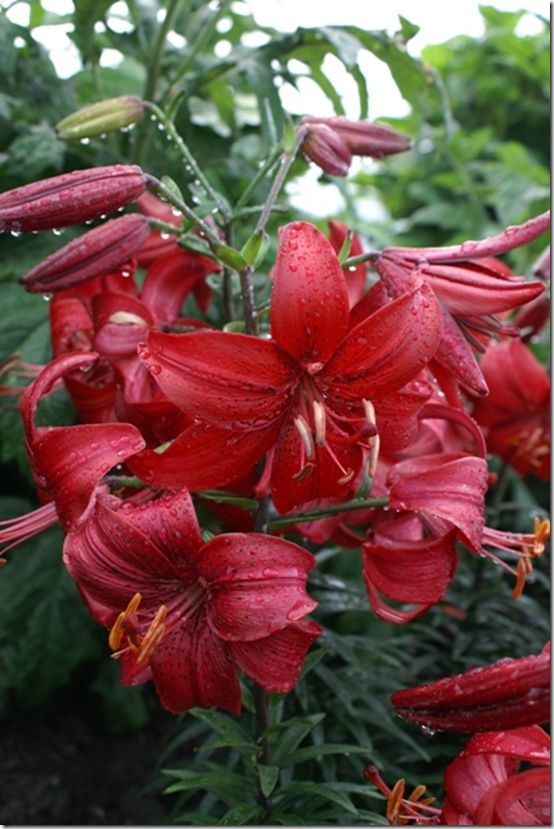 Take Lilium 'Red Life' for example.  This glorious lily, with stout stems carrying large deep brick-red blooms with orange stamens is a great choice to add hot Caribbean colour to the summer garden. Red flowered perennials are few, so this is a valuable addition to a hot, spicy planting scheme. Try it against a red-leaved cotinus (smoke bush) shrub with orange crocosmias and deep blue salvias.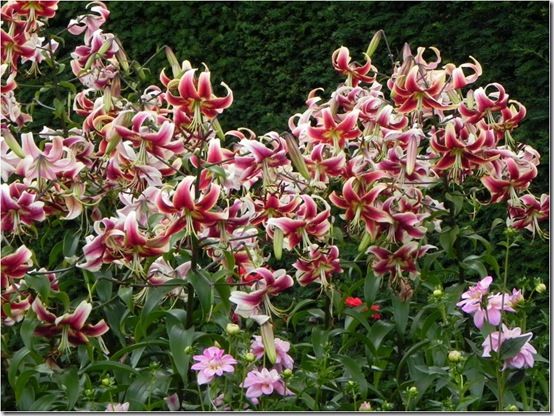 The statuesque Lilium 'Scheherazade' is a real showstopper. It will tower over dahlias and more familiar herbaceous perennials. The wonderful rich colours of this lily's shining petals will warm any border and the elegantly reflexed petals and strong flower form are a welcome addition.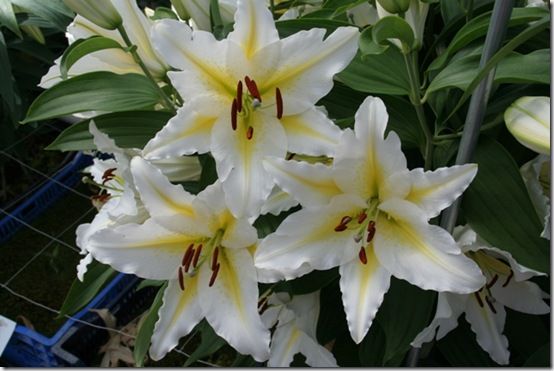 If you want fragrance then the glorious Lilium 'Venezuela'  is a must. Huge open blooms of pure white, golden at the centre of the petals will shine from early morning to late evening filling the garden with their heavy, delicious perfume. Grow it amongst roses, shrubs or taller perennials and maybe plant a few bulbs for cut flowers for the house.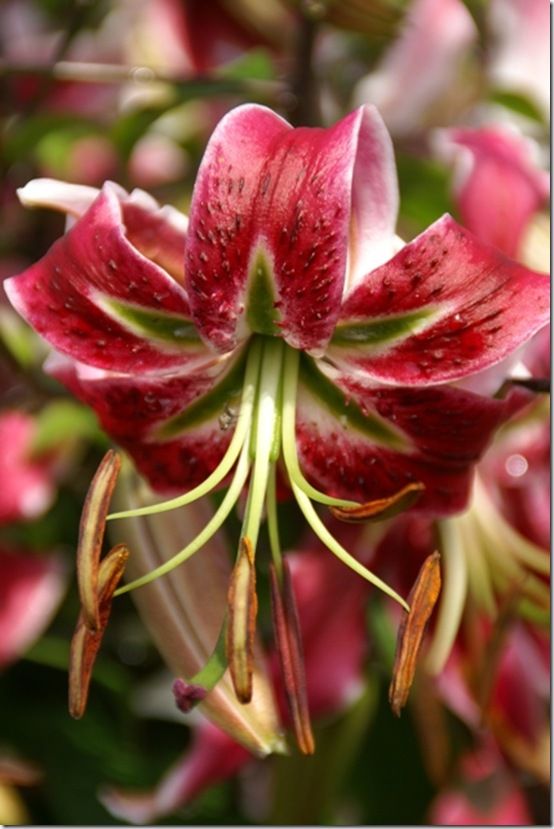 I've always loved the elegantly poised blooms of Lilium speciosum 'Rubrum, with its waxy Turk's cap flowers of pink and white heavily spotted with crimson. The lovely Lilium 'Scarlet Delight'  is even more gorgeous with its deep scarlet, white edged blooms and fanfare of stamens. Grow this lily behind hostas and sedums to add light height at the front of a border, of add a bulb or two to large summer containers of silver and purple foliage.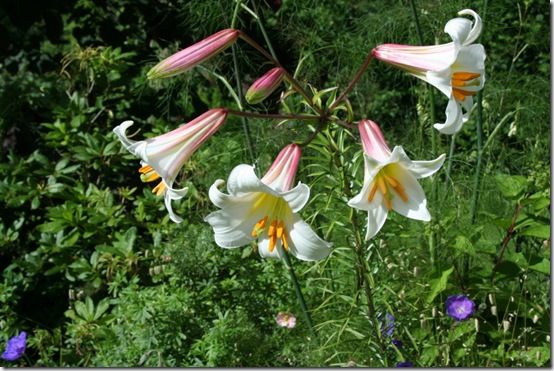 If I had to choose just one lily as a long-term summer borders plant it would be Lilium regale  This is a species with slightly arched dark stems and narrow dark green leaves. The trumpet flowers are white, golden in the throat and purple-pink on the reverse of the petals. The fragrance is strong and delicious and one of those scents you never tire of sniffing. Lilium regale is very hardy and will come back year. Use it to rise above herbaceous geraniums and alchemilla, or grow it in a pot. Three or five bulbs in a container on the patio will fragrance the whole garden.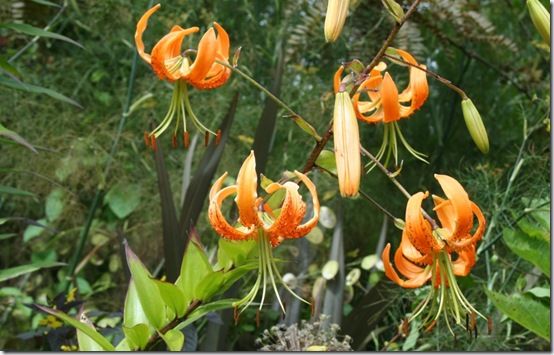 Many lilies flower in early and mid-summer, however Lilium henryi http://livingcolourbulbs.com/bulb-more-detail.asp?id=1356is a star of the late summer garden. It is a truly hardy garden perennial that will multiply over the years to produce clumps of gently arching stems carrying nodding Turk's cap orange flowers. It's a great choice to grow with prairie grasses, heleniums, rudbeckias and echinaceas.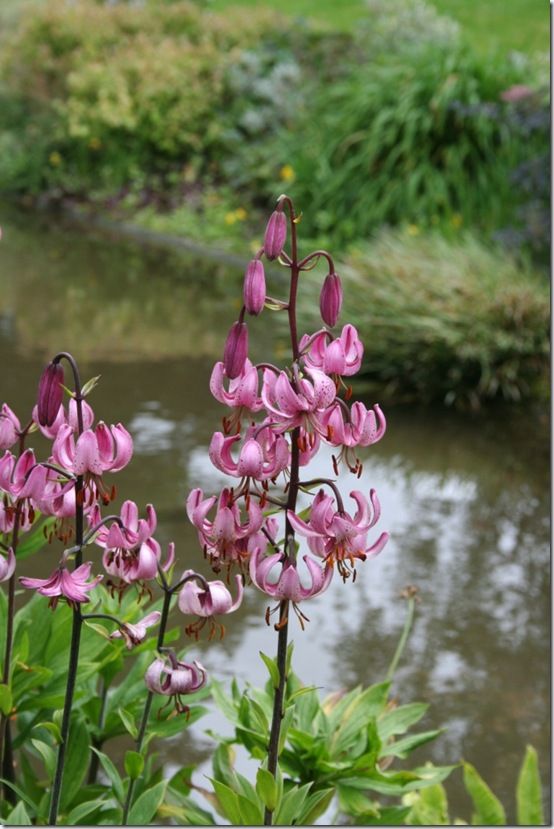 Most lilies are at their best in a fairly sunny position, however there are some that thrive in semi-shade and love woodland conditions where the well-drained soil is rich in leaf mould. These too are wonderful perennial garden plants that will be with you for many years. Lilium martagon comes in shades from white through to deep purple. Its stately spikes of minaret-like blooms are stunning over ferns and low shade-loving perennials. Plant it for later interest amongst pulmonarias and primulas.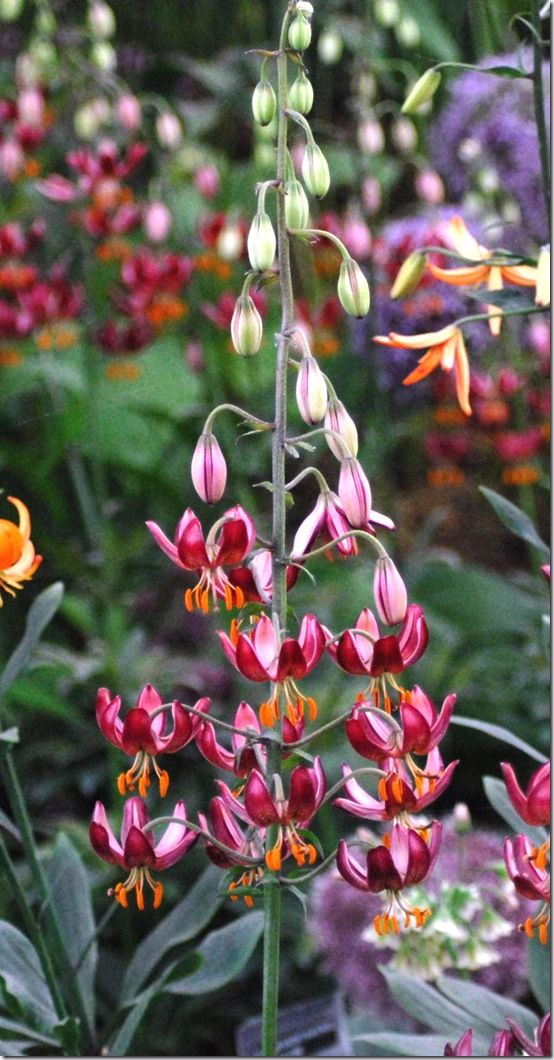 The lovely variety of Martagon lily, Lilium 'Claude Shrider' is well-worth looking out for. It has bright pink flowers with orange red stamens in slender spikes. Plant it amongst the fern-like foliage of dicentras, perhaps with blue-leaved hostas. The flowers will follow those of the dicentras.
How to grow lilies
Buy lilies in late winter and early spring and plant them straight away; they are quite hardy and do not like to be out of the ground for too long. As with other bulbs, plant them three times the depth of the bulb deep whether in the open ground or in pots. Distance apart depends on the lily. Large flowered tall lilies should be planted 20-30cm apart (8-12"), smaller lilies can be planted closer. You do not need to plant in large groups; many varieties look just as good when planted individually.
As lily bulbs consist of a cluster of delicate waxy scales they are delicate so handle carefully. When out of the ground they lose water and the scales tend to open up allowing soil water to settle amongst the scales at the bottom of the bulb this can cause rotting. It is a good idea to plant the bulbs on their sides; this helps to keep soil water away from the growing point at the base of the bulb.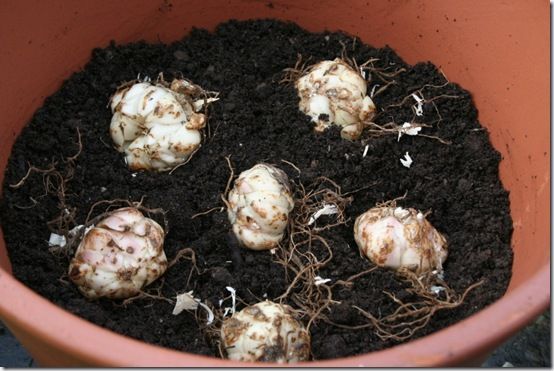 When planting in pots, or in groups in the border position the bulbs nose to tail. This helps the shoots to grow in an orderly fashion and gives maximum space for roots to grow.
Lilies dislike poorly drained soils. If in doubt add some coarse grit under the bulbs when planting and improve the soil with grit and compost.
Lilies are greedy feeders. For best results in pots add a controlled release fertiliser to the growing medium. In borders feed with slow release fertiliser when planting and in subsequent seasons; if you do this your lilies will grow and bloom for a number of years.
Living colour bulbs offer a wide range of spring and summer flowering bulbs. Lilies and summer bulbs are a great way to colour your garden for modest investment: take a look now and get inspired: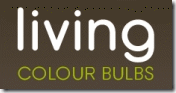 Stay inspired
Get FREE Gardening tips and ideas from our experts in your inbox.