Trilliums are some of the most beautiful and desirable hardy perennials. They are relatively easy to grow but can be slow to establish. They are woodland plants originating from North America and some from Asia. They dislike hot dry conditions, enjoy moisture but hate waterlogging and heavy clay soils. They are not plants for containers, but are ideal in soil that is rich in organic matter under the dappled shade of deciduous trees and shrubs. Trilliums prefer neutral to acid soil and will not succeed in dry, alkaline conditions.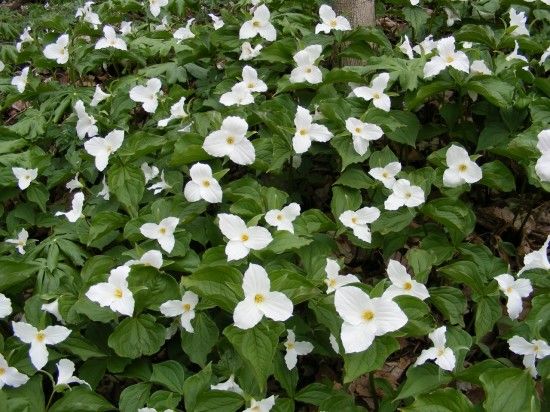 Trilliums grow from rhizomes. Small dormant rhizomes are often sold in autumn. They are not impressive "flowerbulbs"; more like a bigger lump of peat or peat substitute than the rest of the contents of the pack they are offered in! However the more vigorous varieties such as the white Trillium grandiflorum are usually quite successful started in this way. They do not usually flower well, if at all in their first season. However once established they are long lived plants that return year after year. They usually emerge in early to mid-spring and die down anytime from mid-summer to autumn. They appreciate being mulched with leaf mould or good garden compost in autumn.




Trilliums can be grown from seed, but it can take up to two years for the seed to germinate and another five to seven for the plants to flower. Pot grown trilliums are sometimes offered in nurseries. It is hardly surprising that they are at a premium price considering how long they take!




[caption id="attachment_9402" align="alignleft" width="550"]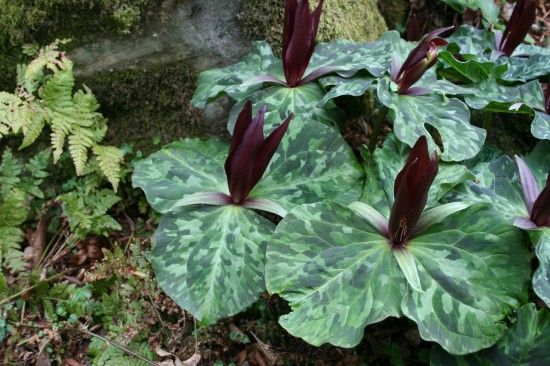 Trillium cuneatum[/caption]
Types of trillium


Trillium grandiflorum, American wake robin is the more vigorous pure white trillium with conspicuous pure white petals and fresh green foliage.




Trillium erectum is more correctly called wake robin as its red flowers reflect the colour of the robin's breast in spring. Nodding flowers with narrow petals on taller, upright stems.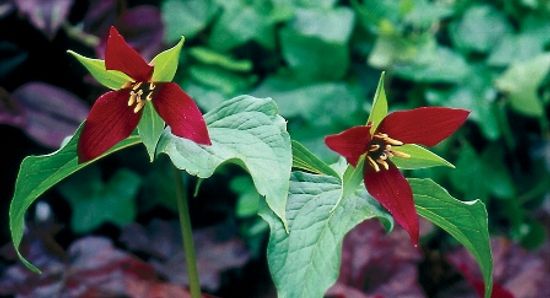 Trillim cuneatum, known as sweet Betsy or wood lily is often sold as Trillium sessile It has dark green, broad, spotted leaves which form a solid collar beneath the dark red petalled flower. The petals stand upright and maintain a narrow tulip form.
Trillium luteum, Yellow wake robin had deep green leaves spotted with silver and bright yellow flowers with narrow petals.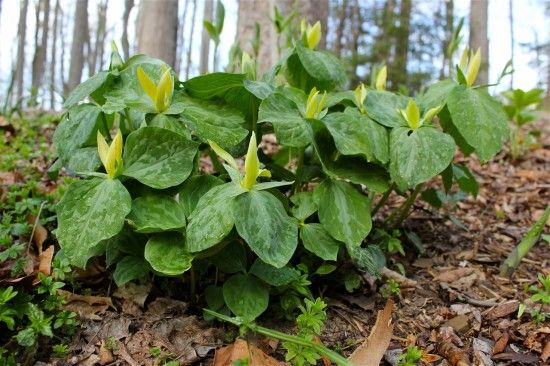 Trillium trivia




Trilliums are called Wake robin in New England because they herald the return of spring.




The botanical name trillium comes from the fact the flower has three petals carried above a rosette of three leaves. This is also the derivation of the common name tri-flower.




[caption id="attachment_9406" align="alignleft" width="550"]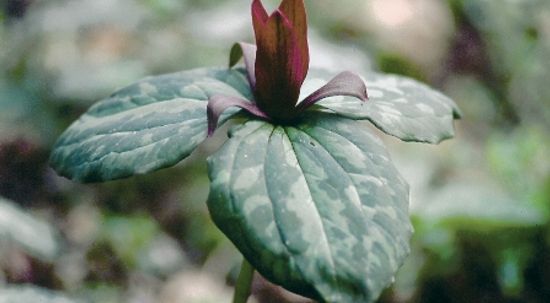 Trillium Cuneatum[/caption]


The white trillium is the official flower and emblem of the province of Ontario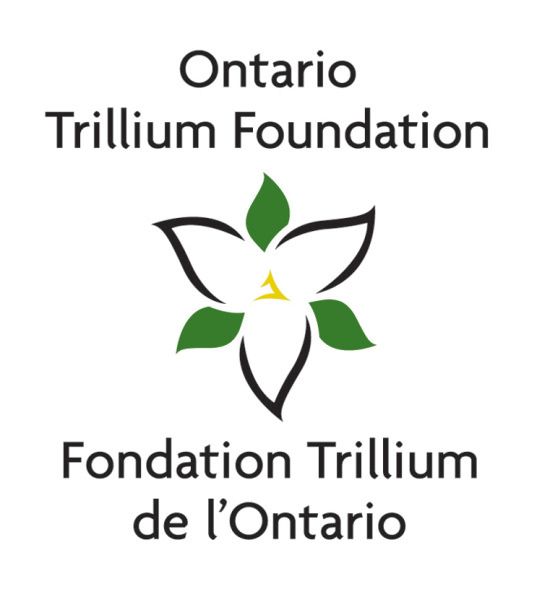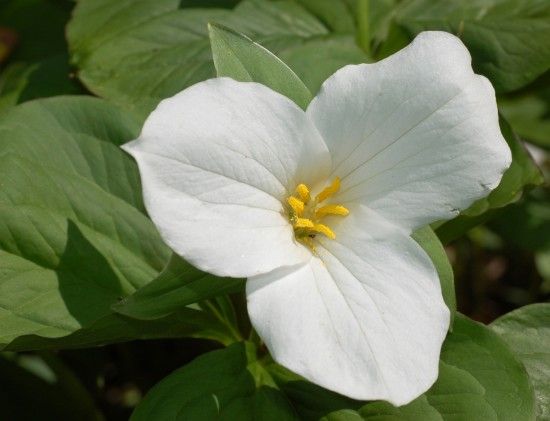 The white trillium is the official wildflower of Ohio
The major soccer teams of Toronto, Ontario and Columbus Ohio compete for the Trillium Cup
 The trillium has the common name "Birthroot". This originates from the traditional use of extract of trillium root as a stimulant to induce labour.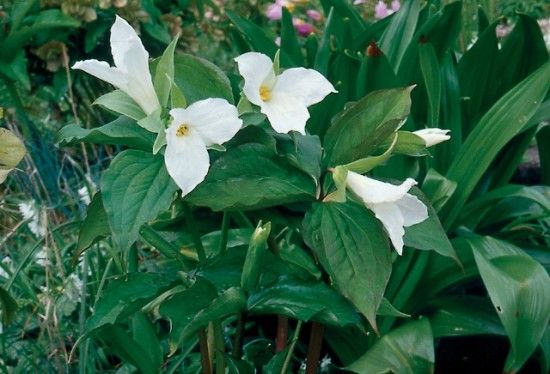 In Michigan and Minnesota it is illegal to pick trillium because picking the flower can kill the plant. This is also true of the red trillium in New York State.



Trillium Erectum


The young, unfolded leaves of Trillium sessile are reputed to be tasty addition to salad reminiscent of sunflower seeds. (I do not recommend you try this!)




Fall is the time to buy dormant trillium rhizomes take a look at http://www.directbulbs.co.uk/




[caption id="attachment_9407" align="alignleft" width="550"]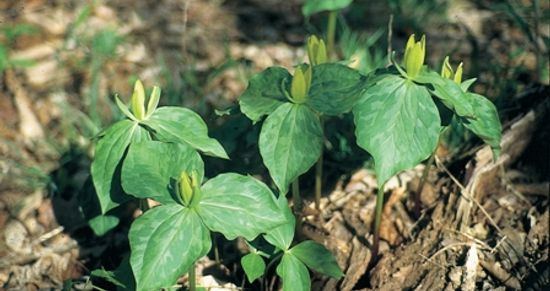 Trillium luteum[/caption]

 

[caption id="attachment_9408" align="alignleft" width="550"]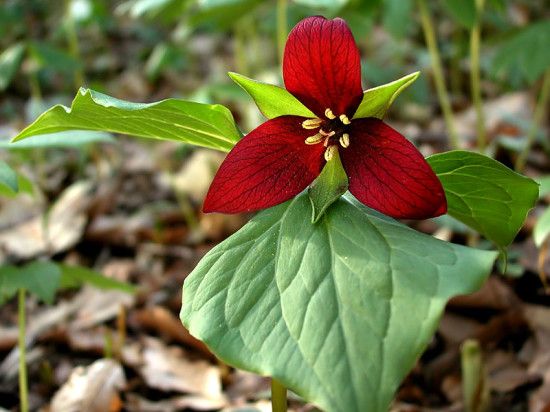 trillium erectum[/caption]