There's nothing like cutting your own flowers fresh from the garden: they last longer, look more natural and offer the opportunity to bring a little of your plot indoors. Of course you can just cut a few stems, or a bunch, and pop them in a vase of water and leave it at that. For me sweet peas are the perfect flowers to grow for cutting, if that's what you intend to do. You must cut them regularly, otherwise they stop blooming. Just a packet of seeds will provide plenty of blooms if you feed and water them well. Don't worry about growing exhibition quality flowers; even the ones with curly stems look beautiful in a suitable container.



Flower Arranging Ideas: Summer Bouquets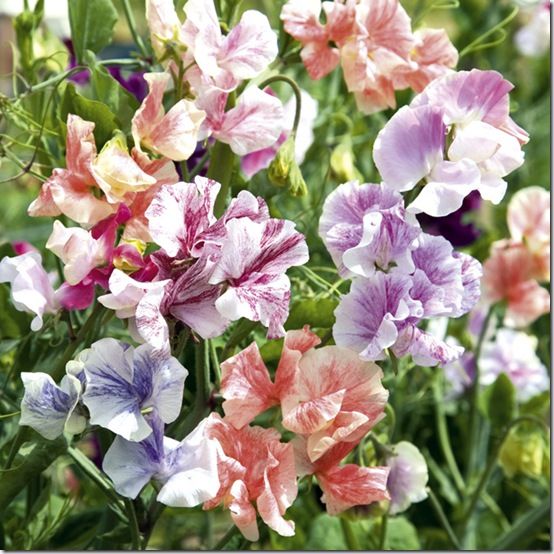 Alternatively you could get a little creative and try arranging them, even if floral decoration is not normally on your agenda. You don't have to do anything formal using floral foam, and you don't need specialist equipment; just your imagination. It's quite simple to put flowers together in a tied bunch even before you put them into water. Anchor the stems together using twine, re-cut the stems and put them into your chosen container.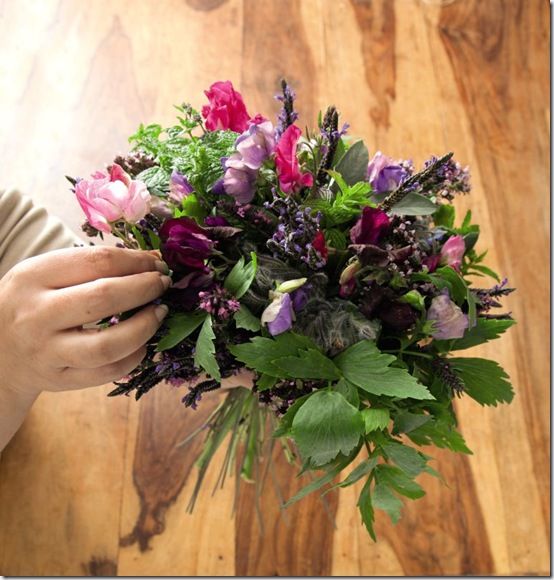 I always see arranging flowers as an extension of putting plants together in the garden to create pleasing combinations. However it's always easier if you've got the right things growing that flower at the same time and subjects that work together to bring a variety of flower forms and a pleasing colour combination. That's where growing flowers for cutting from seed comes into its own. Sow a few packets of suitable varieties and your floral creation will grow and bloom together.



Vintage Flower Arranging Ideas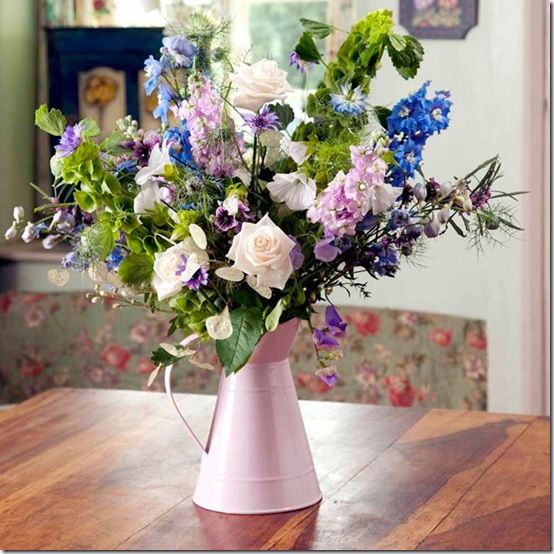 Suttons seeds offer some clever collections of easily grown varieties with the inspiration of a particular arrangement in mind. Of course what you do with the flowers when they bloom is up to you but at least the idea is there at the outset. Also you will find there are collections to suit the season. Take the Summer tea cup for example
This is a pretty collection of flowers that captures the atmosphere of a summer afternoon. You start out with the idea of arranging them in a flowery cup and saucer, but maybe you could use a jug, a teapot or just a low flowery bowl. This emphasises just how effective a small arrangement can be using short-stemmed flowers.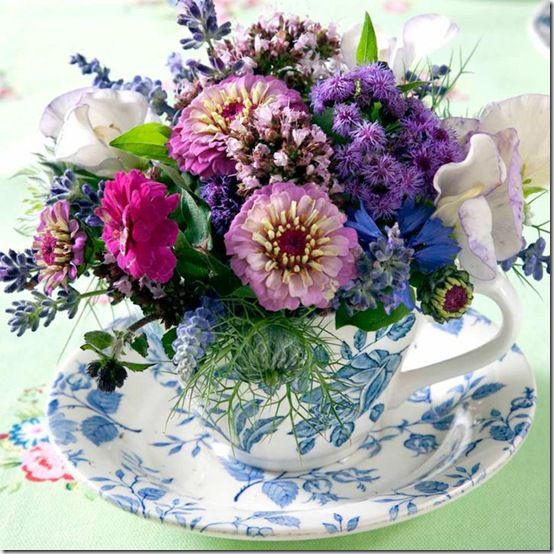 The Spring and Summer Wreath collection  is just another charming collection of annual summer flowers that can be grown in any sunny spot in the garden. The wreath concept is just there to give you creative ideas. It shows what you could do with just a few flowerheads: not an arrangement that will last, but great fun for a summer party and easily adapted as a table decoration. It gave me the idea of digging out a ceramic ring container I remember having as a boy. I loved filling it with primroses and violets and ivy leaves. I bet there are plenty of them around if you hunt through a few bric-a-brac shops and market stalls.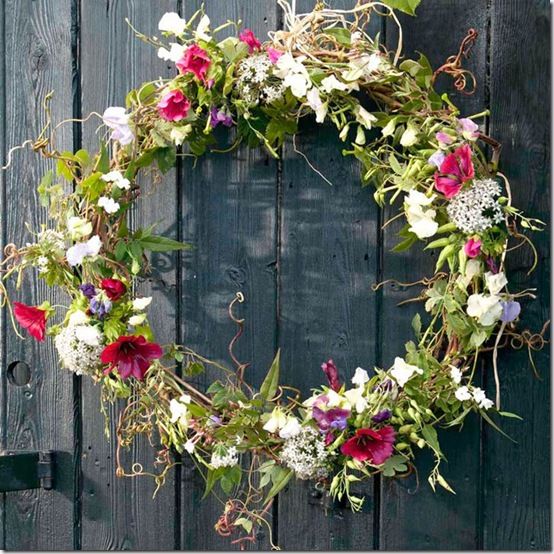 Amaranthus, love-lies bleeding is a wonderful subject to grow for cutting. It has long, velvety tassel-like blooms in either soft green or crimson-red. It is particularly useful in tall containers where it can be draped over the edge to hang down gracefully. I love it in candelabra arrangements with black grapes: a real touch of extravagance.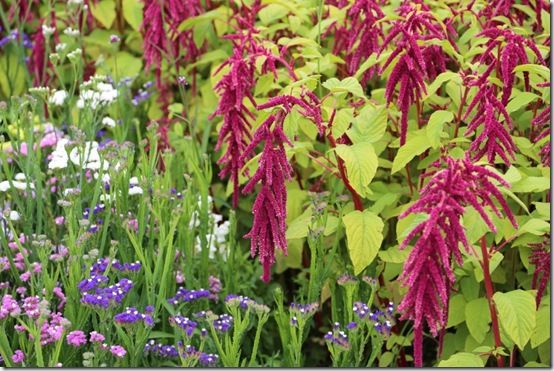 It is included in the autumn jug collection
This rich combination of later flowering subjects would work well with a little autumn foliage and maybe blackberries and rosehips cut from the hedgerow. I might also add a few dark dahlias for good measure. I always think that late summer and early autumn are just the best times to have your own home-grown cut flowers.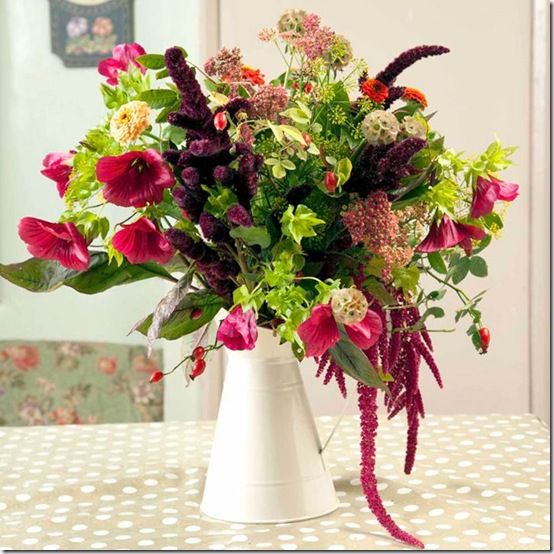 If you like bright golden yellows and sunset colours there is an amazing variety of different sunflowers, with both very double and single dark eyed flowers. The annual rudbeckias also make wonderful cut flowers that bring bright and rich autumn hues to your arrangements. They last well when cut if you wait until the flowers are fully open.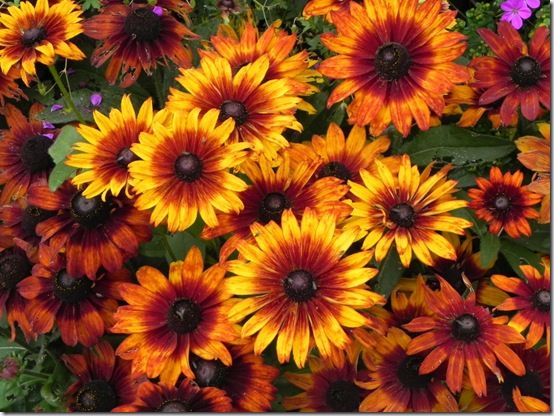 Suttons autumn tea cup collection is another version of the summer tea cup. This one contains Chinese lanterns, physalis which are perennial and can be dried for winter decoration. The richly coloured zinnias would work well mixed with dark flowered rudbeckias. I would be tempted to arrange these flowers in a lined terracotta pot.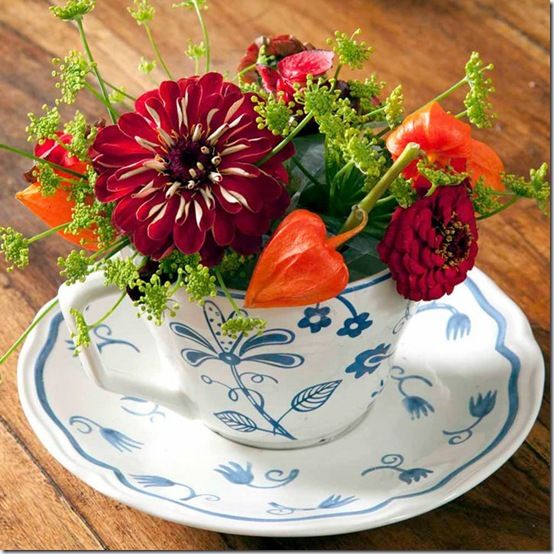 · Here are a few tips to help you create an arrangement using your own flowers cut fresh from the garden:




By using some large structural flowers at the start you can easily create volume whilst leaving plenty of room for you to add in smaller more delicate flowers that will make the arrangement.





Cut your flower stems on a 45 degree angle as this provides a greater surface area for the flower to drink water through.

Don't waste any smaller blooms; simply add them to your display for a contrast in size or float them in a bowl with candles.

Forage around your local area. Berries, rosehips, ivy flowers and different leaves will add an extra dimension to your display

Change the water every couple of days to ensure you prolong the life of your flowers. Ideally add cut flower food to the water at the outset; then there is no need to change the water.

Strip all lower foliage and leaves from your flower stems as this will help ensure that bacteria do not breed and your flowers will last longer.



Check out the range of cut flower varieties and collections from Suttons seeds.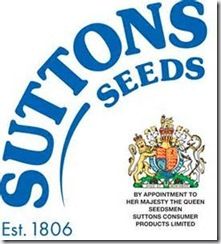 Stay updated
Receive free updates by email including special offers and new courses.