10 tips for successful planting of trees and shrubs
Planting new trees and shrubs has to be one of the greatest pleasures in gardening. You have a vision of how your new babies will grow and develop in years to come, however those dreams will only be realised if you give them the best possible start in life. Today most trees and shrubs are container grown, in other words they are established in pots before being planted into the soil. This means the roots suffer minimal disturbance when planting, so they should establish easily. However you need to help them, so these are my top ten tips for success.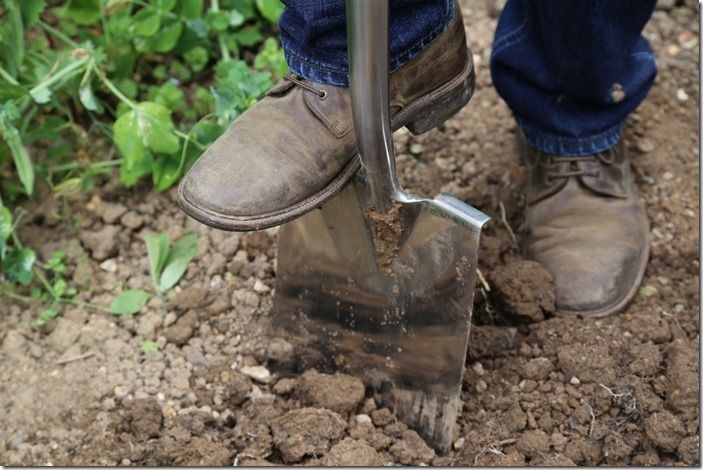 1. Your new trees or shrub has been grown in a specially formulated growing medium. You need to make your soil just as attractive to the roots, otherwise they will be reluctant to grow out from the rootball. Fork over the planting position thoroughly, and to a greater depth than the rootball of what you are planting. Add garden compost or a shrub and tree planting mixture to condition the soil.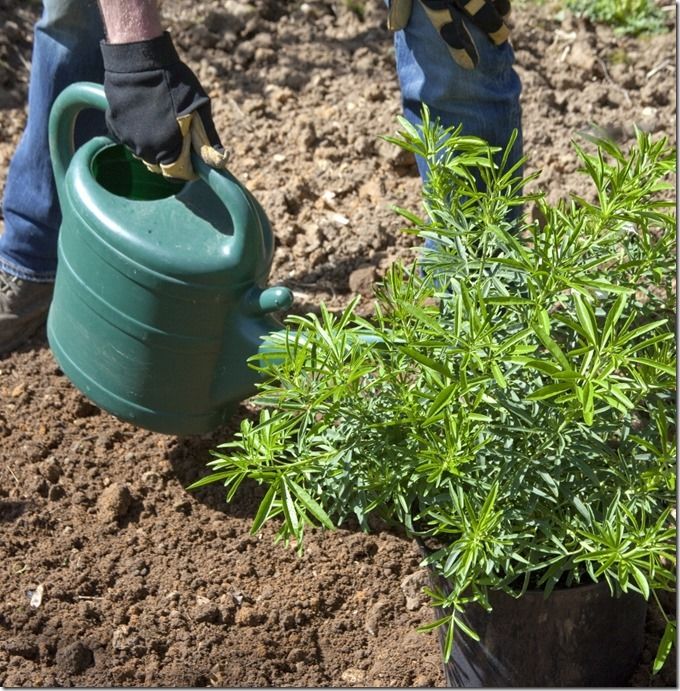 2. Thoroughly water the plant in the container before you plant. If it's dry dip it in a bucket of water until it stops bubbling. If the roots are dry when planted water will be reluctant to penetrate the compost after planting, however much it rains.
3. Always dig the planting hole considerably larger than the rootball of the plant you are planting. This ensures well prepared soil all around the roots and enables you to firm the plant into the ground without squashing the rootball.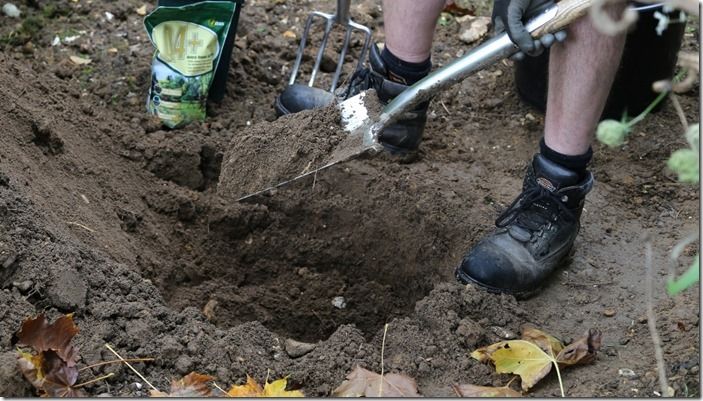 4. Some say you should tease out the roots, others say leave them alone. Use you common sense on this one. You should avoid causing too much disturbance. However if the roots are circling the base of the pot, and it is possible just to loosen these a little, it encourages them to grow out into the soil. If lots of growing medium is visible between the roots and they have clearly not filled the pot leave the rootball alone and plant intact.  It is worth pointing out that a rose never makes a good rootball in a pot, so don't be too concerned if the growing medium falls away when you try to plant it.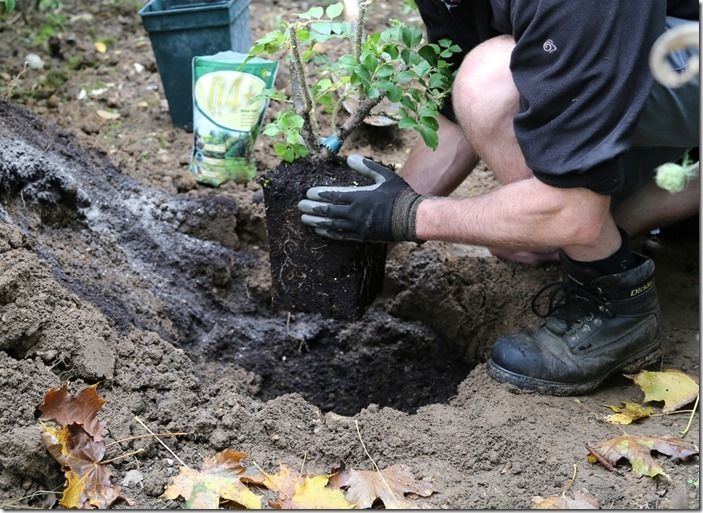 5 Ensure that the plant is planted at the same depth it was growing in the pot. Roses can be slightly lower, and clematis a few centimetres lower still. If you can plant with a shallow saucer shaped depression around the plant it makes watering more effective.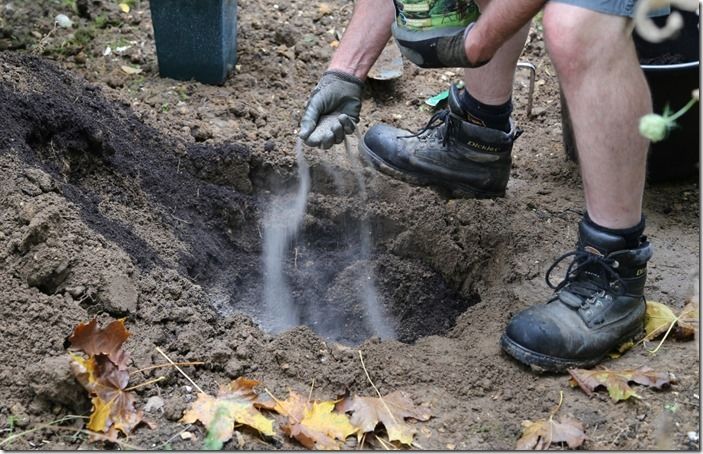 6. When you backfill with soil add a handful or two of slow release fertiliser to the soil. Traditionally bone meal is used because it is high in phosphate for root development. However you can use any balanced slow release fertiliser.
6. Firm the soil around the plant with your toe or heel, or with your fist if you prefer. Try to push the soil in around the rootball, rather than firming the rootball into the ground. Squashing the roots into a small, shallow planting hole is a common cause of failure.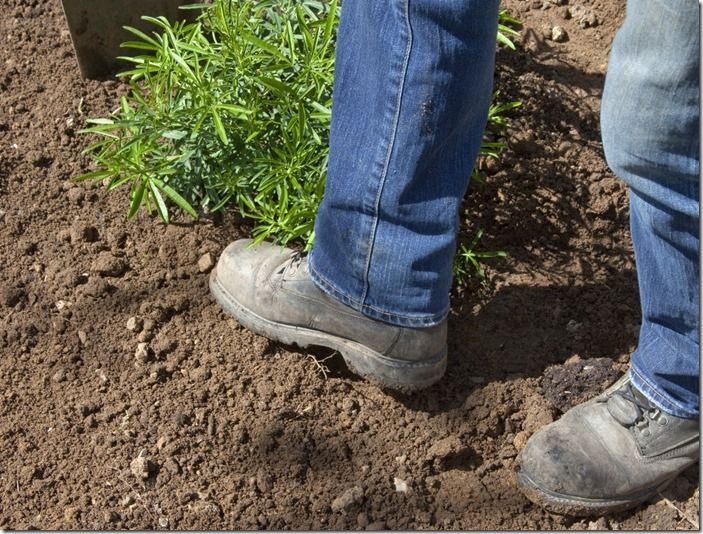 7. Whatever the weather water a new plant thoroughly after planting. This is partly to make sure the soil is evenly moist, but most importantly to settle the soil around the roots. The delicate roots need to establish close contact with the soil particles to enable them to absorb water and nutrients.
8. When planting trees secure staking and tying is essential. Some prefer a single stake on an angle across the stem of the tree. I prefer a single vertical stake up to a height of a metre or so. Remember, the stake is there to support the tree, and will need to last at least until the tree is well-established. Thin, flimsy stakes are a waste of time. Opt for one that looks too thick rather than one that is too thin.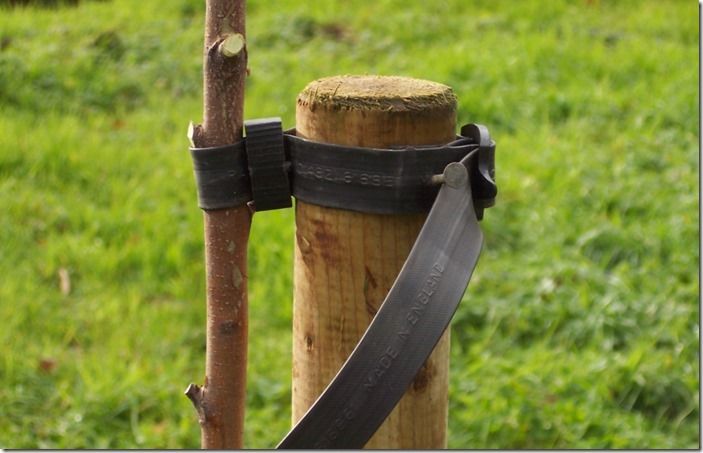 9. Always use a good tree tie that will not cut into the bark of the tree and make sure the stem is not rubbing on the stake. There should be a buffer between stake and tree. You will need to check that the tie is not too tight as the tree grows. Make sure you can loosen it if necessary.
10. Check your new trees and shrubs regularly after planting. During the winter make sure they are not rocked and loosened by wind. Protect with wire mesh after planting if deer and rabbits are around: they always seek out anything new. Finally don't forget to water regularly next spring when the plants start to grow. Although they should be putting down roots they will not be fully established.
Check out my video https://www.youtube.com/watch?v=4ZkpaRowDtc
Stay updated
Receive free updates by email including special offers and new courses.