Whenever I'm talking about growing in containers, or demonstrating planting up pots for the autumn and winter the question of frost resistance of terracotta and ceramic pots always arises. Those of you gardening in warmer climates, or in areas where frost rarely occurs, will not have the same problem. However some of the precautions we take to avoid damage are also important for heathy plant growth, especially providing good drainage.

[caption id="attachment_9505" align="alignleft" width="550"]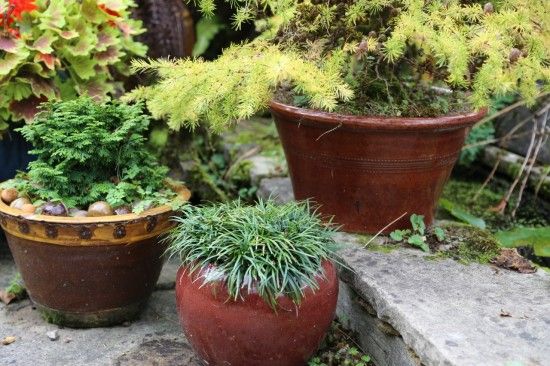 Glazed pots[/caption]

Firstly let's talk about just that. Any container that is going to support plants successfully for any length of time needs good drainage, so it needs drainage holes in the bottom to allow excess water to drain away.  If the holes are absent, too small, or blocked you run the risk of waterlogging.  This can happen as a result of rainfall or regular watering.  No air can get to the roots and they simply drown and die resulting in the failure of the plant.

If this occurs in cold frosty weather the water will freeze, expand and can crack the container. Even the strongest, finest quality pots can crack if waterlogged and frozen.

[caption id="attachment_9506" align="alignleft" width="550"]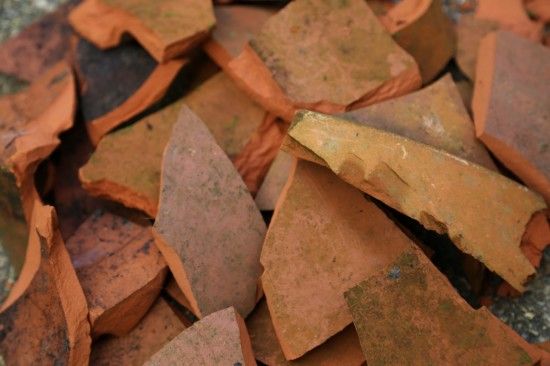 Broken crocks[/caption]

You need to keep the drainage holes open. The best way to do this is undoubtedly to use broken crocks over the drainage holes. Larger pieces with a bit of a curve to them laid over the drainage hole ensure that air space is preserved over the holes so the water can run away freely. Small stones or fragments of crock can become blocked up with soil deposits over a period of time. Some use broken up polystyrene plant trays or packaging or stones, but believe me, crocks work better.

[caption id="attachment_9507" align="alignleft" width="550"]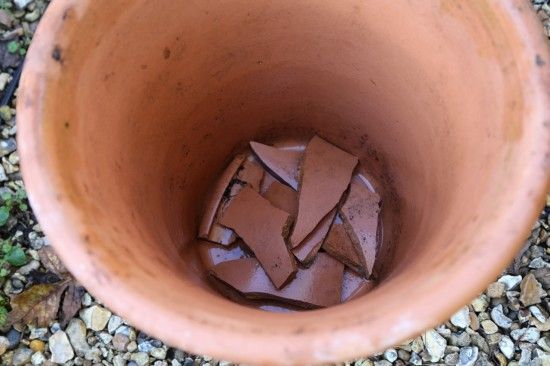 Drainage in place[/caption]

Some advise putting several centimetres of drainage in the bottom of a pot, however this does take up a lot of growing medium space. This reduces the root space for the plants, so water and nutrients are more quickly exhausted in the growing season.  Therefore a couple of layers of good drainage is always the best solution.

[caption id="attachment_9508" align="alignleft" width="550"]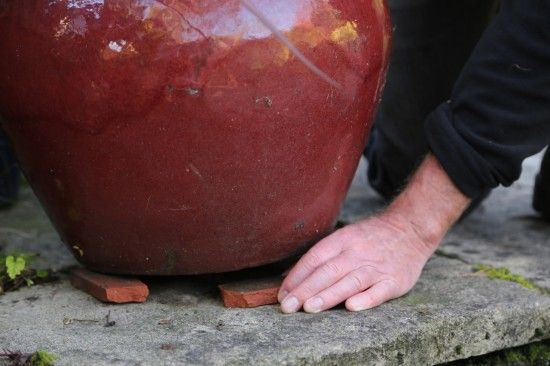 Raising the pot[/caption]

It is also really important to raise pots and containers slightly off the ground, regardless of the surface they are placed on. This prevents a layer of ice forming, which can block the drainage hole, or a layer of soil deposits gathering which can have the same effect. I use pieces of broken roof tile rather than pot feet. I find the latter rather too obvious, also I have over 100 pots and containers around the house and on the terrace: that's a lot of pot feet!

[caption id="attachment_9509" align="alignleft" width="550"]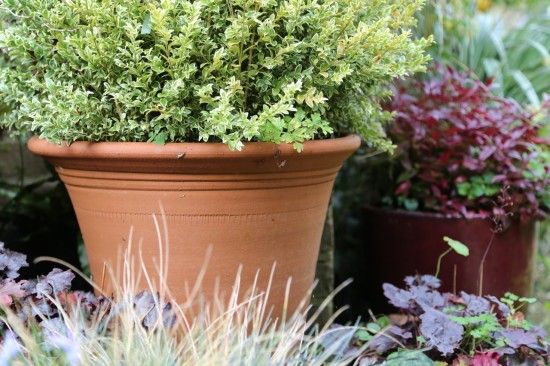 Hand thrown pot[/caption]

It is also important to use a good quality growing medium that is appropriate for the plant.  Whether I am growing lime hating or lime tolerant plants I use a compost that contains some loam. In the UK this is sold as John Innes compost. The loam (soil) content helps the growing medium to retain water and nutrients and is longer lasting than soil-less formulae.  I do recycle some of my growing medium if I have only used it once for flowerbulbs or summer bedding. I tip it into a wheelbarrow and add some fresh loam-based compost and some slow-release fertiliser.

 
Now to choice of pots for long life
As with many things in life, generally you get what you pay for. If you buy a hand thrown pot that has been fired to a high temperature it should have a lovely texture and colour and will generally be the most frost resistant. The clay becomes hard and impenetrable to moisture which can cause splitting and "shaling" in winter. This type of pot is expensive, but it should last for years.

[caption id="attachment_9510" align="alignleft" width="550"]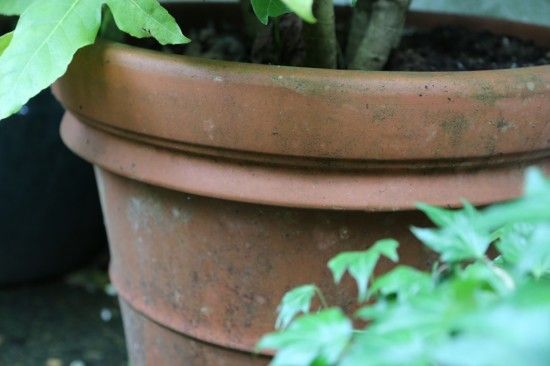 Machine made terracotta[/caption]

Machine made pots are generally cheaper. They have a smoother finish and a more manufactured appearance. They can also be durable but they often have points of weakness. In my experience it is often the rims that succumb to frost damage in winter. Fine cracks appear in the rims of thicker lipped pots. These get wet, freeze and flake. They can however last for several years, especially in more sheltered positions.

[caption id="attachment_9511" align="alignleft" width="550"]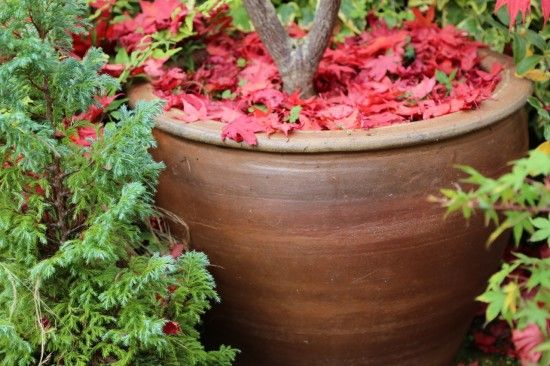 Salt glazed pot[/caption]

Salt glazed pots are often imported from Asia. These are very durable and have a pleasing sheen.  They are generally good value and a good bet if you want a container that is tough and quite rustic in character.  They are ideal for permanently planted pots where plants are going to stay put for several years.

[caption id="attachment_9512" align="alignleft" width="550"]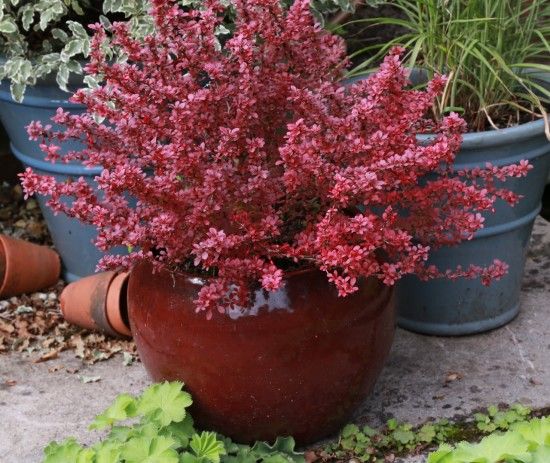 Berberis thubergii 'Admiration'[/caption]

Coloured glazed pots are a great way of adding colour to your garden. They do not always sit happily in traditional gardens, unless the colour is sympathetic.  They do offer the opportunity for some creative planting combinations where the union of plant and pot can become an art form. Some are very durable and long lasting and the glaze adds a waterproof protective layer to the clay. Never buy a glazed pot where the glaze looks crazed; in other words it has a fretwork of fine cracks.  This will soon lead to winter problems. It is usually caused when the glaze does not "fit" the pot and splits in the firing process.

[caption id="attachment_9513" align="alignleft" width="550"]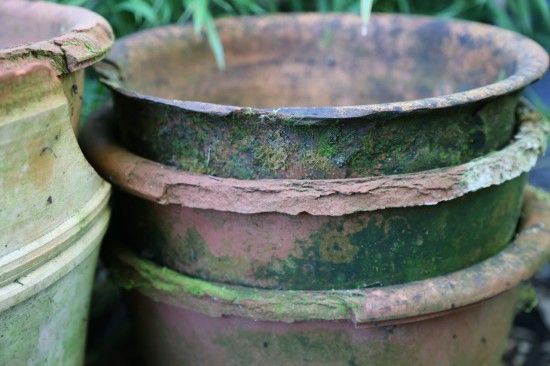 Damaged terracotta pots[/caption]

So the answer to the question? Buy the best quality pots you can afford, plant them correctly and, if possible move them to a sheltered spot in severe weather. Inexpensive terracotta and clay pots should not be discounted as a fashion accessory for your garden, but don't expect them to last forever. When they fall apart use them as drainage and treat yourself to some new ones.
Stay updated
Receive free updates by email including special offers and new courses.