Put a glasshouse into a temperate garden and suddenly some of the most exotic flowers in the world bloom alongside each other. In early spring magnolias brave the outdoors while orchids produce their amazing flowers in the more protected environment under glass. In global terms the two hail from regions not that far apart, however they bloom together a long way from home.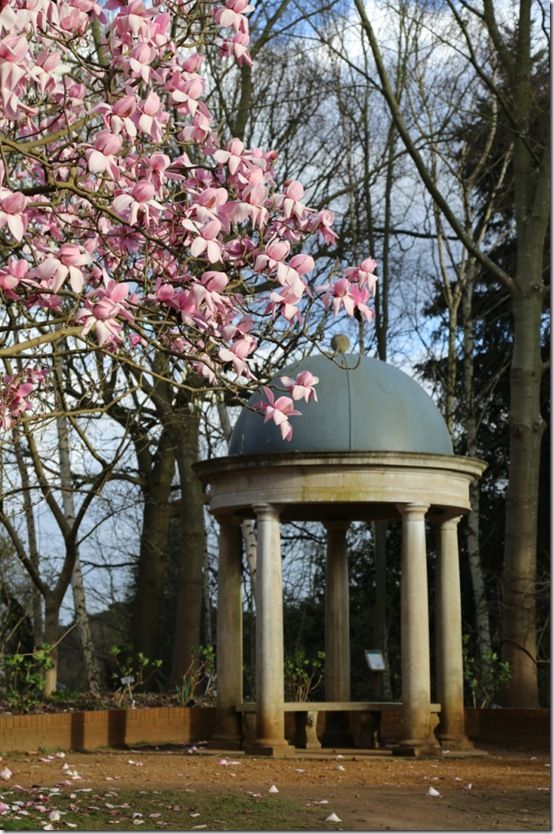 You can see these spectacular combinations in action at The Royal Horticultural Society's garden (Wisely), one of the greatest known centres of excellence for horticulture in the world.   In spring the gardens delight with a display of hardy and tender plants from all over the world. From the amazing alpine meadows surrounding the rock bank, to acid loving plants on Battlestone hill to the exotics in the glasshouse spring is definitely a season of awakening.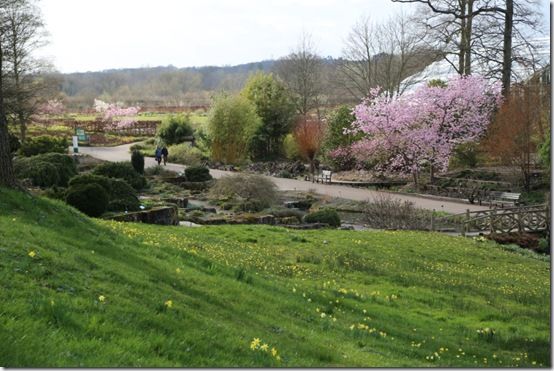 Tree magnolias are amazing plants, it is not surprising that gardeners and plant collectors have long had a love affair with them. Despite their vulnerability to frost and wind we all rejoice in those favoured seasons when they are at their best. Towering above other shrubs and small trees they carry their fleshy-petalled blooms on architectural branches. Some varieties have very floppy flowers; loose blooms that move in the breeze. In other cases the petals are waxy, goblet-shaped and so perfect. I have to admit I prefer the latter. I was particularly taken by am amazing specimen of Magnolia sprengeri 'Copeland Court' with bright pink flowers standing upright all along the branches.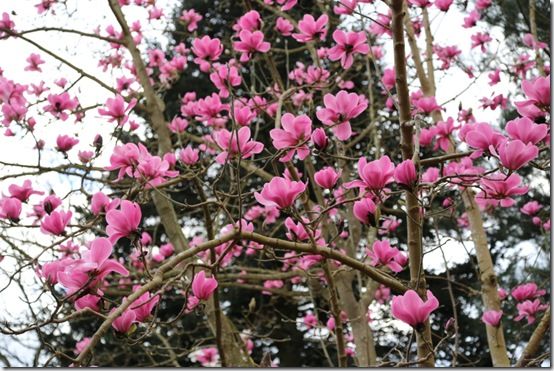 Battlestone Hill, a wonderful woodland garden has always been known for its magnolias, azaleas and rhododendrons. I recent years varieties of hydrangea, particularly Hydrangea paniculata, have been introduced to extend the season. In spring the ericaceous plants and magnolias still dominate. Only the early flowering rhododendrons perform alongside the magnolias. Rhododendron amethistinum was in full bloom when I visited: a vision of shimmering lilac with a delicate fragrance.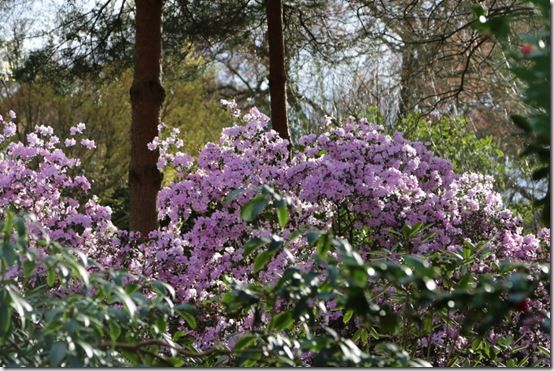 Leaving the garden I headed under cover for the large and extensive glasshouse, a relatively new development in this garden. Like many large botanical garden greenhouses it is divided into different climatic zones from cool temperate to tropical. The tropical zone was closed for maintenance and the installation of the tropical orchid display: disappointment, but an excuse for another visit. The temperate area showcased some amazing specimens of Geranium maderense; a plant that seeds and naturalises in many parts of the world with favoured climates. The colour is not unlike the rhododendron I was just admiring. Huge flowerheads carried above massive rosettes of divided leaves. I always admire the dedication of the foliage: when the plant produces its heavy flowerhead the leaves turn down to the ground to form a kind of vegetable tripod to support the additional weight.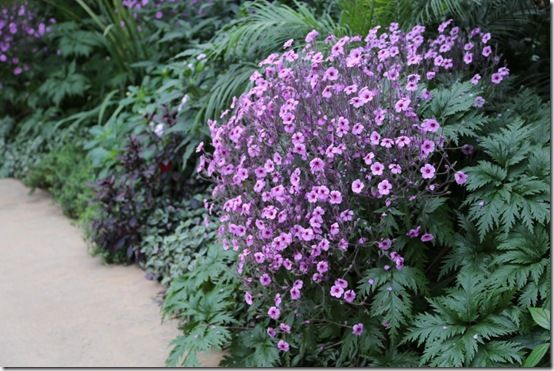 I have always has a special affection and desire for orchids. Nothing gets the heart racing quite like these exotic flowers. I've grown them admired them and lusted after them since I was a boy. Although there were relatively few in bloom, to me they were still amazing. Large flowered cymbidiums were showcases against the rockface behind the waterfall. These are really terrestrial orchids that grow in cool regions in the ground. The colours and strength of structure of the blooms is totally amazing.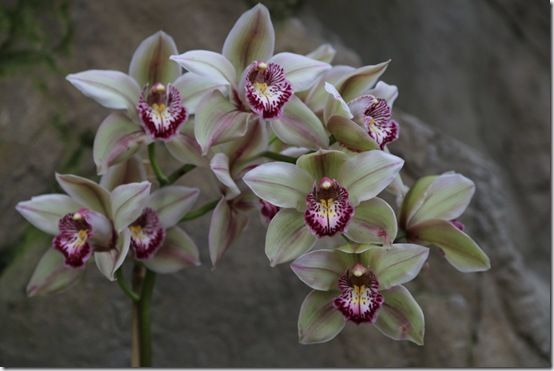 In contrast to their subtlety the disa orchids, I believe originating from tropical and South Africa were producing their neon blooms. These curious flowers look as if they are carried upside down: undoubtedly a sophisticated way of attracting pollinating insects.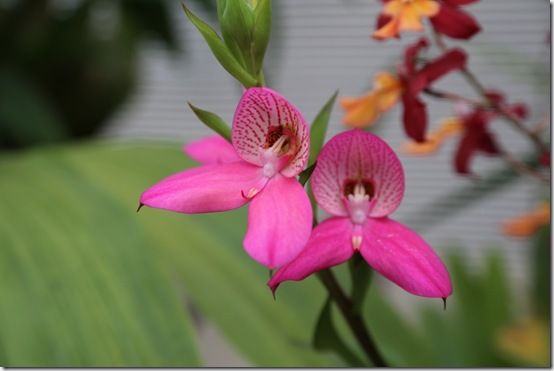 Lycastes look similar in form, but their blooms are waxy, heavy and carried beneath unattractive heavy foliage. These are not pretty flowers but are curiously bewitching, often with a strong, exotic perfume. I'm never sure if I like them but I find them compelling and fascinating. I can quite understand committed orchid enthusiasts coveting them.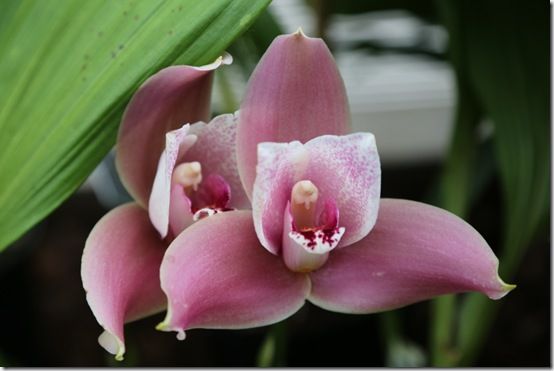 By contrast the cattleyas are bright, flamboyant, frilly and extravagant. These are the seductresses of the orchid world: fur coats, silk stockings, cocktails. The plants are heavy, unattractive and awkward. Plants from hell and flowers from heaven: the blooms almost an excessive compensation for the presence of the plant.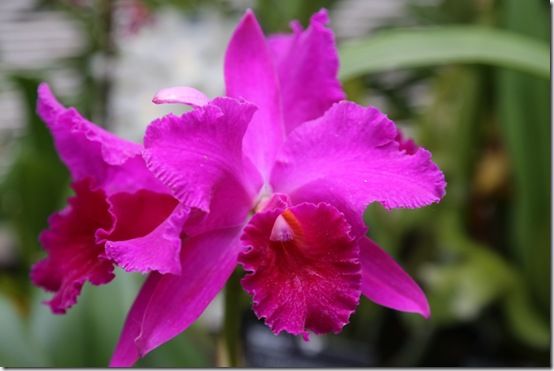 One thing I love bout a visit to a garden like Wisley is the discovery of so many plants that I don't know. I nearly always meet one I fall for; this visit was no exception. Amidst a bench of motley orchids stood a superb plant of Coelogyne lawrenceana: I loved it so much I even remembered the name. Copper brown pointed petals and a white lip marked with chestnut and the most elegantly poised flower teasing passing insects and inviting them to land and visit. Other coelogynes I know a frilly feminine characters; this one was sharp, well groomed and beautifully behaved. A sophisticated orchid – I wonder if I'll ever own it?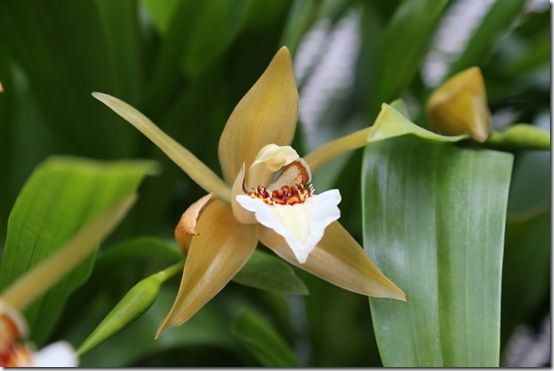 Leaving the glasshouse I made my way back across the wonderland of flowering cherries, magnolias, camellias and narcissi. How lucky we are to be able to experience the wonders of the plant world growing together and what a responsibility we have to preserve these treasures in cultivation and in their natural environments.
Stay updated
Receive free updates by email including special offers and new courses.