Considering Garden Sculpture
Exhibitions of garden sculpture have become a popular feature in many public gardens. They add a different dimension to the interest of the garden and can be a great demonstration of how sculpture can be used to enhance a garden. They are also a great way to find out what you like and dislike. A piece of sculpture may be a long term investment, so it is important to get it right and see it in context. In this particular exhibition, at the Sir Harold Hillier Gardens, I was really taken by the work of Lynn Warren. Zephyr 1 (above) was beautifully positioned alongside the spreading branches of a tree. Colour and texture of the bronze sculpture and the bark of the tree worked together and possessed elegant movement. I wouldn't tire of looking at it.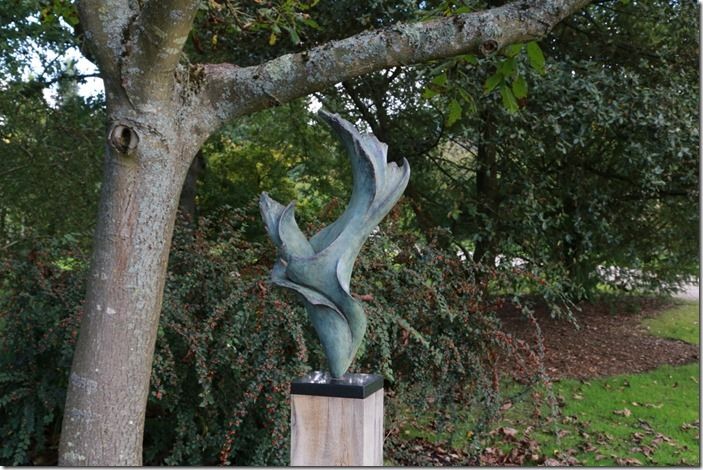 Another piece by the same artist, 'A life of its Own', I liked even more. It was beautifully framed by the trunk and branch of a tree and set off by the arching branches of the dark green, berried shrub behind. I have to say that many visitors concentrate more on the price than the art. They stare incredulously at four figure price tags, mostly because of the belief that everything for the garden should be so much cheaper than an enhancement for inside the home. No thought is given to the length of time a piece takes to be made, its uniqueness or how long it will last. Something like this piece is an investment for generations.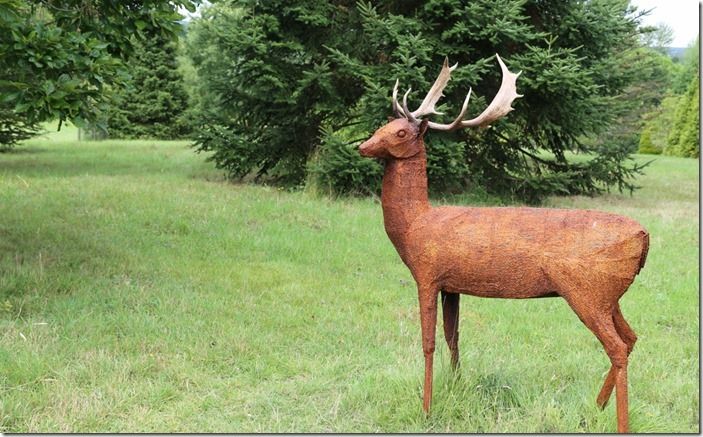 Many will feel more at home with a recognisable form rather than something abstract. This deer would sit well in any rural setting, and it doesn't eat your plants. The rusted metal has an organic but contemporary feel. It is a strong focal point and makes a statement. Easy to live with and a safe choice.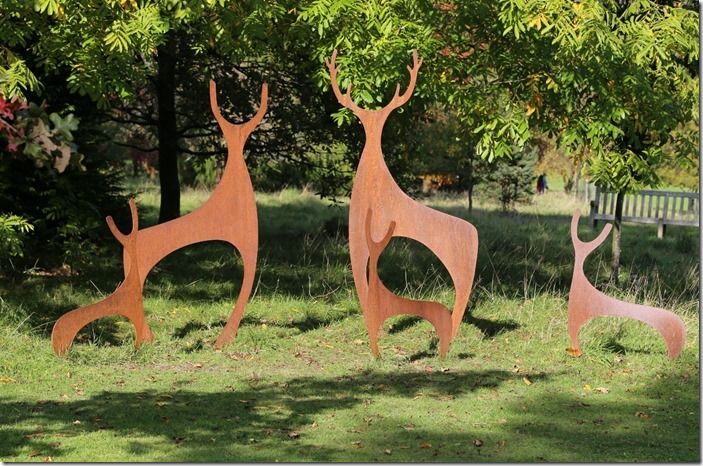 The subject matter may be the same but the effect is very different with this two-dimensional deer family. Simple silhouettes, beautifully fluid in shape that work well together. They need space around them and with it they work well. Personally I like them in an open parkland setting, softened by trees. I find large two-dimensional pieces oppressive in small spaces.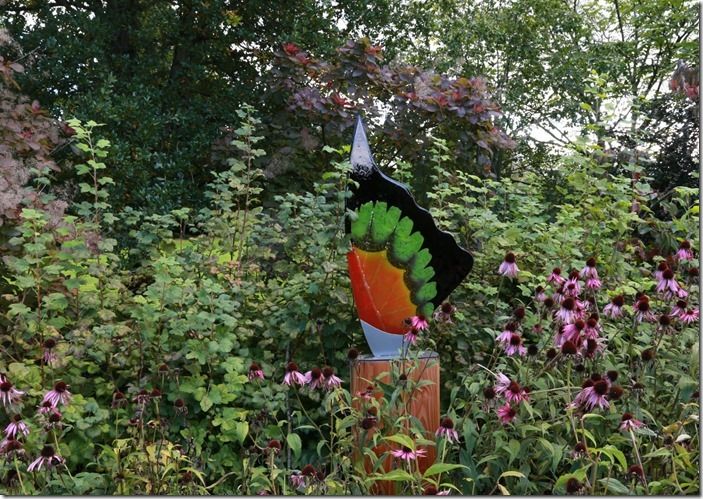 However you can make them three dimensional with billowing planting. Do I like this coloured metal piece? I certainly would never choose it and for much of the year I think it would jar. However when the echinaceas are in bloom the strong form of the flowers and their orange centres turn this piece into a sculpture that works. You need to take this into account in your garden. In an exhibition or show garden situation the piece is there for a moment in time. In a garden you will be looking at it throughout the year. Imagine this one without the flowers.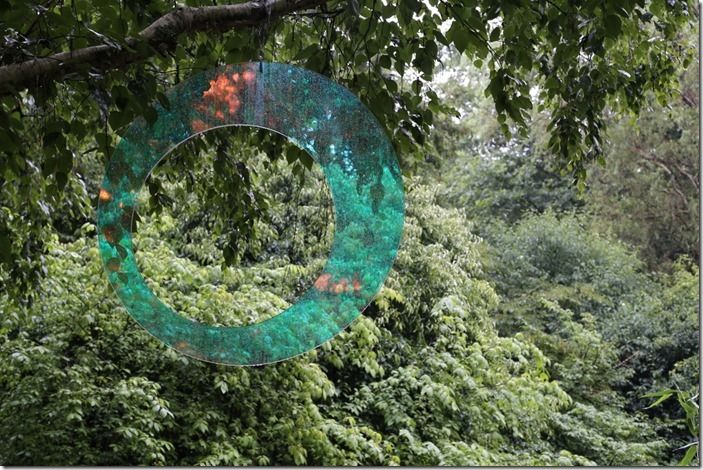 This lightweight acrylic disc has an interesting iridescence and transparency which is not dependent on the surrounding colour. I think it looks better with the leaves, but it would also be interesting surrounded by a fretwork of branches against the backdrop of a winter sky. Most will find this material rather obtrusive in a garden. Can you see past the fact that it's an expensive piece of plastic? But that's the great thing; art is so personal.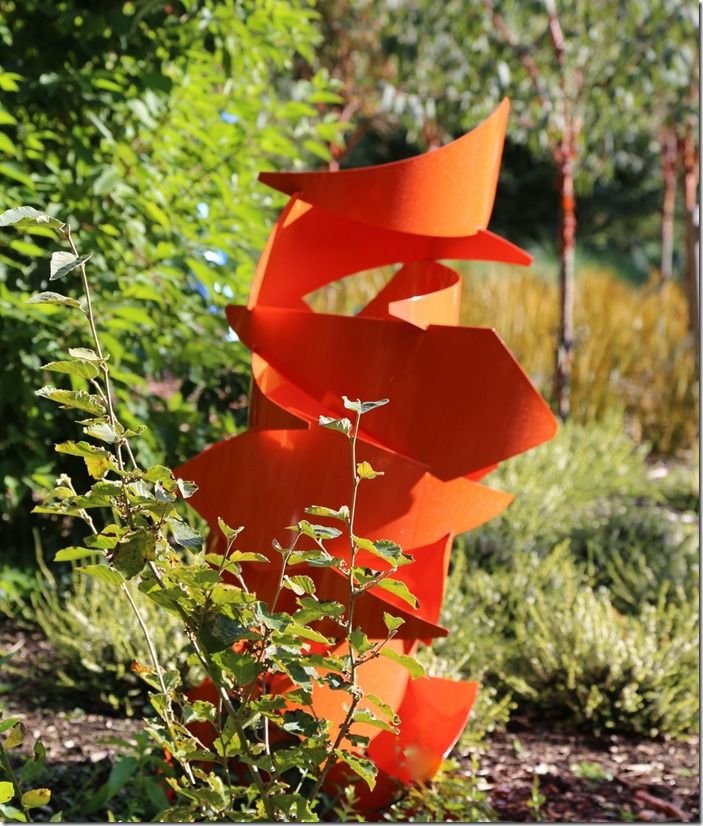 My initial reaction to this spiral of orange metal was not positive. I think I'm probably a bit of a traditionalist and even the vibrant shades of autumn around didn't convince me. However, looking at the picture afterwards I understood it a little more. It reflects the peeling bark of the trees behind and will add a more solid dimension to the surrounding dogwood stems which will become part of the picture. I get it, but I don't want it.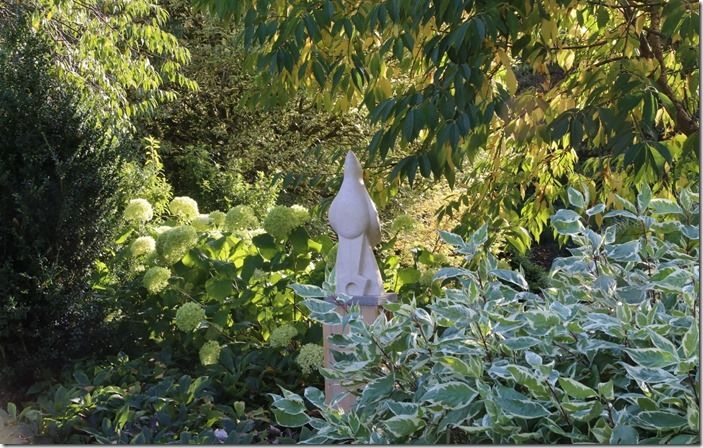 This lovely slender bird sculpture with is sleek lines, smooth texture and soft colour are a different matter. I do want this one. This simple combination with the variegated cornus and Hydrangea arborescens 'Annabelle' works so well in the dappled shade of a tree. In a garden this principle can turn a problem area under the shade of a tree into a real feature: get the planting right and add something you want to look at. It's a good illustration of how important positioning is.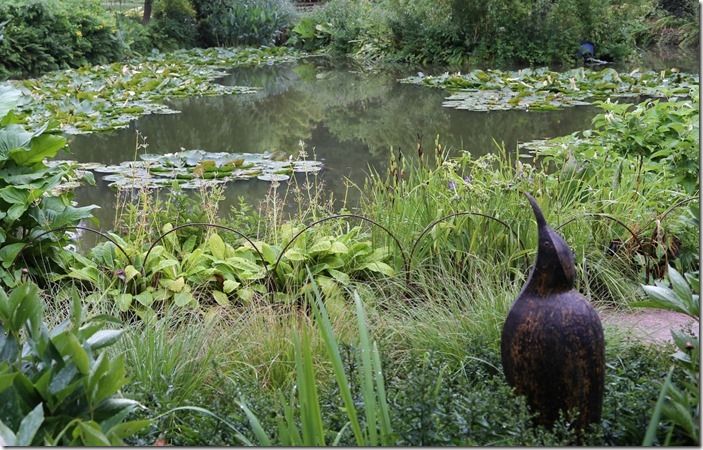 Sometimes the best position for a piece of sculpture is in the foreground: you look past it to the garden picture beyond, but it makes the picture deeper and more interesting. This bird, by the same sculptor is poised by the water, it helps to tell the story and bring the picture to life. It is probable and familiar enough for its presence to seem natural.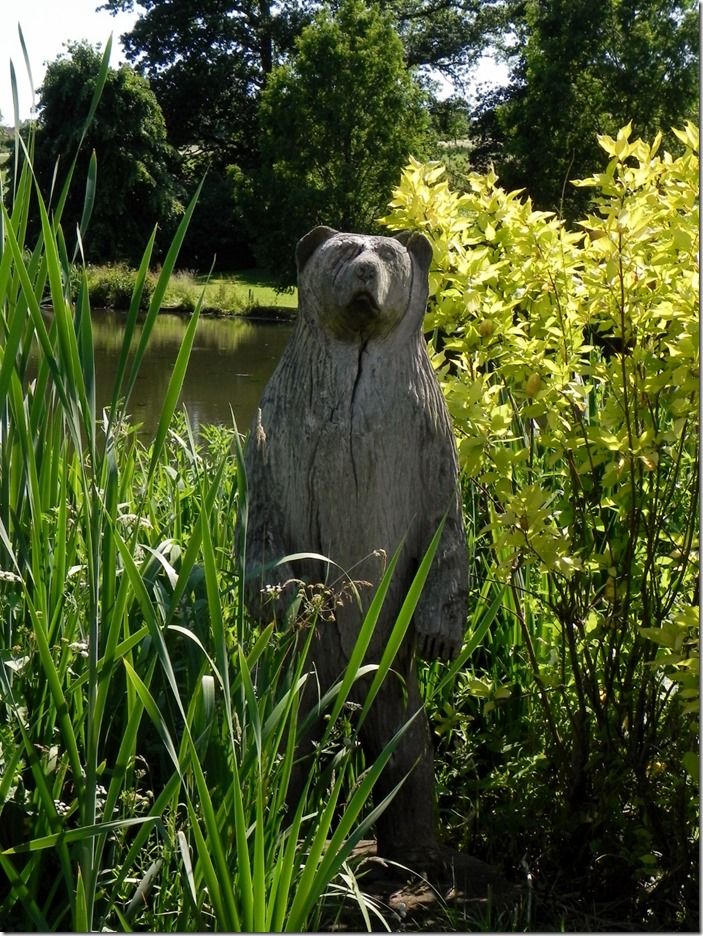 In contrast this man-sized carving of a bear emerging from the reeds adds a different element: surprise and humour. It is so improbable in this setting that it is a real talking point. I photographed this one at Lady Farm, Somerset, UK.
So what do you think? Does sculpture appeal to you? Would you invest in it, or would you rather head off to the garden centre and but a moulded figure of something you recognise? Are you a traditionalist, or out there with cutting edge design? Do post your comments below.
Stay updated
Receive free updates by email including special offers and new courses.