Shady Tolerant Plants For Summer Colour In Pots

There are plenty of shrubs and perennials that you can grow in pots and containers in shade. Euonymus varieties, for example, offer a variety of shapes and forms and evergreen colourful foliage.

Hostas grow well in pots and their superb foliage is easier to protect from the ravages of slugs and snails.

They do produce flowers in summer, but these are very secondary to the leaves. If you want a climbing or trailing plant, the variegated ivies cope with very heavy shade and adds interesting foliage colour.

Certainly green and variegated foliage dominates in shady situations, but what do you plant for more vibrant colour?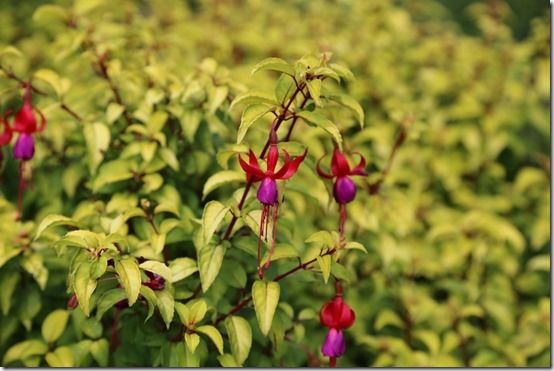 If you crave summer flowers then fuchsias are a good choice. Some are hardier than others and will overwinter outdoors in areas that get a few degrees of frost.
Fuchsia 'Genii' is a "hardy" variety with upright, arching stems, soft golden leaves and pendent red and purple flowers. It grows to around 60cm (2ft) with a similar spread and is ideal for a pot or border or bed in semi-shade.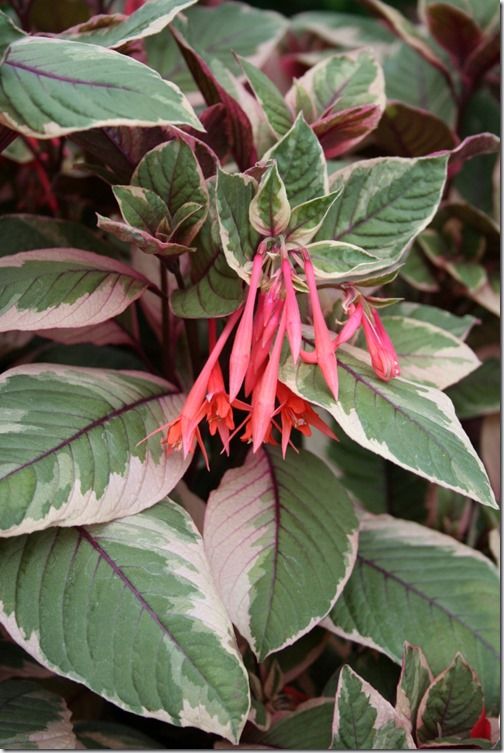 Fuchsia 'Firecracker' is not as hardy and will need winter protection anywhere that gets frost. It falls into that category of fuchsias with long, tubular hanging flowers carried in generous clusters.
These do need more light than other fuchsias to flower well, but they are still shade tolerant. 'Firecracker has the bonus of variegated foliage so will make a splash even before the flowers.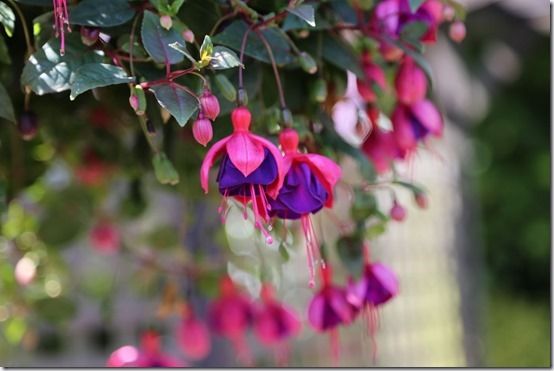 Of course the showiest fuchsias with larger flowers are the ones favoured for summer colour.
The dancing blooms with their full skirts are great in pots, and perhaps even better when the trailing varieties are grown in hanging baskets.
It is really useful to have a showy subject like a trailing fuchsia to grow in a hanging basket in shade. Regular feeding with a high potash fertiliser keep them blooming throughout summer.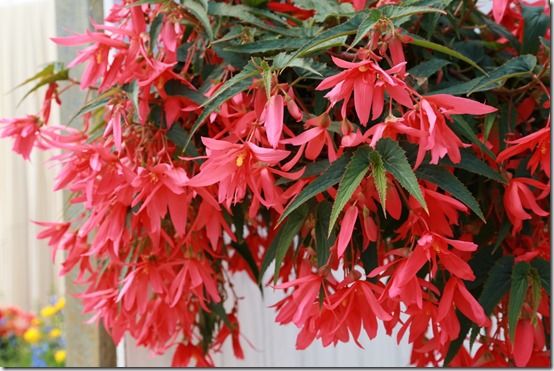 Begonias have enjoyed a real revival in the past few years. Plant breeding has produced some interesting introductions amongst the fibrous bedding begonias and these in turn have helped rekindle interest in the splendid tuberous varieties.
These are such good value plants, easy to grow and truly spectacular. They perform well in the dullest, dampest summers and bloom well in shady situations.
Few other summer flowering subject produce such exotic blooms outdoors.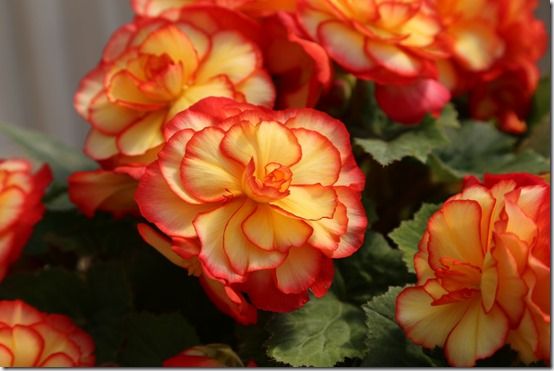 Tuberous begonias are planted in spring indoors. The large, fleshy tubers have a dark brown, fibrous exterior.
However if you nick the outer coat with your finger nail you will find a fleshy inside. The concave side, with a dip in it is the top and the convex, bulging side is the bottom.
To start them into growth you just nestle them into the surface of a pot of multi-purpose growing medium.
Water around the edge of the corm and then keep the pot on a windowsill indoors or in a frost-free greenhouse or conservatory.
If they are not there at the outset fleshy pink shoots appear which develop into leaves and stems.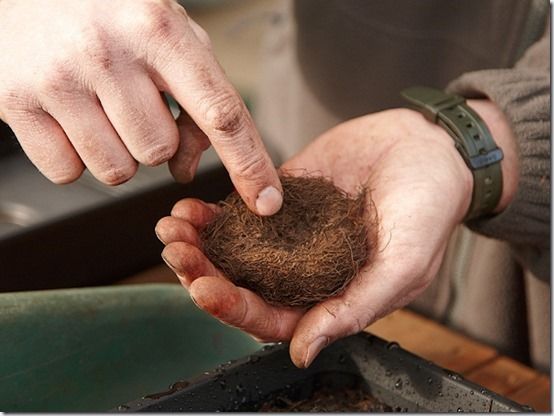 Plant out after danger of frost has passed and you will have a spectacular summer display. Last year I grew pendula begonias in pots so that they would cascade over the sides and add colour at a low level around the terrace.
They were still blooming freely in late autumn until the frost eventually knocked them back.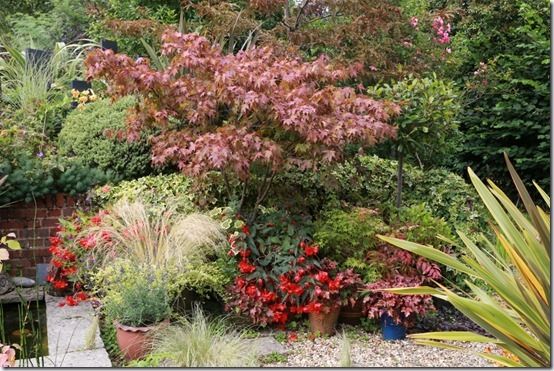 They also make splendid stand along subjects in pots. One pendula begonia corm can easily fill a 30cm (12") pot. Pendula begonias are the ones to grow it you want lots of flowers.
They are superb in hanging baskets in shade and are self-cleaning; in other words the flowers fall off when they fade. No dead heading required.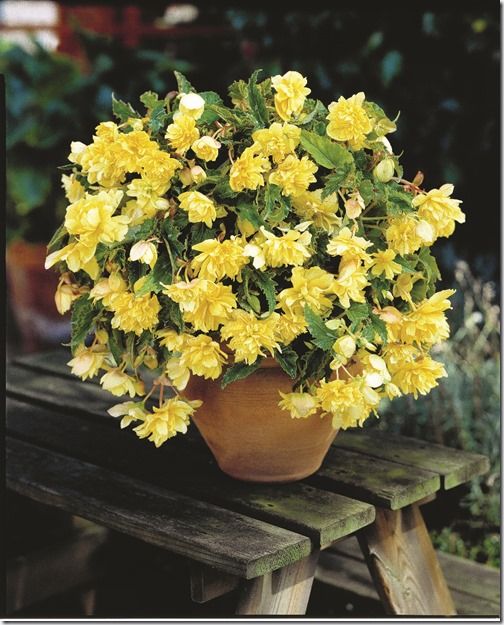 However if you want large, spectacular blooms try growing the double tuberous begonias. With flowers like giant camellias there are few other plants you can grow outdoors which give the same wow factor.
There is a tendency to mix colours in large pots. However I think they look far more impressive planted in groups of three tubers of the same colour.
Start them individually indoors in 11cm (4-5") pots and them plant them out grouping three individuals together.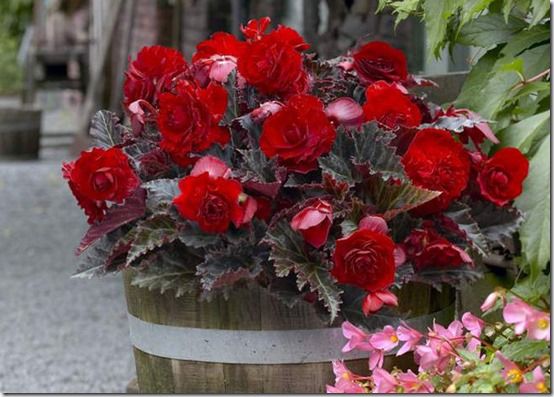 To help you achieve this we've teamed up with Direct Bulbs to bring you this great offer:
Take a look at these two great begonia offers from Direct bulbs
3 each of four colours of pendulous begonias red, pink, white, yellow - 12 tubers for only £16.90 inc. P&P
3 each of 5 colours of double begonias red, orange, pink, white and yellow – 15 tubers for only £16.90 inc. P&P
http://www.directbulbs.co.uk/special-offers
Offer limited to UK customers only (Very Sorry)
Further Study
Container Gardening A 4 week online gardening course on gardening with containers with designer and author Harriet Rycroft
Stay updated
Receive free updates by email including special offers and new courses.