Smoke Trees – cotinus for summer and fall
By Andy McIndoe •
They say there's no smoke without fire, and that's certainly true of many of the smoke bushes, varieties of cotinus that are so popular in gardens. What's inspired me to write about them is the spectacular display of smoky plumes they are displaying at the moment and there is still the promise of rich fall foliage colour to come. Although many grow into large shrubs, as the name smoke tree suggests, they are still desirable shrubs for many gardens because of their long season of interest, ease of cultivation and hardy constitution.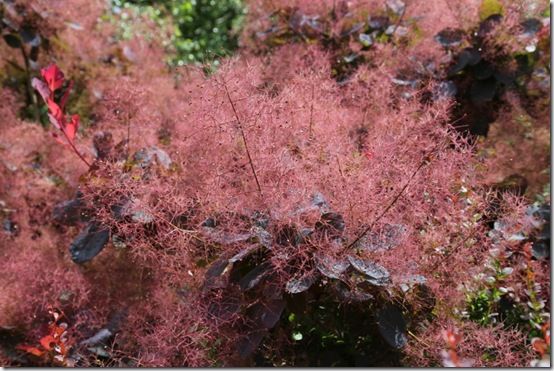 At one time classified as Rhus, or sumac to which they are closely related, cotinus differ in their simple, rounded leaves and smoky plume-like flower heads. The species are natives of Europe, southern USA, Mexico and Asia and hybridisation has given rise to many beautiful garden forms which contribute stunning foliage effects. They are deciduous, so lose their leaves in winter and can be pruned when dormant to control size and shape. It is worth noting that hard pruning promotes vigorous upright growth, light pruning, less vigorous, more branched growth.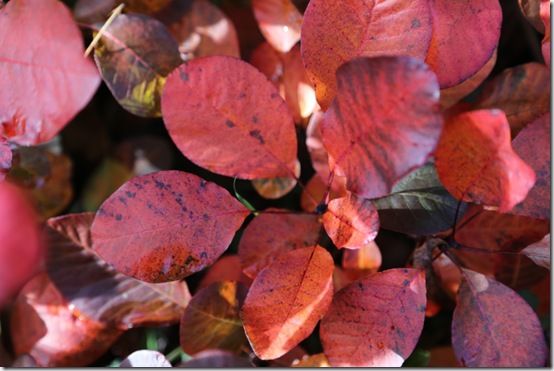 One of the most popular and widely planted varieties is Cotinus coggygria 'Royal Purple'. This has deep wine-purple leaves becoming scarlet as autumn progresses. It contrasts well at the back of a border with the silver Elaeagnus 'Quicksilver' or green and white variegated Cornus alba 'Elegantissima'. It makes a superb background shrub for a hot planting of crocosmias, heleniums and hemerocallis.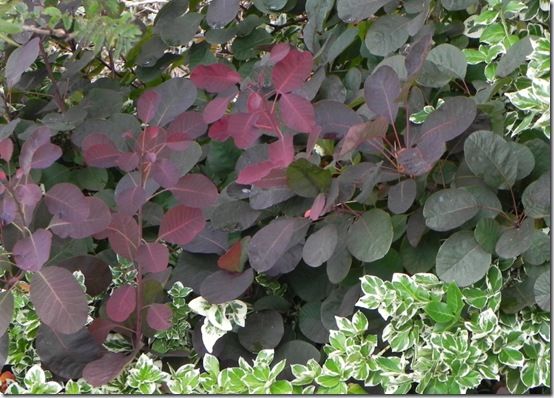 Much larger growing with larger, rounder, leaves Cotinus 'Grace' is a magnificent smoke bush raised at Hillier Nurseries, UK. The plant was the result of a cross made between Cotinus obovatus, from SE USA and Cotinus coggygria 'Velvet Cloak. Cotinus coggygria originates from Europe and Asia; however 'Velvet Cloak' originated as a seedling in the US. Cotinus obovatus has large round leaves and spectacular autumn colour, 'Velvet Cloak' has deep wine-purple leaves and deep red autumn colour. The resulting offspring are known as Dummer Hybrids after Peter Dummer who raised them. 'Grace' is by far the best known and has become a very popular large shrub.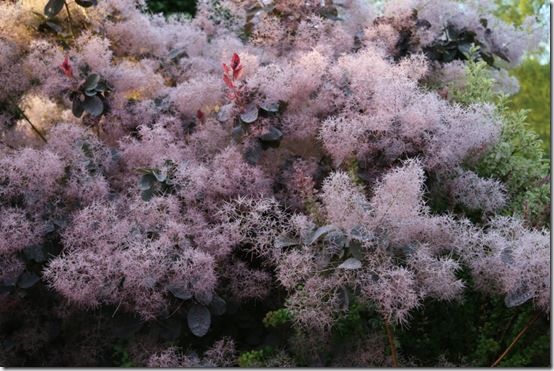 Cotinus 'Grace' is a large shrub with vigorous shoots and large rounded leaves of soft copper-red which become scarlet in autumn. The purple-pink flowerheads are freely produced in summer and a plant in full flower is a spectacular sight. At the time of writing my plant is a purple-pink cloud at its most beautiful in the early morning when the dew settles on the plumes giving the shrub a truly smoke-cloud quality.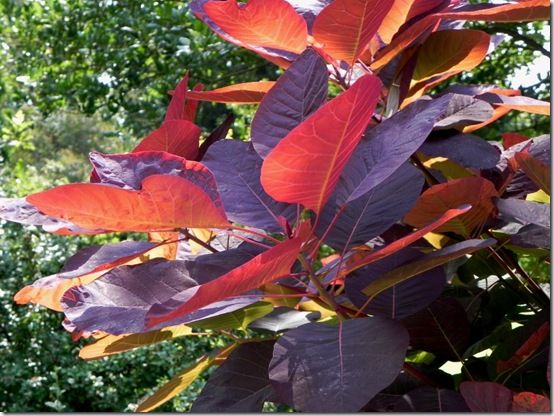 'Grace' is best planted in a sunny position where the light can filter through the leaves. This transforms the shrub through summer and autumn. It is a good subject to use as a large specimen in an informal setting or as a background shrub. This plant needs space!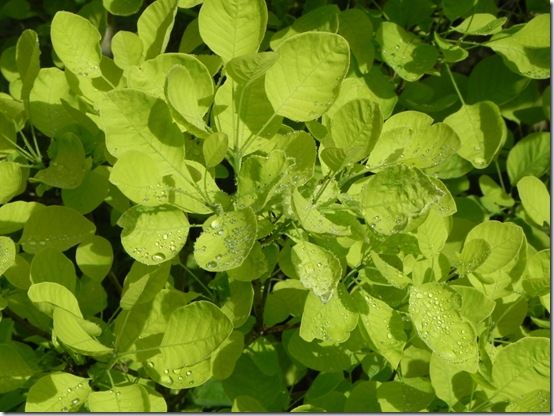 Cotinus coggygria Golden Spirit ('Ancot') is a real contrast to most of the other popular varieties of smoke bush. This has yellow foliage that does not scorch in sun, providing that the soil is not too dry. This plant was raised in Holland and caused quite a stir when first introduced. When the foliage unfurls in mid spring it is acid yellow-green, gradually softening to gold. I have it planted alongside a deep purple rhododendron which makes a stunning partnership at the beginning of the season.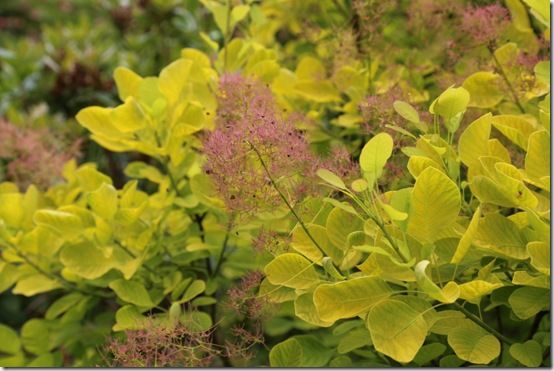 As the season progresses the foliage becomes more mellow and soft copper plumes appear from midsummer. I think 'Golden Spirit' is one of the best golden foliage shrubs. It is less brash than others are the small rounded shell-like leaves are charming. I also like this shrub in semi-shade where the foliage will be bright lime green. This is a good choice for smaller gardens because it is less vigorous; I've also grown it successfully in a pot. Often the colour in autumn is pale orange or apricot.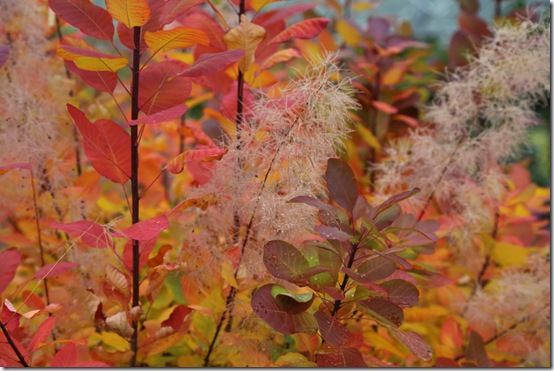 Cotinus 'Candyfloss' is a new smoke bush raised at Hillier Nurseries. The leaves are green flushed deep purple-red and the plumes are enormous. The foliage colour in autumn is brilliant and I think this is sure to be a popular choice in future. Raised by breeder Alan Postill probably from crosses involving Cotinus 'Grace'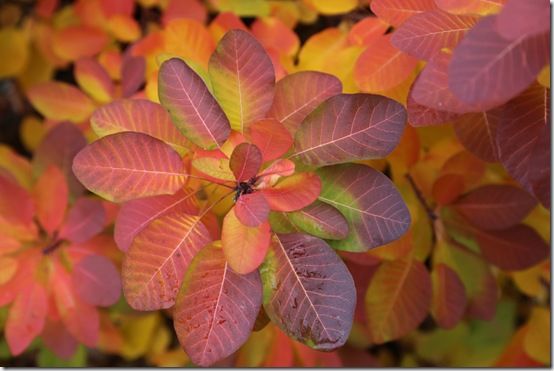 Cotinus grow well on most reasonably fertile soils and are hardy. Check your local zone information to be certain. Avoid too much organic matter in the soil but feed with slow release balanced fertiliser for hardy growth and plenty of flowers. Rose fertiliser is ideal. Autumn or early spring is the time to plant new container grown plants for best results.
Stay inspired
Get FREE Gardening tips and ideas from our experts in your inbox.