The Botanical Gardens Of The Brisago Islands
By Andy McIndoe •
The Brisago Islands Botanical Gardens
The Brisago islands are a short distance off the Swiss shore of Lake Maggiore, not far over the Italian border. Known as the Botanical Gardens of Canton Ticino they are surprising in both their stunning location and the richness of their flora.
I often find botanical gardens of this type rather disappointing: a collection of struggling plants preserved for the sake of it. Not here. These gardens are a journey through the continents, full of impressive surprises. Admittedly we visited in late summer when the Mediterranean area looked very authentic with its parched stems and seedheads rising out of a stony landscape. A few lavenders and salvias added shorts of colour to a muted landscape with a backdrop of emerald trees and sapphire lake.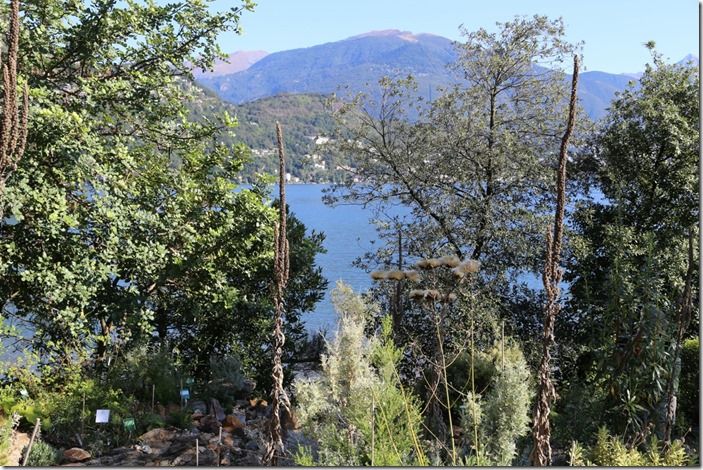 The trees are impressive throughout the gardens. In the Mediterranean area a superb specimen of Quercus suber, the cork oak enables visitors to appreciate its superb bark unstripped for cork production.
Usually when you encounter it in the Med the trunk is cinnamon-gold and relatively smooth, the bark having been harvested. I love its craggy texture, reminiscent of an ancient complexion that has enjoyed many years of summer sun.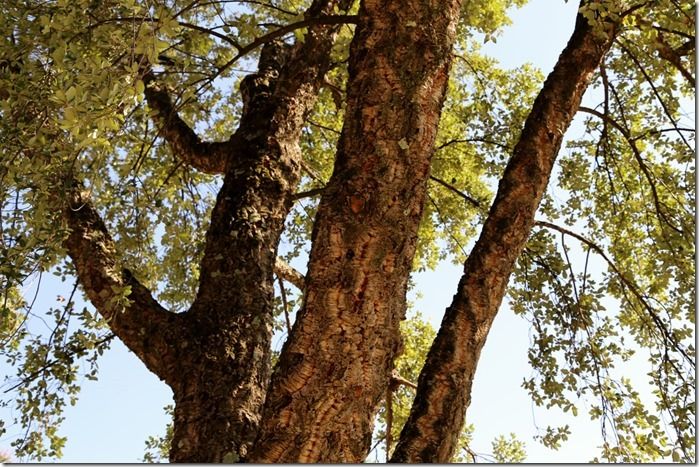 Magnificent palms mark the progression into the tropical areas of the garden. The South American Butia capitata, commonly known as the jelly palm is distinctive with its blue-green fronds held in a majestic crown.
This is one of the hardier palms, but doesn't always look as good as it does here when grown in cooler regions. The fruits are edible, apparently similar to lychees.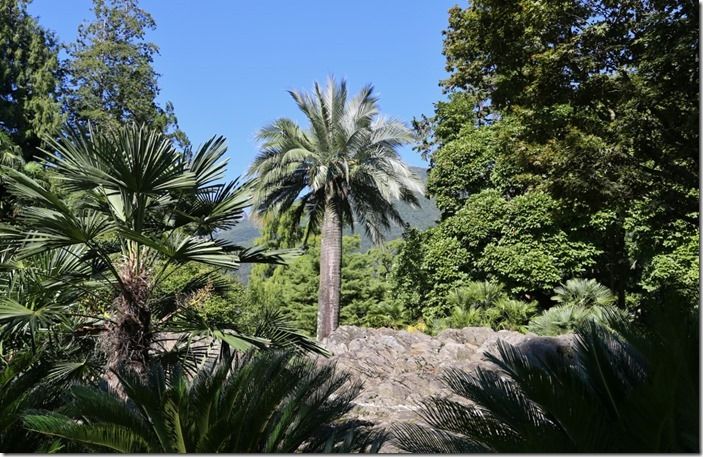 The whole garden features a wealth of foliage form and colour. In a shadier spot I came across a magnificent specimen of Hibanobambusa tranquilans 'Shiroshima' with splendidly striped cream and green foliage and a bushy habit.
This is an interesting bamboo in that it is a naturally occurring bi-generic hybrid between Phyllostachys, a clump-forming bamboo of upright habit, and Sasa veitchii a spreading, shorter bamboo with large leaves. It originates from China.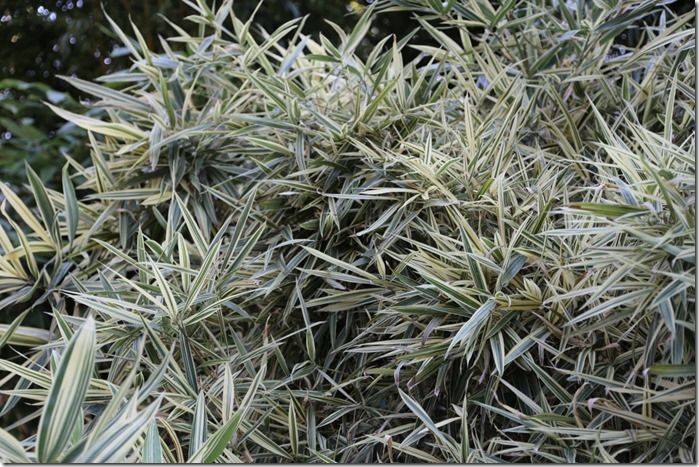 The gardens contain a wealth of plant material from South Africa and there is a large area devoted to the region. The open sunny landscape on this part of the island reflects the region.
The bright orange blooms of Leonotis leonura, lion's tail are easy to spot amidst the planting. This shrub, a member of the mint family seems to be popular and quite widely cultivated at present. I've come across it in exotic planting schemes and used as a conservatory and patio plant.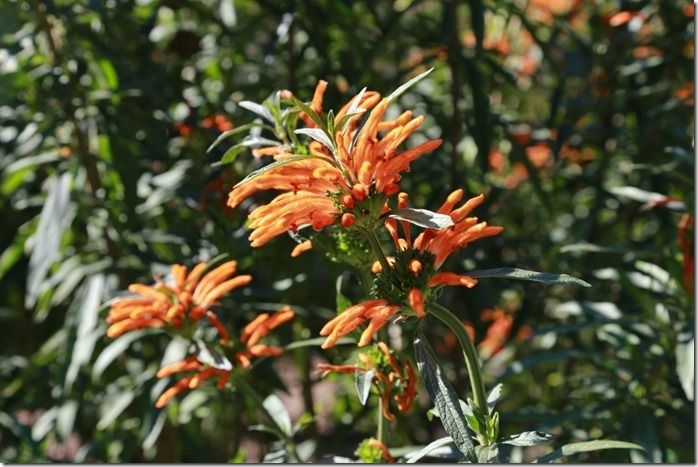 Of course it wouldn't be a South Africa collection without proteas. These are often very unattractive when growing unhappily, however these were some of the best I've seen and blooming well.
I have to admit they are not my favourite flowers, I find them rather still, impersonal and ungainly even if they are impressive. They certainly attract attention and the other visitors loved them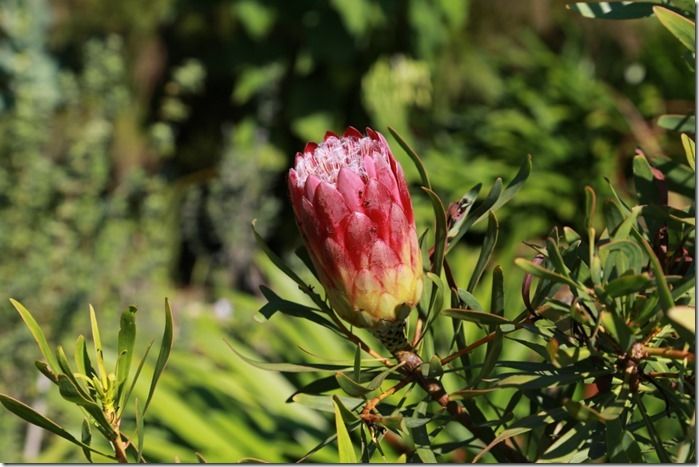 I've seen Tulbaghia violacea widely grown in the Mediterranean region. This pretty little relative of the onion has a long flowering season and is native of South Africa.
I've seen it used as a seasonal bedding plant in Southern Spain and in pots and containers in Turkey. It's a great plant for a hot, dry sunny spot and was certainly thriving on Brisago island.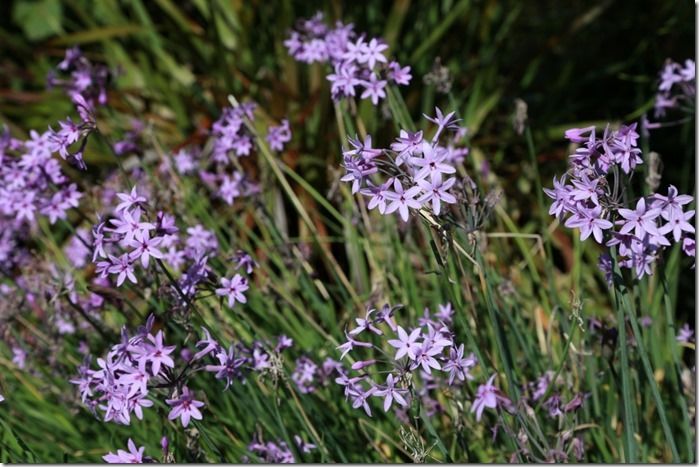 I mentioned the amount of foliage interest earlier on; this is a theme throughout the garden. From the succulents and cycads to ferns and evergreens, from shade to sun.
I loved the combination of the silver, silky leaves of leucadendron against the sedge-like spikes of restios. These look so much more appealing in the bright sunlight than they do on exhibits at RHS Chelsea Flower Show.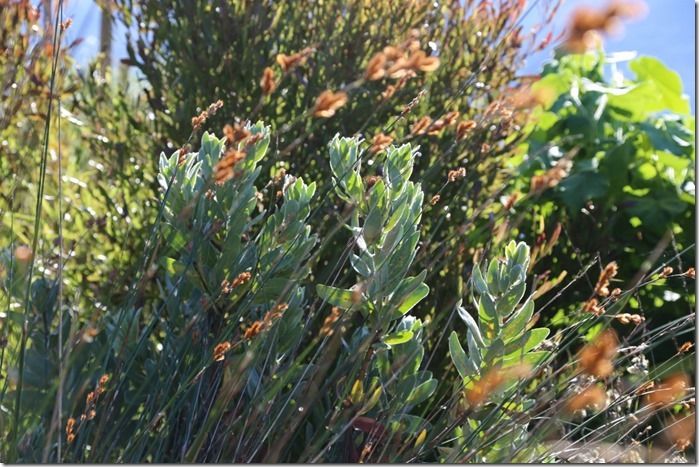 Of course the Australian area features familiar favourites including callistemon and some magnificent eucalypts.
The Kangaroo paw, anigozanthus is a curious plant producing clumps of narrow, sword-shaped leaves and spikes of felted paw-like flowers. In shades of red, flame and gold it grows freely in the garden, reflecting the mare natural hues of the season.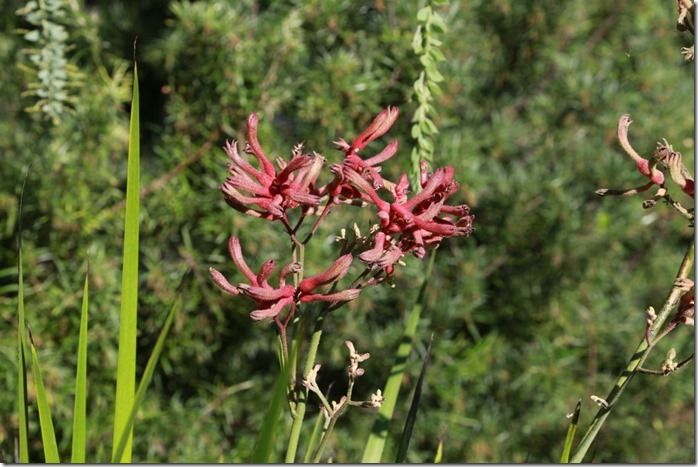 For those of us gardening in less favourable climates a visit to an exotic garden can be rather frustrating. We see all these things we desire, but can't grow.
However one plant that thrives under trees and in the shadier places of Canton Tacino is Liriope muscari, commonly known as lily turf. I think this is such an underrated shade loved and one of the few attractive flowering plants for these conditions. Great to have something to add colour in late summer too.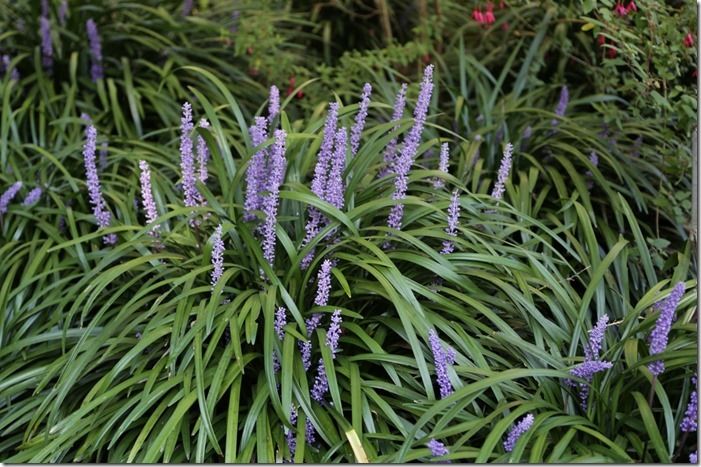 The Botanical Gardens of Canto Tacino were founded by a Russian baroness in 1885. Their development to what they are today is an interesting story. Although not one of the best known gardens in the Italian/Swiss lakes I think they are perhaps the most interesting and underrated. http://www.isolebrissago.ch/en/
Stay inspired
Get FREE Gardening tips and ideas from our experts in your inbox.