As ever the summer bedding has hung on a little longer than intended. Or maybe you just didn't get around to emptying those pots and replanting with winter bedding or spring flowering bulbs? This twice a year ritual can be rather tedious, and for those of us that have suffered a long, cool, wet summer and autumn the motivation to make outdoor pots beautiful can be sadly lacking!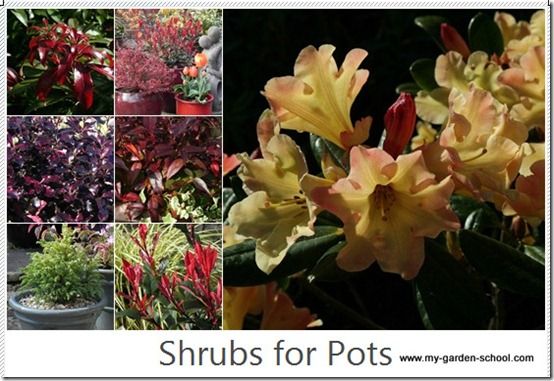 All is not lost. How about planting with shrubs that, with a little care, will look good year after year? The initial outlay may be greater, but in the long run shrubs in pots offer far better value because they last! Of course the ideal scenario is to have the best of both worlds: some pots planted with shrubs, and some that you replant with seasonal subjects such as summer and autumn bedding, and spring and summer flowering bulbs. That way you create a changing picture, but with the benefit of permanent structure. But what works? If you read the labels many shrubs seem to grow too large for pots on the patio? What happens when you need to re-pot them? What soil do you use?
These concerns put many gardeners off planting shrubs in pots, and they stick to safe bets like fuchsias and geraniums for summer, and pansies and primroses for autumn, winter and spring. In reality you can grow just about anything in a pot providing you use a generously sized container and a good quality specially formulated growing medium. If in doubt just remember the art of bonsai; potentially huge forest trees are tamed and restricted in pots and grow in small volumes of soil for many years. That isn't to say you will be restricting the development of your plants by growing them in pots. If you choose plants and pots wisely you can grow smaller shrubs to their true potential in pots.
So here are my Top Ten Shrubs for pots that will look good throughout the year; even in winter.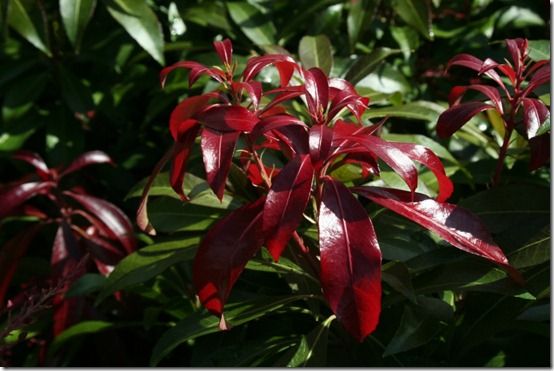 1. Pieris 'Katsura' A fabulous variety with long lily-of-the-valley-like sprays of pink flowers in early spring, followed by mahogany red new growth on the tips of all the shoots. In a pot it will make a bushy plant up to 80cm (2.5ft) in height in a few seasons. Grown in lime-free compost Pieris do very well in containers in shade or semi-shade.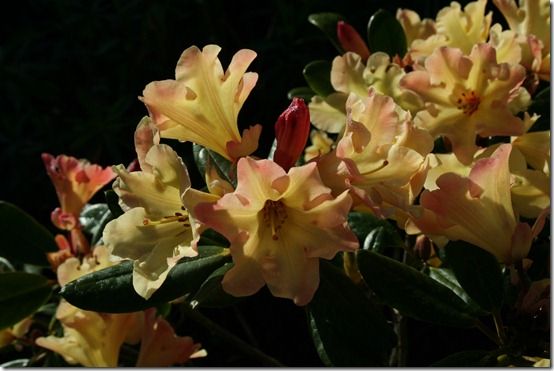 2. Rhododendron 'Nancy Evans' A compact hybrid rhododendron with neat, dark green foliage, orange-red buds and creamy, waxy waved flowers. Dwarf and compact rhododendrons and evergreen azaleas are excellent in pots in semi-shade, again if you grow them in lime-free ericaceous compost.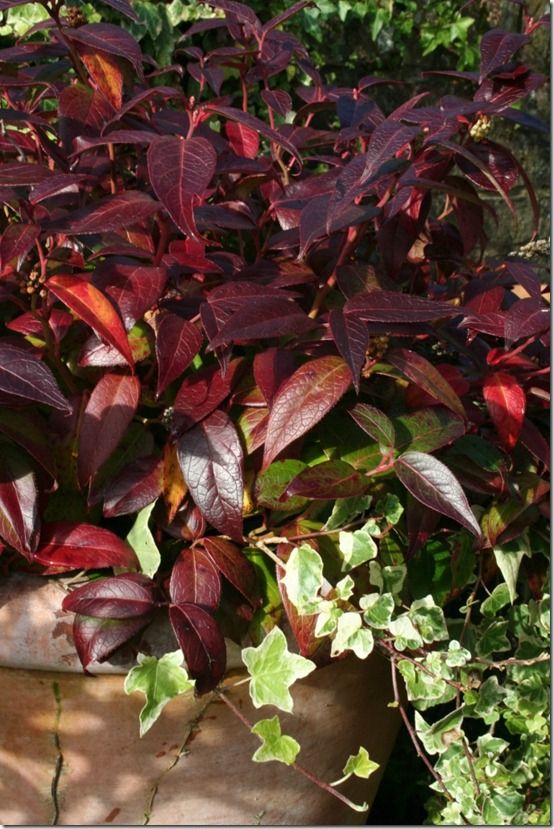 3. Leucothoe 'Lovita' A low-growing evergreen with shining, pointed, emerald-green leaves that colour deep scarlet in winter. Again it needs lime-free compost and will tolerate shade, although the colour is more intense where it gets some direct sunlight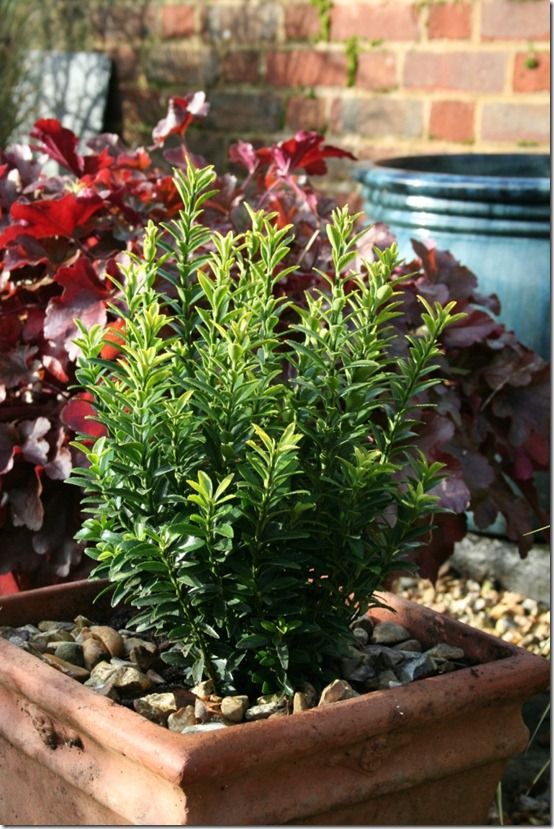 4. Euonymus japonicus 'Microphyllus Pulchellus' This shrub couldn't be easier to grow. It is a compact evergreen with upright stems carrying deep green small leaves suffused with gold. It is a drought tolerant plant; good in sun or shade and a great choice for coastal gardens as it doesn't mind salt-laden air.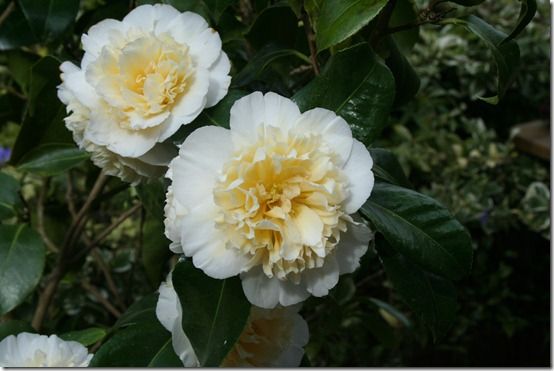 5. Camellia japonica 'Jury's Yellow' A good choice for those craving flowers from a shrub in a pot. The gorgeous blooms of this variety are the colour of clotted cream, and are filled with delicately waved petals. 'Jury's Yellow' is a compact, upright variety with dark green glossy foliage that is suitable for a small garden or courtyard. Pot in lime free compost.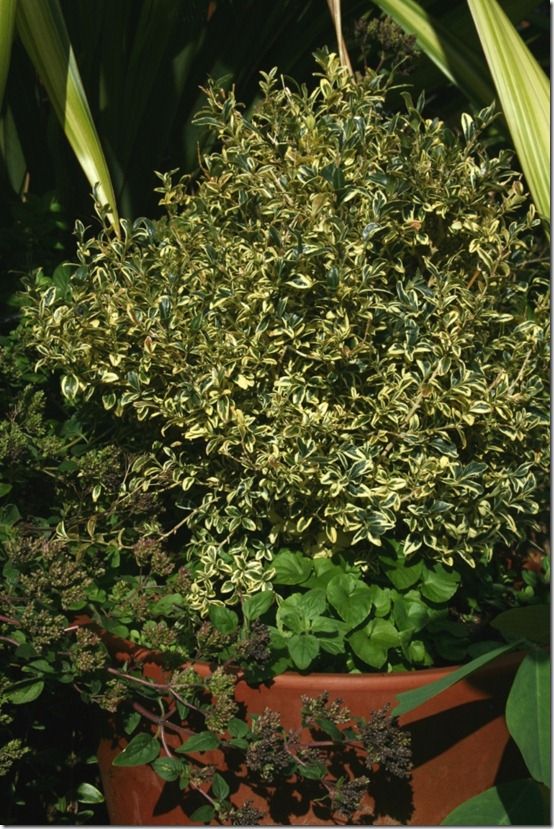 6. Buxus sempervirens 'Elegantissima' Box is a good subject for pots, and is tolerant of shade and dry soil. The plain green-leaved varieties do have a tendency to go bronze in containers, especially when starved. 'Elegantissima' is a slow growing shrub with delightful cream and green variegated leaves. It is less susceptible to discolouration and is an excellent long-term subject for a pot in sun or shade.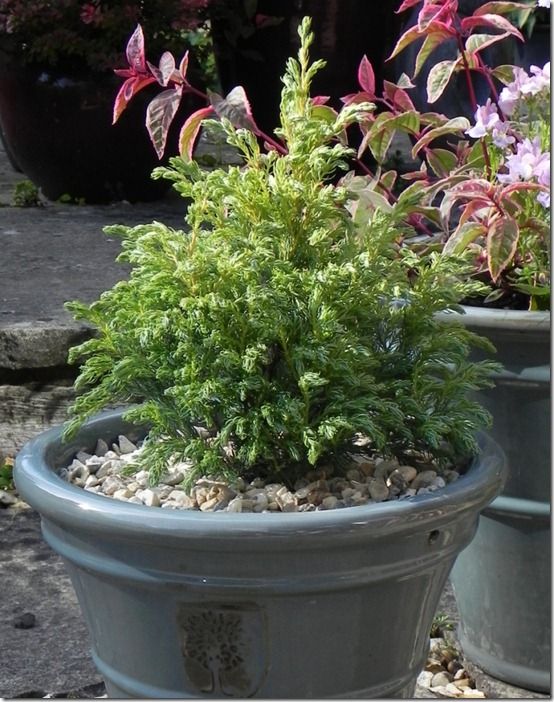 7.Chamaecyparis pisifera 'Boulevard' I'm sneaking this one in; yes I know it's a conifer but that counts as a dwarf shrub. This one has steely blue-grey, curly foliage and a gently waved waved habit. It offers a contrasting foliage form, and can look really stunning in a grey-green glazed pot. Few shrubs look more striking in the winter.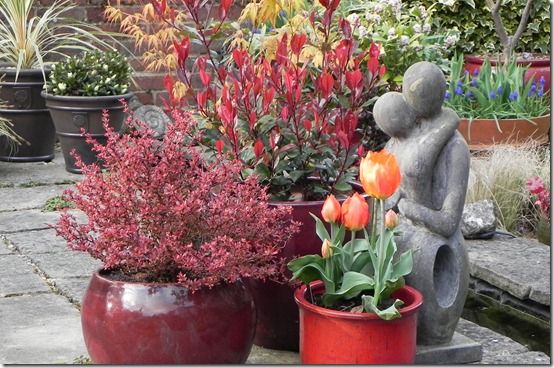 8. Photinia 'Little Red Robin' This is not the large growing evergreen shrub with bright red new growth that we are all so familiar with. This is the dwarf form that grows to 90cm (3ft). It has smaller, darker green leaves than its big brother, and deep scarlet new growth. The more it is snipped, the more new growth it produces, so the more colourful it is! It retains the red new growth right through winter.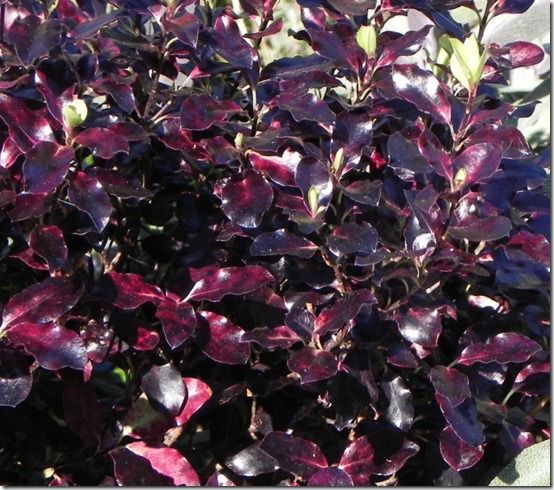 9. Pittosporum 'Tom Thumb' Another dwarf form of a large growing shrub; this one has deep purple-black foliage that is particularly striking in winter. As the days get shorter and colder the colour intensifies. It is a broad, stocky plant in stature, so choose a nice big container.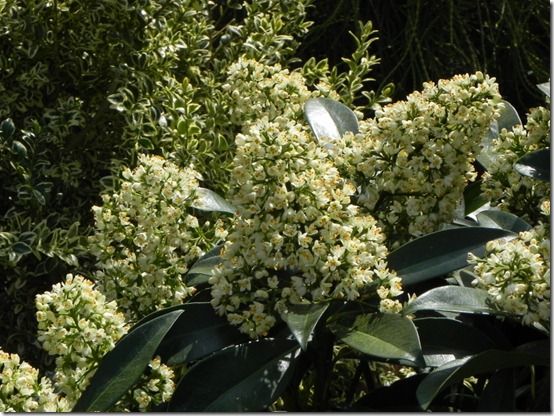 10. Skimmia x confusa 'Kew Green' This is the best of the skimmias in my opinion. A domed shaped shrub with emerald green foliage and pale yellow-green buds that open to creamy yellow flowers in spring. The fragrance is simply delicious: pure lily-of-the-valley. Lovely for cutting too which can keep the shrub in shape.
For general planting I always recommend using a loam-based compost for permanent planting in pots. Remember to use a lime-free formula for ericaceous, lime-hating subjects such as rhododendrons and camellias. Always choose a nice large, good-quality pot at the outset; that way repotting should not be necessary for a few years. All you need to remember each spring is to scrape off the top two or three centimetres of compost, add a handful of controlled release fertiliser and top up with fresh compost.
When choosing your container, a traditional flowerpot shape, in other words wider at the top than the bottom and without an incurved rim is the best bet. A pot which narrows at the neck makes it difficult to extract an established plant when you do have to repot.
So what are your top recommendations for shrubs for pots? I would love to know what's done well for you, and so would other readers.
Stay updated
Receive free updates by email including special offers and new courses.