Topiary at Bourton House. A Trimmed-to-perfection Masterpiece
By Andy McIndoe •
Bourton house is a beautiful Cotswold manor house in Gloucestershire, England. I have visited the garden on several occasions over the years and am always amazed by the attention to detail and excellent standards of cultivation. This garden combines classic borders of perennials and shrubs with amazing topiary and extravagant exotics. What I love about this garden is how elements of it change every time I visit: an established garden that is still evolving. I believe that's what we should all aspire to.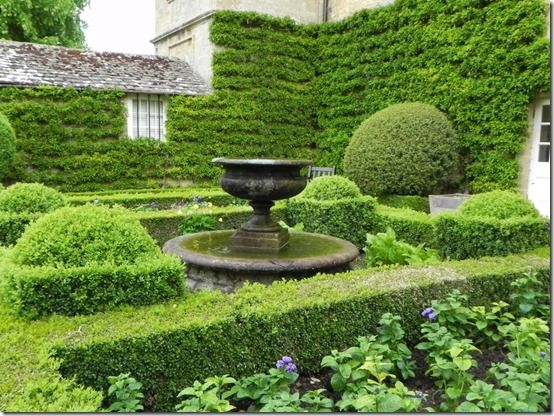 The present garden at Bourton House has been developed since 1983. A fine collection of topiary was gradually introduced including a knot garden, parterre and topiary walk. Box prevails, although interesting green hederas on frames feature as part of the overall picture. The house and garden changed hands in 2010 and fortunately the owners have kept the garden open for the enjoyment of visitors.
Personally I love the eccentricity of the box shapes. I love the soft curve of the cones and the oddly pneumatic spirals along the topiary walk; they seem all the more impressive flanked by neatly clipped box balls. On the other side of the pathway, against a Cotswold stone wall, sloping topped buttresses of box fulfil the role of vegetable masonry. I have always loved that term since a lecturer at university used it. At the time I thought it as a figment of his imagination; I gradually came to realise how important it is in reality. At Bourton House plants often become extensions of the masonry of the house and classic Cotswold courtyard.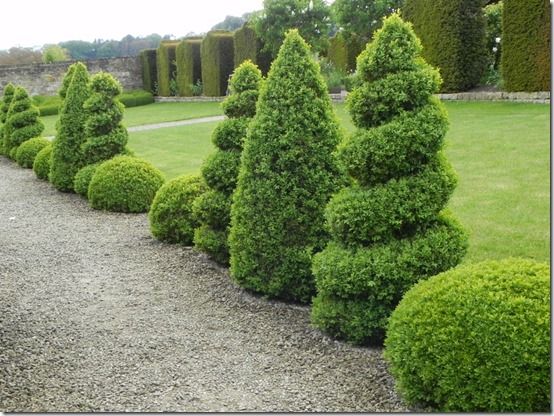 Not far from the topiary walk the corners of a formal pool are framed with neatly clipped box. They resemble those photo corners we used to use when mounting photographs in a traditional album. On each corner of the pool sits a terracotta basket filled with sempervivums, also known as house leeks. These succulents have such symmetry and their ability to survive in challenging situations only enhances their appeal. If I was choosing containers or plants for this situation I would ay that these are too small. However their colour is such a contrast to their surroundings and their form so striking that they have great presence and can easily carry it off.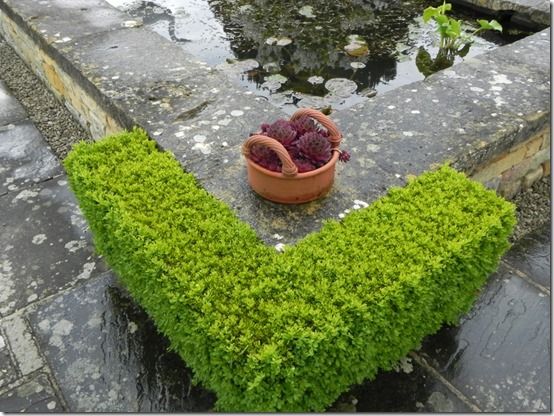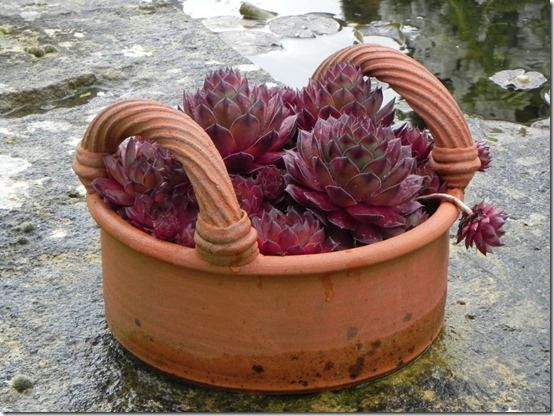 Carefully espaliered pyracantha on the house bonds the green space and structure of the garden with the warm tones of the building stone. This blends seamlessly into another formal parterre surrounding a central classic fountain. The large box balls and domed cubes give this area great strength at the base of such a dramatic stone wall and window. I cannot help but wonder just how demanding the careful clipping and training of plants is on the gardening team. I think you have to be a particular type of person to be dedicated to this type of gardening: patient, exacting and meticulous. I love to admire it but I couldn't do it. I always approach gardening tasks on a mission to get the job done and move on. Maybe that's why my wife described me as a bit of a bodger!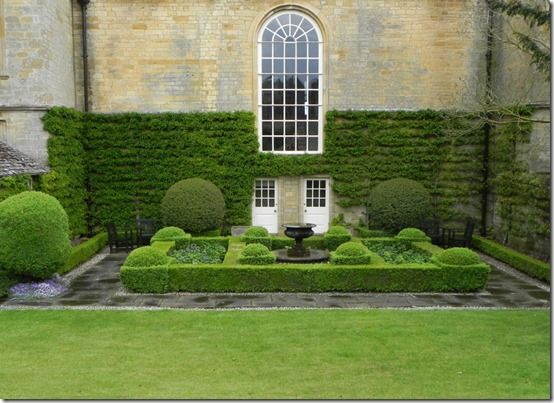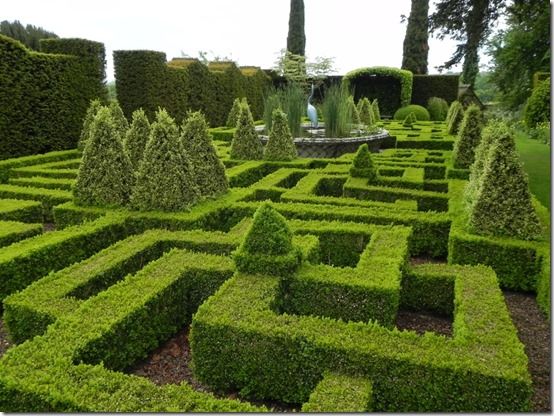 Just when you think there can't be any more topiary you turn a corner an there at the front of the house is the most complex topiary parterre around a circular seat and black gazebo. This is complemented by carefully positioned standard Prunus lusitanica in oak containers against the wall of the house. I love the Portugese laurel as a standard; I think it's more attractive than bay with its red leaf stalks and shining leaves.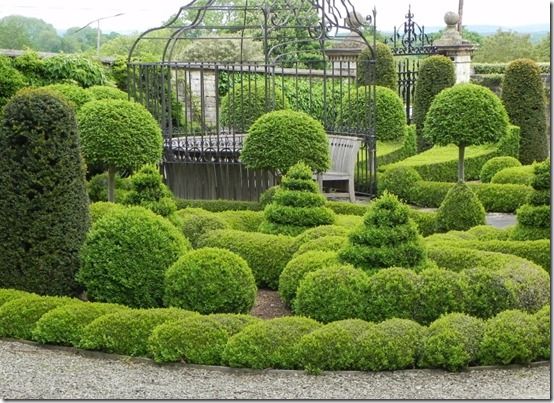 Behind walls of yew hedge the knot garden surrounding a stone edged oval pool is a real gem. A complex angular knot of dwarf box is punctuated by obelisks of the creamy variegated Buxus sempervirens 'Elegantissima'. The pool is graced with slender reeds and a contemporary pair of blue wading birds. At each end of the knot a bower tightly clad in ivy alongside splendid specimens of variegated aralia. The grooming of the garden is immaculate but there are signs of a topiary gardener's worst nightmare: box blight. It is obviously well controlled and the head gardener is a vigilant expert but one cannot help to think the worst could happen.
Enough on the negative. A favourite piece of planting of mine was a long border filled with black cow parsley, Antheriscus sylvestris 'Raven's Wing' and Viola cornuta. The softest, frothiest planting brilliantly contrasted with solid box balls. This border runs in front of a glasshouse crammed with glorious aeoniums and other succulents. These are real vegetable gems: symmetry gone wild. They are just part of the exotic element of the garden: paulownia, abutilon, canna, catalpa and all manner of exotic subjects are planted out amongst more traditional planting. As if life wasn't demanding enough without all that topiary to clip.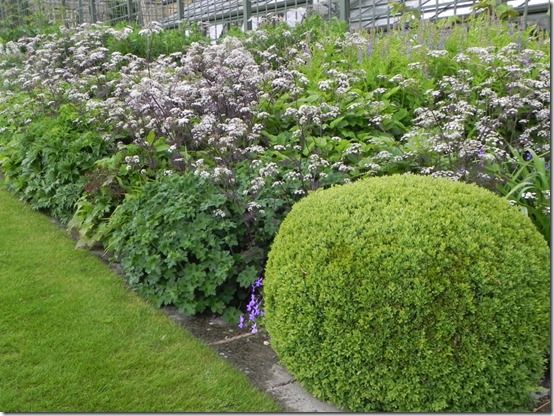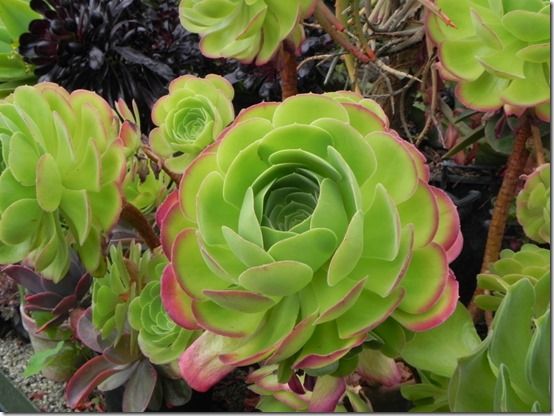 Anyway, Bourton House is a garden I'll return to again and again. It's surprising, rewarding, reassuring but different; besides which they do serve the most delicious cakes!
Stay updated
Receive free updates by email including special offers and new courses.