Trees for Autumn Colour and spectacular fall foliage
By Andy McIndoe •
Throughout the English summer the heavy canopy of deciduous trees becomes so familiar it almost escapes our notice, blending with the bountiful foliage of hedgerow and garden.  As the days shorten, and light mellows our world is transformed as shades of autumn spread through the branches overhead.  Fall foliage in shades of garnet, scarlet, flame and gold smoulders in the blue-grey light of cloudy days, and bursts into flame in the sunshine of brighter ones.
The autumn colour of fall foliage is a chemical reaction. The parts of the leaf that manufacture food break down in the leaf and the nutrients are reabsorbed into the woody branches and trunk for winter storage. The growth of the tree the following season is dependent on this overwintered food store, so this autumn process is a vital part of the life cycle of the tree.   Those readers purely interested in beauty should skip the next two paragraphs, while the analytical ones that like to know why and wherefore should read on!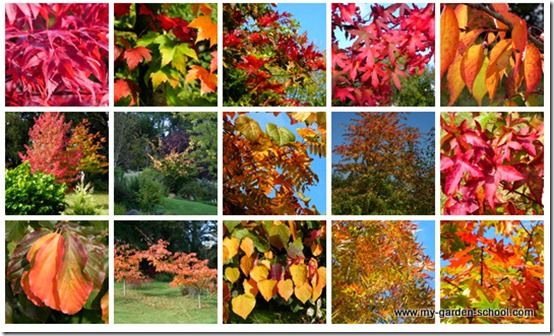 What causes the autumn colours in fall foliage?
Various pigments are responsible for different autumn colours we see. Carotenoids are responsible for the bright yellow colours. They are present in the leaf throughout the year, and are thought to protect the plant's food manufacturing compounds during the summer. Their yellow colour is revealed, and becomes prevalent, when the green pigments are broken down in the autumn and reabsorbed into the plant.
It is thought that anthocyanins, responsible for the red shades of autumn, are actually produced in greater quantity during autumn.  Their function is believed to be one of protection during the breakdown of food manufacturing compounds. They screen the system during the breakdown process, protecting it from the effects of bright sunlight. A steady flow of energy can be maintained in the leaf, enabling breakdown, and absorption to take place completely, without the process ending prematurely.
Fall foliage colour is mainly a phenomenon of deciduous trees and shrubs, but it does occur in some evergreens. Sometimes it is hard to see any advantage to the onset of winter, colder weather, shorter days, less time for gardening!  As a consolation we are treated to the spectacle of autumn colour.  Plant a good tree that tints and those mellow autumn shades could be one of the finest colour displays of the gardening year.
So which are the best trees for autumn colour and spectacular fall foliage?
Many Acers provide outstanding autumn colour, none more than the North American Maples that contribute so much to the spectacular fall display.  The Canadian maple, or red maple boasts some splendid cultivars that give of their best on neutral to acid soils. They grow successfully on chalk but rarely colour well and tend to fall early if the season is dry.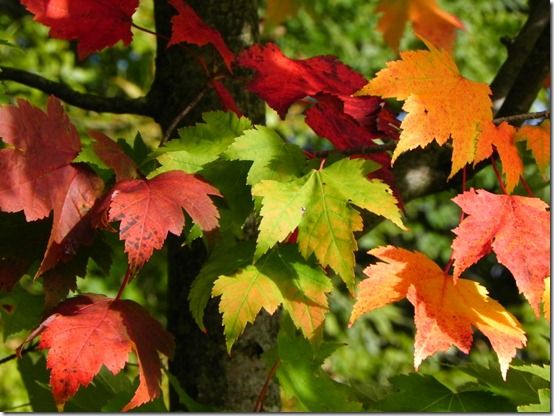 Acer rubrum 'October Glory' is an American selection with long lasting scarlet leaf colour. Acer rubrum 'Schlesingeri' colours early, the leaves turning rich scarlet.   The Canadian maples grow into large trees with splendid cone-shaped crowns.  They are ideal in larger gardens, especially against a dark background of conifers or oaks.   Their glowing autumn colours are so intense the effect is almost unreal and has a bewitching luminosity in low light.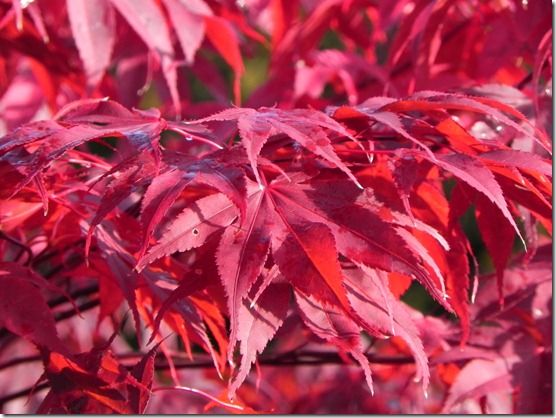 Acer campestre the field maple is rarely mentioned as a tree to plant for autumn colour. This is a British native tree which works well in paddocks, meadows and hedgerows, planted on its own or as a group.  The neat green leaves colour butter yellow in autumn transforming its foliage into one of the showiest mantles of hedgerow or garden.
The varieties of Acer palmatum, the Japanese maples are well known for their rich colours, they are ideal in smaller gardens where space is limited.  The lovely Acer palmatum 'Sango-kaku' is a particularly fine choice: its soft green leaves colour to butter yellow in autumn before falling to reveal glowing scarlet twigs that provide interest throughout the winter. Acer palmatum 'Ozakazuki' is an easy-to-grow maple with comparatively large lobed green leaves which turn a spectacular shade of scarlet in autumn.  It is regarded as one of the finest small trees for autumn colour.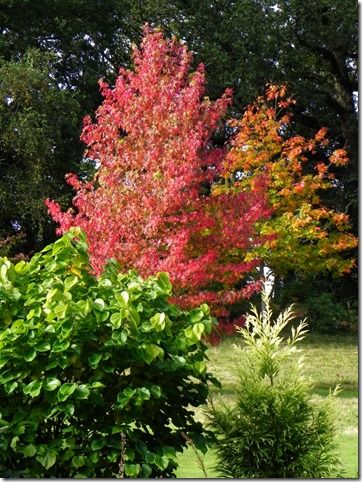 If you have room for a potentially large tree, and do not garden on the shallow chalk soil we have in parts of southern England, then liquidambar is an outstanding choice.   Liquidambar is often mistaken for an acer, but is more closely related to the witch hazel, and produces the most spectacular and long lasting of autumnal displays. The first signs of the rich wine shades in the foliage canopy appear in late summer and the colour often lasts into early winter. When the final few leaves fall the curious winged corky bark that covers trunk and twigs remains a feature throughout the winter.  The cultivar Liquidambar styraciflua 'Worplesdon' has particularly elegant leaf form and brilliant fall foliage in shades of wine, orange and yellow.
In smaller gardens I always recommend small-leaved trees. When the leaves fall grass and plants growing beneath are less smothered, and the fallen leaves disappear reducing the need for constant raking.  There are many excellent varieties of mountain ash which are all trees with more than one season of interest: white flowers in spring, berries in the autumn and often fantastic autumn colour.  Sorbus 'Joseph Rock' is outstanding with a compact head, ascending when young, spreading with age.  The leaves colour in rich shades of deep amber-red flushed with ruby: the perfect setting for large bunches of amber yellow berries.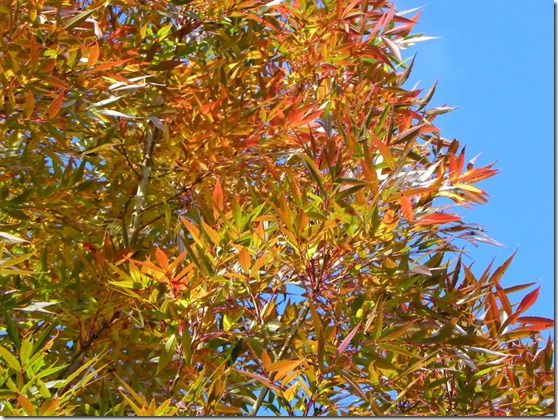 The British native ash usually colours soft yellow in autumn, but is not particularly noted for its display.  Fraxinus angustifolia 'Raywood' is quite a different matter with finer, shinier foliage of deep green.  In autumn its light airy canopy gradually turns to rich plum purple, often streaked with garnet and amber. It is relatively compact in habit so is often used as a street tree; it also make an excellent choice for gardens where its fine leaves will not cause problems when they fall. As this tree has quite brittle branches it is not a good choice for exposed sites.  It is also vital that you protect the base of the trunk from rabbits; they love to nibble the bark!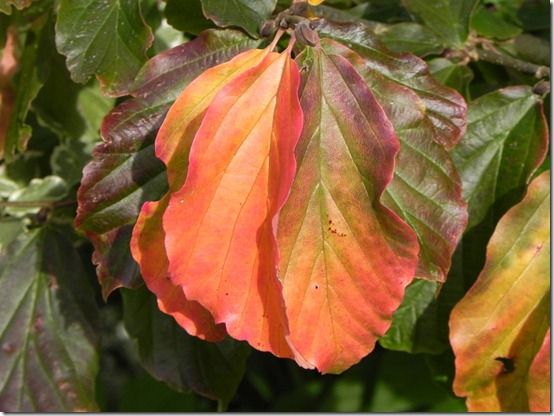 Parottia persica, the Persian Ironwood, is one of the best trees for autumn colour on alkaline soils, growing successfully even on fairly shallow chalk.  A member of the witch hazel family it forms a broad, vase shaped tree with shining green leaves that turn rich shades of mahogany, gold and flame in autumn.  It is lovely as a specimen tree standing alone or in a large bed.  In winter tiny red flowers appear on the bare branches which themselves present an imposing silhouette.
For smaller gardens, and exposed sites Crataegus persimilis 'Prunifolia', a variety of hawthorn, is a good choice.  This has a rounded head of thorny branches clothed in shining emerald leaves that colour gold, flame, red and orange in autumn.   White flowers in spring develop into glowing scarlet autumn fruits that persist on the branches after the leaves have fallen.  In an open position even a young tree can be a spectacle of fall foliage.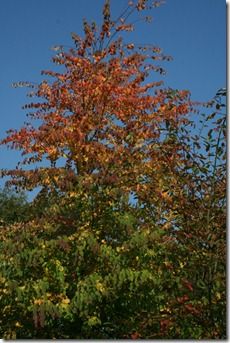 For colour and fragrance Cercidiphyllum japonicum, the Katsura or candyfloss tree is one of the delights of autumn.  This graceful tree has light horizontal branches and heart shaped soft green leaves.  In autumn the leaves turn gold, peach, apricot or orange and exude the sweet scent of burnt sugar which hangs on the cool autumn air.  A handful of leaves warmed in the palms will delight even on the coolest, dampest days.
So which tree delivers the best autumn colour in my garden?  I have many, but the one that surprises and delights is Prunus 'Shirotae', a tree I planted for its double white blossom and spreading habit.  I remember reading the words of Penelope Hobhouse concerning this flowering cherry.  She claimed that if you planted one on each side of a path they would grow together to form an arch; mine did!  In autumn the foliage on the spreading branches turns orange before it falls, and it often surpasses any of the other trees I planted specifically for their fall foliage.  But that's the magic of gardening!
Which are the best trees for autumn fruits? I'll save that for another time.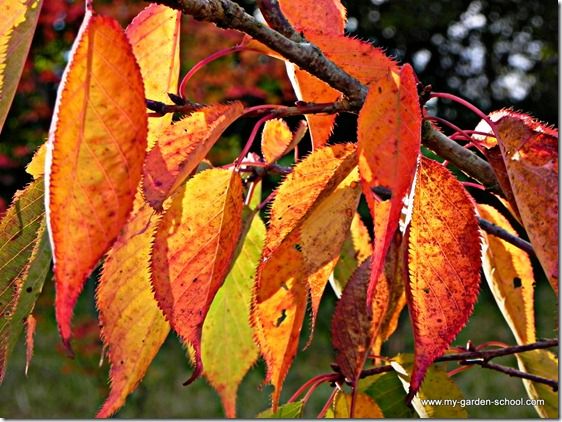 Stay updated
Receive free updates by email including special offers and new courses.