The world's first online foundation course in jewellery with specialist, Joanna Hardy. This course is a must for any enthusiast or indeed aspiring and practising professionals. This course is made up of 8 lessons, each giving you an in-depth lens on different aspects of the world of jewellery.
Recognised by



Knowledge level: Suitable for amateurs, through to enthusiasts and professionals wanting access to a top jewellery specialist


Bourcheron Yellow Gold, Sapphire and Diamond Medicis Bangle, Rene Boivin Amethyst & Diamond 'Grappe de Raisin' Brooch and Van Cleef and Arpels an Invisbily set Ruby and Diamond Forget Ring. Symbolic and Chase. Masterpiece 2017.
"My intention is to create a world class online jewellery school, where enthusiastic amateurs or professionals can be introduced to the world of jewellery. This is my first foundation course. It's appropriate for enthusiastic amateurs or aspiring professionals alike. I'm expecting people ranging from interested hobbiests, career changers, professionals wanting to improve their knowledge – right through to members of the boutique high end jewellery trade. Through my course I can teach you wherever you are in the world. I'm anticipating students from Europe, the US and Asia and beyond. I'm doing this because I'm passionate about sharing the real stories behind jewellery and ensuring future generations are appropriately educated the world over in this fascinating subject."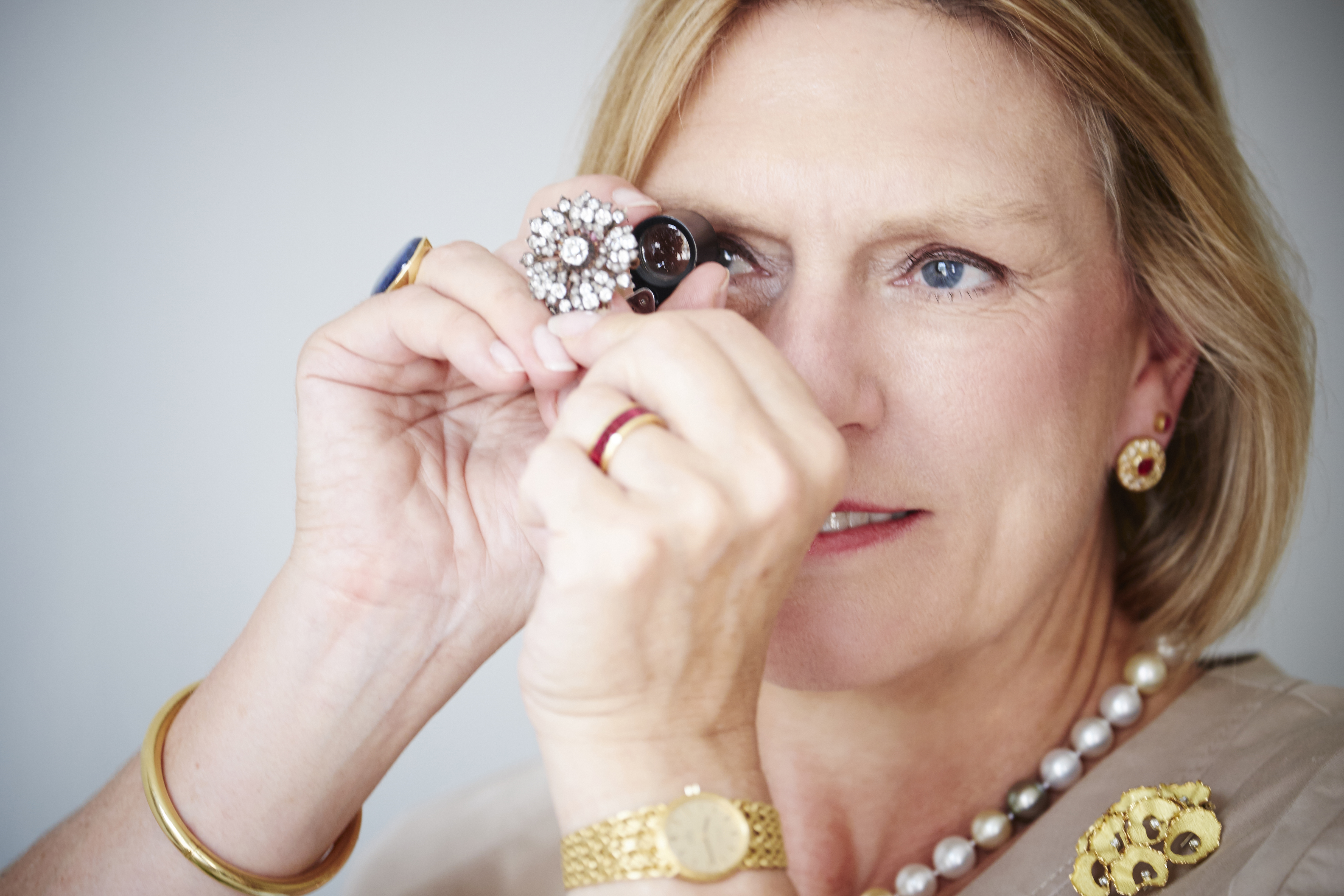 Joanna Hardy F.G.A., D.G.A., F.R.S.A
Joanna has over 30 years experience working with jewellery beginning her career as a goldsmith before joining De Beers as a rough diamond valuer. Joanna then went to work in Antwerp as a polished diamond dealer before joining Philips the auctioneers in London. She then moved to Sotheby's in Bond Street and for fourteen years was their senior jewellery specialist and auctioneer where she was responsible for jewellery auctions worldwide in New York, Geneva and London. She is a published author with her books 'Collect Contemporary Jewelry', and 'Emerald' both published by Thames and Hudson and is a regular contributor to The Daily Telegraph Luxury Magazine. Joanna curates Contemporary Jewellery selling exhibitions, is an accredited NADFAS lecturer, a Freeman of the City of London, a Liveryman of the Goldsmiths Hall, a Fellow of the Royal Society of Arts and is a regular jewellery specialist on the BBC Antiques Roadshow.