Professional Photography Bodies – Are They Worth Joining?
By Geoff Harris •
Which Professional Photographic Body Should I Join?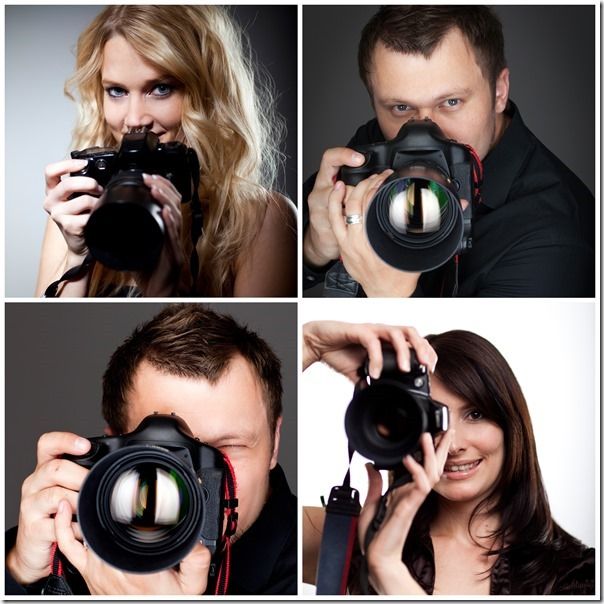 As you progress in your photography, you may consider joining a professional group for your particular genre, or a more general national/international photographic society.
These groups don't tend to come cheap, however, so here we look at what some of the larger ones in the UK have to offer.
The Royal Photographic Society (RPS)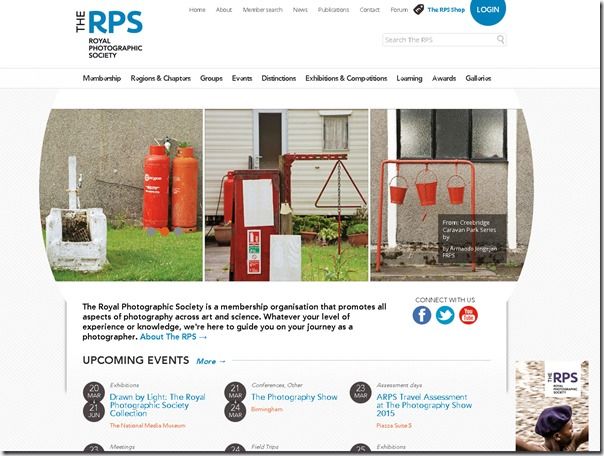 While some would question whether this is technically a professional photographic body, there are certainly lots of professional photographers who join.
The biggest reason for joining is the chance to earn an RPS distinction, which gives you internationally recognised letters to put after your name – I'm an RPS Licentiate, while being a show-off, My Photo School co-founder, Duncan is an Associate (it's only a matter of time before I catch up, D...)
The highest award is a Fellow, an accolade which is notoriously hard to get, but will certainly give you kudos if you are a pro, and an edge over your rivals. Once you get past the Licentiate stage you can earn distinctions in specific genres and styles (e.g. Travel, Contemporary).
The RPS distinction process has been emulated by many other photographic societies, and it's very structured and fair, with the chance to get some invaluable feedback along the way – even if you don't pass.
Another big reason for joining the RPS is the excellent monthly magazine (I must disclose here that I write for it, but I'd read it regardless) and the large number of training courses, workshops and special interest groups.
There are lots of international RPS chapters too. If you are a pro photographer you will also be mixing with amateurs, but if that's not an issue, the RPS is well worth considering. Standard membership is £116 a year but a range of packages are available – details here.
The Society of Wedding and Portrait Photographers (SWPP)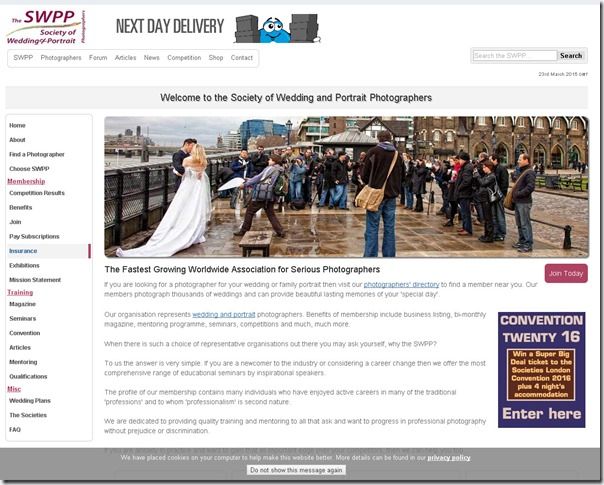 'The Societies' is the umbrella group for a bewildering number of special interest groups, but the SWPP has the highest profile. As with the RPS, you can try for an SWPP distinction once you join, and it's a very similar process in terms of skill levels, image submission and assessment.
There is also an impressively thick magazine that comes through the letter box once a month; although it doesn't have the high production values or breadth of topics you'll find in the RPS Journal, there are some good tutorials and interviews to get your creative juices flowing.
Wedding and portrait photographers can also get listed in the online directory of photographers for free, which can generate leads and help to reassure potential customers.
The SWPP annual convention in London has gone from being quite low key to a significant event in the UK photography calendar, and the society organises a lot of training and workshops. You can join for a reasonable £99 a year – details here.
British Institute of Professional Photography (BIPP)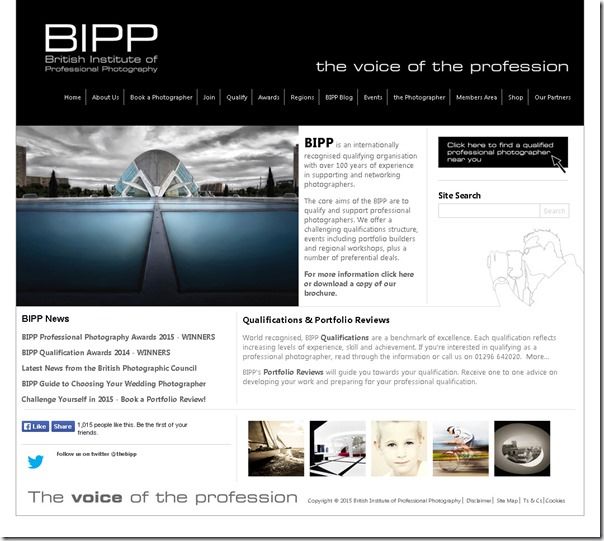 Although it's not quite as old as the RPS, the BIPP still dates back to 1901. The BIPP is a not for profit organisation which focuses on education, qualifications and professional development. As with other national groups, there is a structured and rigorous distinctions programme along with lots of training courses, events and a number of preferential deals on useful products and services.
The BIPP also works with a number of colleges, including the Defence School of Photography and the College of Policing, and represents professional photography to government and industry.
The other benefits of membership include the opportunity to achieve a BA (Hons.) Photography degree through the Open College of the Arts (OCA) via a year of study. Although there isn't a member magazine, there is a blog and active community on the website.
Membership costs £195 but you can't just become a full member without your work being assessed first (you need to send in 30-40 lo res images). Full details here.
The Association of Photographers (AOP)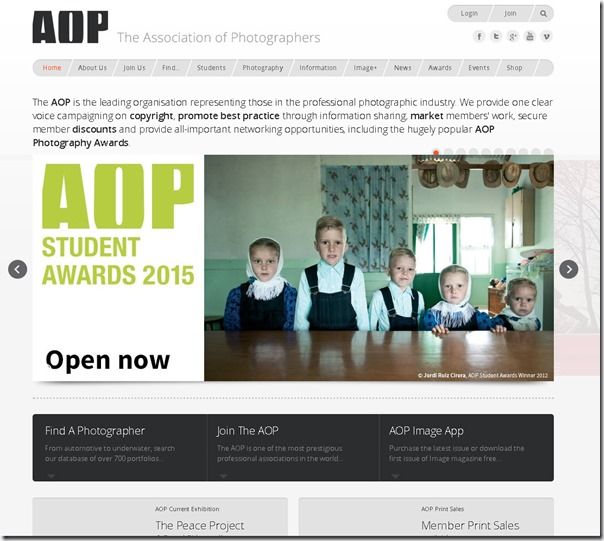 The Association of Photographers was first formed in 1968 as the Association of Fashion and Advertising Photographers, but is now open to a wide range of professional photographers, assistants, agents, colleges, students and "those with with an interest in professional photography."
As with the BIPP and RPS, it is also a lobbying group. Full membership as a professional photographer requires prior scrutiny of your work, and although there isn't a monthly print magazine, you do get access to a member to member forum, the opportunity to enter AOP competitions, and other benefits.
The training calendar doesn't appear as comprehensive as that of other groups, but there are some useful downloads on the website. Membership costs £315 plus VAT, making it the most expensive body in our round-up. Full details here.
So who to join?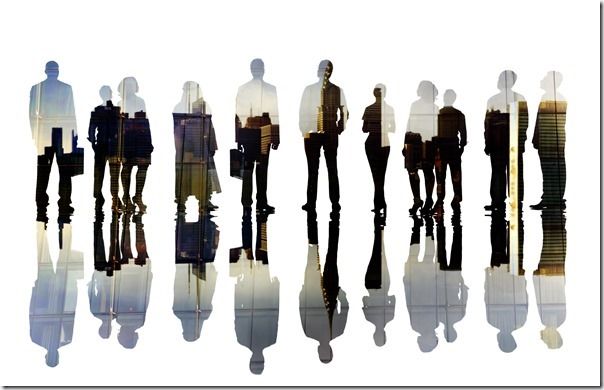 All of these groups are well established and run for the benefit of members, so it's hard to give a 'one size fits all' answer. It depends on what kind of photographer you are, and your reasons for joining. If you wish to join an internationally recognised body and aim for prestigious distinctions, the RPS remains good value.
If you are more interested in getting distinctions in a very specific genre and networking with other pros, then a more specialist professional group may be better suited to your needs. Space limits mean that I cannot cover ever photography/pro photography body in the UK, so do let me know of any other organisation you belong to and how you are getting on.
Stay inspired
Get FREE Photography tips and ideas from our experts in your inbox.