Winter Photography: Making The Most of Snow
By Geoff Harris •
Autumn is slowly giving way to winter. Although autumn is my favourite season photographically, winter brings fresh opportunities and challenges that I always look forward to. Winter of course means colder temperatures and the possibility of snow and ice. Although snow can make travelling difficult, it's usually worth the effort for the satisfaction of creating winter landscape images.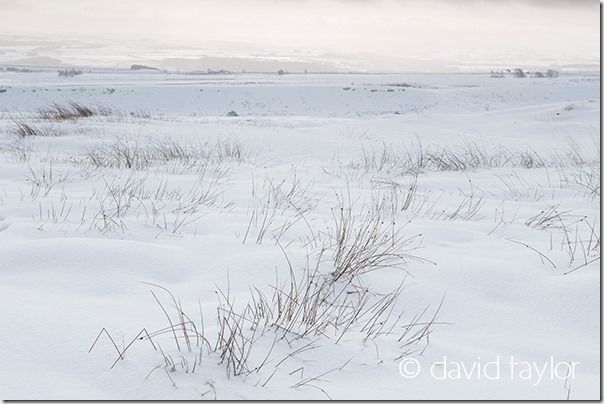 Snow simplifies landscapes

The main reason snow has appeal (well for me anyway) is that it simplifies a landscape, erasing complexity in a blanket of white. The key is to be out early after a night of snowfall. It doesn't take many footprints, animal or human, to ruin the pristine nature of snow. I don't know about you, but I find grey slush slightly melancholy. It's snow that's past its best and gone to seed. One mistake not to make (and it's one that I've made) is not to walk across an area that you later intend to photograph. It's frustrating when someone else does. Doubly so when you've done it yourself.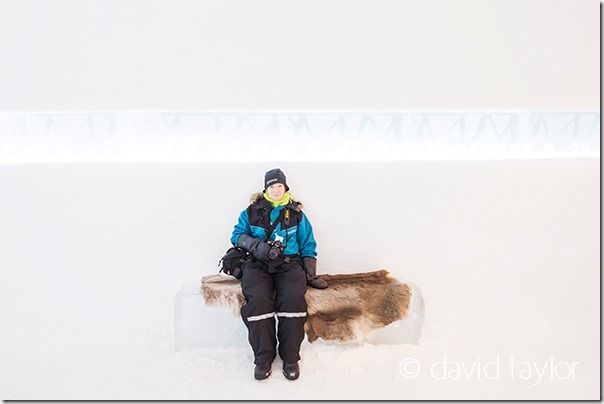 Keeping warm will make you more enthusiastic to stay outside shooting

The fact that there's snow means that it's cold. Cold isn't good for you or your camera's batteries. Landscape photography often involves standing around for long periods of time. Cold will slowly seep through boots and make your feet uncomfortable unless they're well insulated with thick socks. Keeping hands warm can also be a problem. Gloves help of course, though pressing fiddly camera buttons when wearing gloves can be problematic. I've still not found the ideal solution, though two pairs of gloves – one thick outer pair covering a thinner inner pair works. The outer pair stay on when the camera isn't in use and only come off when controls and dials need to be altered.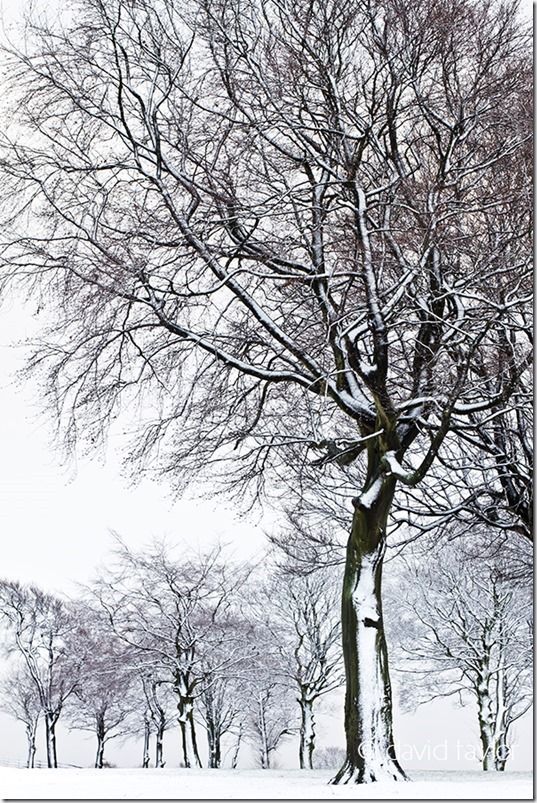 Snow leeches colour out of landscapes, often making images look monochromatic.

Camera batteries are less efficient when it's cold. They tend not to last as long as they normally would do. The solution is to completely recharge your camera's batteries before each session and keep a spare or two inside your jacket to keep them warm until they're needed.

Snow can also have an unfortunate effect on your camera's exposure meter. Reflective meters (the type inside a camera) expect a scene to be averagely reflective. This works most of the time. However, snow is highly reflective. This causes camera meters to typically underexpose snow scenes. The amount of underexposure varies depending on how much snow is in the shot. The more you fill the frame with snow, the greater the risk of underexposure.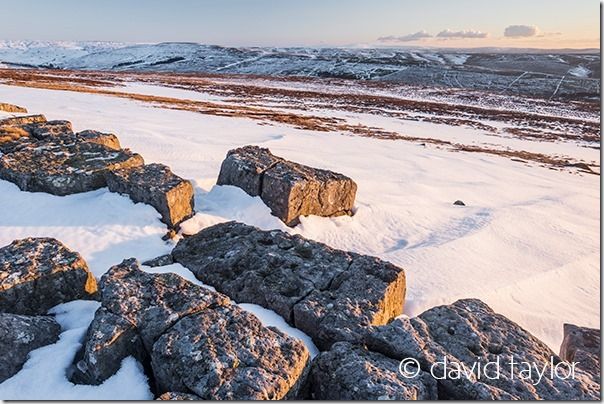 For this shot I spot-metered from the foreground rocks to ensure accurate exposure.

Snow scenes therefore often need you to apply positive exposure compensation – one or two stops is not unusual. The key is to check the camera's histogram (either in Live View or during image review) and adjust if necessary. You don't want to apply too much exposure compensation. The histogram should be skewed to the right, but you shouldn't let it clip the right edge. Do this and the snow will be burnt out and lack detail.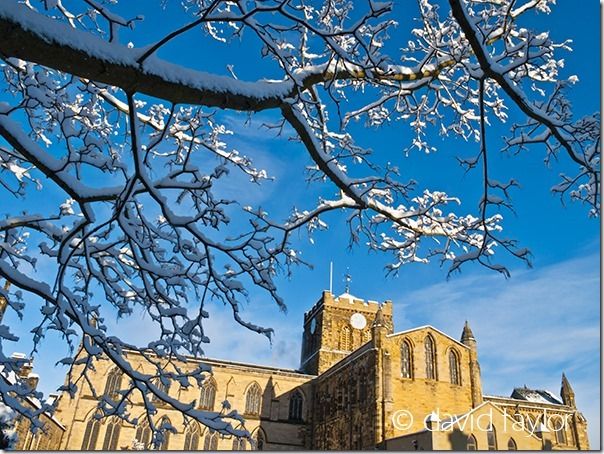 If the snow on the ground is disturbed look up...

For more precision use your camera's spot meter to meter from something in the scene that is more averagely reflective. Rocks poking out of snow are useful. This avoids the meter being influenced by the snow and is generally more accurate.

If you would like to learn more about landscape Photograph why not try these 4 week online photography courses with Sue Bishop and Tony Worobiec.


Fine Art Landscape Photography     Low Light Landscape Photography




 
Stay inspired
Get FREE Photography tips and ideas from our experts in your inbox.