Black & White Photography
Taught by Julia Anna Gospodarou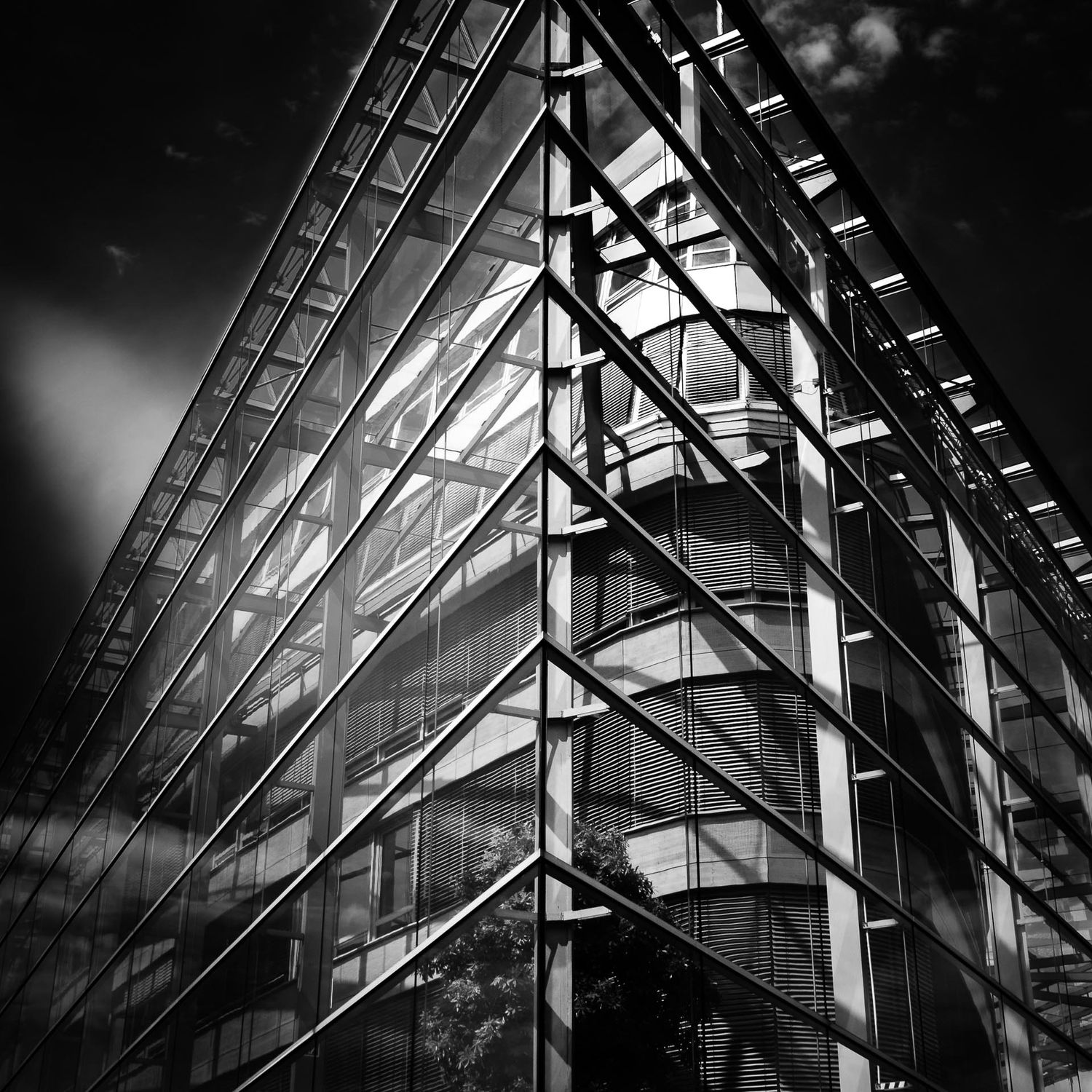 What black and white does is to show light in its purest form.
Course Description
This course focuses on photography as a fine art medium and as a means of expressing your own personal vision. It aims to give you an understanding of black & white fine art photography and how to create it. The course offers both theoretical and practical guidance to help you turn your vision into reality through the images you create.
It is taught by Julia Anna Gospodarou, a multi-award-winning fine art photographer and a successful architect, based in Athens, Greece
.
Julia's course draws on her experience of fine art architectural photography, but the rules and techniques she teaches can be applied to all kinds of black & white fine art photography.
She discusses the new kind of photography she herself practices, which she calls '(en)Visionography.' She argues that in the digital age, photographic images have become less dependent on subject and camera and can be largely the product of the artist's creativity in the digital darkroom.
The four lessons begin with a discussion on vision, fine art photography and creativity generally – why do we do it and what do we aim to achieve with it? They continue with 'The Guide to Vision' which is a set of 'rules' to follow when creating images, drawn from Julia's experience. They are followed by an examination of the importance of composition in B&W photography and suggested techniques for composing your images. The course concludes with the all-important processing stage when your RAW images are transformed into fine art prints in the digital darkroom
,
where Julia explains how to process your images with her B&W processing method Photography Drawing."
'Black & White Fine Art Photography & Beyond' gives a fascinating insight into the creative thinking underlying the work of a successful contemporary fine art photographer, and in turn offers inspiration for students who want to explore their own creative path.
Week 1: Vision and (en)Visionography – the new fine art photography

The course begins with an examination of why we create art and what makes a fine art photograph. Julia talks about the artist's vision and why it is so important in photography. Then she moves on to discuss the principles underlying her own fine art photography, which she calls (en)Visionography - "writing with vision." This approach is made possible by digital imaging and focuses on the photographer's own personal vision, rather than the subject itself, in the creation of images. The aim of this lesson is to encourage students to think about photography in a completely new way and to begin developing their own unique voice.
Week 2: The Guide to Vision - how to find your vision and personal style
Here Julia applies the theories outlined in the first lesson to a course of practical action in her 'Guide to Vision'. It takes the form of 35 'rules' giving advice on how to achieve your own personal vision. They include her belief you should photograph what you love, not what is fashionable; that you should decide on a direction and stick to it; and that you shouldn't regard software as anything more than a tool. By the end of the lesson, students will have a series of wide-ranging practical rules to guide them in the development of their work.
Week 3: Composition in black & white fine art photography: composition as a basis for creation
Learning how to compose a photograph is a vital skill. This lesson is a discussion of the principles of composition and its crucial role in creating effective images. It is illustrated with many practical examples and includes a discussion of a range of compositional techniques. Julia talks about ways of effectively placing subjects in the frame and compositions using light & shadow, repetition and patterns. Among other subjects, she discusses using foregrounds and backgrounds, balance and symmetry and ways to create depth in your images. Armed with this practical advice, students will be able to think more clearly about how to approach and frame an image for maximum impact.
Week 4: Photography Drawing: from vision to the final image – black & white processing method
Julia's final lesson concentrates on her own method of creating fine art images, which she calls Photography Drawing. Using this method, she draws on the basic rules and principles used in classical and architectural drawing, and incorporates them into her processing technique. She looks in detail at using light and shadow areas to create depth and volume in your images and lists the processing steps necessary to complete the creative process. The goal of this lesson is to show students how RAW images can be transformed into the final result: black & white fine art prints.
Requirements
You will need to have a basic understanding of photography and of your equipment to attend this course, but you don't need to be a camera specialist or to own high-end equipment in order to create fine art photography and to follow your vision. You only need to learn to use the tools you have to express yourself.
A DSLR is required if you want better quality RAW images but any camera that shoots RAW is good (mirrorless etc.). Also you can use film cameras and scan your photographs in order to process them further and submit them in your assignments. I would recommend a wide angle lens or an over-all zoom lens to give you more freedom of creation, but you can use your favorite lenses too. You can use a tripod and a set of ND filters (my recommendation for ND filters would be a 10-stop + 6-stop + 3-stop one) if you want to work with long exposure photography in your assignments, but it is not compulsory. A camera having the BULB function is also required if you want to shoot long exposures. Also required is a processing software, like Photoshop, Lightroom, Aperture etc., to which you can add your favorite plugins or other software.
It is also recommended to purchase the book "From Basics to Fie Art - B&W Photography" by Julia Anna Gospodarou and Joel Tjintjelaar as a way to enrich the course notes and deepen your knowledge in fine art photography
Course outline
Week 1: Vision and (en)Visionography

Week 2: The Guide to Vision

Week 3: Composition in Black & White Fine Art Photography

Week 4: Photography Drawing
Choose how you want to learn
The

Expert option

Recommended

Develop your learning further with marked assignments and personal tuition from Julia Anna Gospodarou

Start course whenever you like
4 weeks tutor access for personalised assignment feedback & coaching
4 assignments marked by Julia Anna Gospodarou
Certificate of completion from Julia Anna Gospodarou
Online classroom with up to 20 classmates
4 lessons with expert videos & notes
Group chat & direct message with tutor & classmates
Lifetime access to videos, notes & classroom

Learn more

The

Peer option

Discover the benefits of group learning in an online interactive classroom of no more than 20 people. Get the most from shared knowledge and community study

Start course whenever you like
Practise what you learn with your peers
Online classroom with up to 20 classmates
4 lessons with expert videos & notes
4 course assignments
Group chat & direct message classmates
Lifetime access to videos, notes & classroom

Learn more
About Julia Anna Gospodarou

Architect with a Masters degree, multi award-winning black and white fine art photographer with high distinctions in the most important photography competitions worldwide, highly sought after educator and writer, Julia lives in Athens and is mostly known for her black and white long exposure architectural photography, which shows her signature style and expresses her artistic sensibility.
Architect with a Master degree and multi-awarded internationally black and white fine art photographer (en)Visionographer, with high distinctions in the most important photography competitions worldwide (SWPA, IPA, PX3, IFPA, BW Spider Awards, ND Awards - 1st, 2nd, 3rd Prizes and other distinctions), Julia lives in Athens and is mostly known for her black and white long exposure architectural photography, which shows her signature style and expresses her artistic sensibility.

In her architectural career she has worked at some of the most important projects and constructions realized in Greece over the past years, conducting projects and working next to famous names of Greek and world architecture like RTKL London or Santiago Calatrava.

Author of the best selling book FROM BASICS TO FINE ART - Black and White Photography - Architecture and Beyond http://bit.ly/basicstofineart written with co-author Joel Tjintjelaar, the book is considered by many critics one of the best book on black and white photography of the past decades,.

Prestigious black and white photographer and instructor George DeWolfe says about the book From Basics to Fine Art:
I consider Julia's (en)Visionography and Photography Drawing the most important innovation in B&W photography since the invention of the Zone System. (...) Outside of Ansel Adams Basic Photo Series, From Basic to Fine Art: Black and White Photography – Architecture and Beyond, by Joel Tjintjelaar and Julia Anna Gospodarou, is the best book on black and white photography written in the last 40 years.

Julia has created a theoretical background to define her photography and fine art photography in general, of which the term (en)Visionography™ - www.envisionography.com , is the keystone. (en)Visionography is a new name for photography that aims to define photography in the digital era in a better way than the traditional name "photography" and it has behind it a theory saying that fine art photography is mainly the product of the vision of the artist and it is not so much subject or camera dependent. This theory reflects also in her personal creative and processing method Photography Drawing (PhD™), method based on how light interacts with volumes and how this can be translated in an image by using the principles of classical drawing in black pencil, applied to black and white photography.

Julia always loved sharing her knowledge with others; this is why she creates fine art photography tutorials (vision, processing etc.), teaches photography workshops worldwide, for groups or private and mentors students online. In addition, Julia provides consultancy for other workshop organizers.

Her professional activities include working on commissioned photography projects.

To book one of Julia's workshops or mentoring programs, or to work with her on commissioned projects, please visit for details the page Workshops & Services.

Julia is a member of the prestigious Image Masters gallery by DxO, a Featured Artist for Formatt-Hitech and writer-contributor to Topaz Labs and other photography knowledge programs, being endorsed by some of the leading photography related companies, in the field of gear, software or fine art publishing, among which Formatt-Hitech, Topaz Labs, DxO, SmugMug, Camerapixo, Stark Magazine etc.

Published internationally in numerous books and magazines, Julia's photographic work can also be seen online in the most important photography galleries.
For more information on Julia's photography and services you can consult her website: http://www.juliaannagospodarou.com/