Dark purple delights: 'Black flowers', deep purple foliage, red roses and guilty pleasures.
By Andy McIndoe •
Dark delights: Plants with dark purple foliage, deep purple 'black flowers', red roses and guilty pleasures.
Last time I talked about colour I was saying how much I loved those fall colours: flame, orange, red and gold.  I am drawn to these shades throughout the year, but sometimes they can be difficult to fit into the rest of the planting. That is unless you combine them with dark foliage.  Plants with wine, plum, purple, almost black flowers and leaves are great mixers and have the power to accentuate any other colour they partner.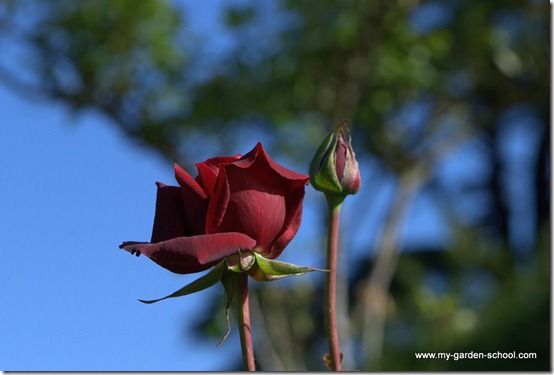 I remember my first visit to Giverney, to the famous Monet's garden – one that I always think looks better in pictures rather than being amidst that hotch-potch of plants, cameras and tourists. There was a dark purple cotinus growing by the stream with a burnt-orange daylily, hemerocallis growing through it.  The day lily had jewel-like qualities and those blooms took on a more sophisticated character set against the velvet ground of the cotinus.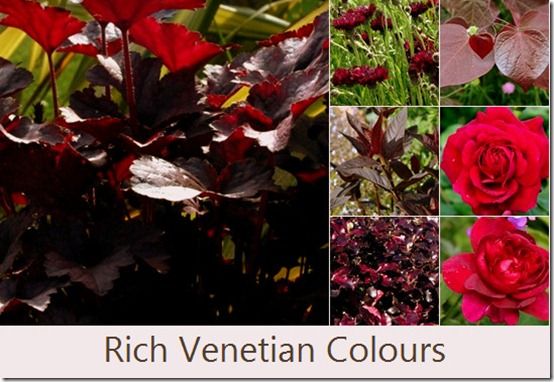 When you think of it that dark foliage works with any other colour, that's why I use it extensively in my exhibits at Chelsea Flower Show. Acers, physocarpus and berberis all fit the bill, also those dark purple foliage heucheras with their gently waved leaves; perfect beneath crimson and purple Japanese azaleas. I like to put all of these rich, dark foliage and flower colours together: purple rhododendrons, red roses, deep red foliage Japanese maples, purple heucheras, sometimes with burnt orange azaleas. I used this combination in 'Adventures in Gardening', a journey through your imagination; where plants can take you in the way you put them together, with just a little creativity.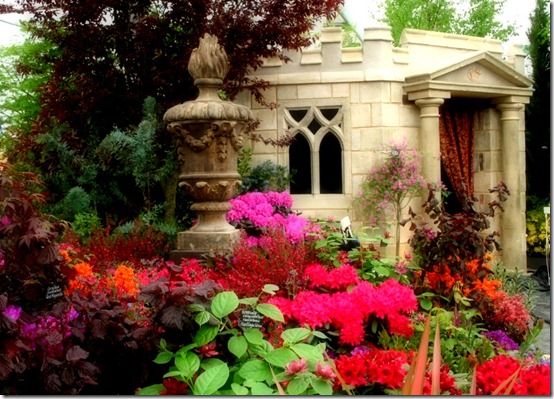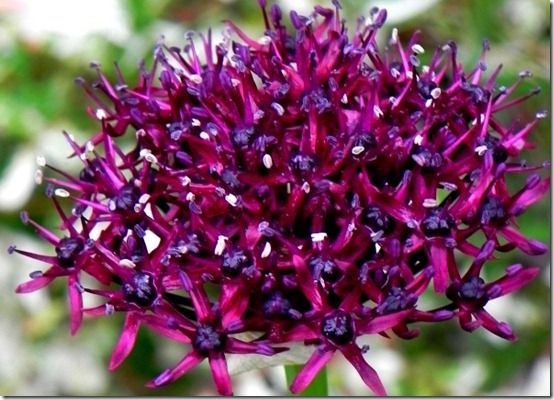 This garden was based on Venetian colours: the hues of velvet, Murano glass, tapestry; rich and extravagant. Rhododendron 'Colonel Coen', with its dark purple flowers fitted the bill perfectly.  When it comes to red roses, Rosa 'Darcey bussell' and Rosa 'Mustead Wood', both David Austin English varieties always fit the bill. These are both reliable performers with the deep crimson velvety petals that everyone imagines a red rose should have.
Of course my palette of plants at Chelsea is always limited by the season and what holds up at the show.  Ideally I would add dark red peonies; I have the lovely Paeonia 'Lord Kitchener' in my garden with its flamboyant blooms filled with ruffled silky petals. I love the idea of dark blue or purple bearded irises in a planting combination but they do not like the close company of other plants and soon fail to produce those exquisite flowers.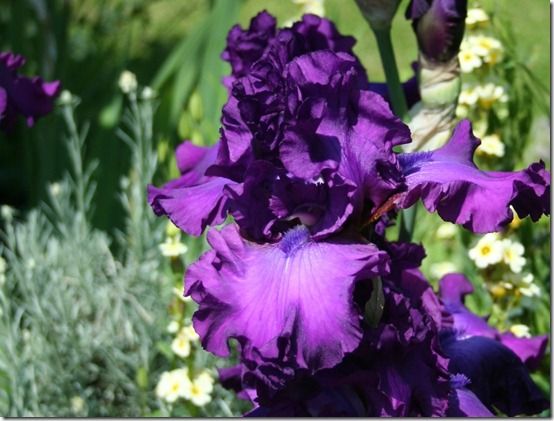 However, I have discovered new dark delights which grow well amongst other low shrubs and perennials. Allium atropurpureum is a tall, slender allium with starry flowerheads of dark blackcurrant and plum. Rising out of the border amongst brighter subjects it steals the show;  I grow it with dark red astrantias against the dark purple black Sambucus 'Black Lace' (Sambucus nigra f. porphrophylla 'Eva'). Try it, you will love it! The black flowers of cornflower Centaurea 'Black Ball' is great to tuck into gaps in the border. This is a Sarah Raven favourite, another gardener always extolling the virtues of Venetian colours with black flowers.
The two other purple foliage subjects I would never be without are Lysimachia 'Firecracker' and Cercis 'Forest Pansy'. The former is a somewhat invasive perennial whose rhizomes do run around the border.  I forgive its wanderings when those dark shoots arise in spring, perfect with dark tulips and lime-green euphorbias.  The cercis is probably my favourite large dark leaved shrub, sometimes small tree.  Its heart shaped leaved are velvety when mature, shining when young; dark and delicious. In fact it gives me the best of both my colour worlds as it colours flame, gold and orange in autumn.
As winter approaches the colour of Pittosporum 'Tom Thumb' becomes even more intense.  In summer I would describe the foliage as purple-black.  As the days get colder the colour gets richer and seems shinier.  This is one of the few dark foliage evergreens and is probably the shrub with nearest to black foliage. It grows to around 1 metre/3 feet in height and is best in an open sunny position.  It looks truly stunning planted behind cornus grown for their winter stems.  Of course in autumn it would be the perfect partner for jewel-coloured asters such as 'Sapphire', 'September Red' or deep cerise 'Alma Potschke'.
So have you moved over to the Dark Side in your garden?  Do you yearn for wicked black flowers?  Which are your secret dark guilty pleasures? Let's share those dark secrets – I look forward to hearing them!
Stay inspired
Get FREE Gardening tips and ideas from our experts in your inbox.