Here in England the rich tints of autumn (fall colors) are spreading gradually through the foliage of trees and shrubs, lighting up the hedgerows and breathing new life into gardens before winter strips them of their leafy canopy.  I love this time of year, not only is it one of the longest seasons in the gardening year, but it also showcases some of my favourite fall colors: what I call the sunset shades. Flame, orange, purple-grey and rich gold: warm shades, more subtle than those hot colours of summer exhibited by some perennials and seasonal bedding plants.  The light is kinder too, soft and somewhat reluctant, compared to the edgy fresh light of spring and heavy overhead rays of summer.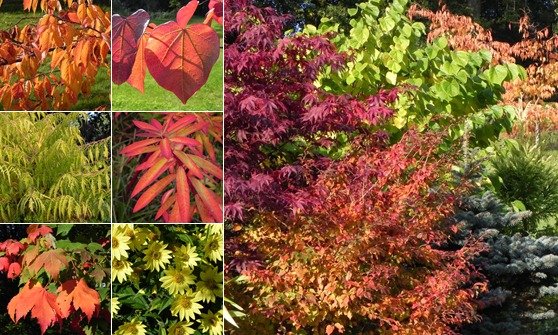 Planting for Fall Foliage Color
VIEW SLIDE SHOW
DOWNLOAD ALL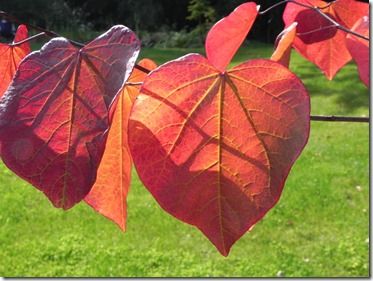 The phenomenon of fall foliage with its incredible showcase of fall colors is something that those of us living in cool temperate regions take for granted.  It's caused by the change in leaves that enables a plant to reabsorb the nutrients from its leaves and store them over winter. You don't want me to get more technical than that do you? The rich fall colors are something we admire, and I don't recall hearing anyone say that they don't like yellow or orange at this time of the year.  And yet these are hues of fall colors that some avoid in their homes, wardrobes and gardens; perhaps they are regarded as loud, unsubtle, attention grabbing shades that are hard to live with? Perhaps we find them too unsettling; far from relaxing, soothing and easy to live with.  So why do they suddenly work in autumn?  Do they make you feel good as they creep through the fall foliage in your garden?
Much has been written about the effect of colour on wellbeing and mood, and the power of colour in our environment; a fascinating subject and one that I have used on many occasions in my exhibits at Chelsea Flower Show.   A few years ago, in "The Dove Garden" at Chelsea we created four patio gardens all with the same paving, same cream coloured arbour, and same pots. The only difference was the colour of the pots and the planting: each one representing a different time of day.  The 'Morning Garden' had lime green pots, pale yellow, silver, blue and lime planting: fresh, zesty and uplifting.  The 'Afternoon Garden' had mauve-grey pots, pink, lilac, mauve, blue and purple planting: soft, relaxing, and warm like a summer afternoon in the garden.  The 'Evening Garden' was my favourite: deep red pots, flame, gold, deep blue, red and purple planting; the colours of sunset.  The 'Night Garden' had black pots, silver, white and black planting: striking, mysterious and romantic.  Each garden had a completely different effect and summoned a different feeling from visitors.  Every visitor had their favourite, a colour palette that he or she felt comfortable with; one that reflected his or her personality.  Unfortunately I can't share pictures with you because this was before the days of digital photography. I'll have to leave it to your imagination. I loved all of these colour schemes, but the 'Evening Garden' was mine.
Which would you have chosen? Which colours do you gravitate towards? Do different colours affect your mood? If you hate orange do you love the shades of fall foliage?  If you avoid yellow does a tree in its autumn gown of gold make you feel good and why?
Over the next few weeks I'm going to be talking colour. How different colour influence how we feel; and how you can use them in your planting.  I'm also going to be talking about the best trees and shrubs for autumn colour, those with fall foliage that will light up your garden and patio.  Do let me know about your favourites: colours and plants, also why you like them.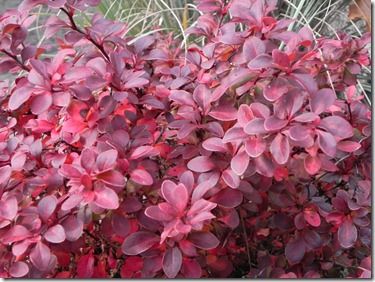 One of my favourites for patio containers is the stunning Berberis 'Admiration'.  This little gem looks good from early spring when the first orange-red leaves appear on the spiny branches.  Through summer the leaves are wine red, later with a fine gold rim around the edge of each leaf.  As the days get shorter and cooler the autumn colour develops, culminating in the most vibrant flame fall foliage in the whole garden.  I have 'Admiration' planted in a rich ox-blood red pot and it delights me every year.  In autumn team it up with the rich caramel shades of heucheras which stay looking good through the winter months.  In spring I partner it with pots of tulips: guess what colour? Yes, the luscious flame orange 'Princes Irene'.  Look out for lots more suggestions over the next few weeks or why not join me on my Designing with Shrubs course? Lots of suggestions about using colour to create maximum impact in your garden at all times of the year.
Stay updated
Receive free updates by email including special offers and new courses.