Get Your Garden Touched by the Design-Hands of the Greatest Gardeners of our Time – Without the Expense of Meeting Them
By Alex N •
Critically Acclaimed Gardening Greats: John Brookes (MBE), Noel Kingsbury, & Michael King, Launch New Online Courses with MyGardenSchool to Propagate Gardening Excellence Globally.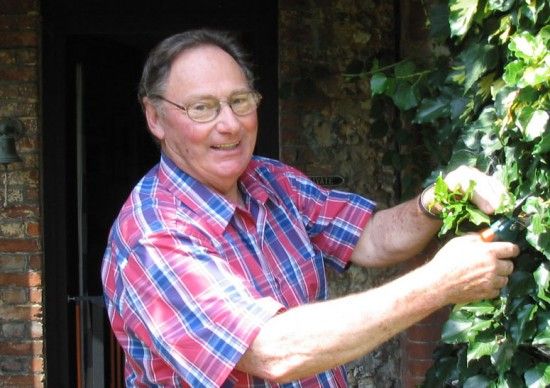 Perhaps the most influential living landscape designer of our time, John Brookes MBE, is launching two new online garden design courses with the world's first virtual gardening school - MyGardenSchool..  The new gardening courses - 'Design Your Own Small Garden' and 'Design Your Own Large Garden- are designed to enable enthusiasts across the globe create their own designer gardens under John Brookes' careful guidance. .  Both design courses start in May to coincide with the Chelsea Flower Show (and then run the first Saturday of every month).  They are bookable now via the MyGardenSchool website.  Brookes' two new courses: enable students, wherever they live in the world, to produce their own garden designs, with the help of expert tuition, and a little of the John Brookes magic.   Brookes' existing MyGardenSchool garden design course has proven to be a great success over the last year with both aspiring garden designers and enthusiastic amateurs alike.

 

Brookes explained "The 'virtual' teaching method I use at MyGardenSchool simply works.  I enjoy it because it gives me an exciting and eclectic classroom, with students from as far afield as the US, Japan, Croatia and Holland.   Students love it because they can benefit from my personal tuition, and personalised garden plans, without the inconvenience, and cost (to both themselves and the planet) of having to travel to get them. MyGardenSchool enables me to teach, and for students to learn, from the comfort of our own homes. Of course this also enables us to keep costs down, which means the students get incredible value for money, and come away with a designer garden at the end of their courses, which will hopefully give them pleasure for years to come.'

 

Joining Brookes in launching new MyGardenSchool courses are Michael King and Noel Kingsbury.  Both acclaimed gardening authors, they have collaborated with Dutch designer and plantsman Piet Oudolf, on seminal planting design books.  Michael King has spent the last twenty years living in the Netherlands where he writes, designs and gardens.  His new MyGardenSchool course on Designing with Grasses will be available in late Spring/Early summer.

 

Best known for his ecological or naturalistic approach to planting design, Noel Kingsbury has written some 20 books on various aspects of plants and will be launching a course on Perennial Planting in the Late Summer/Autumn.  International writer, and acclaimed plantsman and lecturer, Noel Kingsbury has developed this online gardening course to teach you new ways of planting design with perennials. 
Noel takes you through a broad look at a variety of contemporary approaches to using perennials, with a particular focus on naturalistic approaches. The course provides a particularly strong theoretical basis, but with plenty of plant variety tables provided for helping you choose plants.

 

Noel is a great advocate of a new way of using perennials that works with – rather than against – nature. On the course, Noel explores how to make planting schemes designed to suit the existing condition of your own garden, covering a wide range of temperate zone climates; for example if your soil is poor and fast draining, he will guide you through the basic principles of choosing plants which not only survive but flourish in these conditions.

 

Noel has made a particular study of contemporary European planting styles, and has collaborated on several books with leading designer Piet Oudolf, so he is in the best position possible to outline how to make successful planting designs which combine structure, a long season of interest, support for bio-diversity and sustainability – reducing or eliminating irrigation and minimizing maintenance. Noel Kingsbury shows how it's done from first principles. A one off opportunity to get personal tuition from a world expert in perennial planting.

 

This means your garden can now be touched by the design-hands of the greatest landscape designers or horticultural writers of our time – without the costs associated with meeting them in person.

 

Elspeth Briscoe, Founder of MyGardenSchool added:  "We're launching the new John Brookes design courses to co-incide with The Chelsea Flower Show.  Chelsea inspires a global audience to turn its attention to its own outside space, but sometimes people need that extra guidance to see it through the design and implementation phase.  We're also very excited to have Noel Kingsbury and Michael King teaching with us – imagine having their advice on your own garden, without even having to leave home to get it. "

 

She added:  "MyGardenSchool aims to provide the best authors and designers in the gardening industry with a global stage on which to share their knowledge - and gardening enthusiasts, wherever they live, with a place to go to get first class teaching in their homes.   We are the facilitators, fulfilling a hunger for high quality gardening expertise online in the global market"

------ Ends -----

About John Brookes, MBE.
John Brookes MBE FSGD has designed and built well over 1000 gardens during a career spanning 50 years. His extensive portfolio includes traditional English gardens both formal and informal, modern, minimalist, Islamic and wild gardens. He has won numerous awards throughout his career including 4 Gold medals at Chelsea, and recently the Garden Media Guild Lifetime Achievement Award. John is also a successful and prolific author, having written 24 best-selling books, and countless articles for newspapers and magazines. He lectures on garden design in UK and overseas and runs a design school in Argentina.

About Michael King
Michael's passion for gardens and plants started in his teens and lead to a university degree in botany and microbiology in Great Britain. A career in finance, lead to the position of Secretary to the Board of Trustees of the world famous Royal Botanic Gardens at Kew.. For the past twenty years Michael has lived in the Netherlands were he, writes, designs and gardens. His first two books, written jointly with Piet Oudolf, revealed how to use ornamental grasses and other perennials in the new naturalistic gardens. In all Michael's books the emphasis is on how to use plants to best effect in a garden's design.

About Noel Kingsbury
Noel is internationally known as a writer - about plants, gardens and the environment. He teaches and lectures, and is also a garden/planting designer and horticultural consultant. Best-known for his promotion of what is broadly called an ecological or naturalistic approach to planting design, Noel's written some 20 books on various aspects of plants and gardens, two of them in collaboration with Dutch designer and plantsman Piet Oudolf. Over the years Noel has written for Gardens Illustrated, The Daily Telegraph, The Guardian, The Garden, Hortus and many other publications.

About MyGardenSchool
MyGardenSchool is the world's first online gardening school where students can learn from gardening experts about how to do absolutely everything in the garden from keeping bees or hens, landscaping, design, growing vegetables and herbs, building treehouses or growing the perfect roses. And everything in between. All of our tutors are outstanding in their field (and gardens), being accomplished gardeners and acclaimed gardening writers. Gardening courses are four weeks long, and video tutorials are delivered weekly, together with course notes and assignments assessed by your tutor. You also get to chat to your tutor online, as well as your classmates, in the 'virtual classroom'. MyGardenSchool will teach you everything about gardening – virtually. But don't take our word for it - check out our course pages here: (http://www.my-garden-school.com/courses/)

 
Stay updated
Receive free updates by email including special offers and new courses.