MyGardenSchool's Gardening and Garden Design Trend Predictions for 2012
By Alex N •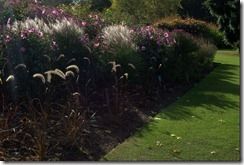 1.  Less Lawns; More Planting: As people globally become more aware of their own energy consumption and contribution to the environment, we predict that contemporary garden design in some countries will favour less lawn, more planting.  You may wonder why anyone would want to get rid of a lush green carpet of lawn.  Well a well-manicured lawn is certainly beautiful but in fact has been symbolic of prosperity. Therefore in this much harsher economic environment, we predict that this trend will wane in some areas.  There are many reasons people want to get rid of a green, energy consuming lawns.  Environmentalists want to avoid polluting the environment with the fumes and noise created by gasoline-powered lawn mowers. Residents of cities with water shortages may not even be allowed to water their lawns, or the price of water is a major factor. But perhaps another key driver is people increasingly like to watch wildlife and will choose to plant more native plants that attract butterflies and other insects (especially planting that attracts bees with the bee crisis still prevalent). Other people may just be tired of maintaining all that green grass or paying a gardener, so lawns will get replaced with masonry, shrubs, trees, insect loving or low maintenance ground cover, or even vegetables.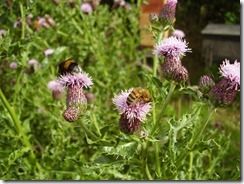 2. Less Doubles; More Wild. In the choice of flower trends, we predict people will become more ethereal and closer to nature.  There are several reasons for this.  Once again there is an environmental concern – in that highly bred double flowers, just aren't good for the insects.  Bees in particular find it hard to get to the pollen.  Native plants are usually best for native bees, which again may in turn prompt a trend for more native planting.  See our planting for bees and butterflies course (coming soon)

3.  Less Grasses; More Shrubs. Whilst the trend for prairie planting has lasted for a good decade, many people have experimented with grasses in planting design, in areas smaller and less suited to growing grasses than Piet Oudolf's incredible swathes of planting.  This has often produced rather sad results in small suburban spaces, when grasses are not planted on mass, we often see struggling brown single strings for much of the year.  We may well see people re-discovering the joy of planting scented and structural as well as flowering shrubs.  New long-blooming and carefree varieties of hydrangea, weigela, potentilla, azalea, forsythia, hibiscus, rose, spiraea, viburnum and others will be hitting the shelves.  See our Shrubs Course.



4. Organic Gardening. Real organic gardening that is; not the kind where you just don't use potent weedkillers and think you're being good.   This isn't for everybody, but it's definitely on the increase.  True organic gardening plays to the trend for frugality, recycling, and self sufficiency.  The belief that we no longer need to, nor should be, dependent on large corporations and monopoly suppliers for our existence is encouraging a more savvy awareness of the cycle-of-life and how and where we source our goods in the home and garden.  And the idea that going back to old fashioned values and a respect and use of our own land can make for a more rewarding and 'cleaner' existence, is becoming more attractive to many worldwide.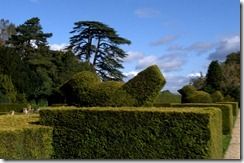 5.  Topiary. This is one indulgence that doesn't cost us money.  And somehow it feels like it may be due somewhat of a revival.  Perhaps this fulfils our need to demonstrate some retention of control and cultivation of our environment in a non-threatening, environmentally friendly way.  It can also lighten the mood of a garden, and inject some humour, which is much needed in these difficult times.

6.  Growing your own food Grow Your Own isn't going away.  We'll see the younger crowd continue to become more enthused by growing their own food, and queues for allotments are still on the increase.  This trend includes not only vegetable and fruit growing, but also grapes for wine, chickens for eggs and bees for honey. Community gardens are on the rise, including those that encourage children, so we don't have to rely on our own small private spaces to grow galloping veggies like pumpkins.

7. Roof and Vertical Space Gardening What perhaps started as a designer luxury or commercial specialism with expensive irrigation systems, will become more ethically based and a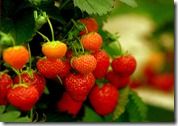 ccessible to the mass market.  Expect to see more roof gardens, and specifically vegetable roof gardens.   There will be an increase in urban agriculture projects, already on the increase in some cities including New York, Milwaukee and Chicago (where green rooftops have become a common feature of the landscape, to reduce energy bills and cool the city – eg Chicago City Hall).  Chicago City Hall rooftop garden was designed to test its cooling effects and its ability to sustain a variety of plants in three different depths of growing media. Monitoring of the plants, birds and insects is already underway.



8.  Growing from Seed. Whilst enthusiasts have always grown stuff from seed, many of the rest of us with jam-packed over stimulated, consumer driven lives, have often resorted to quick-fix, instant gratification bedding, and plug plants.  Our new frugal and environmental selves will see an increase in both growing from seeds, collecting seeds and swapping seeds.

 





9.  Pre-Raphaelite planting. Whilst some of the romanticism of cottage gardening with remain, look out for the return to the abundant detail, intensely rich colours, and complex compositions of the Pre-Raphaelites .  Much richer and with more depth than cottage gardening, more spiritual, but still with nature's will at the forefront.  Think rich reds, burgundies, purple velvets and deep ivy greens.  Ophelia's flowers, mentioned in Hamlet and beautifully depicted floating in the water by Millais), Acanthus, a favourite of William Morris (thanks to Earthly Paradise!) the ivy scaling the wall behind Rosseti's Proserpine and the lilies in both The Girlhood of the Mary Virgin and Ecce Ancilla Domini.



10. Global Best Practice Sharing. Whilst native planting plays to our environmental and ethical gardening consciousness, we will also learn and absorb more from our international neighbours in 2012.  The internet is a hotbed of knowledge sharing for both horticulture and design, so experimenting with tips and tricks learnt from experts across the world will undoubtedly influence our garden designs, and gardening habits.  MyGardenSchool hopes to continue to lead the world in 'virtual' gardening distance learning for 2012.
Stay updated
Receive free updates by email including special offers and new courses.