Protecting your precious crops: cloches and tunnels
By Andy McIndoe •
We are certainly experiencing a cold start to the gardening year here in the UK, and gardeners everywhere are keen to get going. Even in a warm spring the weather can be risky; mild days can be followed by frosty nights and then, just as you think we've left the winter behind, it's back with a vengeance.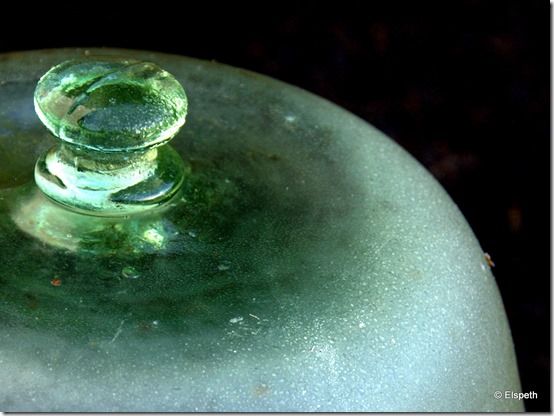 Later on cold winds and hot sunshine can add to your problems as those delicate young seedlings get going. The answer is of course to provide some protection. Fortunately tunnel cloches and even larger polytunnels have become readily available and very affordable in recent years thanks to Gardman. Gone are the days when we had to manage with a couple of sheets of horticultural glass and a cloche clip.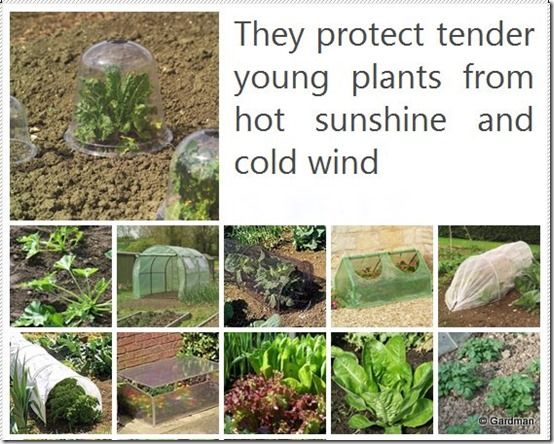 You only have to take a look around the countryside to see how many commercial growers depend on the polythene tunnel cloche to get an earlier start. A polythene cloche is a great way to warm the soil and provide that greenhouse effect that speeds germination and subsequent growth. It is ideal to put over an existing row of perennial spinach or parsley to accelerate growth. It is also ideal over newly sown broad beans, peas or newly planted lettuce. What you do have to watch out for is the sun coming out for long periods, this can cause soft growth and also a dry soil surface; so remember to inspect regularly.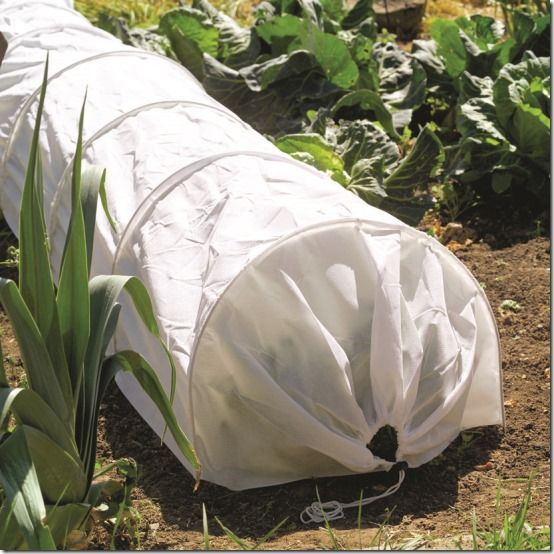 Fleece tunnel cloches provide a wonderful growing environment for newly planted or sown crops. These just raise the temperature enough, but they maintain that air circulation and your crops do not experience those extreme temperature variations. They protect tender young plants from hot sunshine and cold wind and personally I find it easier to raise the sides on the hoops to inspect and to water. Giant cloches have more width and headroom, so they enable you to keep them in place for longer. This can be a real boon as we get tempted by more exotic vegetables and those which grow faster with a higher temperature. You will certainly get better results with courgettes, squashes and cucumbers using one of these. My garden is not the warmest and I find these crops often take a while to get going after they have been planted out, especially if it's a chilly start to the summer. Using a fleece tunnel cloche really helps.
Those aiming to get an early start with potatoes can use a fleece tunnel over a row of early potatoes. Sometimes earthing-up is just not enough to protect them. Once your potatoes are a few centimetres/inches above the ridge it doesn't mean that danger of frost has passed if you planted them early. A giant fleece tunnel will keep them safe from harm.
Of course a fleece cloche also protects against insect and animal pests. You can keep your rocket free from all those unsightly pinholes in the leaves left by flea beetles; you will certainly keep the pigeons off young brassicas. You can also use a fleece tunnel to protect against carrot rootfly. That fleece tunnel will also keep your crops safe from pigeons and rabbits.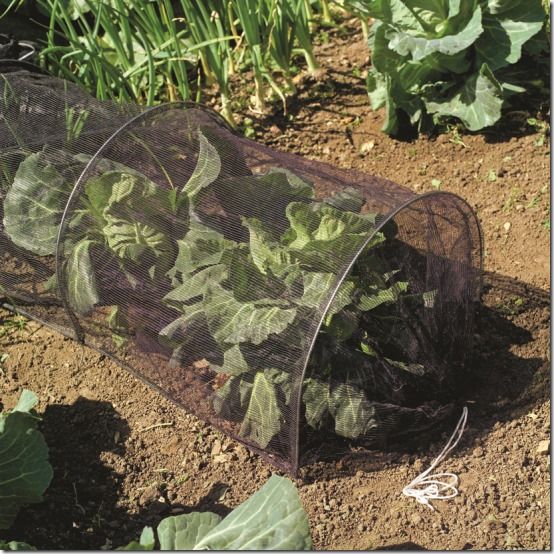 Later on a netting tunnel is essential to keep butterflies off those cabbages and other brassicas. If they can't land on the cabbage leaves to lay their eggs you won't have a problem with caterpillars and the resulting damage.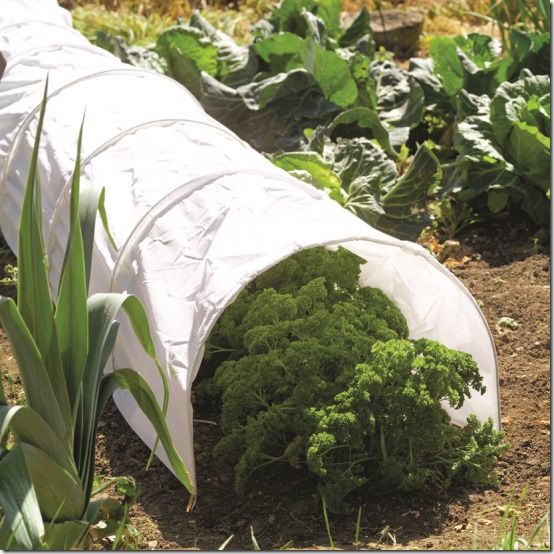 Those with space might like to consider a small tunnel. These are covered with re-inforced polythene enabling you to start you seedlings off early; then when they are planted out you could grow tomatoes, aubergines, cucumbers, okra or any other vegetables that need a warmer, more protected environment. I was just talking to a colleague who has just bought one of the Gardman polytunnels and erected it on his veg patch. He said he had always wanted a greenhouse, but didn't really want to invest in a permanent structure. He's also got young children and was concerned about the safety of glass. So a small polytunnel is an inexpensive way of having that protected growing environment. He's going to use it to grow some of those grafted vegetables this summer. I must say I'm tempted; a tunnel is a great way of avoiding tomato blight.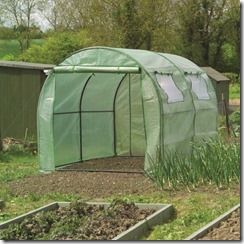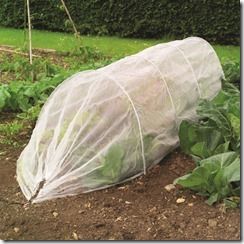 If you've only got a small space, or maybe just a patio or courtyard, a Gardman multi-cloche is a good way of having a protected frame at the beginning of the year. This will enable you to grow herbs and salads and start peas and beans ready for planting out in due course. Alternatively, if you can leave it in place permanently you could go for an aluminium cold frame. This is safe because it has polycarbonate instead of glass. It is ideal for germinating seeds and rooting cuttings. It's also the ideal place to harden off seedlings if you start them on your windowsill.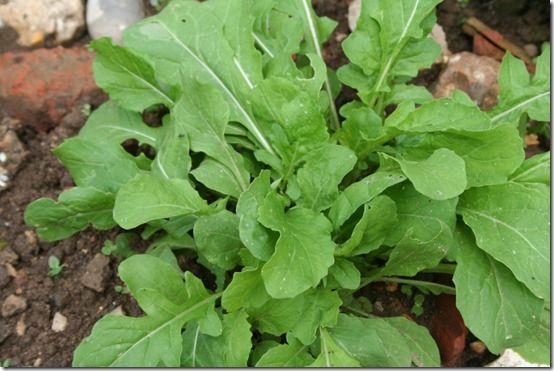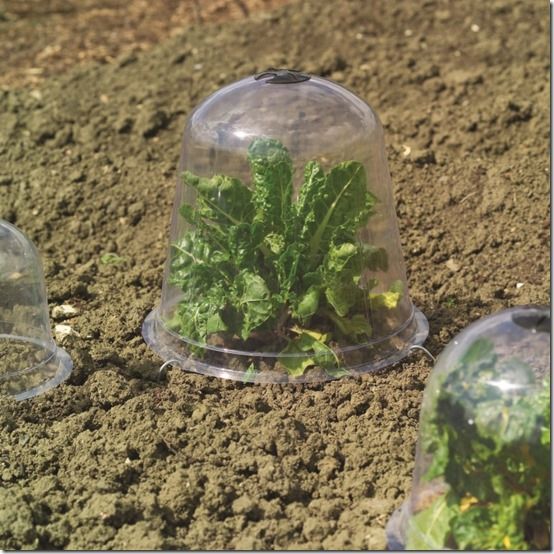 Finally, whatever size your garden, you will find a use for clear plastic bell cloches. These are based on the traditional glass bell cloches used by Victorian gardeners to protect precious plants from frost and from the winter wet. They are ideal to pop over newly planted courgette or bean plants. I use them over emerging hostas. Partly to keep the frost off, but also because I can pop a few nature friendly slug pellets under there too.
Don't forget to anchor them with pegs; otherwise they will be blown away by the wind.
Gardman tunnels and cloches are widely available: visit http://www.gardmanstockists.co.uk/ for your nearest stockist.
Stay updated
Receive free updates by email including special offers and new courses.