Winter fragrance – scented plants for the winter garden
By Andy McIndoe •
As the days start to lengthen aspects of the garden can still be soggy and unappealing. Most herbaceous perennials are hiding beneath the soil surface under a blanket of faded leaves. Most deciduous shrubs are nothing but a pile of sticks and even evergreens can look reluctant and pinched. However some hardy plants are a little more hopeful: they want to get on with it so, despite the weather they bloom and their tiny fragile flowers fill the garden with sweet fragrance.
These early flowering plants need to make an effort to attract any potential pollinating insects, so they use scent to entice. For the gardener these winter fragrances are a fillip, promising the early awakening of the planting and many more flowers to come.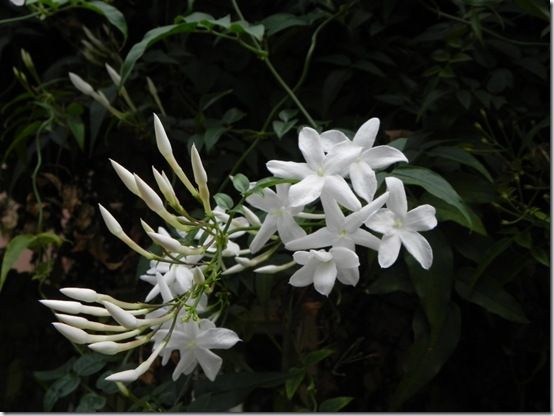 Long grown in our gardens for its fabulous fragrance the round buds of wintersweet are already swelling. These open along the strange, straight sticks into translucent, waxy flowers. With their dull, yellow and deep red colouring they could never be described as showy, but their perfume makes up for it. Introduced from China in the mid 18th Century wintersweet was traditionally trained on the sunny walls of the house or in the walled garden. Here the stems are ripened by the sun to ensure plenty of winter flowers for the house.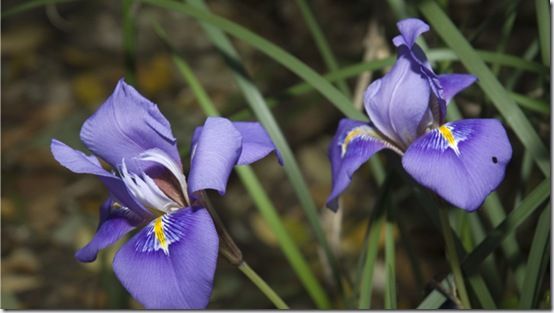 The winter flowering Iris unguicularis is another plant that likes a warm, sunny position, perhaps at the base of a wall or fence on well-drained soil; ideally chalky, alkaline soil. It usually has untidy rather shredded narrow leaves and is one of the least prepossessing plants you are likely to grow in your garden. However when the delicate, scented lilac blooms appear in the depths of winter they are as much a surprise as a delight. This is one of those plants that never seem to grow for any gardener that really wants it; it thrives for the indifferent.
A much easier shrub to grow is the winter flowering honeysuckle, Lonicera x purpusii 'Winter Beauty'. This is a vigorous shrub with arching branches and semi-evergreen foliage. In winter it produces small creamy flowers along the tan coloured branches. These are sweetly honeysuckle scented and good for cutting as the beds swell to open in water in the house. Lonicera 'Winter Beauty' is a useful shrub for country gardens and to include in an informal hedge.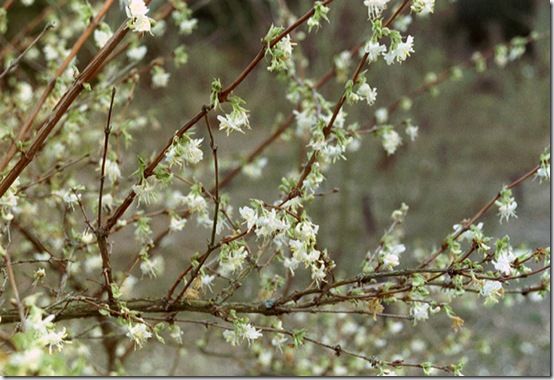 Varieties of sarcococca, sometimes known as Christmas box are natives of Eastern Asia. They are hardy evergreens that thrive on any fertile soil, being particularly happy on chalk. They are at their best in shade and make shrubs, usually making shrubs between 45cm (18") and 90cm (3ft) in height with erect stems and glossy foliage. They are excellent under trees and in small, shady town gardens but they dislike the confinement of pots. They are excellent for cutting for floral decoration both for their foliage and their winter flowers.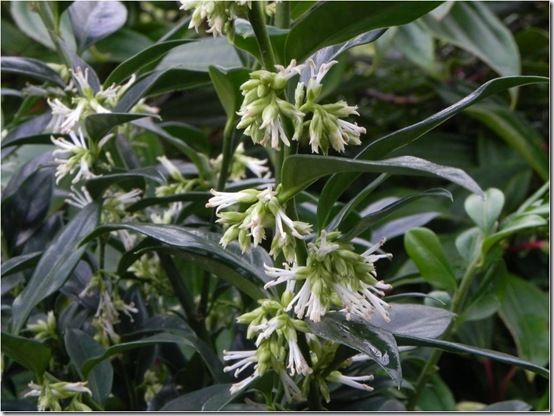 The small, white, tuft-like flowers appear in late winter and have a delicious fragrance. The "tufts" are in fact groups of white male flowers and tiny female flowers in the same cluster. Sarcococca confusa is one of the best with a dense clump-forming habit. The flowers are freely produced, sweetly scented and produce shining black berries that persist on the plants, often until the following year's flowers are produced. Sarcococca hookeriana var. dignya is taller and more slender with reddish leaf stalks and an altogether lighter habit. It is a useful contrast to heavier evergreens such as aucuba and fatsia.
Mahonias too are tolerant plants that thrive in shade. Their tough leathery holly- like leaves are weather and strikingly architectural. Although there are many hybrids to choose from the lily-of-the-valley scented Mahonia japonica is one of the most fragrant, and perhaps the most subtly beautiful with its pale lemon flowers. I recommend it so often for growing under deciduous trees and for those corners of the garden where nothing else seems to thrive.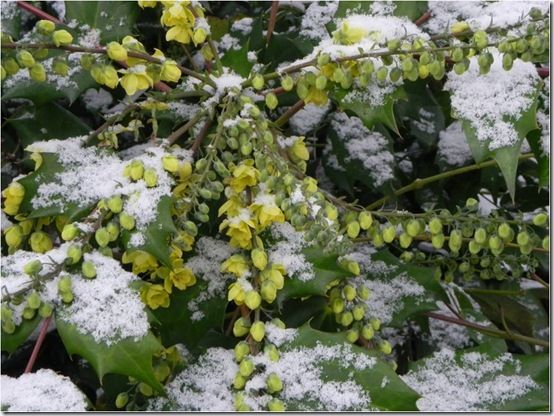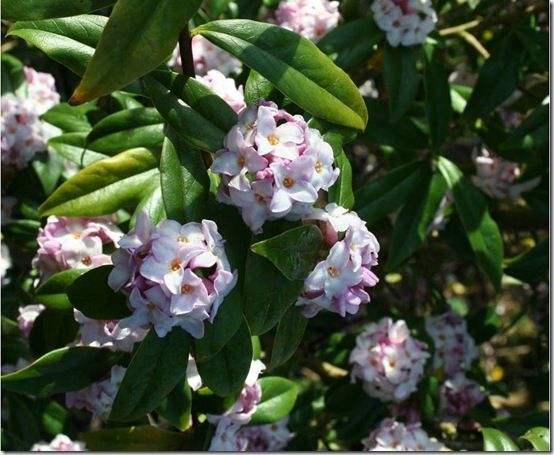 In a previous post I said that Daphne bholua 'Jacqueline Postill' was starting to open its sweetly fragrant lilac-pink flowers. This is undoubtedly one of the most fragrant plants in the winter garden, but it is likely to be hard to come by. Nurserymen once again are struggling to propagate this fragrant gem.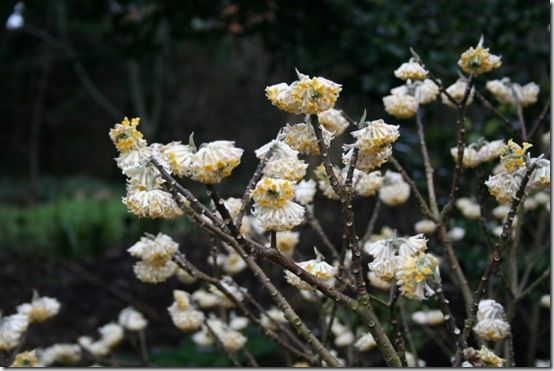 Another scarcer scented winter shrub is the lovely Japanese Edgworthia chrysantha. This may appear rather like a viburnum at first site with its bare, often antler like stems and grey bud cluster that open into tiny, tubular flowers. The species has white flowers with egg-yolk throats; striking and unusual. It is wonderfully fragrant and likes a warm, sheltered spot. I have seen it growing successfully in large containers so it is a good choice for a small enclosed sunny garden or courtyard. The bark of this shrub is used in Japan to produce high quality paper used to make banknotes. Who says money doesn't grow on trees?
I am fortunate to be able to enjoy wonderful fragrance in the conservatory at this time of year before I venture outdoors. It has just minimal heat: enough to keep the frost out on cold nights. Cymbidium orchids thrive and are in full bloom, but they don't supply the scent. That comes from Jasminum polyanthum, the sweetly scented jasmine that flowers a little later than this in the Mediterranean. It also comes from the fluffy yellow flowers of Acacia dealbata 'Gaulois Astier'. This free flowering form of golden wattle or florist's mimosa blooms in late winter outdoors on the south coast of England but our garden is too cold for it so we protect it and move it outdoors for summer.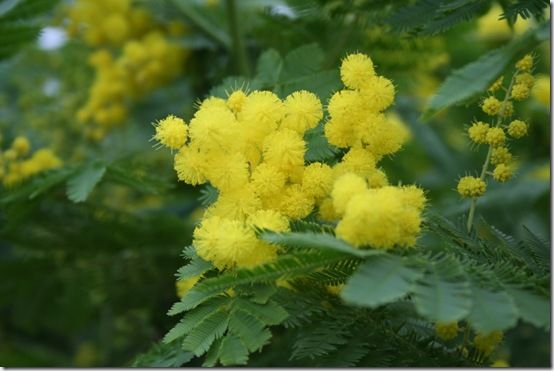 Stay updated
Receive free updates by email including special offers and new courses.