A walk in the Winter Garden; The Savill Garden - The Royal Landscape
By Andy McIndoe •
After the confinement and feasting of the holiday season there is no great pleasure than a walk in the garden, whether the days are clear and frosty or dull and damp. For me a large garden in winter has a certain prehistoric magic, far beyond the colourful leaves of evergreens, and the delicate blooms of winter flowers. Although we select our winter garden plants for their peak performance during that season, it is often those that are in a state of winter slumber that are the most magical.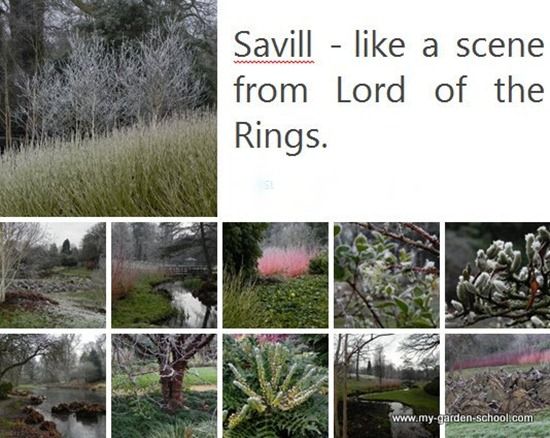 I love The Savill Garden, part or the Royal Landscape in Windsor Great Park at any time of the year. This is my kind of garden: mainly naturalistic in style, but with something for everyone. The exotic woodland is a treasure trove of rare and beautiful trees, rhododendrons, camellias and hydrangeas. The woodland bog garden showcases stunning moisture loving perennials in the dappled shade of oaks and other mature trees. There is an amazing dry garden with scree beds, a rose garden, a formal garden with perennials, and an impressive conservatory. But my favourite part is the water, just below the entrance and the new Savill Building. A series of streams and pools eventually meet up with a larger body of water which flows on into Virginia Water.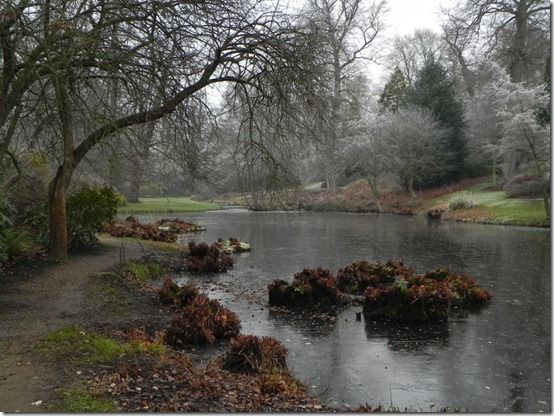 This part of the landscape has great depth and enticing vistas in every direction. In summer the wax-white blooms of zantedeschias rise from the water's edge. In the wet ground along the stream the striking yellow spathes of Lysichiton americanus, the skunk cabbage, appear in spring before the large Cos lettuce leaves emerge. No, they are not there in the winter, but I can still see them. That's the wonderful thing about visiting a garden at different times of the year. All the seasons are there, to be enjoyed in your imagination.
Statuesque gunneras dominate the wet ground in summer, their vast, exotic, umbrella-like leaves a dramatic contrast to the finely branched habit and small leaves of deciduous trees and shrubs. This native of Brazil likes a little protection over the crown of the plant in winter. So in autumn the leaves are cut and placed upside down to create a shelter tent and repel some of the winter wet, and insulate against frost. Seeing these rows of vegetable tents in the winter landscape is like a scene from Lord of the Rings.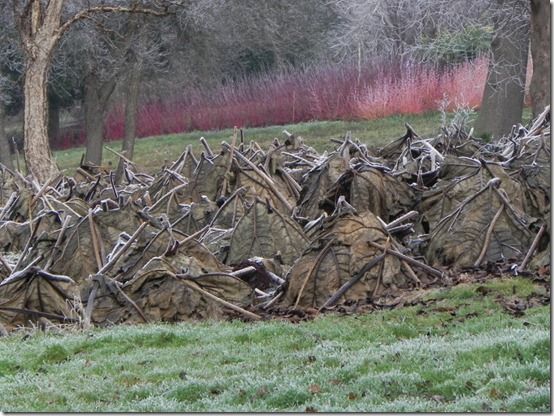 The Savill Garden was created by Sir Eric Savill in the 1930s. When I first discovered the garden the late John Bond was responsible for its development. I remember him telling me how all those wonderful drifts of species narcissi and other dwarf bulbs were established from seed. A technique I have used since then. The garden then had its winter beds: cornus, witch hazels, birches, skimmias and other subjects we associate with the winter season. When the Savill Building was created as a gateway to the garden the original winter beds were replaced with new planting. Although I lamented the demise of some good combinations the new beds are really stunning: bold, dramatic, using the slope down to the water to full advantage. When I visited on a frosty morning in mid December the frost had muted the stem colours, but made them almost more beautiful. I was particularly taken with the yellow-green stems of Cornus sericea 'Flaviramea'; a great swathe of them against a backdrop of young birches.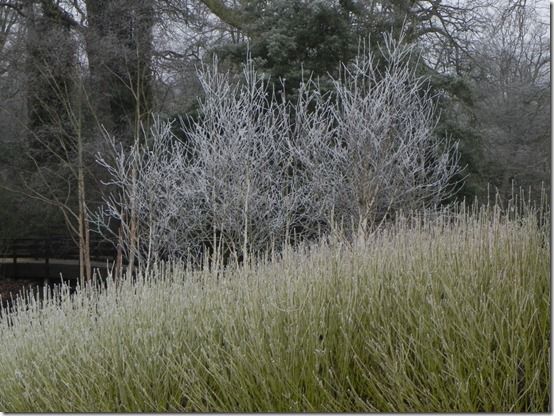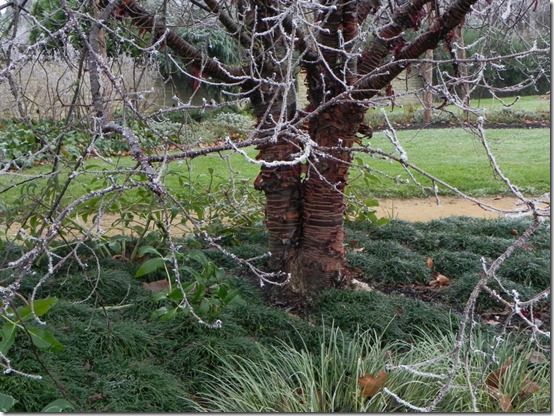 It's strange how winter just brings out the best in some plants. If anyone recommends a tree for beautiful bark they extol the virtues of Prunus serrula after Acer griseum. Prunus rufa is rarely mentioned. However seeing this with its shining, deep mahogany, ribbed bark and dark brown twigs and buds etched with frost I fell in love with it. Investigating further when I got home I discovered that this is known as the Himalayan Cherry – I never knew that. Apparently only some forms have this wonderful bark – clearly the one at Savill is outstanding.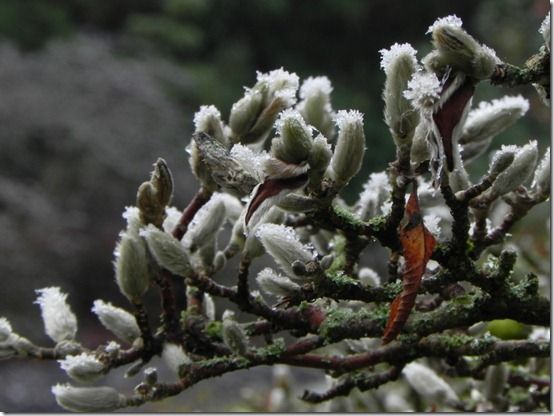 In the woodland scarlet leaves still clung on to some of the Liquidambars – rather like Christmas decorations in the frost. The silky buds of Magnolia stellata softly sparkled even of a dull frosty day. I almost prefer this plant in bud to when it blooms. The first flowers of Lonicera x purpusii 'Winter Beauty' were so heavily encrusted with frost they were barely visible but promised that sweet fragrance on milder days for the next two months.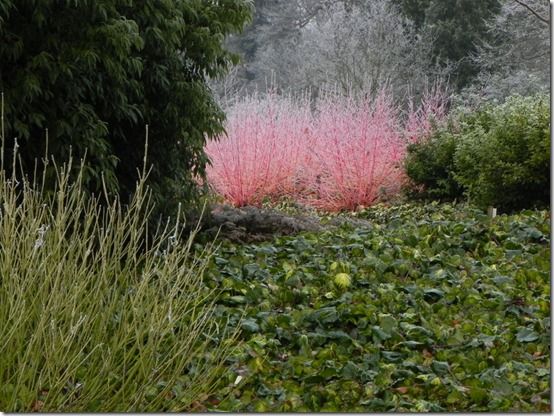 The day I visited was certainly cold, one of those days when you glow when you get back indoors. A few other visitors had ventured out for a walk in the winter garden. Everyone speaks when you meet them. Everyone had something positive to say; even if it's only a cheery "Good Morning". Garden lovers share a common interest, and recognise others who have discovered planet Winter Garden and all it has to offer.
I'm sure many of you will have your own favourite winter garden haunts and we would love you to share them with us. If you are near Savill Garden, Windsor Great Park then admission is free until the end of December, but there is so much to enjoy whenever you visit.
Stay updated
Receive free updates by email including special offers and new courses.